90% of the look of your face depends upon your hair, and we know that it really sucks if you are going through hair thinning or a receding hairline. Let's fix that.
You no longer need to worry as we bring you products that will help you gain that hair back. It's time to improve your lifestyle and get your confidence back.
Both iRestore and Capillus are products known and acknowledged by people worldwide to work against hair fall problems. Capillus was the first brand ever to manufacture hair restoring laser caps and iRestore, not lagging far behind is also amongst the top laser brands. But there's still a better product than these two both. (See Below)
A major perk of using these devices is that unlike other hair recovery products, these only keep you bound for a matter of minutes and meanwhile you can simply sit and relax, maybe watch your favorite Television serial munching on your favorite snack.
Kiierr – Still A Better Option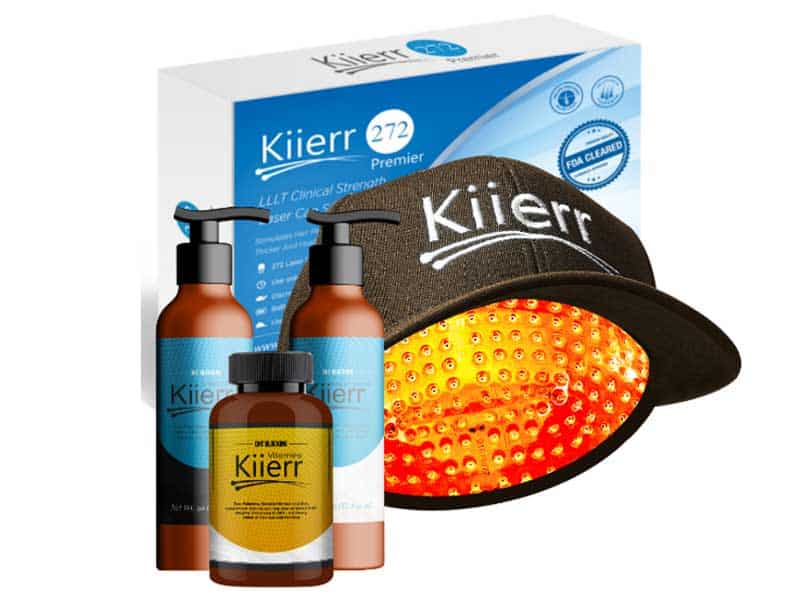 Thousands of men and women have grown thicker, fuller hair and gotten their confidence back in the process! You can check all the reviews by clicking the button below. Kiierr Laser Caps for hair loss are portable, powerful and hands-free specifically designed for ease of use. It's our top pick.
iRestore vs Capillus Functionality Comparison
Both of these products are Laser-based hair restoring products. They are clinically proven to treat hair loss and maximize the health of your hair follicles through Low light laser therapy. The laser is absorbed by your hair follicles and makes them regrow healthier and thicker.
You start losing hair when there isn't sufficient blood circulation in your head and the cell metabolism isn't up to the desired level.
The laser light passing through the laser diodes stimulates your unhealthy hair follicles enhancing the cell metabolism and blood flood in those areas making them stronger and healthier again.
So far we've discussed the common things between these devices, but now let's see what makes them apart from each other and from the other similar devices out there in the market.

The Looks: Which one stands out in the public?
The Capillus laser cap is just a cool looking cap which looks much similar to a baseball cap. So if you are using it on an evening walk people might not notice anything extraordinary besides the wire connecting it to its power supply.
The power supplying battery pack that weighs only 0.3lbs.Its sorunf 4 inches in height and is small enough to fit in to your pocket. Besides that if you just pass the wire through your shirt it will be fine enough not make anyone notice anything pre-eminent.
On the other hand, iRestore is simply a helmet made of fine plastic. Apparently it doesn't look much like a hair loss treatment device to a layman but compared to the Capillus, one might just say that iRestore catches more eyes in the public.
FDA Cleared vs FDA Approved
The difference between being FDA cleared and FDA approved is that the cleared devices fall into the rank of class 2 medical devices and the approved ones fall into class 3 medical devices.
The great thing howver is that both the Capillus and iRestore are FDA cleared that makes them class 2 medical devices.
Capillus got their FDA clearance in 2015 when 100% of the participants saw an increase in their hair growth to an average of 51% which is the best result for another laser therapy brands in the competitive market.
With the people using iRestore, a 43% improvement was seen on average that makes the Capillus better here just by a few fractions.
Laser Diodes Comparison:
The Capillus comes with the highest number of Laser diodes among the laser therapy devices. The 272 laser diodes ensure that they cover the maximum part of your head for better hair growth.
Capillus is one of those companies that use full lasers in their devices, iRestore also uses Lasers buts its more of a mix of 282 medical graded lasers and LEDs. The economic model of the iRestore comes only with 51 Lasers and LEDs that have even worse performance than the Pro model.
You'll find out later in the article how the performance of a device varies with Lasers Diodes.
Required Usage Time Comparison:
Capillus offers you the greatest fluency among all the hair products available. As recommended by the company, you need to use the Capillus Hair Cap for six minutes every day for a full year for significant results.
iRestore as recommended needs to be used for 25 minutes daily for 3-4 times a week and the company also says that you'll see considerable changes within 4-6 months of regular usage which is way less than the claims by Capillus.
However, the results basically depend upon how bad your balding history is and what are your expectations from these devices.
Once you've purchased these devices, you've got nothing to lose, the longer you use them, and the better will be your results over the passage of time. You just need to be consistent with these devices.
Do these devices have side effects?
These are laser-based devices and are clinically proven to have no harmful side effects so you may use either Capillus or iRestore without worrying about side effects. Moreover, the FDA clearances show that they can do you no harm if used in the correct way.
LEDs on the iRestore vs. Laser Diodes on the Capillus
You might have heard the hype about LEDs but the truth is that LED lights tend to spread out and as a result a lot the light energy gets wasted in the process. This energy can't be concentrated as lasers can.
The LEDs on the iRestore make it almost impossible to focus on a specific area of the scalp due to their tendency to spread out. These LEDs on the iRestore also can't penetrate your scalp, as well as the laser diodes on the Capillus, can.
This really gives Capillus a big edge over the iRestore helmet, Capillus is an older brand and has come up with this after series of experimentation to provide the best growth possible for your hair in every way.
Price Comparison:
The iRestore is available in two different models, they make an economical one known as the iRestore Essential which just gets the job done. The other one is iRestore Professional which features better specifications and an improved working than the economic model.
However, the Capillus though manufactures multiple hairs restoring products, only have one laser cap which costs a fair bit more than the iRestore's Pro model.
Capillus is more expensive than iRestore but both these products in the long run prove to be cheaper than hair surgeries and anti-hair loss pills.
Guarantee Periods:
Both the manufacturers are confident enough about their devices that they offer you guys money-back guarantees.
iRestore gives you 12 months money-back guarantee and even pays your shipping bill if you aren't able to see noticeable results after using the hair restoration helmet.
This policy is rather strict when it comes to the Capillus. The Capillus manufacturers require a 25% deduction from the purchase price and you'll also have to bear the shipping charges on your own.
This type of guarantee is called a satisfaction guarantee and is only valid on the purchases made directly from the company. So if you bought the Capillus or the iRestore from an unauthorized seller, you won't be able to claim your satisfaction guarantee.
Also, keep in mind that you need to have proof of purchase in order to claim such a guarantee.
Shedding phase: Something you probably had no idea about
Once you start using these devices, you won't see the results immediately. In fact, you might suffer from some shedding in the initial phases, this is because the transition in hair is taking place but the continuation in usage will ensure you better hair with the passage of time.
This is common between both Capillus and iRestore but you really don't need to worry about the shedding phase.
Using the Capillus or iRestore after a Hair Transplant
These devices work even better if you are using them with other FDA cleared medications. If you have been through hair transplants you might see shedding of hair even after the transplant as the time goes by.
In order to prevent that, both Capillus and iRestore work pretty well and help your hair from the transplant retain themselves and regrow thicker and fuller.
They basically end up aiding your hair transplant and making your hair look even better.
Conclusion:
Both these devices will help you restore your hair and restore your confidence. As explained, Capillus just gets an edge over the iRestore mainly due to the laser diodes, the looks and the experimental data for the probability of success.
However, if you are want to save a couple hundred dollars you might opt for the iRestore which is a pretty decent hair restoring device too.
What makes FDA clearance and Approval so important?
Medical devices such as those discussed in this article can make significant changes in your health and if they don't work they can cause notable damage to your health too which in some cases can even lead to death.
This is why the medical devices you are using need to be at least FDA approved to ensure they don't have a negative impact on your health.