Today many people are suffering from hair loss and baldness. There could be plenty of reasons because of which such problems can occur in both males and females. With the recent approval of FDA for laser helmets and caps, people are going crazy to get their hands on them. These caps are proven as clinically useful because of the latest technology.
But there are so many companies with different product features.
In our other post, Theradome Vs. Irestore Vs. Hirmax, we also reviewed some more products you might be interested in.
Each product varies in quality, function, packaging, and even results. To save your time and money, we studied the two top FDA approved laser caps and came up with these variables that affect the most.
Below is a complete buying guide about the top 2 competitors and products right now who have shown remarkable results.
But before diving into deep Check Our  Top 7 Picks For The Best Hair Growth Helmets.
Alternative Top Choice – Kiierr Laser Cap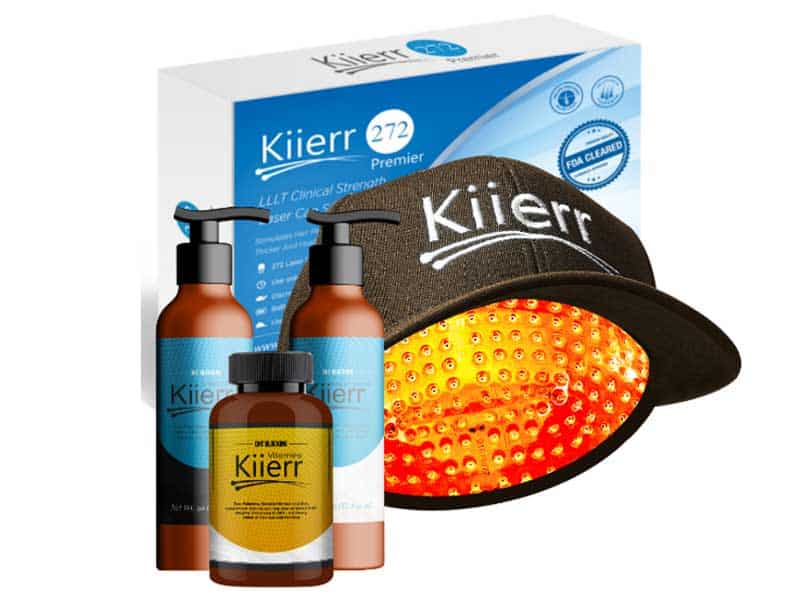 Kiierr offers one of the best (and most popular) laser caps for hair loss on the market! These laser caps use low-level light therapy to stimulate hair follicles and promote healthy hair growth. This treatment option is non-invasive, safe, FDA-cleared, effective, and can be done in the comfort of your own home. Kiierr also offers DHT blocking vitamins, DHT blocking shampoo & conditioner, and other amazing hair loss supplements.
Kiierr Laser Caps use only premium laser diodes (650nm wavelength) for maximum hair growth (no LED'S). In addition, you get a 2 yr product warranty so you can feel confident your purchase is protected.
Benefits
– Treats thinning and balding hair
– Reverses hair loss
– Promotes healthier, thicker hair follicles
– Safe and effective for treating hair loss
– Revitalizes damaged/frail hair
– Easy, portable and discreet use
– FDA cleared with no reported side effects
Use:
Kiierr laser caps are designed for both men and women. Kiierr uses a pulsing method which means the lights flash on and off the entire treatment time. It is 650nm wavelength with a total output of 1360 mW. You use it every other day for 30 minutes so it is convenient and portable.
illumiflow Laser Cap
The Illumiflow is one of the most popular LLLT devices approved by the FDA. This laser helmet is a modern design to treat extensive hair loss, receding hairline, and stimulates hair growth in a few months. This device uses a low-level laser that offers effective hair growth treatment. This laser helmet is designed in such a way that it not only stimulates the growth of new hair follicles but also improves the appearance and texture of existing ones.
It is used as a treatment for both men and women. For people suffering from androgenic alopecia, this device is the best one for treatment. It can effectively boost the growth of new hairs & the best part is that it's one size can easily fit all individuals because of the adjustment option. It consists of 272 diodes placed in a way that gives maximum coverage.
Unlike other LLLT devices, this one takes 30 minutes per session. Aside from a long treatment time, our focus should be on whether this device has what it takes to stimulate hair growth. If we compare this model with other laser devices of the same price range, there is no visible difference in what type of laser technology has been used in this device. That is why it makes us wonder why this model has treatment time three times more than the average LLLT session. But its results are shocking in hair restoration. The company recommends 30 minutes session three times a week for improved results. This device has an automatic shut-off system and turns off automatically after 30 minutes.
Features:
The top features of Illumiflow that make it the best are as follows:
FDA approved:
The FDA has approved this laser cap device as one of the best treatments for hair loss in both men and women.
Safe to use:
This FDA cleared device is secure to use and is on continued testing to follow performance and safety.
Warranty:
The warranty period for this product is five years. Product quality is one of its strengths, but it also gives the customer the best experience. You can contact Illumiflow through five years for claiming the warranty of your device.
Clinically proven technology:
This device has approval by vigorous testing and thousands of clinical studies. If you have a genetic problem of hair loss, it can help you ahead of time. This device is right for you if you are experiencing hair thinning, hair falling, or receding hairline.
Coverage:
This device has 272 diodes placed strategically over it. It provides full coverage on the scalp. Its laser can penetrate up to 650nm. Moreover, it gives optimal scalp penetration.
User friendly:
It is user friendly and highly portable. Illumiflow automatically shuts down after 30 minutes, and its battery life has improved a lot. You can easily access it as there is no need for a prescription for it.
Side effects:
This LLLT device has no side effects, and its cooling technology protects its lasers.
Product packaging:
This product package has the following things:
Laser cap
Ballcap
User-friendly manual
One rechargeable battery pack
And one power charger
Performance:
This helmet holds a low-level laser. When you apply it directly to the scalp, it improves blood flow. In this way, it brings essential nutrients to the scalp that stimulates hair growth. When used consistently, it can even promote cellular metabolism that helps in stimulating the growth of new hair that is much thicker and stronger than existing ones. If you are facing problems like hair thinning and increased hair fall, you can try LLLT therapy. Its regular use can halt shedding and can fasten the hair growth process.
Advantages:
It has the following benefits that make it best to use.
It is highly portable.
It is easy to use.
Its automatic shut-off safety feature is the best one.
It is more effective in male pattern baldness.
Cap gives full scalp coverage.
It has a lower cost per session.
Company has excellent customer service
The reverse of hair loss can be noticed within three months.
Users experience the growth of new hair within six months.
It is available in 148 and 272 diodes.
Disadvantages:
The following are the disadvantages of this device.
It is not shipped internationally.
The time required for the session may not be workable for many people.
Longer treatment sessions required.
If it is not working, you must make complaints within three days to get your money back.
Verdict:
This device is easily affordable, lightweight, and has a built-in safety feature. The modern design with a cap makes it convenient for everyone to use. Other than a longer treatment time, there is no other complaint about this product. It is more effective if you continue the treatment for two a long time to accomplish the proper results of hair loss. If it does not work, the manufacturer offers a third-party money-back guarantee. The advantage that it can halt shedding and can minimize hair fall is the best selling point for customers who are looking for it.
Beware of copycats:
Recently many brands are copying Illumiflow. They are offering a better price. But it does not mean that it is a better deal for you. They only want to sell their product by using Illumiflow FDA clearance. They will not follow its original warranty time, and you will be at a loss.
CapillusPro Mobile Laser Therapy Cap
Almost 50 % of men and more than 30 billion women are suffering from hair loss. It has a psychological effect on the sufferer as well. But in today's era of technology, everything has become possible, even reducing hair loss with laser caps. Many hair loss treatment products are becoming famous for claiming treatment for hair loss. Capillus is one of them and the rising competitor of Illumiflow.
Capillus claims to cut hair loss and approved by the FDA. It comes in the form of a baseball cap like device and has electrodes all over its space. The company claims that you will experience less hair loss, and it will restore growth and thickens your hair.
Overview:
This cap comes with lasers installed in it, which stimulates hair follicles if you use it daily. It can reverse hair loss and improves your hair texture, making it thicker and healthier. The cap uses low laser light for therapy. This device does photo-biomodulation that is the key to success. It is a safe way to regrow hair. You must wear this cap for six minutes a day.
The period for results:
Its results vary between individuals. For better results, you must follow the period given by the company.
You will notice an increase in shedding, but it's okay. It shows that it is working as your scalp in making space for new hairs to grow.
Shedding will slow down. Hair will become thicker.
In 12 months, you can see a noticeable difference.
You can see the full impact of this treatment by now. Continue for better results.
How does it work?
It stimulates hair follicles by using low-level lasers. The lasers in the cap are battery-run. They will turn on as soon as you put in on the scalp. Daily treatment is for six minutes only. After six minutes, it turns off automatically because of a built-in time switcher. Now, you don't need a clinic as you can quickly treat your hair loss at home with this device.
There are three types of caps that you can buy.
Capillus has 82 laser diodes. It easily affordable as compared to other versions.
It holds 202 diodes. It has 2.5 times more scalp coverage than Capillus Ultra.
It has 272 diodes. It is the most effective and powerful choice.
Advantages:
It has the following benefits.
It provides complete coverage with 272 diodes.
It comes with a slim battery pack for travel.
It is entirely portable.
It is FDA approved.
It has both reparative and preventive benefits.
It increases hair volume by 20%.
Capillus caps are convenient and easy to use. Patents can use it while driving or playing golf. There is no need for in-office treatments.
There are no risks in using this cap.
Disadvantages:
The following are the disadvantage that is associated with using it.
Everyone cannot afford it as it is highly expensive.
You need a prescription of a physician before using it.
It takes more than six months to show results. You can evaluate results after one year. Sometimes, results appear after two years of usage.
The heat released from it can cause scalp irritation.
The results vary in individuals and are highly unpredictable.
Verdict:
The cap uses low-level lasers and is profoundly simple to use. Moreover, approved by the FDA, it is a technology for combatting hair loss that can be used at home easily. Clinical evidence shows that it strengthens and thickens your hair. But it will not work on places that have already lost hair. So, it is a preventive measure to stop further hair loss.
This laser device costs from $1,000 to $3,000, which shows that it is costly. And many users do not consider it worth the price. Its benefits are not worth experiencing. Because you may need to use this cap for more than two years, and still, you will not achieve a noticeable difference before and after the stage of treatment. Some doctors explain that although these caps are great in use, its results may vary in everyone.
Recommendation:
You must check the suggestions about this device before buying it. Pregnant women should stay away from it. It is also not suitable for those who have epilepsy or for photo-sensitive people. If you have hair loss because of medication or stress, this might not be the right treatment for you. We have also compared Theradome Vs Hairmax Vs iRestore.
Comparison – Illumiflow Vs Capillus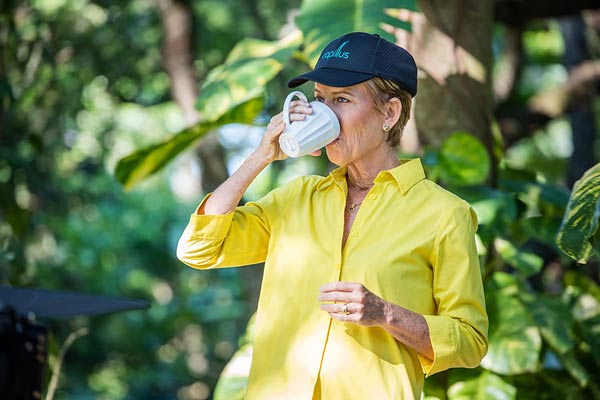 Illumiflow uses low-level light to rejuvenate and revitalize your hair. It increases both the thickness and intensity of hair follicles. It can save you a significant amount of money as compared to other treatments. Capillus is also a good one to consider if you have hair loss due to heredity.
Are they safe to use?
Both are safe to use as they hold an auto shut-off system. There is no chance of burning off hair with laser. When the heat increases, the cap automatically turns off to cool the lasers. If you follow the instruction written on the manual, then there is no need to worry.
Performance:
Illumiflow and Capillus claim that they are effective. The products are clinically proven and recommended by the physician because of their performance. Illumiflow has a user rating of 4 stars on Amazon, and Capillus has a 3-star rating. It shows that the performance of both caps is effective. But Illumiflow is more effective and better for treating hair loss.
Reviews:
Reviews about these products are critical in determining the effectiveness of caps. Illumiflow reviews are mostly positive & customers like it because of its effectiveness. They are highly satisfied with this cap. They say that it is well designed and is sturdy. Its automatic shut-off feature is the best one. Many people are happy to report that their hair is growing back and are thicker.
On the other side, reviews about Capillus are mostly negative. Customers do not like it because it has a longer recovery time. Some people reported that after using it, their hair is falling even more. Some say that its cost is not worth the effectiveness, and it is a scam. So, what we can conclude from the above reviews is that although both work on the same technology but Illumiflow is a better choice.
Total models
Illumiflow laser cap comes in two forms depending on the number of diodes. Illumiflow 148 has 148 lasers, and the other Illumiflow 272 has 272 lasers placed on it. Whereas Capillus comes in three types depending on the number of electrodes. These are Capillus 82, which has 82 laser diodes. Second is Capillus 202, which has 202 laser diodes. And third is Capillus pro that has 272 laser diodes.
Portable:
Both Illumiflow and Capillus are recent technology in a purposefully affordable and portable package. No need for plugins and sockets.
Coverage and device style:
There is no such difference in coverage. Both give almost equal coverage on the scalp. Also, they are easy to use because of the convenient design for customers. The new technology design cap is a laser diode that you can wear to recover hair loss.
Do these products reduce baldness?
Both reduce baldness by strengthening hair. The time varies, but yes, there is no doubt that you will feel a change in your hair. The main reason is that the laser improves blood circulation, and that will automatically lead to healthy growth.
Average rating and FDA approved:
The evaluation of Illumiflow on Amazon is 4-stars, and on the other hand, Capillus has a 3-star rating. Both are FDA cleared and clinically approved to be safe, effective, and easy to use.
Where to find it:
Both are readily available on Amazon, where you can find the genuine product of the company. Always trust the reputed sources so you can get the actual product.
Return policy:
For Illumiflow, you must use the product for 180 days. If you find any problem in its functioning than for returning the product, you can contact their company. You will pay the shipping fees for return packages. The product should be in excellent condition. Once the company receives the product, they will refund it.
For Capillus, the satisfaction guarantee is of 365 days. After 12 months, you can send your application to change the product. The return will be accepted based on the record of the purchase.
Frequently Asked Questions

Here are some often asked questions about Illumiflow and Capillus.
FAQ about Illumiflow:
Does this low-level laser therapy hurt?
You might be curious about whether this treatment is painful. No, as it is a 100% painless and non-evasive method of treating hair loss.
How do I use the laser cap?
Using the Illumiflow laser caps is very easy. Just plug one side of the wire in the socket and another side in the laser cap. Then place the cap on your head. Each laser cap has manual and detailed instructions. But if you still face some problem, you can contact the company.
Is there a need for a prescription for using it?
The Illumiflow laser cap is FDA approved. So, there is no need for a specific prescription form a physician. It is readily available for everyone.
Is laser cap safe for children?
This product is not for children, and the expert recommendation is to keep this away from them.
What does the warranty cover?
The warranty covers the laser cap and its components. The battery is also included. And the warranty is for five years from the date of purchase.
Does laser light damage hair that is colored?
This product ensures the growth of a healthy follicle. However, use on colored hair is that it can affect the external quality of hair. But this cap will ensure that hair is healthy within the scalp. It will protect any possible damage to the roots.
FAQ about Capillus:
Does Capillus have excellent customer service:
They provide excellent customer service. If you need any help with it, you can contact them on their website.
Can I use a laser cap if I have a hair transplant?
Yes, you can. But first, you must contact and discuss it with your surgeon.
Can it cause cancer?
No, this cap cannot cause cancer because it has low-level lasers. This type of laser does not create a mutation that leads to cancer.
Can I use a laser cap if I had lost my hair due to chemotherapy?
Absolutely! Discus with the oncologist, and if he or she agrees, then you can continue to use it for the best results.
Can I use my cap for more than six minutes a day?
Yes, you can. There is no harm in using this cap for a longer time. But its bulbs will wear out soon.
Verdict:

Now, after all, this discussion question arises that which laser cape is best. If you want to grow your hair fast, then we recommend that you chose Illumiflow. The reason is that it gives results within months. Whereas Capillus shows results after two years or more.
Moreover, Illumiflow is cheap than Capillus and is easily affordable. Also, it has a more significant warranty time. If you think that your cap is not working, you can return quickly because of their excellent customer care service.
Need a laser cap for hair loss? Considering the above-discussed facts, Illumiflow is the best choice.