We understand that you want to have healthy and thick hair, if your hair looks good, you look good. Here we'll introduce you two of the products that will not only prevent your hair loss but will also reverse the thinning ensuring that you regrow the hair that you've lost due to genetic pattern balding.
Hairmax and Capillus both use low-level laser therapy (LLLT).
The laser is a modality to approach either male or female genetic pattern balding.
Low-Level Laser Therapy works by recruiting the hair follicles that were once healthy.
Once the laser is absorbed, it improves the cell metabolism and stimulates blood circulation resulting in clinically proven hair regrowth, the thickness of the hair, and visible improvement in thinning and bald patches.
Besides the same technology, there are many differences between these two devices, so let's have a look at them.
Hairmax vs. Capillus
Hairmax clearly beats CapillusPro based on results and less laser therapy requirements per day. Read on for more details. And check our overall top 7 picks for best hair growth helmets.
If you are searching for the best product to put a stop to your hair thinning and you have already done a bit of research then you must have heard of these two names.
Both Hairmax and Capillus are laser based hair recovery products which provide you an easy home based hair recovery treatment with the usage of a few minutes daily.
After reading this article you will be able to differentiate between these two similar yet different products on the basis of their functionality, their productivity, feasibility, and other various aspects.
This will allow you to make just the right decision if you aren't sure whether to choose the Hairmax or the Capillus.
Should you use these devices if you are fully bald?
If you are fully bald, these laser devices aren't for you.
These devices are only meant to cure your androgenetic alopecia and pattern balding so they won't do any good if you are completely bald.
Patented Teeth
If you are inspired by the fact that Capillus offers you more of a cap-shaped design that you can easily wear without being noticed as a hair loss prevention product then you aren't probably making the right decision.
Hairmax has this curved design that incorporates patented hair parenting teeth, those teeth part your hair during the treatment which allows optimal laser light delivery to your hair follicles.
Having light energy go right into your scalp is extremely important if you want the treatment to be effective.
With the cap-shaped design of Capillus, your hair might just come on top of each other creating more chances of the laser to not reach the desired spots in your head.
The teeth and the curvature of the Hairmax laser band hit all your hair follicles whereas the Capillus cap doesn't have any hair parting teeth.
Coverage
When you first saw the Hairmax band, you might have thought, how a band can cover all the areas of your head vs. a cap that apparently seems to cover more parts of your head.
Well, this isn't necessarily true.
If you put a piece of paper on the Hairmax laser band and turn it on, you'll be glad to see the way it hits on the paper and the amount of laser beam lights actually present in this product.
With all those laser beams, you will get great coverage on all your head.
Now putting a piece of paper on the Capillus shows you that your own hair is going to block the laser beams.
These devices are certainly made to cure your pattern balding and in that case, you do have hair on your head.
Your hair will act as a protectant from reaching the energy to your hair follicles and comparatively, you'll be provided much less coverage if you are using the Capillus instead of the Hairmax.
In addition to that, Hairmax divides your head into three major areas and you are guided to use it for 30 seconds on each area.
So if you were confused about the band shape's coverage you might be relieved after getting to know the actual functioning.
Distribution of Light
The curve design of the Laser Band also ensures that there's a uniform distance between the laser diodes and your scalp. Due to this consistent distance, there is no light diffusion lost from laser to your scalp. So all the laser beams reach your head ensuring that your hair is properly treated.
The Capillus however comes with an inconsistent distance between the lasers tips, the top part, and sides of the caps.
The non-uniform distance won't provide your scalp the same level of power evenly distributed as the Hairmax does. This way, less light energy reaches your head and you aren't as better off as you could have been using the Hairmax.
A plastic hairband vs. a cool Looking Cap
So you are taking a random walk in your neighborhood while using the Hairmax, chances are that people around you might notice something odd, something they aren't used to seeing much.
However, the Capillus manufacturers have made their product keeping this in mind. Besides the battery pack in your pocket and a wire connecting it with the device itself, others around you won't have a clue that there's a laser therapy going under an ordinary-looking cap.
Comfort and Fitting
When you start losing your hair, most of your hair loss comes from your temples, from the crown of your head and your hairline in the front. So, while using these laser products, you want to make sure that those tough spots are treated well.
For the females, who have long hair, the cap might not be very supportive.
It isn't comfortable to walk around and keeps coming off.
The wire which the company probably kept unusually long in order to facilitate you isn't much of a facility at all. It keeps on dangling which really makes an uncomfortable situation.
Moreover, the size isn't just designed for everybody so before buying it, make sure that it does fit your head properly.
The Hairmax laser band on the other hand gives you great comfort.
Due to the curve-shaped design and the teeth, it won't just slip off your head with a mere touch as the Capillus does. It's wireless so you don't have to worry about that.
The Curve design is not too loose and not too tight so it stays on your head.
It fits most of the people out there unless you've got an extraordinarily small or large head.
Removable Teeth
As discussed earlier, the Capillus isn't for everyone and chances are that it might not fit your head but the Hairmax apart from their marvelous curved design took the fitting to a next level.
Hairmax gives you extra sets of teeth in the box.
The teeth are removable and come in different sizes, so you can easily remove them, choose the one that fits you best and reinsert them.
The white background
The Hairmax band is really a masterpiece of engineering. You might never have thought that there would be a particular reason for choosing the white background for lasers.
The manufacturers essentially chose a reflective version of the white color so it reflects the light back onto your scalp and you get more of the light energy with the maximum treatment.
The Capillus has a copper-colored background which isn't very reflective and neglects this area.
Colorful and Attractive
Most users that have used both the Capillus and the Hairmax preferred the quality, design, and the color that Hairmax comes in.
They believe that the blue and the white make the Hairmax attractive in an elegant way whereas the Capillus is simply an unattractive bowl-shaped device.
Number of Laser Diodes
On paper, both Hairmax and Capillus come with 82 medical graded laser diodes each.
However, with the Capillus you are limited to those 82 diodes only.
The Hairmax is designed to cover your head in three areas by three shifts.
This means that you are practically benefiting from 3 x 82 = 246 laser diodes which are three times higher than the Capillus.
Besides you always have the option of adjusting it for a fourth area if you feel like having a fourth shift which will increase the number of laser coverage to a further extent.
Cordless
With the Hairmax, you just charge the device and you are good to go but while using the Capillus, you have to handle the battery pack and a long wire.
Hairmax also gives you great battery timing as it can last for months after a full recharge, now this might be partially due to the less usage time required but it does act as a great facility compared to Capillus that needs to be recharged more often.
6 minutes daily vs. 90 seconds daily
The Capillus requires a 6 minutes session daily whereas with the Hairmax all you need is 90 seconds.
Both these devices require much less time than their other competitors but there's a huge difference between the amount of time required by the Capillus vs the Hairmax and the Hairmax certainly wins the battle in this department.
FDA cleared
Hairmax and Capillus are both FDA cleared devices and are clinically proven to cure androgenetic alopecia (a common form of hair loss in both the genders which causes you to lose hair in defined patterns).
FDA clearance certifies that the device has gone through clinical studies that prove its efficiency and safety.
Both of them have gone through a number of clinical trials which shows that they won't have any adverse effect on your health.
Hairmax however, is the only company that ensures a drug-free treatment for both and females.
Hairmax also holds 14 worldwide medical device licenses which include clearances by the U.S FDA, Ministry of Health in Canada, CFDA in China, KFDA in Korea, and COFEPRIS in Mexico and Anvisa in Brazil.
Both give a money-back guarantee
As of now, both companies are confident about the effectiveness of their devices and both give you a money-back guarantee.
Capillus offers a one-year money-back guarantee in case you feel the device isn't effective enough or you haven't seen any progress in your hair loss prevention.
You'll have to bear the return shipping fee yourself and in case you return the product after a span of 30 days from the purchase date, another 25% will be deducted from the original price which means that this isn't a 100% money-back guarantee and in fact you'll be paid 75% of the amount if you are returning it after 30 days.
The Hairmax offers you a rather shorter money-back period.
You can return the device within a span of 6 months from the actual buying date and this isn't a 100% money-back guarantee too, 20% of the original purchase price will be charged as a restocking fee.
Alternative Top Choice – Kiierr Laser Cap MAX Hair Growth Bundle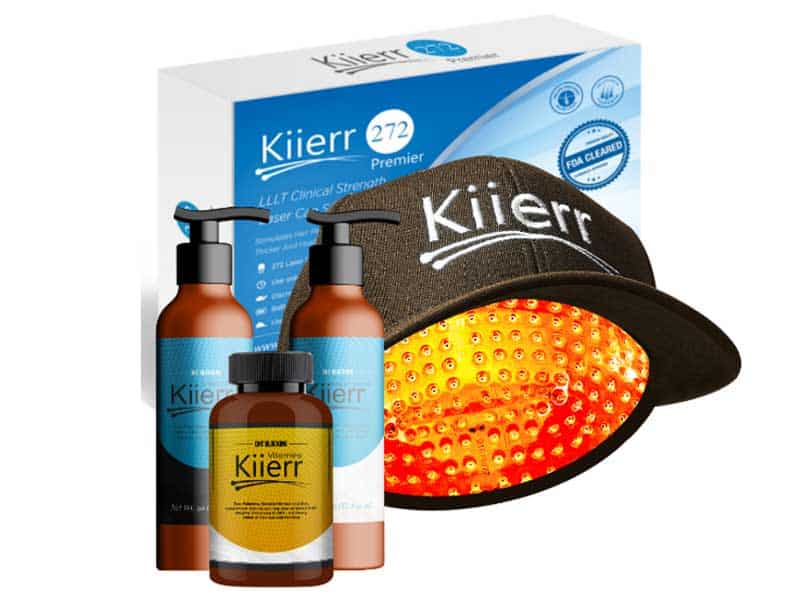 Kiierr offers one of the best (and most popular) laser caps for hair loss on the market! These laser caps use low-level light therapy to stimulate hair follicles and promote healthy hair growth. This treatment option is non-invasive, safe, FDA-cleared, effective, and can be done in the comfort of your own home. Kiierr also offers DHT blocking vitamins, DHT blocking shampoo & conditioner, and other amazing hair loss supplements.
Kiierr Laser Caps use only premium laser diodes (650nm wavelength) for maximum hair growth (no LED'S). In addition, you get a 2 yr product warranty so you can feel confident your purchase is protected.
Benefits
– Treats thinning and balding hair
– Reverses hair loss
– Promotes healthier, thicker hair follicles
– Safe and effective for treating hair loss
– Revitalizes damaged/frail hair
– Easy, portable and discreet use
– FDA cleared with no reported side effects
Use:
Kiierr laser caps are designed for both men and women. Kiierr uses a pulsing method which means the lights flash on and off the entire treatment time. It is 650nm wavelength with a total output of 1360 mW. You use it every other day for 30 minutes so it is convenient and portable.
Conclusion
All those differences between the Hairmax and Capillus make the Hairmax work better giving you the desired result you've been looking for.
Based on all the discussed factors, Hairmax clearly beats Capillus in most parts.
The Capillus is also a pretty decent device and will certainly prevent your hair from thinning but you won't be just as better off as you could be with the Hairmax LaserBand.