Remember all the girls you dated back in college? What was it that took your game to the next level? The answer is your youthfulness that was reflected by those thick and strong hair on your scalp. As a matter of fact, how good your face looks is around 90% dependent on your hair and the way style them. A well-groomed head of hair is as important to women as it is to men. So let's take technology's help here.
Technology is doing wonders every day, and as you've come here you probably know about Laser-Based hair recovery products or even if you don't, don't worry at all. We got it covered.
Our Picks on Best Laser Hair Growth Helmets
As you've come here, in search of the best hair restoring laser device, you are probably among the 40% of the unfortunate ones that are suffering from hair loss
In this article not only will we discuss them, but in fact, we will tell you how they differ from each other and we bet you, after reading this article you shall be able to decide very easily about the device you should be choosing.
All these devices can be used with ease at your home. They make your hair regrow thicker and the good think is that you also aren't bound, you may do whatever you want while using these Laser products
Here are our top picks of the Best Laser Hair Growth Helmet for you.
Kiierr Laser Cap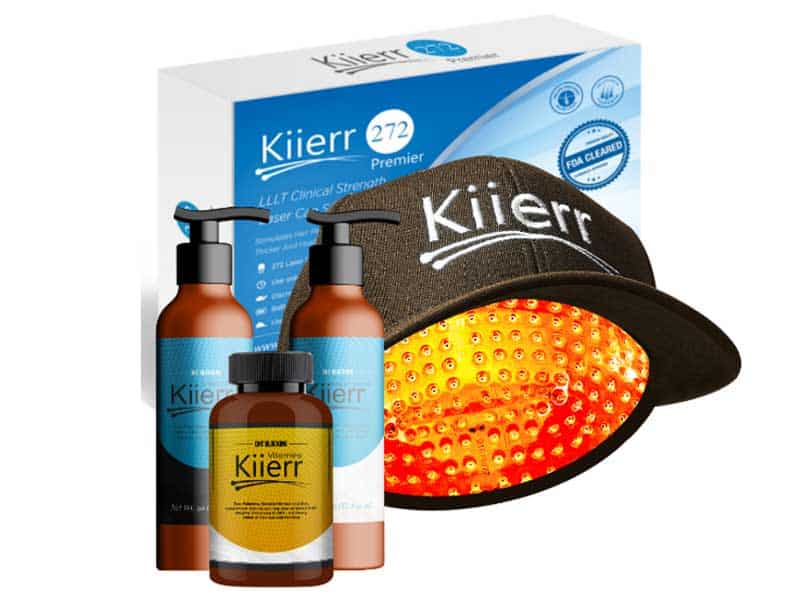 Kiierr offers one of the best (and most popular) laser caps for hair loss on the market! These laser caps use low-level light therapy to stimulate hair follicles and promote healthy hair growth. This treatment option is non-invasive, safe, FDA-cleared, effective, and can be done in the comfort of your own home. Kiierr also offers DHT blocking vitamins, DHT blocking shampoo & conditioner, and other amazing hair loss supplements.
Kiierr Laser Caps use only premium laser diodes (650nm wavelength) for maximum hair growth (no LED'S). In addition, you get a 2 yr product warranty so you can feel confident your purchase is protected.
Benefits
– Treats thinning and balding hair
– Reverses hair loss
– Promotes healthier, thicker hair follicles
– Safe and effective for treating hair loss
– Revitalizes damaged/frail hair
– Easy, portable and discreet use
– FDA cleared with no reported side effects
Use:
Kiierr laser caps are designed for both men and women. Kiierr uses a pulsing method which means the lights flash on and off the entire treatment time. It is 650nm wavelength with a total output of 1360 mW. You use it every other day for 30 minutes so it is convenient and portable.
iRestore Professional
iRestore Pro is a total beast whether it be performance, looks, results, or anything else. It beats the rest of the devices and that's the reason it's here at number 1 in our list. Here's why we prefer the iRestore over others
The Lasers and LEDs:
Your shape, design, looks and stuff are all secondary things, and what matters the most is the number of Lasers and LEDs in your device and how well it utilizes them.
If you are getting yourself an iRestore Pro, you get 282 LEDs and Lasers which is not only a very big number but in fact, the way they are fitted also ensures maximum coverage.
Looks and Build Quality:
iRestore Pro comes with grade A white colored plastic with pink finishing really looks good. It's a fact that the best LLLT device also comes with a magnificent design that makes way better than devices like Capillus and iGrow.
The quality and material used to manufacture this device is made to last for a longer period of time.
Battery Pack:
You don't get a battery pack with all these Laser Devices, but with the iRestore you do, and it really makes it easy to carry and use the device in public.
Medical Graded Cushions for Comfort:
iRestore Pro model comes with 3 medical graded cushions, these medical graded cushions sit on your head in a way that allows a fluent passage of air so your head won't become unbearably hot.
No other manufacturer has focused this much on your comfort and that's why you only get this feature with the top of the list iRestore.
Money-Back Guarantee:
No other brand offers a bigger money-back guarantee than the iRestore, you get a 12 months 100% money-back guarantee and the company even pays for the shipping fee.
With most of the other devices like iGrow and Hairmax, you get a 5 or 6 months money-back period and that too isn't a 100% money-back guarantee like the iRestore.
FDA Clearance:
A few of the laser devices are FDA approved, but the great thing about iRestore is that it's both FDA cleared and approved, which means that you can use it without worrying about any side effects and stuff.
So if excellency, brilliance, efficiency and all the topnotch features are something you desire in your laser helmet, then by all means go for iRestore.
Hairmax LaserBand 82:
The Hairmax LaserBand 82 comes 2nd on our list mainly because of the functionality, working, and design incorporated in it.
Lasers and LEDs:
Hairmax comprises 82 Lasers and LEDs, the number is decent enough but the procedure of using this device ensures maximum utilization of these 82 Lasers and LEDs.
You are supposed to use the Hairmax band 82 in three sessions, so basically you get the benefit of 246(82×3) Lasers and LEDs.
Shape, Design, and Outlook:
LaserBand 82 has the most unique kind of shape you'll see in a laser hair restoration device. While all the others are either helmets or caps, Hairmax made this plastic made band.
We would rate the design as one of the best among Laser Products and if not better than iRestore, it certainly looks more aesthetic than iGrow and Cappilus.
Usage Time: Least Required amongst the Laser Devices
This is probably the best thing you get in this device. The incorporated technology only desires you to use the Hairmax for 90 seconds daily.
No other brand can be used for such a short time to regrow your hair back, in fact, there are devices like the iGrow that need to be used for 20-25 minutes a day.
So if time is something you value a lot, then go for the Hairmax.
The Band Shape:
As we said, not many devices come with this shape, and because of the shape, you are supposed to use it in three sessions of 30 seconds each at different parts of your scalp.
The great thing about this is that this gives you even more coverage in those areas where some other helmet-shaped devices can't just reach as good as Hairmax does.
In addition to that, you can also force yourself the fourth session if you want more coverage.
So this shows that with the Hairmax Band 82, you will get maximum reachability of those lasers to your scalp.
The white background:
No other brand ever took this into consideration, but Hairmax chooses a white background in their product for a reason.
The white color reflects the light back onto your scalp ensuring maximum reachability of light to your scalp as no other Laser device does.
So besides the shapes, this is another feature made just to focus on the coverage that your scalp gets.
Built-in Battery:
Another brilliant feature that you get with the LaserBand 82 is the built-in battery. You don't need to bother carrying an extra battery pack as required by devices like iRestore and iGrow.
Once fully charged, that takes about 2-3 hours, the battery can more or less take you through a whole month.
This is partly because all you need is a 90-second session every day which just isn't that much battery consuming.
The Teeth:
In this Laser Hair Band, you get these patented hair parting teeth that move your hair out of the way to ensure direct exposure of your scalp to the lasers. This way, the results you get are way better than other devices like the Cappilus Pro and iGrow.
FDA Cleared:
Hairmax is also FDA cleared to cure Androgenetic Alopecia. So there's a standard medical assurity with it too.
By all means, LaserBand 82 by the Hairmax is a complete device, it's got this brilliant way of utilizing the Lasers and LEDs which ensure that your head get a full coverage for fuller and thicker hair.
The battery time is great and it only keeps you bound for less 2 minutes a day. So if you are someone who finds it hard to manage time, Hairmax LaserBand 82 is the right device for you.
Capillus Pro:
Capillus Pro is another hair recovering device that uses Laser to improve Cell metabolism and stimulates blood circulation in order to cure male and female genetic pattern balding.
Here's what makes Capillus Pro reach our list of the best hair growth helmet.
The Outlook:
As the name represents, Capillus is basically a cap and that's the main key benefit you get with this device.
You may compare it with any other device in our list, Capillus is the one that comes with a mere chance of being spotted as a Hair growth helmet in public places.
The Lasers and LEDs:
You get 82 lasers and LEDs with the Capillus which are not the most you'll get in a Laser device but certainly are more than devices like iGrow.
Coverage:
In laser devices, the transmission of laser to your scalp matters a lot in growing your hair.
You got to say that Capillus Pro needs to improve a lot in this department
For men with short hair or relatively less hair, the coverage is fine.
However, women generally have longer hair and the cap shape intermixes your hair, which causes your own hair to act as a hindrance between the Laser and your scalp.
So if you are a woman, we'd prefer you to go for the other device like iRestore or Hairmax instead of the Capillus Pro.
Required Usage Time:
As mentioned by the company, you need to use Capillus 6 minutes a day. This isn't the least required by a laser product but you certainly save a lot of time compared to devices like iRestore and iGrow.
Comfort and Fitting:
The Capillus Pro comes with a silicone liner that makes the experience more comfortable for you. Besides that, the fitting itself is also pretty flexible and can be adjusted based on the size of your head.
FDA clearance:
Capillus is also cleared by FDA which means that it is clinically proven to be safe and efficient. It has been through many clinical trials which shows that it won't affect your health in an adverse way.
iGrow Hair Helmet:
iGrow might not be the best laser hair growth helmet out there, but it works pretty well.
A combination of Lasers and LEDs:
While there are devices like the Hairmax that use all lasers in their device, iGrow uses a mix of Lasers and LEDs. So the performance you get won't be as good as you get on other devices.
The number of Lasers and LEDs is also not properly mentioned anywhere but from visually you could see that they are provided in much less quantity than devices like iRestore.
Looks and Build Quality:
The looks on the iGrow are fine, some believe that it looks like a Robocop helmet whereas to others it's a high tech helmet.
It's been manufactured using some pretty average quality plastic compared to devices like Hairmax and iRestore, which come with grade A quality plastic that feels premium in your hands.
So the looks aren't simply the most fascinating department yet this helmet is pretty bulky compared to other ones.
Headphones:
iGrow is the only hair growth laser helmet that provides you built-in headphones so you can just plug in the auxiliary cable to your phone and listen to your jam while it regrows your hair thicker and fuller.
FDA cleared:
iGrow is FDA 510k cleared and is clinically proven to increase your hair growth by over 35%.
Required Usage time:
iGrow requires its users to use it for 25 minutes every day.
So it's a fact that it keeps you bound for a much longer period of time compared to the other devices out there like the Hairmax.
Switch between programs:
A plus point that iGrow gets is the remote which enables you to switch between programs. It comes with 5-6 modes each made for different levels of baldness. So you can easily choose the one that is most similar to your condition.
You don't even get this option with top-notch devices like Hairmax and iRestore.
Comfort:
Despite being heavier than most other laser hair restoration products, iGrow comes with these cushions installed in it that make it sit really comfortably on your  head and feel very comfortable.
Besides all the other things, iGrow is pretty cheap compared to the earlier described product. It might not be the best laser product you could get, but it's cost effective and if you save money and get a decent performance, then iGrow isn't a bad option at all.
Theradome Pro LH 80
All Laser:
With Theradome you get 80 medical graded lasers and no LEDs which are efficient enough to ensure that you only need to use it twice a week for 20 minutes only.
Cordless and Rechargeable:
You don't need to worry about carrying external wires and battery packs because of the built-in battery. Once you've charged it you may use it while cleaning your house or walking your dog.
FDA approved:
All Theradome devices whether it's the Pro or the Evo are totally safe by all means. They are FDA cleared so they won't do any damage to your scalp.
Award-Winning:
Theradome has won the best laser hair restoration helmet award in 2018 which shows how effective it is.
The EVO Variant:
Theradome also manufactures an economical variant called Theradome EVO. Basically, you get everything in the PRO 2X you get in the EVO.
You get half the number of Lasers so it's everything half as effective as the Theradome Pro.
IllumiFlow 272 Laser Cap:
IllumiFlow 272 is another powerful hair restoring device that uses Low Light Laser Therapy.
Here's why you should consider buying it.
Lasers:
It promises a vast coverage of your scalp with its 272 diodes that are a mixture of Lasers and LEDs.
Portable and User Friendly:
The IllumiFlow 272 Laser Cap is highly portable and user-friendly as it automatically senses and shutdowns after a session of 30 minutes.
FDA Cleared:
All the IllumiFlow laser products are FDA cleared and are totally safe for you irrespective of your gender.
Cost-Effective:
The IllumiFlow 272 is way cheaper than most of the other devices.
In fact, the cost per Diode with the IllumiFlow 272 is lesser than $3 which shows that not only is it cheap in price like the iGrow but in the same price bracket you get almost the same amount of Diodes as you get with the iRestore.
Design:
The design is much similar to that of the Capillus but inside the constructed hat, you get a firm material.
This helps to protect the circuits and lasers so your inner workings last for longer durations.
No restocking fee:
If you don't see visible results, you can return the IllumiFlow 272 Laser Cap without any restocking fee getting 100% of your money back.
With other devices such as the Capillus, you are charged a significant percentage of the total amount as a restocking fee.
Revian Red Hair Growth System:
Revian can't compete with the earlier described products, it's just simply not good enough, however, there are a few features that are pretty impressive and make it differ from the others and based on your personal preferences, you might even like this device.
Let's have a look at its features and properties.
All Led Cap:
This is something that really makes the Revian apart from the others. It's the only hair restoring cap out there that uses no lasers at all.
The good thing about this feature is that LEDs last for about 15 years on average, so you can expect your investment to last for 15 years.
So if you prefer LEDs over Lasers due to any particular reason, go for the Revian Red as it's the best among the LED helmets.
Modulated Light Therapy:
While all the other devices use Low Light Laser Therapy, Revian Red has been incorporated with Modulated Light Therapy.
Modulated Light Therapy uses optical spectroscopy which ensures the emission of light at a wider angle.
This then ends up providing you your scalp a greater coverage.
FDA clearance:
A major turn off that will probably stop you from buying Revian Red is that it's not FDA cleared.
This means that it hasn't gone through clinical trials like all of our other enlisted devices have.
In devices like these, you need to ensure a standard medical assuirty for your own safety, but with the Revian you don't get any.
No need for a Battery Pack:
With the Revian, you get a preinstalled battery so once it's fully charged, there's no need to worry about external battery packs and wiring.
The built-in battery gives Revian an edge over devices like iRestore and iGrow.
Fitting and Comfort:
The company has manufactured its product keeping fitting and comfort a priority.
In the box, you'll find multiple headliners each in different sizes.
These headliners can be installed at the back of your helmet, just pick one that feels the most suitable to you for a comfortable session with the Revian.
The App:
Revian is the newest name in the Laser hair growth industry, and that's why they've made their device compatible with modern ways.
There's a Revian app that handles the whole device once you've paired it with your smartphone.
The app really makes your job easy as you no longer need to put a manual timer, it takes of your sessions, reminds you about your sessions, and does much more.
iRestore Essential, Capillus Ultra/Plus, Theradome EVO, IllumiFlow 148:
The reason why we don't want you to waste your time reading separately about iRestore Essential, Capillus Ultra/Plus, Theradome EVO, IllumiFlow 148, and similar devices is that these are the base models or more particularly cheaper variants of the already described devices.
They consist of most of the features their Pro variants have yet in a slightly lower number.
For example, the same quality diodes are used in their top-notch models but in a higher amount.
So if you don't have enough money to buy the Pro models, then consider buying these ones that are incorporated with the same technology yet are less efficient.
Are these Low Light Laser Therapy Devices for everyone?
Unfortunately, these Laser devices might not be efficient enough if you are completely bald. Laser devices only promise to cure androgenetic alopecia, which means male pattern baldness.
If you have already lost all of your hair, then in most cases these products won't be able to do you any good.
Conclusion:
The iRestore is the best laser hair growth helmet manufactured to the date, it beats the rest based on efficiency, comfort, design, and all the other things.
If time is something you value the most, you should probably go Hairmax or Cappilus.
Devices like iGrow and Revian need a lot to improve but they've still got impressive features like the headphones on iGrow and Modulated Therapy procedure on the Revian.
However, the new manufacturers like Revian and IllumiFlow are also showing some promising results and if newer technology is something that fascinates you the most, these devices are good enough to keep your hair restoration journey going on track.