Every day, most people lose about 100 strands of hair from their scalp. While the majority of people grow those hairs grow back, some people don't due to age, heredity, hormonal changes, medical conditions, such as lupus and diabetes, poor nutrition, side effects of medical treatment, such as chemotherapy, and of course stress.
And most common treatments to stop hair loss and possibly reverse it include: medications such as minoxidil (Rogaine) and finasteride (Propecia), hair transplant surgery and laser therapy
The theory of laser treatment for hair loss is that the low-dose laser treatments invigorate circulation and stimulation that encourages hair follicles to grow hair.
And studies have yielded encouraging results:
According to a 2014 study, low-level laser therapy appeared to be safe and effective for hair growth in both men and women.
A 2013 study of 41 males ages 18 to 48 found that laser hair treatment provided a 39 percent increase in hair growth over a period of 16 weeks.
There are a number of reasons that advocates cite to encourage participation in the procedure, including:
it's non-invasive

it's painless

there are no side effects

it increases hair strength
Let's compare these two models but first, there is still a better product out there.
Kiierr – Still A Better Option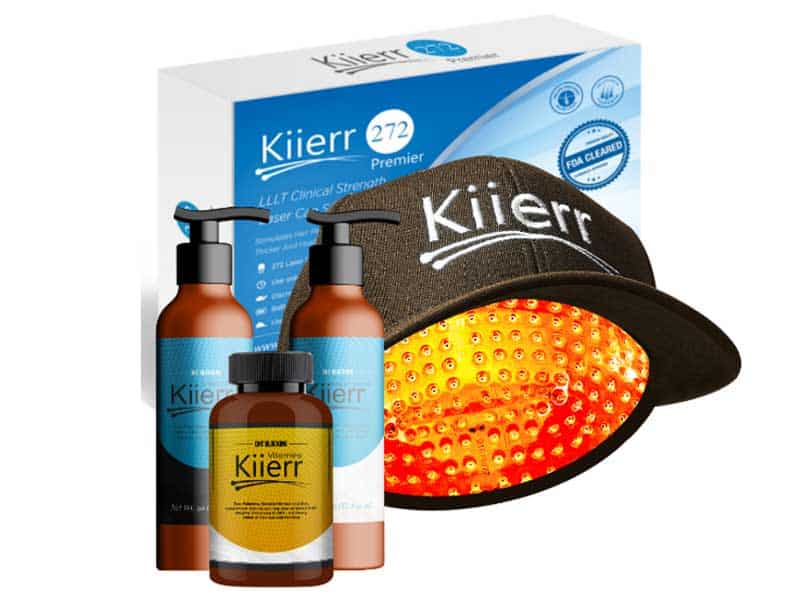 Thousands of men and women have grown thicker, fuller hair and gotten their confidence back in the process! You can check all the reviews by clicking the button below. Kiierr Laser Caps for hair loss are portable, powerful and hands-free specifically designed for ease of use. It's our top pick.
iGrow and Theradome Pro Lh80
Low-level laser therapy has been clinically shown to effectively treat hair loss (androgenetic alopecia), prevent receding thinning hair and regrow thicker, fuller hair – in 3-6 months. This article is all about these advanced products that claim to stop the hair fall and regrowth by using medical graded lasers.
For the comparison, we gave 2 top of the line devices i.e. iGrow & Theradome Pro LH80.
Both products are similar in terms of their structure. The Low Light Laser technology is embedded into a helmet to penetrate the light deep into the follicles. It stimulates the healthy growth and thickness of hair.  look similar because of their helmet structure.
The laser technology is used to penetrate the light deeply into follicles. It promotes the growth of healthy and thick hair.
The idea, the platform of these devices is the same, but since we're doing a comparative analysis, we'll be judging the products based on a number of technical factors and decide which one's the best buy.
iGrow Laser Hair Growth Helmet
Launched in 2010, iGrow was the first wearable hair growth helmet to hit the marketplace and was the first to receive FDA 501k clearance for men in 2012 with a prescription and the first device to obtain over the counter clearance for both men and women in 2014. Since its launch, iGrow has sold over 250,000 units worldwide and has medical device clearances in China, Korea, Brazil, and Canada. 
The hands-free helmet utilizes 51-light emitting diodes (a combination of LED and laser) for full-scalp coverage and delivers red light at the wavelength of 650-670 nanometres, which has been clinically proven to stimulate hair growth. The recommended treatment protocol for men and women is 20-25 minutes every other day for the first four to six months after which point the device can be used once or twice a week for maintenance.
iGrow is for men and women with mild to moderate genetic hair loss. It is not designed for individuals who are bald and have had extreme hair loss for a prolonged time. While these individuals may get results, they will likely not be satisfied with those results.
In clinical trials, women who used the device for 25 minutes per day, every other day, experienced an average a 37 percent increase in hair counts after 16 weeks, whereas men who followed the same protocol experienced on average a 35 percent increase.
Key Features:
LLLT (Low-level Laser light treatment) technology to stimulate and rejuvenate hair cell.

LLLT has proved to help hair grow thicker, stronger, and healthier. And can notably improve the hair's appearance and volume. In the course of various studies, LLLT helped to slow down or even stop hair loss in 85% of patients undergoing treatment. 

Increase in hair count by 35% in men and 37% in women

Medical hair loss treatment device is clinically tested, and FDA certified

Start showing results in 16 weeks and stop hair loss effectively

Gives full coverage with four adjustable columns, customizable headphones, rotating weight distribution, and aux hookups

Treat male baldness, androgenetic alopecia (

a common form of hair loss in both men and women. In men, this condition is also known as male-pattern baldness. Hair is lost in a well-defined pattern, beginning above both temples. Over time, the hairline recedes to form a characteristic "M" shape.

), hair thinning and promotes faster hair growth

Full money-back guarantee in 6 months along with a 1-year repair warranty.
Threadome Pro LH80
Theradome has fused science, technology and medicine to finally solve the problem of hair loss. The cordless Theradome hair helmet harnesses the power of laser light with the click of a button. Theradome is recommended by doctors but available over-the-counter. The next-generation Theradome is designed for simple use for only 20 minutes per day. The sooner you begin, the faster you'll see results!
What does the Theradome do?
Clinical studies have shown that the lasers in the Theradome laser helmet stimulate the growth of new and healthy hair. The lasers also slow hair loss and can even stop hair loss, even with hereditary hair loss. Besides, the use of the helmet doubles the hair follicle size of existing hair, so the hair also thickens. Laser therapy with the Theradome also helps to improve hair growth after a hair transplant or chemotherapy treatment. The recovery is better and faster. In addition, the quality of the hair is better than without an after-treatment.
The Theradome LH80 PRO laser helmet has been approved by the American Food and Consumer Product Safety Authority (FDA) as a medical device to stimulate hair growth. This recognition can only be obtained if independent research has shown that the device actually improves hair growth.
Clinical trials show that all participants benefited from using the Theradome and because of this it has been rewarded with the Hair Restoration Treatment of the Year Award. Users experienced one or more of the following:
A minimization and slowing down of hair loss;

A doubling of hair follicle size for existing hair;

New growth of healthy hair.
Key Features:
Engineered with 80 lasers optimized to stimulate hair follicles without generating heat meaning the lasers are totally safe for your scalp and hair

Ensures maximum laser hair treatment efficiency by generating less than 1° C of heat during each session.

Achieves optimal scalp penetration that reaches the base of hair follicles for powerful, effective energy absorption.

Custom-made and tested laser diodes designed to last 6,000 operational hours – equivalent to 18,000 treatments.

Treats all areas affected by androgenetic alopecia (common form of hair loss) for best possible results.

Designed for safe and comfortable home treatment, with zero side effects.

Stimulates hair follicles with a clinically proven wavelength specifically effective for hair growth.

Offers lowest cost per laser and highest dosage per hair growth treatment.

Get a full refund in 6 months if you find it unsatisfactory from the date of purchase.
iGrow vs. Threadome Pro Lh80 Detailed Comparison
These two laser medical helmets look similar but are quite different. Let us consider some of the crucial factors and compare these two products.
Appearance:
When we unbox a product, the first thing we observe thoroughly is how the products look like. The first impression makes your mind a lot regarding the product regardless of the feature. Basic human nature, right?  
Threadome Pro LH80:
 It comes in helmet design available in white and blue colours. The shape of the device is very simple and the company claims the design to suit 98% population with optional foam pads to adjust fit. The advanced design reaches all areas even above the ears. There is a green power button to start and stop the device. Overall, it looks great and easy to use.
iGrow:
On the other hand, iGrow is a helmet with headphones. It comes in grey colour with a comfortable head grip. The attached remote can be used to control the intensity of laser light according to the hair loss problem.
Technological factors:
Advanced technology in a hair treatment product makes it more effective. It is an essential factor that means a lot while buying such a device.
Threadome Pro LH80:
The device is manufactured with LLLT (Low-level Laser Light technology). The high-intensity laser light enters into hair follicles to stimulate hair growth. It rejuvenates the hair cell and promotes new thick and healthy hair. 
It offers useful voice reminders for session timings, product status, battery charging and more. 

Implemented with accessible software easily updated with Internet access. 

Can be customized for language preferences via download on theradome.com.

Optimized to deliver 5-7 high-dosage laser hair treatment sessions with the power of a rechargeable battery.
iGrow:
This technology used for iGrow is the same as Threadome, but a significant difference to observe is that you can change the light intensity according to your level of baldness.
It is a plug & play device means it doesn't come with a battery pack. 

The device automatically turns off after a 25-minute session.

The device is completely hands-free, you don't have to worry about any arm or hand fatigue.
Laser Lights:
These devices come with laser lights and LEDs to provide light to your hair follicles. It can bring a significant difference between these two products. An effective product must have a higher number of laser diodes than LEDs.
Threadome Pro LH80:
The product has 80 laser lights without any LED. It is a highly effective medical device for hair loss treatment. Therefore, this LH Pro 80 model works great for treating baldness, thinning hair and alopecia. It ensures maximum laser hair treatment efficiency by generating less than 1° C of heat during each session.
iGrow:
This device is a combination of laser diodes and LEDs. It has 22 laser diodes. It is easy to modify the intensity of laser light according to the baldness level.
Suitability & Comfort:
A product is designed and manufactured by keeping in mind the purpose and suitability. The laser hair treatment device must be comfortable. It should give full coverage to your head. The laser light evenly and deeply reaches your scalp for hair growth. A product is designed and manufactured by keeping in mind the target audience, purpose and suitability.
Threadome Pro LH80:
The product is suitable for both men and women. They can use this medical device to stimulate their hair follicles for thick and healthy regrowth of hair. The helmet structure of the device completely covers your head from front to back. The hair regrows evenly on every section of the head. If you have thin hair, then the device thickens them. It is very comfortable to wear and can be used anywhere while doing your daily chores.
iGrow:
Similarly, iGrow is also made for both men and women. The device is clinically tested, and FDA certified to use by every person. It covers only the above section of your head. If you have bald patches on the back section, it is difficult to regrow hair in that area. The headphones provide enough support to the device. You will feel comfortable while wearing it on your head.
Warranty & Return Policy:
A concise and clear return policy gives consumers a feeling of security; that what they are buying is guaranteed to be what it is represented to be. If a retailer doesn't give this guarantee, then consumers often become suspicious and avoid buying the product.
Threadome Pro LH80:
The company provides a complete refund in 6 months if you get unsatisfied results. You can get your full money back if you observe any adverse effects.
iGrow:
iGrow offers a 6-month money-back guarantee. You can get a full money refund if you get no results as promised. Also, there is a 1-year warranty for this medical laser device. 
Treatment & Results
Hair loss has many stages, from light to severe. You must know what a product can treat. An effective laser device treats all types of hair loss problems. The results must be positive and not too time-taking.
Threadome Pro LH80:
It is a highly recommended device by doctors to treat hair loss. In severe cases of baldness, alopecia, thinning hair, etc., the device can treat effectively. You can observe positive results in between three to six months. 
iGrow:
iGrow starts showing positive results in 16 weeks. It helps in thickening the existing hair follicles and regrow new hair.
Summary
| | | |
| --- | --- | --- |
| Factors | Threadome Pro LH80 | iGrow |
| Colours | White, Blue | Grey |
| Lasers | 80 | 22 |
| Headphones (built-in) | No | Yes |
| Wavelength | 678 nm | 650-670 nm |
| Guarantee & Warranty | 6 months | 6 months/ 1year |
| Suitability  | Both male & female (gender-neutral) | Both male & female (gender-neutral) |
| Area Covered | Covers almost all of the head (front, top & back) | Only covers the top of the head |
| Results (weeks) | 12 to 24  | 16 |
| Price (USD) | Check on Amazon | Check on Amazon |
Commonly Asked Questions…
Can I use the Theradome every day?
Treatments were cleared by the FDA for twice-a-week usage and we recommend following this regimen. However, some people use it every day with absolutely no side effects and excellent results
How do I charge the Theradome?
Connect the USB cable end to the AC adapter. Attach the micro-USB cable end to the connector located under the master switch. Plug the adapter into an outlet.
Can I use the Theradome if I have had a hair transplant?
Top hair restoration experts, such as Bosley Medical and Hair Club for Men, provide the Theradome to their patients. It works very well with pre-op patients and with those who are post-transplant
Does iGrow ship internationally?
Yes, it ships internationally to most parts of the world. In some areas, you may have to contact their local distributor.
Are there any negative side effects associated with using the iGrow?
No. Testing and user testimonials have shown no side effects when utilizing the iGrow with LLLT for hair growth.
I am completely bald and want to use iGrow. Will it work for me?
The iGrow is not recommended for those with severe hair loss.
Verdict:
After comparing Theradome vs. iGrow. It is suggested that you invest your hard-earned money on the Theradome laser device.
It is a highly effective medical device that can treat patchy baldness, alopecia, thinning hair and other severe hair loss problems. If you are feeling embarrassed about your personality due to baldness, then try out this device.
The choice is still yours.
The manufacturers of both devices assure that these are clinically tested and FDA certified. There is a 100% money-back guarantee offer if you find them unsatisfactory.
You can complain directly in case of negative results. Choosing the right product treats your scalp and hair in the right way.