Get your hands on the most suitable laser regrowth helmet and save all those bucks you had long been spending on expensive therapies and salon hair regrowth treatments.
However, the problem is that with a variety of hair growth gadgets and products available in the market, it gets tough to select what goes best for your particular hair type.
But you need not worry.
Because After hours of effort and research, we present you two laser hair regrowth systems available.
Although both have earned a reputation, drawing a comparison will make it easy to choose one.
Before diving into deep Check Our  Top 7 Picks For The Best Hair Growth Helmets.
Alternative Top Choice – Kiierr Laser Cap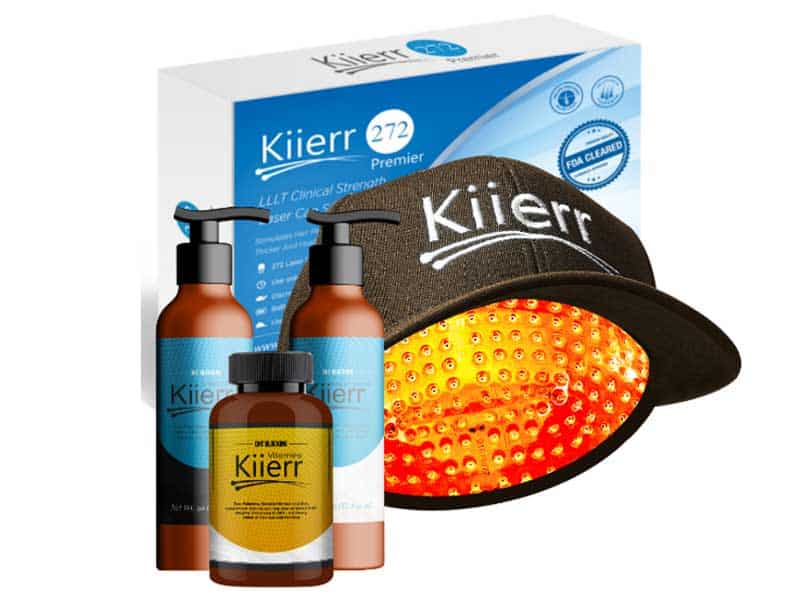 Kiierr offers one of the best (and most popular) laser caps for hair loss on the market! These laser caps use low-level light therapy to stimulate hair follicles and promote healthy hair growth. This treatment option is non-invasive, safe, FDA-cleared, effective, and can be done in the comfort of your own home. Kiierr also offers DHT blocking vitamins, DHT blocking shampoo & conditioner, and other amazing hair loss supplements.
Kiierr Laser Caps use only premium laser diodes (650nm wavelength) for maximum hair growth (no LED'S). In addition, you get a 2 yr product warranty so you can feel confident your purchase is protected.
Benefits
– Treats thinning and balding hair
– Reverses hair loss
– Promotes healthier, thicker hair follicles
– Safe and effective for treating hair loss
– Revitalizes damaged/frail hair
– Easy, portable and discreet use
– FDA cleared with no reported side effects
Use:
Kiierr laser caps are designed for both men and women. Kiierr uses a pulsing method which means the lights flash on and off the entire treatment time. It is 650nm wavelength with a total output of 1360 mW. You use it every other day for 30 minutes so it is convenient and portable.
iRestore vs. CNV
A comparison between these two products made us very clear on this opinion that CNV is better than iRestore.
There are a lot of similarities between the two products concerning their functioning. Still, a few significant differences made us more transparent that CNV is better than iRestore when you compare them both.
What do we like about CNV Laser Hair Regrowth Helmet?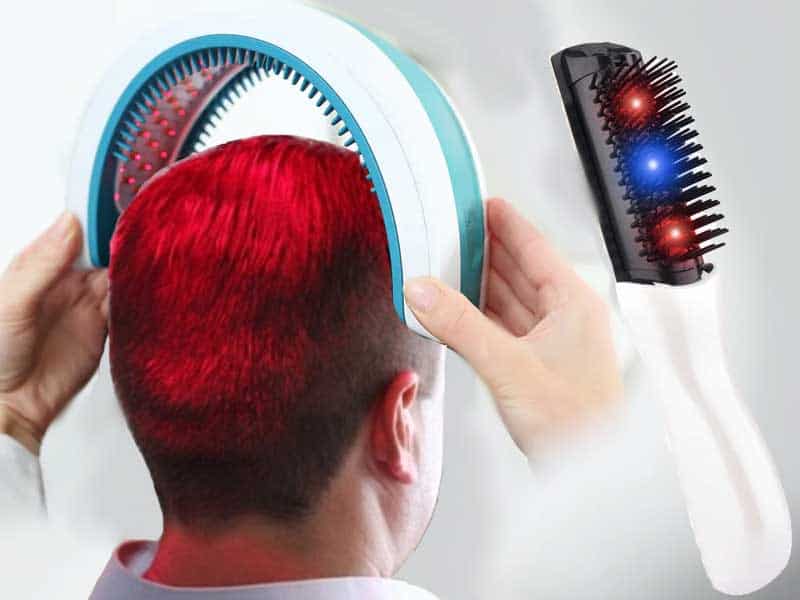 The best thing about these helmets is that they have four different modes. You can adjust the timer and can start, pause, and resume your session whenever you like.
This, apart from all other features, is a unique one.
This special treatment can increase the blood circulation to your follicles, micro-circulation, and protein synthesis. Thus not only bringing back what you have lost but also improving the quality of your existing hair.
Moreover, after learning the views of people who have used it, we concluded that this product could bring you the results in a relatively short period.
People from all age groups can use it. After knowing the views of those who are using it, we found that most of them are claiming to have experienced thicker, fuller, and healthier hair with its Clinical strength hair restoration technology.
You can use it on its own and combine it with other hair loss treatments to enhance the results.
However, we suggest it because it is a self-sufficient gadget and you don't need to pair it with anything else.
With a clear timer display and four modes, it offers a variety of laser intensities.
Mode 1: Suitable for severe hair loss
Mode 2: Applicable to severe hair loss in the middle of the head
Mode 3: Suitable for mild hair loss
Mode 4: Prevent hair loss, postpartum hair loss, tighten hair roots.
As compared with other hair-regrowth treatments, this gadget is much more convenient, easy to use, painless, and non-invasive.
Most of its users have claimed that they observed hair regrowth within three months of its usage.
It is an FDA approved gadget with a 180-day money-back guarantee. You can invest your money in this product without the risk of wasting it.
It is lightweight and easy to wear a helmet. You can wear it anywhere and at any time. Its chick design adds to the quality of the gadget.
It is advised to use this helmet three times a week for 20-25 minutes. Our research showed that within a month or two, people noticed a decrease in their hair fall.
After three months, most of the users had recovered the hair loss with tiny hair growing through the scalp.
Not even a single person who used this gadget has reported any itchiness or reaction, which means that it has no side effects. It can be used on both the dry or wet scalp, which is again a unique feature of this product.
Cons:
This product is not an ideal choice for you if you are already bald, because in that case, your hair follicles must already be dead.
Moreover, this is a time taking process. Invest your money in this gadget only if you can invest your time and be patient with the results.
If you are looking for an instant solution to regrow the lost hair overnight, then this is not ideal for you.
What do we like about iRestore?
iRestore has worked over the past years in manufacturing gadgets and producing a series of products to help people combat alopecia specifically. For this reason, they offer a variety of products.
Thus, one can always enhance the result by combining laser treatment with some quality hair products as the company offers a wide range for this particular condition, i.e., hair loss.
This laser hair regrowth gadget comes in the form of a helmet. iRestore offers two helmets, i.e., an essential version and a professional version.
This adds to the variety.
It is an FDA approved gadget designed to treat Androgenic Alopecia, balding, thinning hair, and receding hairline. It functions by stimulating the follicular growth and thus promoting the hair regrowth.
Moreover, the gadget can cover your entire scalp, thus providing equal follicle stimulation and regular nourishment to your entire scalp.
It is lightweight and can easily fit a person's head, hands-free, durable, comfortable, and designed for home-usage. It is also a travel-friendly device. You may take it in your suitcase to any part of the world.
You can wear it while reading a book, talking, watching TV and doing any other activity. It has been designed and developed in GMP certified facilities.
This product has been clinically studied and observed by doctors and hair growth specialists and has been approved to promote hair growth. About 43.23% increase in hair count was
Seen in men and women who experimented with this gadget.
This gadget is safe to use for anyone who desires to have thick healthy hair. The lasers have 650nm red light and 51 medical-grade lasers and LEDs, which are guaranteed to promote hair regrowth.
Keeping in view the fact that beautiful hair is desired by both men and women iRestore has manufactured this Laser Hair Regrowth Cap.
It can be used by both men and women of almost all ages. It offers low-level laser therapy LLLTand thus according to physicians can be used with any other hair growth treatment, e.g., biotin supplements, hair growth shampoo, conditioner, foam, Rogaine, minoxidil, Propecia, finasteride, and other hair growth products of such nature.
They offer a 100% money-back guarantee over six months. The claim is that you will notice a 100% result within 3-6 months once you start using this gadget. If in case you don't get the promised results, the company will make a complete refund.
They are thus ensuring that you can invest the amount in this product.
It has a chic design, which makes it look cool when you wear it.
iRestore has been clinically tested for males between the ages of 18 and 48, and females between the ages of 18 and 60, which is the age when caring for your scalp, can produce a positive difference and improvement.
Cons:
This gadget does not work overnight. You need to invest your money, energy, and time to get the required result.
Not for People Who are Already Bald. If you are already bald, this product may not be the right choice for you as it is meant to stimulate follicular hair growth. And bald people usually have dead hair follicles. So, opting for this product is not the right choice for you in that case.
This product has worked wonders for most people, but a few experienced itchiness of scalp after using it. However, this can be avoided by making sure that you use it on a dry scalp.
Moreover, your scalp must be free of minoxidil or the other hair care product after using the iRestore Laser Hair Regrowth Helmet.
A few also experienced an irritating flash, which can be avoided by fitting the gadget over your head correctly.
Another thing that impressed us about iRestore while researching their hair regrowth system is that they have invested time and effort in formulating a series of products for people suffering androgenic alopecia.
Not only have they designed this laser helmet, but along with that, they have manufactured iRestore Max Hair Growth Bundle, which is a composition of all essential oils and vitamins necessary to enhance hair regrowth.
iRestore Max Hair Growth Bundle:
This hair growth bundle is a very convenient and easy way to regrow your lost hair. If you are not comfortable with new technologies such as laser treatments or have any medical conditions that do not allow him to go for laser treatments, then this is ideal for you.
Anti-Hair Loss Serum – Clinically Proven Formula for thickening your chair anti-Hair Loss Shampoo – Advanced Therapy for bringing your volume backAnti-Thinning Conditioner – Moisturizes dry scalp and also repairs damaged hair3-in-1 Hair Growth Supplement – Includes Biotin, Saw Palmetto & DHT Blocker, aids hair growth and nourishment.
If used along with the helmet, you will get enhanced hair regrowth, better and quick results.
Redensyl is the major and the most primary component of the serum. This has been known for its action to reactivate the hair stem cell growth and also help increase the cell metabolism for hair regrowth.
Antioxidants, Amino Acids, Aloe Vera, Green Tea Extract, Vitamin E, and more in the shampoo highly restores the hair volume, texture and provides nourishment to the follicles.
Biotin, DHT Blocker, Saw Palmetto, and more valuable components of the supplements allow your hair health to boost by leaps and bounds.
Conditioner also serves the right purpose for smoothing and nourishing the rough and damaged hair. Biotin, Argan Oil, Amino Acids, Antioxidants, and Plant-Based Keratin will help you get the best results in just 3-4 months.
This process involves no technicalities. This makes it even more convenient for customers. You can use it just like your natural hair products. The multi-nutrient blend helps to enhance the scalp and hair root issues.
This product is so designed to meet the scalp requirements of both men and women. It addresses the nutritional scalp needs of both genders.
Thus, it is neither harsh on female scalp nor very mild on the male scalp but just is the perfect blend to be used by both.
You may choose it if you suffer from hair fall, thin hair, fragile or damaged hair, baldness or a receding hairline.
Now that we have provided you with a detailed outline of how these products work, you may not waste time and get your required product.
Why do we consider CNV better than iRestore?
Our research suggests that CNV is a clear winner here. For obvious reasons, CNV is better than iRestore.
CNV provides the entire variety of treatments in one helmet, whereas iRestore offers two differently designed helmets.
Professionals suggest using iRestore with the Max Hair Regrowth bundle. But CNV laser hair regrowth system has shown remarkable results all on its own.
With different mode adjustments available, CNV has proved suitable for everyone. The iRestore helmet has caused itchiness of the scalp and irritation of some of its users' eyes.
iRestore hair regrowth helmet requires more care and precaution. You can not use it on a wet scalp. With CNV hair regrowth gadget, you don't need to worry about any such caution.
CNV is a pocket-friendly brand when it comes to Laser hair regrowth as their gadget is self-sufficient, and you don't need to buy any other chemical product to enhance the result.
When approaching hair regrowth treatments, everyone has their priorities.
But the thing common among all of us is that we demand treatments that are painless, cost-effective, handy, and non-invasive with adequate output.
Keeping these in view, we consider that Laser Hair regrowth systems are better than the rest.
With light-weighed helmets available in the market, you can now enjoy your laser therapy merely by sitting on your couch, watching Netflix, or doing your home chores. How convenient….
The fact that about 2% of the world's population already suffers alopecia, and the number is increasing day by day. We landed with the conclusion that selecting the best product and investing time and effort in this selection process is very necessary.
You must know what type of alopecia are you suffering? The factors that contribute to it and those that don,t. Once you are clear about all these, it will be easy for you to make the right pick.
Make sure you also check out Revian helmet as well.