Remember the James Bond movies? The thrilling action and the gadgets which were light years ahead of their time? If you are into anything spy-related or have a knack for action or mystery, then a spy recorder is just the thing for you.
We got this thing for fun and got hooked onto its jaw-dropping ease of usage and vast array of applications. Just leave it at a dark place and forget about it. No one suspects anything about a strategically hidden recorder.
The dilemma of where to hide a voice-activated recorder in a car is not an issue since they are compact-sized, easy to use, and hard to find. If you have any doubts and insecurities about someone, worry no more as these can be instantly taken away with just a single investment in a spy voice recorder.
One of the best ways of hiding the voice recorder is either to use a  recorder which is extremely small or simply use a device that looks like some kind of decoration or something else, we found a product for this purpose.
Starting from AttoDigital Mini Voice Recorder to SOTA Voice Activated Recorder to Sony Digital Voice Recorder, all have been described with detailed features and their pros and cons.
It all depends upon your requirements, budget, size, and your personal choice on which product will be most compatible for you.
According to our analysis, all the products discussed below are excellent.
AttoDigital Mini Voice Recorder
After doing rigorous research and testing multiple voice-activated spy recorders, we have concluded that the this is the best buy among the voice recorders that we have selected.
Compared to other mini spy recorders, this one is quite compact, making it pretty easy to hide anywhere. Its size dimensions are 1.2 x 0.4 x 1.1 inches. (Almost a size of a penny).
And unlike most other mini recorders, this one has password-protected memory that allows you to set a 4-digit password. It allows you to select the desired sensitivity level for the voice recorder activation sensor, providing you with a range from level 1 to 10.
You can choose between 4 recording sound qualities as well, based on your needs, unlike other mini recorders which work only in 32, 192, 384, or 1536 Kbps in wav Format.
The rechargeable battery lasts up to 24 hours with continuous recording. And it can record even while on charging.
Overall it has 286 hours of recording and a 4 GB storage capacity.
The recordings are compatible to play on your computer, laptops, and mobile devices. And it supports both mac and windows.
It is a dedicated device for all those who want to record quality audio regularly.
Although the name indicates the spying nature of the device, you can still use it for every other purpose you can possibly think of.
A good way to hold = some extraordinary memories, capture ideas and conversations as they come to you. (Find even more agressive spy devices here)
We recommended it for cars, but it can be just as good for other things. Meetings, interviews, discussions, verbal business agreements, while taking courses in class, or for recording any other audio as required.
Note: It records continuously for one hour and then auto-saves, so if you are recording for a longer period, you'll lose about 5 to 6 seconds of the recording before it auto starts again.
To sum it up, this product is:
Light-weight
4 recording formats
Password protected memory
Selectable sensitivity for the voice activation sensor (10 levels)
The package includes a user manual, USB cable, and installation manual
Lifetime technical support
286 hours of recordings capacity
24 hours of battery life
Rechargeable battery
4 GB storage
Can record while charging
The display turns off automatically after 10 seconds
Battery level indicator
Supports Windows7/8/10 and macOS
SOTA Spy Recorder
SOTA spy recorder is a secure one-touch operating device with no confusing lights or buttons. It's user-friendly as you just need to move the switch to either side to start and stop the recording.
Although the recorder has 140 hours recording capacity compared to Attodigital's 286 hours (see above), it offers a battery life of up to 25 days in VOS mode.
It runs for continuous 15 hours of recording.
The seemingly simple gadget looks like a conventional USB which makes it well hidden.
It has a single switch that you can:
Rotate up for continuous recording
Press inward to stop recording
Rotate down for voice-activated recording feature
Once Idle, the recorder into sleep mode to save the battery life and disc space.
The files are recorded in HQ MP3 format and can be played in any audio program, such as iTunes and Windows Media Player.
This voice-activated recorder spy can also record while the device is on charge and has a 4 GB storage capacity.
Overall it's a fine product. But it is expensive. But given the sound quality (even picks up slight paper rustling sound) it's okay.
Also, this thing is not durable. So if you are planning to get one. Don't let it drop.
And don't lose it as well, as it has no password protection feature to secure your recordings
Atto Slim Voice Activated Recorder
Another good option for long and crystal-clear audio recordings.
It's intelligent auto mode allows you to record conversations by reducing any surface noise.
With no confusing buttons, it operates by a simple switch, which makes it the easiest to use out of all the voice-activated spy recorders.
It helps you preserve your ideas and record the important meetings, discussions and agreements.
Slim voice is a lightweight and practical recorder to keep in your car or carry along with you, which looks like a USB flash drive.
Because of its sleek design, no one can ever doubt that you have a hidden voice recorder in the car.
It has a dual USB 3.0 (which provides high-speed data transfer – it's a deal-breaker for some). And it supports both Mac and Windows.
The other micro USB port allows you to listen to your recordings on Android devices as well.
It has an ultra-sensitive microphone that helps eliminate surface noise and has 286 hours recording capacity with 26-hour battery life.
This spy recording device takes only about one hour to get fully charged.
Other than that unlike it's bother above, it does not record while on charge.
Sony ICDUX560BLK Digital Voice Recorder
Sony ICDUX560BLK Digital recorder gives you the freedom to record audios in any physical space. Due to its portable feature, you can carry it around with yourself. But still not the best gadget to hide.
But given the sound quality, it should still be considered. It has a built-in stereo microphone and voice-operated recording feature with three options, i.e., wide, narrow, and normal.
It can record up to 1 hour when only charged for 3 minutes. So, it charges very fast. Also the LCD is backlight and you also get to have a headphone jack and mic input.
The screen on the recorder displays recording information along with a battery indicator, making it easier to charge on time.
It comes with a Micro SD memory card slot that helps in increasing the internal storage space of the device.
Students and employees use this mini device for recording lectures and meetings in high quality.
You can play the recordings on your system as it supports both Mac and Windows OS.
PROS
Mini and Slim (4.2 x 1.1 x 6.8 inches)
Light-weighted
Portable
4GB internal memory that can be expanded via MicroSD cards
Built-in USB for easy PC connection and charging
Records up to 1 hour with 3 minutes charged
Adjustable modes
Records with a high-sensitivity Microphone
Easy to operate
A screen indicating recording status
CONS
Not password protected
It does not offer a warranty
Only 4GB internal memory
Mini Voice Recorder for Lectures Meetings RECJOY
RECJOY voice activated recorder allows you to record for 72 hours continuously without any interruption. The device with a metal case is rechargeable and be used in various surroundings.
This recorder is easy to use as it has a single button to record and save.
It contains an executive recording chip that allows you to record in good quality.
Storage wise, it offers 16GB internal memory that means a recording up to 70 hours can be stored easily on average.
Battery is also good.
With only 2 hours of charging, it can record up to 13 hours continuously. It also has a low battery detection feature that means, it automatically saves the file that was recording before the battery runs out.
Overall the device is handy and compact measuring 2.6 x 0.8 x 0.4 inches.
And it records in WAV format at the Bitrate of 512Kbps along with the Sampling rate 16KHz.
This device is also a well-hidden one. Unlike the sony above.
It is capable of recording audio in high quality even in long-range distances. That's because it is still able to capture all of your valuable information very neatly.
PROS:
16GB internal memory
Fast charging
Mini device (2.63*0.83*0.33in)
Portable
One key operation making it user friendly
Autosave recording before dies
Records while charging
It records for 13 hours per single charge
It can keep 72 hours of recording
Compatible with Mac
110mAH lithium rechargeable battery
CONS:
No screen
No jack for headphone connection
Using and hiding these recorders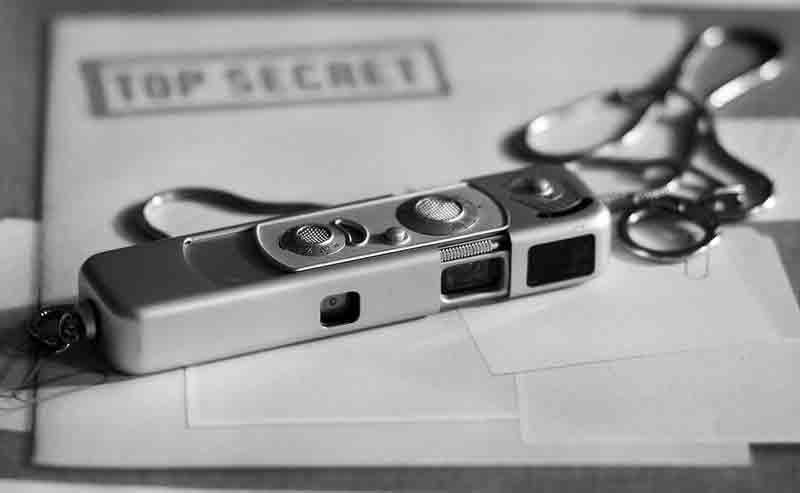 You know your car best.
Any crevice, slight indent on the inside of the car can provide a functional hiding space.
Generically, you need to place it somewhere in the car where it cannot be seen easily. You can place it safely in the dashboard, under the car seat, and in the pouch of the front seat.
Don't worry about the damping of the recorded sound as most of the devices we reviewed were able to record sound easily.
You just simply need to place the recorder down where the recorder cannot be seen.
Just turn on the recording device before placing anywhere, and as soon as it detects a sound, it will be start recording automatically.
We do prefer that you fully charge your devices for reliable and practical use.
Other Voice Recorders We Reviewed
We looked at six other mini voice recorders for you, and even though they did not make it to our top 5 list, still they are a great option to consider.
Sony Business Microphone
The Sony ECM-CS3 is a small omnidirectional microphone with a tie clip that can rotate and pick up a voice in all directions.
One can attach it to tie or clothing and can be used to record audio in high quality during classes, business meetings, and seminars.
This device can be used as a 2 in 1 gadget since you can use it as a recorder and mic as well.
Key Features
Comes in a clip style design
360° rotating compact design
Records voice in all angles
Recording through DVR or PC
Allow hands-free recording
Voice Recorder by Lgsixe USB Flash Drive
It is a simple operating mini recorder that comes with a USB flash drive that connects with computers easily. So, you can access, store, and play your recorded files anytime.
It does not require any additional software to be installed in Mac devices, but there is a chance that you might need a VLC media player or need to download any media codec if you don't have that.
Key Features
ON/OFF button for operation
Long-lasting battery timing
Simple charging via USB port
Records for fifteen hours continuously
12 months warranty
16 GB internal memory
Olympus ME-52W Noise Canceling Microphone
Besides being a very good spy voice recorder the one thing that we really liked about Olympus the most is that you can use it in noisy environments.
It comes with a tie clip and an extension cord by which you can place it anywhere easily.
Key Features
Suitable for use in noisy backgrounds
Consists of a 3.3-foot extension cord
Includes a convenient tie clip and a windscreen
nanoREC by aTTo Digital
Despite its small size, this voice recorder gives a top-notch performance. It captures audio in high quality with its ultra-slim modern design.
When fully charged, it can record up to 20 hours even if a voice is in a radius of fifteen ft.
Key Features
Compatible with Windows and Mac OS
Light-weighted measuring only 65inch* 0.7inch – 0.35 inch
It can be recharged through a USB port
141 hours of sound recording
8 GB internal memory
Efficient Customer Support
Records High-Quality Audio
Powerful microphone
Dictopro X200
A compact digital mini voice recorder with high quality that saves memory and starts recording when it senses voice. It is so powerful that it can record even at 60 feet.
It stores for up to 582 hours with an internal memory of 8 GB data.
Key Features
Single key recording
Password protected
Tough metal design
Up to 582 hours recording
Universally compatible
Low power-saving mode
Automatic noise cancellation
Highly sensitive microphone
It can operate for up to 17 hours
MP3/WAV recording format
Dedatre Keychain Digital Voice Recorder
The Dedatre keychain digital car recorder offers two modes which ensure noise cancellation and a clear sound. With one push button, you can start, stop, and play the recording.
Key Features
160 mAH battery
20 hours of recording time
3 hours of playback long standby time
One button operation
Built-in 16 GB SD card
Date and time stamps
WAV recording format
Compatible Win 7/8/ MAC OS
Conclusion
A detailed comparison has been carried out for you between the five best spy voice activated recorders.
Hopefully, this guide will help you in deciding which among the top five we selected is the most suitable one for you, according to your needs.
If you're looking for the smallest sized voice recorder with enough recording capacity and long-lasting battery time, then AttoDigital mini voice recorder is the best choice to make.
However, if you're looking for a recorder that offers you a warranty, premium USA Based Tech Support for a lifetime then go for our runner up SOTA spy recorder.
As it has a recording capacity of 140 hours, 4 GB storage capacity, and can also record while charging.
Furthermore, AttoDigital slim voice recorder is also worth looking at. Although, it cannot help you to record while you charge but still has some exciting features that make it on top 3 of the list.