Want to let your inner child run races and riots with the finest and the most impressive combinations of toys and technologies? Well, you have reached the right place… Presenting you here with the ultimate guide and our top-most recommendations for fast remote control cars available.
Talking about RC cars, it is important to know that they are a top source of outdoor entertainment.
Not only are these dinky buggies known for their blazing speeds but also, they have the same driving properties as their full-sized alternatives.
What more!
They can be your best stress relievers and fun partners whether you are on a beach, a cliff, your old warehouse, your backyard, lawn, or even in your local street.
Also, check out our picks on the best dirt bikes for kids.
Our Picks for the Top 8 60mph Remote Control Cars: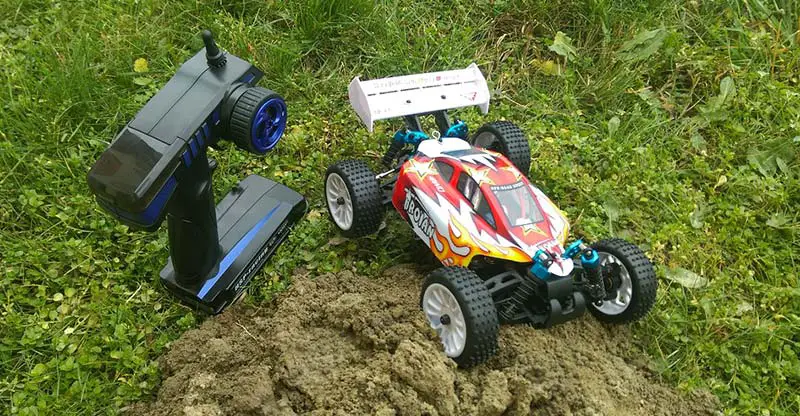 So before we get to our picks of the top 8 60 mph cars, it's important to give you a scan of what to look for in an RC car before buying one?
Before anything else make sure you opt for an electric car.
Although buying an electric or a nitro car is a matter of personal preference but keeping in view all the pros and cons of these two categories we highly recommend electric cars.
Nitro cars consume methanol and nitromethane for their functioning are undoubtedly more powerful than their electric counterparts but require high maintenance and care for their engine.
Nitro cars are very hard to clean because the fuel mixing etc creates a lot of mess and is frustrating.
Not a good choice for beginners.
Electric cars though less powerful than their nitro brethren are yet more convenient to use.
And if your RC car has a brushless motor than it can easily compete with its nitro alternative in terms of both speed and power.
The next thing to check when buying a Remote Control car is its size. Size is generally measured by scales ranging from 1:8 to 1:22. The lower the scale number the bigger the vehicle.
The most used and popular scale is 1:8. However, we recommend an average size of 1:14 which is the normal size.
The number of wheels is also an important factor. 2 wheelers are generally easy to fix when damaged. However, their grip on the ground is not as good as the 4 wheelers.
Now that you have good knowledge about the basic features to look for when purchasing your 60mph RC car, let's get to the list of the top 8 RC cars available.
Sinovan RC Racing Car:
The unique thing about this car is its pistol-shaped remote. This pistol grip transmitter ensures easy grip thus making it more effortless to control the car.
It has 2 x 3.6V 700 mAh rechargeable batteries so it can prove to be a tough competitor. Moreover, you require no USB cable to charge the batteries.
The battery time lasts for 30-40 minutes and the best part is that this vehicle comes with 2 batteries so 20 minutes for each battery is good battery life.
With its strong, sturdy, and durable body this little fellow will serve a lifetime. The plastic used in its manufacture is high in quality and non-toxic so the electronics or the body of this vehicle itself won't fade.
This strong 4 wheeler is excellent with its grip over the ground and so it ensures an excellent driving experience.
Its specific frequency is 2.4GHz which avoids interference of the signals when driving with other cars.
Our research suggests that this is a fearless little fellow so you can drive it on the beach, rocky cliffs, grasslands, rugged stone mountain roads, and even in mud.
The only care you have to keep in mind is that driving it in water or watery surfaces can reduce it's life so it's preferable to enjoy the drive over dry surfaces.
If you are looking for something amphibious then you may check FSTgo Car, the last one on this list.
You can confidently gift this car to your kid if he/she is above 4 years of age. This is a perfect gift for kids as well as adults.
4WD Cross Country RC Monster Truck:
The best thing this truck offers is that it has front and gear off-road powers. These make this truck an exceptionally good climber and provide that extra power torque to move stably and steadily on different terrains.
It has a 1:12 size design with excellent quality of non-toxic, durable plastic. We found this vehicle exceptionally strong. Strong enough that even if dropped from a height it will stay intact.
The front and rear anti-collision bumpers exceptionally reduce the chances of breakage or damage due to various complex terrains.
It has 6V 800mAH dual rechargeable batteries which provide a long driving time of about 50-60 minutes.
Four suspension springs and four large-size anti-skid rubber tires effectively alleviate the effect of the terrain you are driving on. This makes the body of the vehicle even more stable and strong so you can run it on the surface of your choice.
Unlike Sinovan racing cars mentioned above, this is perfect to run in water and muddy poodles. It can thus give you a more realistic experience of a rash drive.
It also has an excellent advanced remote control system with 2.4GHz wireless technology which offers 0 interference and maximum stability to reach a range of about 260 ft.
This little truck can highly help your kid enhance his physical coordination.
A very little ratio of customers complained about getting a damaged piece so for good you should make sure that you buy the deal from a trustworthy and genuine source.
Rimilia Stunt Car:
The thing special about this car is its triaxial suspension control system for superior handling and control.
Its 360 degrees rolling rotation ability to not only spin but also flip on both land and water makes it different from the above-mentioned cars on our list of top 8 RC cars.
This car also has an anti-crash design and is equipped with highly flexible wheels so you may run riots on any surface of your choice.
It is equally good on sandy beaches and rocky cliffs.
It is a very smart model and is eye-pleasing to watch. This car can be an eye candy among all others with its environmental-friendly spray painted body.
We found this super durable as it is shatterproof and will never fade.
However, it has a relatively low battery life of only 25 minutes with its 4* 1.5v" AAA" battery.
It can run with a maximum speed of 12 km/hr with 2.4GHz interference-free control technology.
Just like the 4WD truck some customers experienced issues with their model. So be careful with your purchase.
Moreover, if you prefer a vehicle of relatively a larger size then you may scroll down this list to another one of your choices as Rimilia stunt car is quite small compared to most others on our list.
VATOS Brushless RC Car:
This is an exceptionally strong and powerful buggy. Its brushless motor with excellent power will make it worth a real racing experience for you.
This car is special due to its motor which has a 2-3 times greater life than brushed one and same for the energy consumption.
You need to least worry about the surface your car is blazing on because the rubber tires with an extra-strong grip and anti-skid ability will help you race on even the slopiest and the sandiest surfaces.
So, be it a beach, mud, cliff, rocks, street, or road you are good to go.
4 advanced independent shock absorbers and the newest 4WD technology enables your car to absorb all the terrains.
VATOS claims a 2.4GHz frequency range with 0 interference but we experienced that you need to pair your vehicles with the remote control to avoid interference.
However, this is by far the best buggy on our list in terms of power. The rest are also fine but this one is specially designed for superior handling and control.
Its stable shockproof springs, exceptionally good operating systems eg turn, flip, etc make it prominent from others on our list of top 8 60mph RC cars.
However, the interruption of signals was a problem faced by every 10 out of 100 buyers. So if you are looking for a car that runs a long way without interruption in remote signals this might not be a good choice.
But, you can always choose this over all others on our list for its strong grip and stability when climbing over cliffs and rocks.
It has been made with High-quality ABS material, is absolutely environment friendly and non-toxic to use.
It has a rechargeable 7.4V 1000mAH Li-ion battery specialized for rash drives.
One major thing to keep in mind is that although it can run in mud and water yet you may cause damage to the battery by doing so.
Certainly not a choice for people who like their RC cars streaming through mud poodles. But, we have 7 more to explore from this list…
BEZGAR Remote Control Car:
Looking for a larger size RC car???
Here you are…
With most of the vehicles on a 1:18 scale in the market here we have BEZGAR with a scale of 1:14 which makes it relatively more strong then the rest.
It has front lights which add to its cool appearance. Moreover, with them, you can run riots even during night time now.
The speed is also claimed to reach about 20-25 km/hr, with powerful and durable built-in motors.
However, for less or more 7% of the users, the car didn't reach the above-mentioned speed.
It also has a 2.4 GHz frequency and hence offers strong and stable signals so you can operate the car from a long distance without getting interrupted. It has a non-jamming function which allows many players to play at the same time.
You can enjoy a long and uninterrupted gaming time with its double original battery pack.
USB charging line makes it more convenient and safe to charge your car. It offers over-charge protection and short-circle protection this highly improves battery protection and will help avoid accidents such as batteries catching fire etc.
Not only does this car has strong shock absorbing abilities with both front and rear shock absorbers but also it is made up of alloy material. This alloy material itself has strong anti-collision and shock-resistant properties thus adding to the shear strength of this car.
It takes roughly 180 minutes to fully charge and will perform for approx 20 minutes. If you want a car that takes less time to charge, you may check the under-mentioned Mini RC stunt car.
We found that unlike the above-mentioned cars this car cannot work well on soft surfaces. It is suitable only in hard and rocky areas.
Mini RC Cars Stunt Car Toy:
This is the cutest little buggy on our list. With a charge time of only 20 minutes, this car made it to our list of top 8 60mph RC cars. It comes with a USB cable to charge it.
Like most cars on our list, it has 2.4 GHz high specific frequency. Unlike others, this car is a 3 wheeler but that doesn't limit its power.
It is strong enough to climb rocks, run speedily on sandy grounds, and is fairly strong even on soft grassy grounds.
We faced 0 interference while driving this cute little monster with others like it. However, the control distance is a bit less than most other beastly trucks and cars on this list.
Excellent coordination of stunts and perfect 360 degrees rotating ability but less control distance makes it highly suitable for your kid and a little too simple for most adults.
The car body is strong and the impact cannot be damaged easily so in case, you are looking for your kid's birthday present, this is a perfect choice even if your kid is less than 4 years of age.
However, do make sure that it avoids contact with watery grounds for longer battery life.
FSTgo RC Car:
And here you go with the best Drive in Water gadget. This car is amphibious so excellent for both grounds as well as water.
You can enjoy 360-degree tumbling flipping, Double sides running, Forward, Backward, Turn Left, Turn Right it can do all.
We observed excellent frequency control even when driving with other cars. The control distance is 60 meters on land and 35m in water so it is equally good for kids and adults.
3.7V 500mAh Li-ion battery offers a 15-20 minute playtime when operated continuously.
However, the drawback here is that this 20 minutes max is acquired after 2-3 hours of charging.
That is a long charging time but the action is still on point. Still, we have Mini RC car stunt toy if you want something with less charging time.
It can travel a distance of about 35 km/hr.
Conclusion:
So here we conclude our list of top 8 60 mph Remote Control cars on the note that all these cars have their pros and cons.
Each one is different from the other. So, if you want to make the right pick here you need to be very clear about what do you want in your RC car.
Either you want it for yourself or for your kid to spend more time in outdoor entertainment?
You want a car to splash the small stagnant water bodies around, run long distances or climb rocky cliffs?
Get a clear answer for these questions and only then will you get your hands on the perfect little buggy for you.