An adventurous and pleasurable sport, biking has long been one of the most popular fun activities around the globe. People who want to have that extra adrenaline rush in their free times, take up such amazing hobbies for the satisfaction of their desire.
For those who are new at this, finding the best motorcycle for kids can be a difficult job, and even if you are looking for a motorcycle for your kid, you must gather detailed information from the experts and do a thorough analysis of various factors before making the final decision about the best dirt bike.
There are a number of factors that you need to consider while buying a new motocycle for yourself or your kid. These factors include the size of the bike, maximum weight capacity, maximum speeds, battery's strength, and tires durability. Apart from these, there are other important considerations as well which we will discuss in detail in the latter part of this post.
With a growing number of kids turning to race tracks, dirt bike manufacturers are facing fierce competition.  To stay on top of the charts, the manufacturers are producing kids' dirt bikes with attractive features and specifications. 
While this is great news for the kids who love wearing kids motocross gear and riding their dirt bikes, it has become increasingly overwhelming to select the best dirt bike among various options.
And so, to simplify the process, we are here with a list of the best dirt bikes for kids in 2020.
Although there are a number of options available in the market when it comes to the dirt biking activity, we have limited this article towards the kid's category. Below is a brief description of the 5 best motorcycles for kids in the market right now.
Razor MX650 17
Razor is a well-known brand in the dirt biking industry. You can view their different models and designs on the internet.
The MX 650 is a powerful and good bike making it one of the best dirt bike for beginners.
Basic Product Features
Electric Powered
Rechargeable Batteries
Strong and Sturdy Geometric Steel Frame
Maximum Speed of 17 Mph
Maximum Weight Capacity of 220 lbs
Twist Grip Throttle Control
Adjustable Handle Bar
Less Noisy
Now let us have a brief look at each of the prominent features.
Attractive Looks – Brought to you by a great brand name in the dirt biking industry, the Razor 650 Steel bike is a popular choice among kids and teenagers.
Designed like a real motocross bike, it is suitable for kids, especially in their teens.
Rechargeable – This is an electric-powered dirt bike that works on rechargeable batteries of 36 Volts which is higher than any other counterpart on the market.
It has the capacity of running for approximately one hour in a charging period of 8 hours.
This means a ride of almost 10 miles in a given fully charged battery. The first charge should be around 12 hours.
Powerful Battery – The 650Watts battery of this model is more powerful than most other dirt bikes in the market.
This makes it more powerful in terms of horsepower. It can reach a maximum speed of 17 Mph and in some cases can even go up to 25 Mph.
This is twice as much speed as other electric versions of dirt bikes. It also works well on uphill climbs and rough surfaces.
Suitable for ages 10 and up – This Razor dirt bike has been designed for children aged between 10 years to 16 years.
Kids under the age of 10 should avoid riding it for safety and precautionary reasons.
Friendly and Safe Design – The frame of the bike is made from sturdy steel which provides extra protection and safety to the structure.
The handlebar is also well placed for kids and is adjustable. There are foldable footpegs for enhanced comfort and grip.
Large Wheels and Disc Brakes – The wheels of the Razor 650 are largely sized with measurements of 16 inches.
This makes it suitable and comfortable to ride on different landscapes and terrains. The quick responsive disc brakes are operated by hand handles. They are quite sensitive and allow smooth halts safely.
Why is it a Good Choice for Beginners?
Great features with best value of money
Electric Powered less noisy engine
Good engine strength with a maximum speed of 17 Mph
Strong and Sturdy long-lasting body structure
Can carry weight up to 220 lbs
Suitable for ages 10 to 16 years
90 Day Warranty
Razor MX500 Dirt Rocket Electric Motocross Bike
This is a heavy-duty model of dirt bikes. It is powerful yet less noisy and smooth.
Basic Product Features
500Watt Electric Motor
Maximum Weight Capacity 175 lbs
Highest Speed Limit of 15 Mph
Adjustable Handlebars
Dual Suspension
Large Pneumatic Tires
The kickstand that can be retracted
60 Day Warranty
Another great model by Razor Dirt Bikes, we can have a better look at its important features.
Designed as Motocross Bike – This is an electric dirt bike that is designed like a real-life professional motocross bike but just smaller in size. The outlook of the MX 500 is attractive and sporty and is sure to catch the attention of the dare-devils of the biking world. It is available in a number of attractive colors so you can choose according to your kid's liking.
Strong and Sturdy – Although the bike is a great looking beauty of the biking world, its design does not compromise on the safety and strength of the body. It has a strong and stable steel frame that helps balance the bike in the bumpiest of journeys and rides. It has a double suspension with an adjustable handlebar.
Chargeable Battery – Like other electric bikes powered on batteries, this one too has a strong 36 Volts rechargeable battery pack. It requires an optimum charge time of 12 hours for a full one hour ride.
Powerful Electric Motor – The strength of the dirt bike depends on its electric motor. In this case, the bike runs on a 500Watts motor that is powerful enough for beginners and newbies and takes the bike to a maximum speed of 15 Mph with a maximum load of 175Lbs.
Size and Dimensions – The size and dimensions of an MX 500 may look like a big motocross bike, but in actual it is suitable for children up to the age of 13 years. For a 14-year-old it may be a little small.
Large Wheels – It has strong 16 inch wheels in the front while at the back wheels are of 14-inch size. With good traction, the wheel allows the bike to run smoothly and fast on different types of terrains and landscapes. Whether you are driving on the grassy fields or on rocky and gravel roads, these tires will be durable and reliable for both.
Why is it a Good Choice for Beginners?
Suitable for ages between 8 years and 13 years
It has a powerful electric motor working on rechargeable batteries
Batteries are powerful and can be recharged easily
Can carry weight up to 175Lbs and still reach a good speed of 15 Mph
Strong and Sturdy steel frame ensures durability and long-lasting life
60-day warranty.
Razor Dirt Quad
This is an amazing dirt bike that is suitable for kids of lesser ages. It is four-wheeled instead of the regular 2 wheelers.
Top Product Features
Sleek and Stylish Looks
Battery-powered electric motor
Maximum Weight Capacity 120 lbs
Geometric Design with Large Tires
Quiet and less noisy
Twist Grip Throttle Control
Adjustable Handlebars
Below is a brief description of its prominent features that make it one of the best dirt bike for beginners.
Durable Structure – The Razor Quad is designed in a stylish and sleek structure made from strong material. It is shatter and weather resistant. It comes in attractive colors and is a very stable bike to start your dirt biking experience.
Electric Powered – Like the other Razor Dirt bikes, the Dirt Quad is also electric powered working on a 24V battery pack. The engine is less powerful as compared with other options and can reach up to a maximum speed of 10 Mph.
Battery Statistics – The Dirt Quad runs on two rechargeable batteries of 12Volts each. The charging time for each is almost 12 hours. Once fully charged the bike can run for almost one hour without disruptions.
Suitable for younger age groups – Although the Razor Dirt Quad is recommended for children above 8 years, it is safe enough for even younger children. With a given height and size, kids from the age of 4 years to 6 years can also easily use this bike under adult supervision.
Adjustable Handlebars – With good quality adjustable handlebars, you can make your bike usable for kids of different age groups. It makes the ride more comfortable and the rider is able to control the bike more efficiently.
Safe and Less Risky – As compared with other two-wheeler dirt bikes, the Razor Quad is much more stable and safe in terms of drive and riding on the off-road terrains.
Why is it a Good Choice for Beginners?
It is more stable and requires fewer balances efforts
Suitable for a larger range of age groups
Safe and durable body
Less powerful
Rechargeable battery
Rear disc brakes for smoother halts.
Apollo AGB-37CRF-2 125cc Manual Gears Dirt Bike
Apollo is a cheaper Chinese brand offering good quality dirt bikes in the market. This is a manual version of their bikes and is one of the best dirt bikes for beginners as well as old-timers.
Basic Product Features
Manual Transmission Powerful Engine
4 Gears
4 stroke engine
Maximum Speed of 50 Mph
Weight capacity of 220 Lbs
Hydraulic Brakes
Some of the key features of this model are described closely.
Strong Structure – The bike has a durable structure made from heavy-duty steel. The frame is heavy and adds lots of stability to the rider.
Manual Transmission – This bike comes with a 125 cc 4 stroke engine that has a single-cylinder design. With a manual transmission, it falls under the professional dirt bikes category. It has the great horsepower to run through various terrains and regions. The bike can be easily started with a kick start option.
Hydraulic Brakes – Unlike the above-mentioned models of dirt bikes, this model has a hydraulic braking system. It may not be very sensitive but it sure is long-lasting and durable.
Suitable for teenagers and young adults – This is a much more sophisticated and advanced level dirt bike. It is more suitable for beginners that range in age from 14 years to young adults. With its super-strength, it can carry larger weights and loads with a more powerful engine. Its maximum weight capacity is 220 Lbs.
Why is it a Good Choice for Beginners?
It provides good value for your money with more features
It is more professional
Provides a great off-road experience
It is cheaper yet faster than its counterparts
Spare are easy to find and cheaper
PCC Motor DB50X 48L Dirt Mini Pocket Bike
A small size dirt for your kids brought to you by PCC.
Basic Product Features
49CC 2 Stroke Engine
Gas Powered with 1 Cylinder
Top Speed of 25 Mph
Automatic Transmission
Air Cooled Engine
Conveniently placed Brakes and Throttle Controls
Load Capacity of 100 lbs
Not legally allowed in main roads and streets.
Now let us have a closer look at its main features.
Sleek Outlook – This is an amazing product brought to you by one of the renowned names in the dirt biking industry. It is designed to look like a full-sized power dirt bike but in reality, it has a small size ideal for kids and beginners. It is made from a poly-fiber frame and is available in 5 attractive color options. The mudguards are raised high from the tires and the underlying engine is easily accessible for any type of cleaning and repairing.
Easy Set-up – The bike comes in easy to install parts to simplify shipping and carriage. You can conveniently put various parts together with the help of a friend. However, you need to have a basic knowledge about engineering tools and equipment and the knowhow for mechanically and technically putting things together effectively.
Engine Capabilities – The bike has a 49CC engine that has a 2 stroke basic design. It is placed sufficiently above the ground to avoid any damages during the ride. The Gas-powered engine works with excellent torque and has a maximum speed of 25 Mph. It works best with unleaded gasoline.
Heavy Grip Tires – This model of mini dirt bike has good quality heavy grip tires installed in its wheels. They provide excellent traction with the rough surfaces with reliability and durability.
Disc Braking System – For extra safety and protection measures, the disc brakes are installed both in the front and rear wheels of the bike. These provide precise and accurate halts when and where needed.
Automatic Transmission – This is an important feature especially for new beginners and kids. With an automatic transmission, the biker focuses exclusively on riding and balancing the bike rather than giving all his attention to the gear-changing process.
Why is it a Good Choice for beginners?
It has a smooth and steady take-off speed before accelerating to higher levels
Great look and useful features at the given price
Good powerful engine with the required horsepower for various types of terrains and landscapes
Small Size is Ideal for kids
Good quality tires for off-road experiences
Safe disc braking system with fast and prompt response to reduce risk
Excellent design with sufficient ground clearance for avoiding and preventing any unnecessary break downs and damages.
Understand, Analyze and Select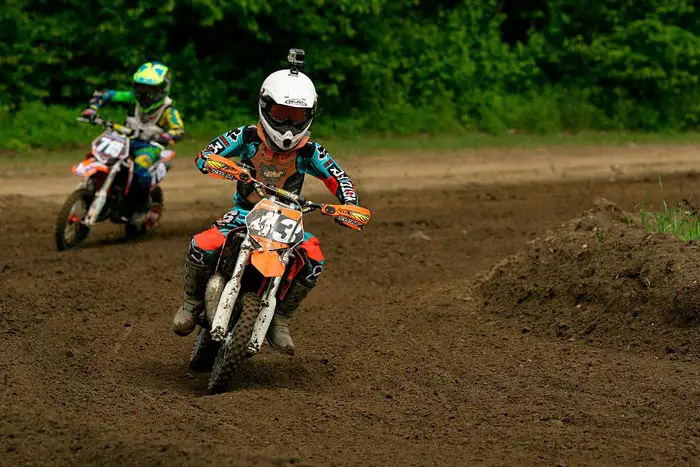 Dirt biking is an adventurous sport that is sensationalized by attractive bikes, fast and loud engines and exciting rides across the thrilling trails and terrains of nature. All this thrill and excitement can overshadow the care and precaution you need to take during the activity. It is also very important to you understand, analyze and select the best equipment for the sport. Making hasty and unwise decisions can lead to unforeseen mishaps, accidents, and uncomfortable rides.
Important Queries
Although this may seem to be a fairly less popular sport, you might be surprised to find such a huge number of dirt biking options in the market. This can intimidate a large number of newcomers. Even while searching on the internet for the best dirt bike for beginners, you might be looking at a huge round-up of bikes and motorcycles.
Questions that may arise in front of you may include:
Two-stroke engine or four-stroke
What is CC?
Why is engine capacity important?
What is the top or maximum speed?
Why is acceleration and torque important?
What is the correct body size and bike type?
All these and many more similar questions might be facing someone who is beginning this sport for the first time. So, to make this less confusing and problematic, it is important to educate yourself before making the purchase decision about an unfamiliar market and product.
Factors to Consider for Buying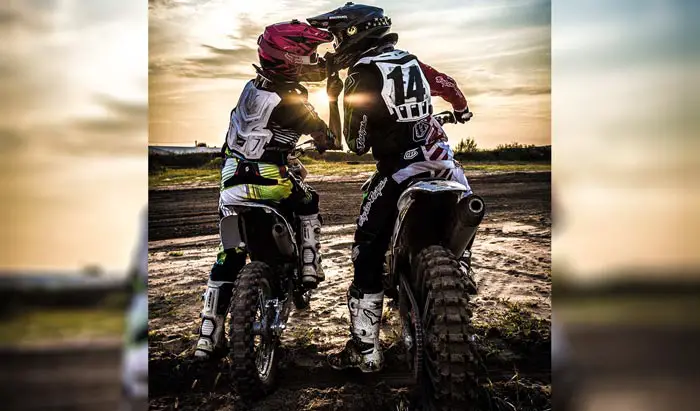 Engine Type – Stroke is a numeric figure that describes the type of engine of a dirt bike or a motor vehicle. In general, a motor vehicle may be two-stroke or four-stroke. The former type lets the engine operate on a mixture of gas and oil. This provides a fast and quick acceleration to the bike but releases dirty and polluted fumes in the air. This engine is easy to repair and fix.
The four-stroke engine is much more complex and can achieve higher speeds in less time. Their emissions are less harsh on the environment. But you must be thinking which would be better for your purchase?
The answer depends on your preferences and requirements. If you want greater speeds, less frequent maintenance, more drives and are willing to spend more on the cost of the bike, then a four-stroke engine is recommended for you. In the case of opposite preferences, the bike with the two-stroke engine is more suitable for you.
Rider Skill Level – Although we have written about the best dirt bike for beginners, this still can be confusing for some. You may begin your dirt biking experience at the age of 5 years or at the age of 55 years. At either of the two ages, you will still be a beginner. So, for buying the bike, you should analyze your skill level.
Riding level may include balancing skills, hand, and eye coordination, quick decision-making capabilities and overall mechanical know-how of the machine itself. You must be able to understand the product specs of a bike in order to make a wiser decision of purchase.
Size of the Bike – One of the most important considerations when buying the best dirt bike for beginners is its size. This decision will depend on the rider's own age and size. For very early beginners you can opt for a smaller bike but for teenagers and young adults you can go for larger models. When buying for your kids, you should always opt for slightly bigger and adjustable bikes so that they last longer through their growth process.
Outlook of the Bike – This is the first thing you notice when you go shopping for the best dirt bike for beginners. Its style and color should be attractive. The frame should be sturdy yet stable. You also have the option of choosing between two-wheelers and four-wheelers.
Starting System – Electric dirt bikes can start with the push of a button or a switch. On the other hand, fuel-based dirt bikes require a kick which may require more force and extra strength. Your choice will depend upon your kid's age and his own strength.
Seat and Posture – Seating and posture of the rider is an important consideration while buying the best dirt bike for beginners. Depending upon your kid's age, select the most comfortable option for him or her. It should also be designed to support the right posture and enhance convenience in the riding process.
Size of the Wheels – A dirt bike can have different sizes of wheels depending upon its size and design. In most cases, larger wheels are considered better than the smaller ones, specially in two-wheeled dirt bikes, larger wheels ensure smoother and safer rides. For smaller bikes, small wheels are easy to maneuver and provide extra stability to the bike.
Engine Power – According to experts, light weighed bikes with less powerful engines are suitable for new beginners and younger kids. With increased skill level and age, the engine power can be enhanced. Similarly, you have an option to select from a manual transmission or auto transmission dirt bikes. Definitely, for new starters, the auto transmission is best suited but for riders with better skills, a manual transmission can also be selected.
Budget and Price – Definitely one of the most important considerations while making any types of purchase. The budget you have can help you select a price range of the dirt bike. s
So these were some of the factors that you must consider while buying the best dirt bike for beginners.
Safety of Children and Precautionary Equipment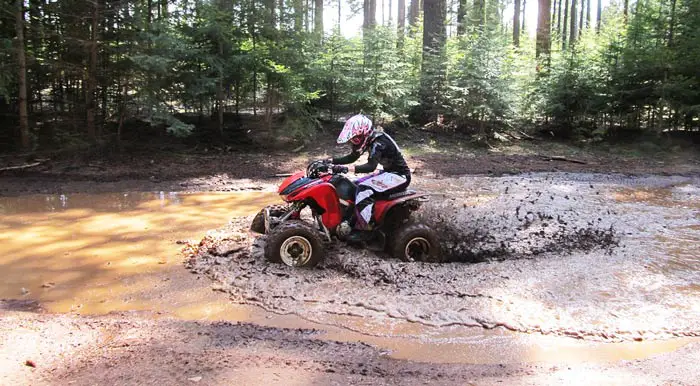 Riding a dirt bike is not adventurous but also very risky. It can have severe repercussions in case of a mishap or accident.
Being an extreme sport, it makes your adrenaline go high because of all the excitement and danger. Although the dirt bikes used by kids are specially designed for the small riders, the level of danger still remains.
It is therefore highly recommended to equip your child with the safety measures and equipment necessary. Ensuring the safety of your child is of utmost importance. Fun and excitement are second-tier priorities.
There is a large variety of safety equipment for biking available in the market. But adding too much load on your child is also not advisable. It can be more dangerous than safe.
Some basic safety measures that you can ensure, should include
Read and understand the safety manual that comes with the dirt bike
Make your kids understand the importance of the safety measures and equipment
Provide them with the right safety equipment including goggles, boots, gloves, helmet, knee-elbow and shin guards
Always accompany your child while using the dirt bike.
Final Thoughts
Dirt biking is an exciting activity that is not only challenging physically but also mentally. At the same time, it is also risky and dangerous. You cannot let yourself or your young one to simply buy a bike and go out on highways or anywhere else for a ride. The first few weeks and months should be dedicated to learning the basics of dirt biking and practicing riding skills. This is the reason why you initially need to buy a dirt bike for beginners and as you move ahead in the learning curve, you can switch to more professional and bigger options.
Anyone Can Ride a Dirt Bike
If you are looking for the best dirt bike for beginners, then it is important to understand that generally, a dirt bike is safer to ride and drive than a normal bike. This is because the speed of the average dirt bike is quite small. In most regions around the world, it does not even require a license for driving.
Dirt Biking for Kids
If you look at the dirt biking industry, you will see that most dirt bikers start their activities very early in their lives. Most of them begin this sport as kids and then move up to professional dirt biking as they grow older. For this reason, if your kid has a spark for this kind of sport, you should encourage and support him from a young age. The selection of the best dirt bike for beginners, therefore, becomes a top priority for such parents.
Dirt biking is a great experience for both adults and kids. It is fun and adventure at the same time. There is a wide range of dirt bikes available for kids and new starters. Choosing and buying the best dirt bike for beginners can be challenging. But once you have gone through our lineup of best dirt bikes for beginners, things would be a little easier for you. Also, you can enhance your understanding of the dirt bikes by going through the various factors to consider while making the final selection. So, I am sure, that after going through this post, you will be able to select the best dirt bike for beginners in no time.