Some chores around the house are highly hated by all. Mowing the lawn is definitely on the top. That's why robot lawn mowers are getting so popular.
Cutting your lawn can be a burdensome job. It can make your weekend plans go down the drain. So, why cut the grass yourself when you can ask a robot to do the chore for you?
So we are here with the best robotic lawn mowers that are worth buying.
We have selected some of the top-ranking robotic lawn mowers with and without the perimeter wires.
Starting from the Worx WR140 robot lawn mower to the Honda Miimo HRM520 to Gardena 4069 all have been described with detailed features and specifications. Some great models by the lawn mowing giant Husqvarna have also been presented in our top-selling list. It all depends upon your needs, requirements, yard size and budget, which one will you buy. According to our research, all of them are top of the line.
Lawn Mowing Can Be a Tough Job!
Having a lawn is a luxury in many parts of the world. But having to mow every now and then is far from luxurious. It is tiring to push around heavy lawn mowers for hours and hours especially if you have a large area. Even if the mower is a ride on, it still requires lots of time and energy to work on it.
Thanks to robotic technology and science we have been able to solve this problem for most of us. Robot lawn mowers are popular and effective devices that can cut your fast-growing grass with ease and convenience.
Make Your Life Easy – Invest in a Robot Lawn Mower
If you do not want to waste your weekend on pushing around big noisy lawn mowers in your yard, then you must make an investment that can relieve you from this ordeal. Buy a robot lawn mower that can make your life easy, fast and tension free.
So Here is the list of Top Robot Lawn Mowers
There are a large number of companies manufacturing these devices in the industry. We have shortlisted the best choices for you to help you have a taste of the fantastic future where you simply need to relax and sit back and let the robotic gardener do the lawn mowing on its own.
Worx WR140 Landroid Robot Lawn Mower
This model has all the features and functions that you might be looking for in a reliable and durable robot mower and that too at an affordable price. This mower is well suited for even the smallest of the spaces. It is designed for mowing a quarter of an acre or less in a given cycle.
Cordless and Easy to Install
It is a cordless model that is easy to use and install. You can call in a certified professional to do the initial installation or simply go through the detailed instruction manual and do it on your own.
Being part of the Worx Landroid series, this model is fully automatic.
Operated through Mobile App
This is an upgraded model from Worx Landroid and functions with the help of a sophisticated mobile app. This app has a number of functional features to make mowing jobs easy and convenient.
Recognizes Your Lawn or Yard
This advanced app allows the mower to remember the size and shape of your lawn accurately. All you need to do is walk around your lawn sides along with your smartphone and the app will calculate and save the lawn's measurements and dimensions. This is a useful function as it will help the robot to choose the most suitable pathway for efficient working.
Built-in as well as customized programs
The WR140 comes with a number of built-in programs and features. However, you also have the option of creating your own customized programs. This programming can be done with the help of the app even if you are far away from the lawn and robot.
Rain Sensors
It has amazing rain sensors that detect rain and makes the robot return to its charging dock automatically. It starts the mowing process again once the rain stops.
App Notifications
Any types of pauses and breaks in the mowing activity like the one due to rain are automatically notified on the app. The app upgrades itself periodically.
Automatic Battery Charging Capabilities
When the batteries run out of charge, the mower will automatically return to the station for an average 90 minutes charge. It will start its activity from the point it left when the batteries discharged.
Body and Design
The WR140 has a black and orange-colored compact body that weighs around 21 lbs. Its body dimensions are 10"(h) x 15"(l) x 22"(w). Because of its compact size, it can easily be navigated through small and narrow spaces. The body is made from weather-resistant durable material.
Attractive Interface
The machine can be operated through a friendly touchpad on the top. The functions are displayed on the attractive LCD screen. The interface is easy and quick.
Fine Cutting and Mulching Systems
It comes with 3 blades for various cutting levels and also has a fine edge cutting mechanism called mulching. 3 blades are attached on a rotational disc which has a size of 7 inches in diameter.
Cutting Height Options
The floating deck allows grass cutting in even and perfect shape. It has the option of setting the cutting height of the grass ranging from 2 inches to 3.5 inches.
Ability to Climb Slopes
The robot lawn mower moves on large rear wheels of 8 inches diameter size each. They provide amazing traction to the machine and helps it cover hills and small slopes with ease. It can easily climb a gradient of 20 degrees.
Quiet yet effective
The WR140 has very little noise production. It can be calculated at 63 decibels which is close to the normal talking level.
Safety Features
The lawn mower's safety features and functions have also been enhanced in the WR140. It can detect any obstacle in its ways like a pet, person, or pot. It simply moves back and avoids the hindrance to continue its operation.
The mower will be automatically switched off if it turns over due to any rough area.
Lost and Stolen Issues
It has the GPS and "Find My Landroid feature" which allows the owner to find the mower if it is stolen or lost. This feature can further be enhanced by selecting a secret code or pin number for regular operations.
Warranty
It comes with a 3 year warranty period.
Product Accessories
The product package includes the following
GPS module
590 inches boundary wire kit
9 cutting blades
9 screws
8 base ground screws
250 wire ground pins
Charging base station
20V 4AH battery
Power adapter
Why Is It a Good Option?
It is a cordless and fully automated machine
It is fully controlled by a Mobile Smartphone App
It is suitable for cutting the grass of quarter of an acre
It comes with Find My Landroid GPS
The Advanced Intelligence Algorithm AIA allows the mower to cut through the narrowest of spaces without difficulty
You can program it for different schedules and customized tasks
It is suitable for mowing small slopes and gradual hills
The mulching and 3 blade cutting system is ideal for finest edge grass cuts
It has a pair of wheel motors that are without brushes
Special sensors that detect rain and make the mower go back to the charging station till rain stops.
Gardena 4069 R80Li Robot Lawn Mower
The Gardena brand manufactures this model. It is owned by Husqvarna Group, which is a leading name in the lawn mower industry.
The brand is known for its amazing design and functional capabilities. This model of their robotic lawn mowers is a sophisticated device that has a number of features to offer.
Less Noisy
It creates very little noise of 60 decibels. This is even less than normal conversational loudness.
Fine Grass Cutting Capabilities
This lawn mower has the capability to cut grass to the finest of heights. Its average cutting height is 0.7 inches to a maximum of 2 inches. It comes with three razor blades that are mounted on a rotational disc of 6.7 inches diameter.
Not operated by an App
This lawn mower although robotic, it does not operate on a mobile application. It does not even work with the help of a remote control device. You can simply program it from the top panel and add specifications of various complicated programs according to your requirements. However remote programming is not possible.
Full Weather Resistant
This is a weatherproof model of a robot lawn mower. It can continue its operations even in rain and harsh sun.
LCD Display and Control Panel
There is a large-sized LCD display that helps you select the various features easily. Scrolling through the menu and functions and programming for customized jobs can be done through this LCD menu.
Safety and Security Features
For safety and security, the owner can choose a secret pin number for gaining access to the robot features. There is also a built-in timer, alert system, and safety alarm. The tilt and lift sensors activate the auto shut off in case of a disruption.
Power Source
This model of the robot lawn mower is powered by a brushless electric motor running on DC current. It also comes with a digital management system for effective working. The motor requires very little energy of 6 KiloWatts hours.
Battery specs
Batteries required for functioning are rechargeable Lithium-Ion and requires a charge period of only 50 minutes. The machine returns to the charging dock automatically upon battery discharge.
Body and Design
The body of the Gardena R80Li robot lawn mower is light weighted around 17 lbs only and has body dimensions as 23 inches(L) x 18 inches(w) x 10 inches(h). It has the capacity to mow a lawn of 1/5 acre size.
Ability to climb
It can easily climb slopes of gradients up to 25 degrees.
Accessories with the Product
The product package includes
656 Feet of the boundary wire
400 staples
3 additional blades.
Why Is It a Good Option?
It can cut grass with a height of 0.7 to 2.0 inches
It has three razor blades
Programmable for various times and days
The cutting width of the model is 17 cm
LCD Display and easy menu selection
Less noisy
Comes with a number of safety and security features
It works on Lithium-ion batteries with an average charge time of 50 minutes
Allows automatic charging of batteries
Can operate for 65 minutes on full charge
Husqvarna Automower 115H Robotic Lawn Mower
Considered as one of the leaders in the robotic lawn mowers industry, this model has premium quality at a premium price. But the results and functions are awesome.
Brand Name
The electronic components used in the 115H are top of the line and functionally superior to any other robot mower in the market. The brand Husqvarna is one of the leading names in the robot lawn mower manufacturer. It is a trustworthy and reliable company.
Super Quiet Functioning
It is rated as the quietest mowing machine in the world. It produces only 59 decibels of noise during normal operations.
Weather Resistant Body
The body and design of the 115H is fully weather-resistant and can work in all types of conditions including rain.
Attractive Design
The structure of the machine is designed to have very attractive yet functional looks. It runs on large-sized wheels that are placed in the central position. This placement allows the machine to remain stable and provides an amicable center of gravity for efficient movement.
The design and body structure of the Husqvarna Automower 115H is optimal for effective navigational movement. It has the ability to run through narrow pathways and difficult routes very conveniently.
Safety and Security Features
The safety and security features of 115H are also very effective. Due to its body structure and design, it runs smoothly without the fear of turning over on rough and bumpy surfaces. In an accidental turn over, the tilt sensor will be activated to automatically switch off the mower for safety. It also has the pin code option to prevent chances of theft, alarm system and lift sensors.
Ability to Climb Slopes
The 115H is a heavy-duty machine but its capability to work on inclinations is lesser than that of other models. It can climb slopes to a gradient of 17 degrees only.
Programmable and Smart App operations
The display screen of the 115H is quite large in size and LCD resolution provides it extra clarity and attraction. The system of the mower can be programmed easily with the friend user menu. It has the capability to store three different programs and start points at one time.
The mower works with the help of a sophisticated and effective smart mobile app that provides extra efficiency through remote operation capability.
Battery Specs
Unlike other counterparts that follow the yard's boundary to reach their charging station when batteries run low, the 115H comes with a productive hidden boundary wire. The wire provides a path that can take the mower directly back to the charging dock. Therefore it can reach out with lesser power consumption and lesser time. Hence the valuable battery time and charge is spend efficiently on the given task and are not reserved for a journey back to the station.
The machine is powered by a rechargeable battery of 18 Volts and 2AH. It provides the machine with the capability to operate for almost 60 minutes in one charging cycle. The full charge time for the battery is also 60 minutes.
Cutting Blades and features
The lawn mowing is done with the help of the 3 super sharp cutting blades that rotate in a fast motion. They are made from high-quality carbon steel adding enhanced durability.
The mower also has a mulching function which acts as a growth fertilizer for the lawn to become greener and denser. The manual height setting knob allows the owner to choose grass lengths ranging from 3.6 inches to 2.0 inches.
Weight of the Machine
The body of the machine has a larger weight than other machines. It weighs around 21 lbs. The extra weight is attributed to a stronger and durable body. It may be a little heavy to carry around but the molded handle on the top makes the job easier.
Warranty
It comes with a 2-year warranty which is pretty good for the owner. This can be extended to 3 years after product registration.
Inclusions
The product package includes
9 blades for replacement
Boundary wire
Additional staples
Why is it a Good Option?
Powered with a Smart App
Easily Programmable with remote programming capability
Triple Super Sharp Carbon Steel Blades with cutting range of 2.0 to 3.6 inches
Mulching feature for fine cutting
One hour operations on fully charged batteries
Tilt and Lift Sensors, Pin Code setting and Alarm system for enhanced safety
2 – 3 years warranty with a reliable brand name
Weather-proof heavy body adding extra stability while moving
Super Quiet operations
Robomow RS630 Battery Powered Robotic Lawn Mower
Designed for large-sized yards and areas, this is a heavy-duty robotic lawn mower with some great and unique features.
Suitable for big yards and slopes
This robot lawn mower is suitable for large areas up to ¾ of an acre. The boundary wire allows setting the mowing parameter easily.
It also has the capability to climb slopes while mowing. It can easily work on inclinations up to 20 degrees.
Smart App remote capability
The RS630 comes with an effective smart app for mobile devices. It allows you to remotely monitor the activities of the mower including time schedules, charge levels, movement, and controlling the robot.
Programmable
The mower can be programmed for different tasks with time, duration, and cutting preferences.
Weatherproof with rain sensors
Although the body of the mower is durable and made from weather-resistant material it has a rain sensor installed in it. Whenever it detects rainy weather, the machine returns to the docking station and resumes the task once the rain stops.
Auto Battery Recharge
The mower has auto-recharge capabilities. Whenever the battery charge is about to finish, it will automatically return to the charging station for a recharge.
Noise Levels
The machine is noisier than its counterparts in the market. It produces the sound of 78 decibels while cutting grass.
Edge Mode
This is a unique feature that allows the mower to cut the edges separately and more finely. In a reverse mode, you can mow the entire lawn first and leave the edges for the end.
Cutting System
The mower has a pair of super sharp and durable blades. They can cut through small figs and sticks easily without stopping the normal operations of the machine.
Time and Efficiency Calculator
This is also a unique feature of this model. It allows the machine to calculate the estimated amount of time it would take to mow a yard of a given size.
Safety and Security Features
It has a child lock feature along with a blade sensor and the ability to switch off automatically upon coming in contact with an obstruction. It will turn around and start again without any delays. It also features a speed control mechanism for enhanced precaution.
Why is it a good option?
Suitable for large-sized lawns of up to ¾ of an acre
It can climb slopes of 20 degrees gradient
It is less noisy
It has remote programming capabilities
Great safety features
Weatherproof with rain sensors
Durable dual blade cutting system
Edge mode
Auto battery recharge capabilities
Efficiency Calculator
Husqvarna Automower 315X Robotic Lawn Mower
Another great machine by the lawn mower giant Husqvarna, the 315X is a suitable model for homes. It can cut grass of lawns sized up to ½ acres.
Slope climbing capability
The machine can climb slopes of around 22 degrees inclinations.
Design and Outlook
The 315X is a beautifully designed machine and looks like a car from the racing track. It is durable and weighs around 22 lbs.
Weather Proof
The body of the machine weather-proof but does not have rain sensors. It can continue working in all types of weather conditions.
Cutting system
It works with a three-blade cutting disc system that also has the mulching capabilities.
Battery time
It has an efficient battery time of 70 minutes of working in just one full charging cycle of 60 minutes.
Accompanied by an App
The 315X works with a smart mobile app that allows carrying out its functions and doing its monitoring in a remote way.
GPS
The machine is equipped with the latest connectivity technology of GPS, Bluetooth, and cellular sim. This sim has been activated for 10 years with all prepaid expenses.
Large Size Display
If you do not want to use the app, you can also operate the 315X with manual control menu and LCD display screen. The display is colorful and contains 19 prominent buttons for operations.
Voice Command System
One of the most unique and differentiating features of this model of Husqvarna is its voice command mechanism. It works with Google Assistant as well as Alexa and allows you to give voice commands to your machine. Commands that can be made through this feature include mowing for a given period of time, starting the machine, stopping it, pausing the run and parking it at the station.
Safety and Security Features
It has all the necessary security and safety features including tilt and lift sensors, anti-theft alarm systems, and pin code activation.
Why Is It a Good Option?
It is suitable for a yard with a maximum size of ½ acre
It can climb slopes of 22 degrees gradient
The machine is weather-proof and able to work in the rain
It can be run by an app or through a manual LCD screen
It can cut grass of up to 2.4 inches height
It is equipped with GPS, tilt and lift sensors and pin code protection mechanism
It can order command through voice control
These were some of the best robotic lawn mowers in the industry. You should work out your own preferences and match them with the features of these models. Once you select one these powerful machines you can sit back and relax and let your yard have the manicure it deserves.
Honda Miimo HRM 520
https://www.youtube.com/watch?v=a1Gn2gsXT6s
Honda is not a new name to lawn mowing technology. It is a renowned and trustworthy brand that has produced a number of different lawn mowing machines. In fact, the first-ever robotic lawn mower was introduced to the world by Honda.
Suitable Size and Slope
This machine is suitable for substantial sized areas ranging up to ¾ acres. It can climb slopes up to a gradient of 25 degrees which is quite high as compared with other competitive products in the market.
Smart App Driven
The HRM 520 operates through a smart app. It offers a number of control features including adjustment of grass height, starting and end times of the cutting tasks and even management of periodic lawn mowing schedules in a month.
Continuous Cutting System
One of the unique and beneficial features of the Honda HRM 520 is this continuous cutting mode. It programs the machine to trim the grass several times within one seven days. With continuous periodic cutting, the grass becomes neater and shows better growth patterns.
Panoramic Sensors
The machine has the mechanics to make automatic adjustments to wherever grass density pattern changes. It comes with triple panoramic view sensors that help in the effective detection of objects and hindrances in and around your mowing area.
Three cutting Patterns
It has three cutting modes including directional, mixed, and random.
Micro Mulching Capability
It has the ability to finely cut grass and let it fall in the yard. This cut grass acts as a natural fertilizer for the yard to become more healthy.
Weather Resistant
It has a fully waterproof and weather-resistant body.
Safety and Security features
The HRM 520 is equipped with tilt and lift sensors along with 360-degree sensors which allow it to move around objects and children without hurting them. It sounds an alarm whenever it is lifted from the ground. It also has a pin code mechanism that means that nobody but you can operate it.
Battery Power
It is powered with a Lithium-Ion battery that can work up to one hour on a full charge cycle.
Noise Level
The HRM 520 is a very less noisy and quiet machine that produces only 58 decibels of sound.
Why Is It a Good Option?
It is manufactured by Honda which is a pioneer in robot lawn mowers
It is less noisy
Works with an app and has programming capabilities
It has all the necessary safety and security features
It is waterproof and weather-resistant
Suitable for mid-sized lawns
Have sufficient battery power
Equipped with micro mulching and panoramic sensors
What are some Robotic Lawn Mowers Without Perimeter Wire
Here we have tried and tested some of the best available mowers without perimeter wire which will be your ideal yard companions saving both your time and energy. If you have better things to do rather than tending tediously to your yard this fall then these robotic lawn mowers are indeed the perfect choice for you, sit back, and relax as the unmanned vehicle does all your laborious vocation for you.
Husqvarna Automower 450X
This is another great model of robot lawn mower by famous gardening brand Husqvarna. It is ideal for large-sized yards and areas. It falls in our list of best robotic lawn mowers for many reasons.
Suitable for Big Yards
The 450X robotic lawn mower has the capability to cut grass of almost 1.25 acres of land.
Design and Body
Like other models of the Husqvarna series of lawn mowers, the 450X too, has a remarkably attractive body. It is designed in a futuristic look with soft edges and beautifully attractive colors. It has a glossy top finish.
Slope climbing
It can easily climb the slopes of 24-degree gradients.
Boundary Wire
The mower works with the help of a boundary wire that needs to be in place to mark the mowing area for the initial period.
Programmable with Smart App Support
The mower works with the help of an effective mobile app. It helps you remotely mark and identify special zones and areas which the machine should avoid in order to function properly. It also allows marking boundaries for the mowing area without the boundary wire.
The machine can be programmed to start timings and days. You can set regular schedules of the mower and just sit back and relax. It allows you check on various indicators remotely. These may include battery life, adjusting cutting heights, setting timings, and even marking areas for cutting.
GPS
One of the most unique features that may not be present in other robot mowers is GPS. Its product comes with a SIM that has been prepaid for 10 years. This allows the machine to keep a data bank about the yard and store the necessary information. It also helps maintain the security of mower.
Security and Safety Features
GPS allows the machine to be protected against theft because of the tracking provided by it. It also has the lift sensor which sounds an alarm every time the bot may be lifted from the ground.
You can also add a secret code to act as a starting pin.
Noise Level
The machine is very less noisy. On average it produces a sound level of 58 decibels at average.
Head Lights
The mower is equipped with attractive LED headlights that help locate the mower even in night operations.
Cutting Blades
It works on durable 3 spinning stainless blades that are fully covered with other components and remain hidden underneath.
Battery Charge
The machine is powered with the help of a lithium-ion battery that needs a full charge time of one hour. It can continue running for 270 minutes on one full charge cycle.
Weather Proof
The body is fully weather resistant with no rain sensors for continuous operations.
Why Is It a Good Option?
Ideal for large yards and light commercial activities
The ability of remote control settings and monitoring
Weather-resistant and attractive body
Safe and secure
GPS included
Durable and reliable Cutting system
Small charge time with more operational time
Additional headlights for night functioning.
Ambrogio Line 400
We have come to the conclusion that Ambrogio Line 400 is the best option for you and your yard. Get a healthier and chic yard with the top-of-the-line choice featuring smart technology, an intuitive interface, and weather resistance. It is indeed the world's most capable robotic mower. All you have to do is give them instructions and Ambrogio Line 400 will do the rest for you.
Why it's the best?
Although there have many new additions to the robotic lawn mower market with comparable features and outlooks, there are several features that render the Ambrogio Line 400 to be superior in comparison to the other available models hence making it our top choice.
Perfect for medium-large sized yards and covers areas up to 30,000 m² with a slope up to 45%
The model is one of the most impressive and diverse models created till now and us an amazing and modern outlook.
The best feature of the model is that it does not require any installation and perimeter wire.
The mower without perimeter wire makes use of GPS technology to navigate and move about your yard by making an accurate map of the yard and has a theft tracking system.
It efficiently navigates through obstacles and tight spaces using the built-in sensors.
Has a battery charge time of 10 hours but works for 11 hours without stopping for any recharges.
The mower makes its way back to its docking station via the radio frequency when running out of battery by itself.
The device comes with the blades at least three the size of competing models.
The mower has a spiral cutting mode that quickly mows long grass from a limited area by mowing in tight spirals.
The technology operates through the App making it super convenient and fun to maintain your lawn giving you complete control of the device using your smart phone making it possible for you to monitor it from anywhere anytime.
The device can easily adjust and navigate across uneven and trenched surfaces and all grass types resulting in smooth and evenly trimmed yards.
Another feature that sets apart this lawn mower without perimeter wire is that it comes with a rain sensor and stops the mowing process during the rain.
The mower is also environmentally friendly as it produces no harmful emissions.
With so many amazing features this robotic lawn mower with no perimeter wire is at the top of our list. The mower has a mowing system which is second to none using the top-notch technology. It is really efficient and user friendly as settings are very easy to manage.
Another amazing feature of Ambrogio Line 400 is that it cuts the grass into tiny pieces so that the grass can drop down into the soil giving an overall thicker and healthier outlook to the yard and also providing it with a natural decompose.
Considering the result it produces, the brand new features introduced and the time and energy that is saved, it is indeed a dream come true for the passionate yard maintainers.
Ambrogio L60 Deluxe
Ambrogio L60 and L400 are similar as they both make for very reliable robotic lawn mowers with no perimeter wire however there are following differences between the two models as well
The Ambrogio L60 has been designed specifically for small yard spaces.
The mower has blades that are 25cm wide.
The mower has a mowing duration of only 2 hours after one charge and requires manual transport to the docking station.
There is no rain sensor.
The Ambrogio L60 is still very reliable and stable without perimeter wire producing very efficient results, Bluetooth enabled and being user and eco friendly makes it the second most preferred robotic mower on our list.
However…
The Ambrogio Line 400 model which is our top choice for your yard is that the robotic mower without perimeter wire can run out of signal and will require manual effort to bring it back. Although the mower has a rain sensor it is not weather resistant.
Another aspect is that L400 has big and heavy blades making it a bit heavier design. It exceeds in price as compared to other models although the features and convenience greatly outweigh the price for those who do not want to pay as much can consider for themselves the Exgain and Big mow robotic lawn mowers.
Design
The design is very modern and aesthetically appealing and certainly is a very impressive device.
Mowing Technique
The mower without perimeter wire has four strong, razor-sharp carbon steel blades that ensure very efficient and clean results for your yard.
The mower is GPS enabled and navigates by drawing a map of the yard. It proficiently and accurately navigates through obstacles and small tight places.
Phone connect
The mower can be connected with the smartphone with an App and allows the user to control the basic functions and settings of the mower from anywhere and anytime making it user-friendly and convenient.
Eco-friendly
The mower is eco-friendly as it does not produce any harmful emissions and utilizes low energy to operate.
Easy setup
The mower does not require any lengthy installment process as the device operates efficiently without any perimeter wires.
Rain Sensor
The mower has a reliable rain sensor and returns to the dock by itself.
What's inside the box?
The mower
Charging station
Power supply
Charging station screws 6 pc
Operator's Manual and Quick Guide
Extra blades
Who is it for?
If you have better things to do and are tired of spending a huge part of your time in tending and maintaining your large yard spaces then this is a great option for you as this device will carry on working unsupervised and get it all done for you. You can make use of this smart, reliable, and efficient device and save up a lot of your time and energy.
Pros.
Saves time and energy
Results in a well-maintained yard with absolutely no work to do
Keeps the yard healthy
No perimeter wire.
Easy setup
User-friendly App
Eco-friendly
Safe to use
Navigates and works without supervision
GPS enabled
Theft tracker
Low energy consumption
Efficient and reliable
Cons.
Loss of signal
Not weather resistant
Big and heavy blades
Why do we like it?
It is the second choice that is quite reliable and suitable for small yards. The design is a smart and notable device. The mower with no perimeter wire ensures clean results for your yard. The mower is GPS enabled and navigates on its own.
The mower can be connected through the Bluetooth route.
This device is perfect for small yards and people who are interested in saving up their time and energy and while having a perfectly maintained yard.
Pros.
Saves time and energy
Easy setup
Eco-friendly
GPS enabled
Bluetooth enabled
Cons.
Lacks in several modern features
No rain sensor
A rechargeable mode is manual
Why do you need a robotic lawn mower?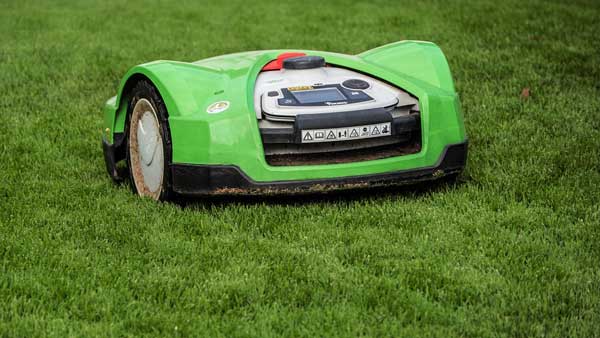 Everybody loves to have a beautiful green lawn. It makes you feel refreshed, healthy, and happy. On top of this if you can smell the aroma of freshly cut grass it actually feels like heaven. But doing that requires lots of effort, energy, and time. You cannot have a neat, tidy, and smooth lawn unless you put in the long labor hours. Otherwise, you will have to hire the services of professional landscapers which can be very heavy on your pockets.
Investing in a robot lawn mower can make your life easy and convenient. These machines are widely available in the markets and have different sizes, shapes and features.
What are the Benefits of Buying a Robotic Lawn Mower?
It provides you with automation and increases productivity
It saves you precious time
Mowers can save you money
They are eco-friendly and better than the noisy ride-on mowers that work on gas
Buying a Robot Lawn Mower – What to Look For?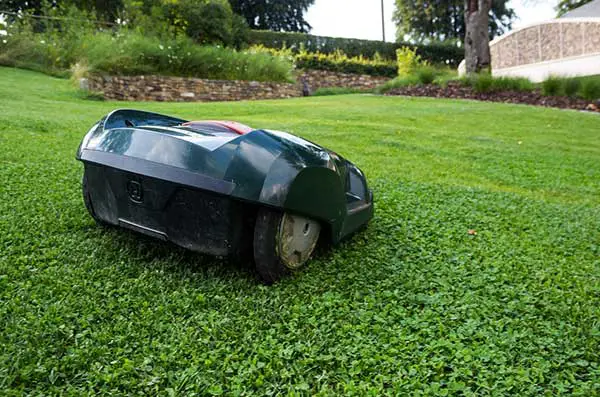 Buying a robotic lawn mower is not an everyday activity. It is an expensive product and requires a lot of considerations and information research before selecting the right model for you.
Everyone wants to have the best value for their money. Therefore it is vital that you understand all the factors that underlay the working and effectiveness of the robotic lawn mower. You should equip yourself with all the necessary information and facts and make a wise decision that you should not repent or regret later.
To lend you a helping hand in this regard, we are providing a brief description of the various factors that you should think about when you select the lawn mower for your yard.
Size of Lawn – This is a very important factor as various models are designed to cater for different sizes of yards. There are some that are suitable for large areas while some are ideal for smaller spaces.
Battery Power and Charge – Robot lawn mowers run on chargeable batteries. Every time the charging finishes, the machine automatically goes back to the charging station and recovers its power. Larger battery charge time ensures longer runs of mowing activity.
Gradients and Slopes – In larger lawns, there might be varying landscapes and slopes. A good lawn mower should be able to climb these slopes with ease without stopping. You must find out the gradient that a specific model can climb to ensure that it suits your mowing needs.
Obstacles – Having too many obstacles in your garden can be a challenge for the robot mower. Most of the advanced models are equipped with panoramic or 360-degree sensors. They can detect any object that comes in their path and take a turn around without halting the procedure.
Safety and Security – Being a machine with cutting capabilities, it can be very dangerous around children or pets. It is therefore important to ensure that the mower has the necessary safety features to avoid any accidents or mishaps.
A robot mower is an expensive purchase. You do not want to lose it easily. Security features like lift sensors, pin code protection, and alarm systems should be present in your selected model. The presence of GPS enhances the product's anti-theft mechanisms.
Control Mechanisms – Although the robot lawn mower can work on their own once programmed, it still needs certain commands and control mechanisms. After all it is just a machine. Most of the models come with manual control menus on their top.
Some models are installed with smart app compatibility. This allows the user to control the mower from remote accessibility as well. You can monitor and control your bot from anywhere with the help of internet access.
Scheduling Systems – Many robot lawn mowers offer built-in mowing schedules. This allows you to set the time and date with convenience. It also saves you from remembering to remind the machine that your grass requires a cut.
Weather Resistant – Lawn mowing is not just a difficult job but it also a regular job. It does not matter what kind of weather persists if the grass needs a cut you have to provide it. Most of the models in the market today come with weather-resistant bodies. They also have specialized rain sensors in some models.
These were some of the essential features that a good robot lawn mower must-have. You must also look out for these details and specifications when choosing your pick.
So, what makes a robot lawn mower best?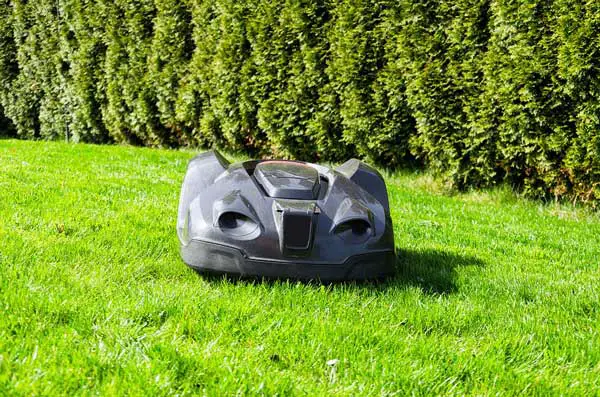 The answer is simple. The one that can provide you
A superior quality cut on your grass
Ease of operations
Optimal capacity and capability
Durability and long life
Weather resistance
Safety and control
Less Noise
And above all the best value for your money!!!
Now you are much more educated and knowledgeable about the robot lawn mowers than you were when you started this reading. So, without wasting any time, make your pick from the best robotic lawn mowers provided in the list above and make your gardening experience a pleasurable one.
To Sum Up
If you want a relatively cheap solution for your tiring yard work then you can choose our second choice of Ambrogio L60 for your yard and save your time and energy and enjoy a well-kept yard.
However, if you want the device to cover large yard spaces and require excellent results, convenience, reliability, and efficiency then Ambrogio L400 is our top choice for you in robotic lawn mowers without perimeter wire list to maintain your yard and enjoy the superior features.