Oprah Winfrey once said: "I remember thinking…my life won't be like this, it will be different and better. And this thought didn't come from a place of arrogance. It was just a place of knowing that things could be different for me, somehow."
Oprah Winfrey was the very first African-American woman, who reached the status of being a billionaire in 2003. She came from an African background but broke off all the cultural, geographical, and gender obstacles.
And is now stated as one of the richest African women in the 20th century and is also termed as the most prosperous television host, producer, and philanthropist.
Life History of Oprah Winfrey:
Oprah Winfrey was born in 1958 on the 29th of January, in Mississippi. Her childhood was not filled with luxuries and neither did it feel promising for a better future.
Her teenage life was all filled with hardships. A time when you let your hormones fly high, she managed the biggest hurdles of her life then, by staying in utter control. She didn't lose her edge even once.
Her parents separated and she decided to live with her grandparents; a life that was filled with extreme poverty.
There are rumors that Oprah has spent the worst time in her life by wearing dresses made up of potato sacks. At the age of 6, she came back with her mother and shifted to Milwaukee. Her mother was no rich herself and had to work for people in different households to get her and Oprah enough food and money. Thus, this left Oprah completely alone, getting no attention from her mother as well.
At the age of 9, something extremely miserable happened with Oprah.
She was raped by her cousin, uncle, and his friend.
When she had had enough, she ran away from her place at the age of 13 and was a mother at the age of 14.
Could life be any tougher?
However, her son died in infancy and she decided to go live with her father in Tennessee. This was when she finally studied and took her future seriously.
She became an honors student as well. Her seriousness and heard efforts did pay off as she became the most popular student at the East Nashville High School. She also won amazing and endless awards in different open speech competitions. She then studied communication at Tennessee State University.
Oprah Winfrey's life took a better turn when she turned 19. She got a job as a co-anchor at the Local Radio Station for the evening news. And it was just a matter of time when she became the host of "AM Chicago" in 1984.
It was basically a morning talk show which turned to be one of the most-watched shows in America after Oprah took over as a host.
It got so much fame that the show's name changed to "Oprah Winfrey Show." So you now see how the show originated right?
What else could be great for Oprah that her show had more than 30 million viewers and was watched over 144 countries throughout the world? I mean, the lady did get the amazing fame on her hands. Another thing added to her "victories" bucket was her "Change your Life TV" which had 22 million female viewers.
Through this, she has tagged as a great influential spiritual leader also.
Achievements: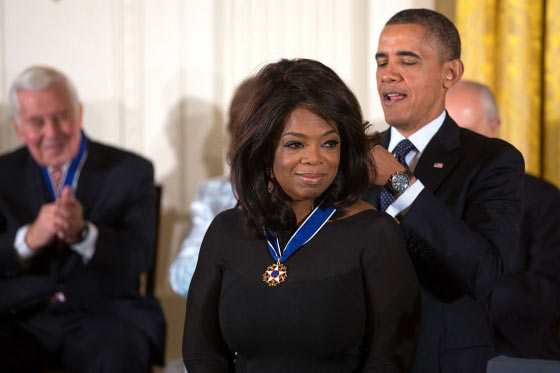 If you think that Oprah Winfrey stopped here…
Oprah was not just a TV host or produce but wanted to be more.
She is the founder of Oprah magazine that you read with such interest and she is the co-founder of Oxygen Media as well.
Oprah also started her own charity, which she named as "Oprah's Angel Network." Oprah is responsible for all the costs of her charity.
The Hurricane Katrina is not an event to forget and Oprah donated a $10 million for it. She is also listed on the 32nd number in the list of most philanthropist people around the world.
In 2005, she was also listed amongst the most generous philanthropist people. 50 people from across the globe were chosen and she was one of them.
And I guess my hand might just break off but her achievements won't end, will they?
What to Learn from Oprah Winfrey?
Oprah Winfrey had that rough patch in her life till the best part of her life was all gone from her hands. What don't we do in the name of silly teenage years? Well, she didn't get to do all that.
Why would she even fall in love with someone when she was brutally attacked physically in the name of sexual harassment?
Why would she have trusted anyone with her life? Well, she still managed to pick herself up and runoff from that dress made up of potato sacks and those filthy men who raped her.
She is an inspiring woman for all those women who decide to hide off from the world because they have been harassed or they are divorced or something like that. Don't let an incident define you.
1. If you Fall that is when you Know How to Walk Properly:
People who don't fall in their lives ever, don't know what is it to stand up and walk again. Falling down brings a totally different perspective of the world. Maybe that is why Oprah said:
"Go ahead. Fall down. The world looks different from the ground."
Oprah made us believe that falling down is not the failure. If you fall down, you know that you can do better.
Don't let failure get the better of you. Get the best out of yourself to avoid falling down again.
Oprah thinks that once you do one thing, that you thought you will never be able to do, that is when you will learn to walk.
2. Look for Something Good in Every Bad Situation:
While Oprah was hosting the evening show, one of her hair treatments, made her go all bald. And what could be more devastating for an anchor than to look at her hair all gone?
She had to look beautiful for the world. But she decided to embrace the situation as it is.
When she got her hair back, years later, she said while talking to a magazine:
"You learn a lot about yourself when you are bald."
So what can be worse for an anchor than to go all bald? I mean, if you are a man, you can definitely stand up to it. But it's worse than the worse when it happens to a woman!
But looking at the situation as you have to deal with it or you are given this situation so that you can find something from it is what keeps you going on the right track.
3. Follow your Gut Instinct:
Your gut instinct is right 99% of the times.
Oprah thinks that whenever we look for answers from other people, we make ourselves head in the wrong direction.
They don't know what we hope for, want for or demand. And nobody is ever going to completely sincere to you when it comes to an advice.
It is always better to trust your gut feeling and go with it. Whatever feels right from the heart; just do it.
Don't wait for someone else to guide you through the paths; make your own path by what feels the best to you, for you.
4. Create your Own Luck:
A lot of us are lucky but we don't know about it yet because we don't avail the opportunities that could make us feel lucky.
Does that make sense though?
Anyways, Oprah thinks that luck isn't a pure chance…it is an opportunity that you decide to grab or not. So if you know what you want to do, you will make your own luck.
Don't wait in the back seat for luck to do the magic for you.
Think of the opportunity that you would need to do what you wish for. And are you ready to grab it when it knocks?
Conclusion:
Don't let what others do to you, define you.
You are not what you become after the storm; it is who you decide to be.
A girl wearing sack dresses had better reasons to hate the world. A child raped at 9 had a lot of reasons to take revenge from men. But instead, she decided to make herself better.
To show the world that she was worth more.
What would you do if the best time of your life goes away in misery?
You can create some of the best time for yourself in the future. At least that is what Oprah did.
Stand for what you are and be proud of who you are from the inside. Being true to yourself and to where you belong from is what leads you on the right path.
Everyone is going to push you around, and you are going to fall maybe 9 times.
But it all about that 10th time that you get up and face the sh*t life throws at you.
You are responsible for your own life. So whatever you do in this very present moment is going to be a promise for you, for the next moment.
You will hold it with pride because you will earn it. when you become clear about who you are as a person, you are able to make better and sensible decisions for yourself.