These technologically advanced cameras follow you and capture your timeless moments in gigapixels. Many travelers and some of your favorite vloggers use such cameras for sports to get perfect, articulate results.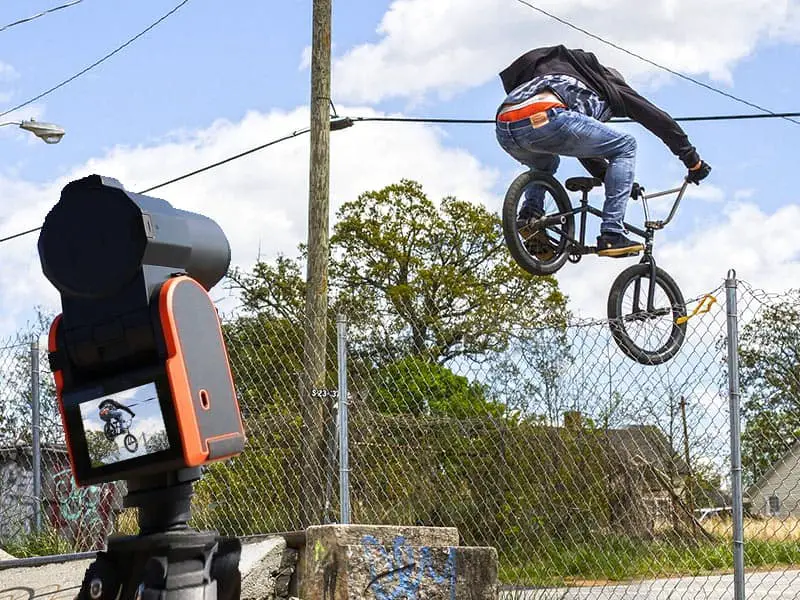 These cameras constantly survey the movements you want to get tracked automatically. Simply place the GPS on let's say a drone and these cameras will be able to track all of its movements. So, we have reviewed some top auto-tracking cameras in the industry right now, for you.
Whether you are lone wolf seeking out an adventure or a lecturer or a player learning new moves. These cameras are for you.
They help to record your every move without you handing over the camera to someone.
Starting from Soloshot3 to Potensic T25 GPS Drone we have analyzed all of these cameras that follow you.
Be sure to select the right one after considering every feature of these products; however, it depends on your personal needs, requirements, and budget.
The ones we have described are all top of the line in the industry.
Soloshot3 Optic
The SOLOSHOT 3 is a well-constructed robotic filming product that allows you to capture photos and make videos of the action from up to 2,000-ft. away.
Especially design for sports, this captures the real-time fast moments of your actions.
Either it's a sports game or a birthday party, this fantastic device is all you need if you want to track your events automatically.
The camera captures the action in 4K and 30 Hertz, which is more than enough for high-quality pictures and videography. Although 60 Hz would have been better with 4k.
But still theres another option to shoot in 120 Hz with 1080p resolution.
Other than that, it has a 65x zoom range and includes three specialty modes, which include the 12MP photo bursts, motion time-lapse, and astrophotography mode to suit your needs.
Another useful feature is the addition of SOLOSHOT edit, an automated highlight-finding software built into the base that intelligently finds and pulls highlights from your clips. It saves so much time of going through footage and allows you to mark a highlight in real-time.
Then there is cloud sharing.
The clips can be uploaded to your cloud and then shared on your favorite social network sites.
Moreover, the SOLOSHOT app has just leveled up your game by live-streaming your camera feed. All you need to do is to merely invite friends, family, and fans to join the SOLOSHOT community to view your live stream.
Touch Screen
It is equipped with a built-in touchscreen interface for more intuitive navigation.
An exciting feature of this camera is also its OLED screen, which is the latest and most efficient one available in the industry.
Strong Design
It comes with a wearable that is shock resistant and waterproof, thus ensures the durability of the product.
Adjustable base
The SOLOSHOT cam has a robotic base that can provide 360° continuous horizontal rotation & 60° vertical tilt to capture all around you.
Exceptional battery time
Its lithium-ion battery provides an excellent battery time of 4 hours, which means you can take it to your adventurous journeys without any worry of charging.
Quick pros and cons:
Pros:
It is available in both Optic65 and Optic25 cam sizes
This solo shot cam measures only 3 x 7.8 x 3.2 inches and can easily fit in all your bags
Due to its lightweight, it is incredibly portable
Auto pan, tilt & zoom for live streaming
Intuitive touchscreen control on the base
Can be easily connected to Wi-Fi
The battery lasts up to hours
Multi-mode for tracking multiple tags
Built-in Soloshot cloud and edit software
Cons:
Soloshot3 is a perfect due to its leading-edge technology amazing features and functions that make it awesome and worth buying.
Its Optic65 is recommended if you want your photos to be of exceptionally high quality. But if you are a low on budget, Optic25 is not a bad choice too.
OBSBOT Tail camera:
The OBSBOT tail is the world's first auto directing camera that is powered by an advanced AI tracking system and can be used for a variety of purposes.
It has ½.3'' Sony CMOS 12.40MP sensor and a Hoya 3.85mm-13.4mm, F2.4-F5 lens, and a processor with HiSilicon Hi3559A chip.
Its main purpose is to record things or subjects when moving around without an operator. That is why it is called as a 'set and forget' camera and this feature help YouTubers to easily record videos whenever and wherever making it a top of the line vlogging camera.
AI Tracking:
It's AI technology helps in deep visual subjects tracking, recognition, posture estimation, behavioral estimation tracking, and focus shooting up to 40 meters away. It has the ability to re-track a subject even if it is lost in a complex environment.
Intelligent Composition:
It introduces portrait composition and position estimation to a smart videography system that performs autonomous optimization and accurately detects humans as well as pets.
Power Gesture:
Its power gesture feature allows users to access a variety of functions in an AI videography.
You can unlock over 30 control possibilities along with a launchpad.
Sony CMOS Sensor:
Sony CMOS sensor and Hoya optical lens support 3.5x optical zoom, 10x hybrid zoom, 240fps slow-motion feature, and 4k 60fps quality shooting.
Three-axis Gimbal:
OBSBOT Tail has a three-axis gimbal platform that effectively stabilizes the images, and its 360-degree lock-free horizontal pan achieves a maximum speed of 180/s which ensures rapid video coverage
OBSBOT Studio App:
OBSBOT studio app supports real-time image transmission as it helps you with filters and editing, 3D-LUT color matching, and sharing on the go.
Pros:
It has the most advanced AI tracking system
It is the world's first artificial intelligence camera
Battery time of up to 150 minutes
Due to its compact design, it is highly portable
It is enabled with a power gesture feature
It automatically optimizes and processes the composition of videos
Cons:
Lack of built-in microphone
It is a little bit expensive
OBSBOT AI action tracking camera is impressive and one of the best in the industry.
Its gimbal helps in keeping the footage stable so you can easily capture all the action with it.
If the budget suits you, then it is just the right thing for you.
Freefly Movi Cinema Robot camera:
Movi Cinema Robot is an advanced smartphone stabilizer specially designed to turn your phones into a powerful camera.
It has the ability to smooth out even the slightest bumps and shakes during video shooting and ensure a high-resolution coverage.
You can easily optimize each video shot with its customizable settings.
It is compatible with iOS 11 as well as Android devices.
Its sleek form factor makes it easy to use, and its clamps hold the phone up to 3.5 mm wide.
Ready for Adventure:
Due to its sturdy and lightweight design, it is highly portable, which makes it the perfect partner for your adventures as it is compatible with tripod, dashboard, and even with your selfie stick and makes hassle-free videography possible.
Professional Level Control:
With this professional camera, you can easily adjust the responses and ignore every tilt and roll of a handheld video and get a video quality of 4K or 1080p.
Battery Life:
Its battery life is remarkable as it can last up to 8 hours and have two 2600mAh Lithium-ion batteries, which only takes three hours to charge.
Compatibility:
It is compatible with iOS 11 and higher Android phones.
7 shooting modes:
This mode is as majestic as its name because it stabilizes every bump and jolts during shooting and gives a smooth result.
Echo mode allows you to select start point, endpoint, and duration of the shots.
Time-lapse mode lets you compress time while capturing all the ongoing action in the smoothest way possible. It moves up and down, left and right very precisely, and when you play it at a faster speed, it will look even more dynamic.
This mode allows you to shoot a moving time-lapse and cover huge distances, and time spans in a completely stunning way.
By setting the direction and speed, this mode allows capturing a fixed shot of the subject as it moves in a circle.
This mode delivers smooth 360-degree spin footage.
Smartpod mode allows you to set and capture a specific position or dimension manually.
Pros
Efficient stabilization performance
Easily stands on flat surfaces by itself
It is easy to hold and is portable
It has 7 different shooting modes
Cons
A bit pricey than other smartphone gimbals
Its gimbal might appear in your footage
If you are looking for something that can enhance the camera pixels of your smartphones, go for Movi Cinema Robot camera. Although it is a bit expensive, but it is totally worth the hype.
Swivl C Series Robot:
It is the most advanced, easy-to-use video capturing tool in the industry specially designed for students and teachers.
This robotic camera does the job for you with precise audio and high-resolution video.
It can connect to four microphones, and you can control it with any markers as it is only one touch away to record the presentations and interactions.
You can place this rotating camera in any location, and it will follow you for video and audio. It has a FERPA/COPPA compliant video skill development cloud platform for students and teachers.
Video Automation:
It follows you with great sound and provides professional-quality video with its Lightning Interface feature.
Multi-Marker Capability:
It easily connects with four markers (microphones) simultaneously, and you can control it with any of the connected markers just with a touch of a button.
Pro-quality audio:
It has a redesigned audio technology DCET that gives high-quality sound and a better connection.
Battery life:
It has an extended battery life of 6 hours.
Pros:
It has a multi-camera video recording option
The product is designed to work with many units
Markers capture both audio and video
Its tilt rage is 25 degrees and rotation range -360 degrees.
Cons:
It's base and cloud software are to be bought separately
It's one camera that has a range of only 32 ft
This camera has the best use for educational purposes as it records both video and audio in high quality. But, if you are looking for your big events and want to use it in complex surroundings, then it's not an ideal option for you.
GigaPan EPIC 100 Robotic Camera Mount:
GigaPan EPIC 100 empowers the small DSLR cameras to capture high gigapixel images.
EPIC 100 snaps the photos and automatically arranges them in rows and columns.
With its multiple shutter feature, it allows you to capture up to 9 images of a specific position or location.
Compatibility:
It is compatible with almost all of the devices.
Display:
It has a big 2-line monochrome LCD.
Battery:
With its 6 AA Batteries, it can capture 1000 images when fully charged.
Panoramic view:
With panorama fixed and focus shots, you can capture up to 20 pictures per minute.
It supports 360-degree panoramic and 90-degree tilt motion.
Start/delay feature:
Its start/delay feature sets a time before each panorama shot. Timer can be set to 1, 15, 30, 60, 120, 300 seconds.
Pros:
Its stainless-steel arm minimizes vibrations
Highly durable for long term use
Comes with an LED screen
It has a battery tray that you can easily remove
Smooth video automation
Cons:
It is expensive
It is heavy and might not be easily carried
Together with DSLR cameras, GigaPan Epic provides the best panoramic shots as compared to others.
However, it might take you some time to understand the complex settings and features of the GigaPan system.
Move N See Pixio Robot Cameraman:
Pixio is a robot camera that films moving targets both indoor and outdoor.
Its automated zoom feature works by catching signals even from the smartwatches.
It can film and zoom without the aid of any camera-man.
You can film horse riding, sport, pastors, conferences, and any event with complex surroundings using this robot camera.
Indoor and outdoor tracking
Range of 330ft / 100 meters
Designed for your third-party camera (SONY, CANON)
Automatic ZOOM capability
Live streaming capability
Proven technology
If you are looking for a similar technology in your budget that does a work of auto tracker, this is the right one for you.
Camera Drones That Follow you
Potensic D88 Short:
Potensic D88 Short is a medium-sized drone with foldable motor arms and a powerful brushless motor 1350KV.
It has a built-in 2HD camera and has 1 axis gimbal that provides stability for shots.
Due to its lightweight, it is great for traveling as it is easy to carry and captures great shots.
Features:
2K Camera
2MP
1 Axis Mechanical Gimbal
Intelligent Flight Modes
GPS+GLONASS
Automatic Return Home Feature
20 Minute Flight Time
Efficient and effective performance
Flexible and compact design
Easy to carry
It comes with a traveling case
Beginner-friendly
If you are a travel person who loves to capture Ariel and panoramic shots, then Potensic D88 is our highly recommended product for you.
HUBSAN H501S Drone:
HUBSAN H501S drone is a solid quadcopter with sturdy construction and is aimed to provide you with high-resolution video coverage.
It is equipped with GPS, and its positioning feature allows the retrieval of a drone in case it is lost.
It has 3 modes, i.e., return to home, orbit, and follow me mode for effective and high-quality performance.
Features:
Control distance: 300-800m
FPV Distance: About 300m
Working time: About 20 minutes
light Time: 18 to 20 minutes
Camera: 1080P HD camera
Battery Type: 7.4V 2700mAh Lipo
Remote: 2.4GHz Frequency
Gyro: 6 Axis
GPS Position Hold and Barometer Altitude Hold.
It is a professional and highly affordable drone to cover all your events and travel experiences.
But its battery time does not last, so you need to buy some extra batteries.
Contixo F22 RC Foldable Drone:
This drone has a boxy design and is not much modern. It is made up of quality materials and can easily fit in a small case. Its arms are foldable. There are four LED lights at its back and front. It has a 1080 p HD camera that can be tilted up and down. This camera detects hand gestures. Make a v sign, and it will capture your photo.
Features:
Weight: 1 lb.
Control Range: 1,800 feet
Drone Dimensions: 9.5 x 7 x 4 inch
Camera: 1080p Wi-Fi HD
Remote Controller: 2.4 GHz
Flight Time: up to 40 Mins (20+20)
Charging Time: 120 Minutes
It is foldable and has a built-in ergonomic transmitter and Wi-Fi antennas. It follows you around and has an adjustable speed. If the features as mentioned earlier are what you are looking for you, grab the chance and buy it.
Potensic T25 GPS Drone:

Potensic T25 GPS Drone is a cost-effective "follow me" drone, which is protected by a stylish aluminum gray case.
Its controller is beginner-friendly with trigger controls on the front and angle adjustments on the left hand.
Features:
Follow Me Mode
Up to 300m Range
One Key Takeoff
Altitude Hold Functionality
Dual positioning system
9-Axis gyroscope
Intelligent flight mode
It's a fine choice for beginners who are looking for economical drones that can compete with expensive drone features.
BONUS: Vector Robot by Anki
It is an AI-powered advanced robot camera enabled with voice-activated technology that will answer all your questions.
It can independently navigate and self-charge itself and can protect itself from collisions.
Features:
Quad-core Qualcomm Snapdragon processor, 1.2GHz
4-microphone array
Single point time-of-flight NIR Laser
720p camera
802.11n Wi-Fi
Bluetooth
Capacitive top and bottom casing
4 cliff sensors
Vector is a home robot powered by AI technology, making it alive with personality.
It is totally compatible with Alexa and can easily set reminders for you, control your electronic devices, show the weather, and so much more.
So, if you want something like a home robot, this is just the perfect and affordable choice for you.
Things to consider before buying Auto tracking cameras: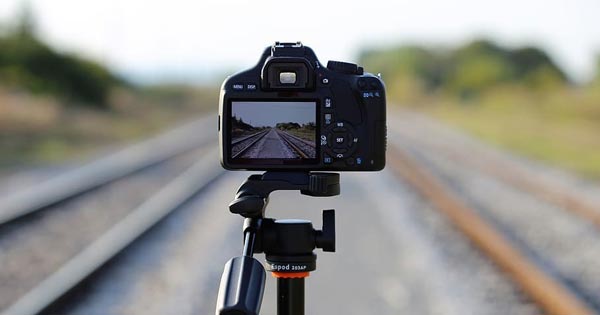 Brand value
Specification and features
Product value
Product price
Customer reviews and ratings
Quality and durability
Performance
These automatic tracking cameras and, in general, are what you are looking for. These can track and follow you and other objects. You can use them to capture sports games, events, and buildings. If you are a travel person or vlogger, these are perfect for you.
Verdict:
After a thorough review and discussion about the features of our top 5 "Your personal Camera-man" cameras, we loved the Soloshot 3. It's not just about its stylish body and amazing specs, it's a standout in our top picks, and we love how it works.
But the main decision still depends on your needs and budget. So, you can go for our other top picks as well.
For something handy that will aid your device in capturing perfect shots, then GigaPan EPIC 100 Robotic Camera, Mount, and Movi Cenemic robot camera are the best.
If we talk about the other products we viewed, they are perfect for travelers.
They are budget-friendly yet ensure high-quality performance and HD results.
Among the three drone cameras we discussed, HUBSAN H501S drone is a top of the line product because of its multi-use.
The other two products are specific to their purpose like the Move N See Pixio Robot Cameraman are also a great choice to make.
After reading our review, you can make an ideal buy for yourself according to your requirements.