An automatic tracking camera robot is the solution for recording your greatest and latest highlights or sporting some precious moments. It has always been a struggle taking some good shots, even with the launch of high-tech personal phones (See top 50 best selling phones on Amazon) and cameras, quality has not been completely achieved. Also, you're always dependent on other friends for your Instagram worthy posts.
Not a problem anymore!
The all-new SOLOSHOT 3 is here to your rescue. It is an automatic tracking camera for sports that follow you and lets you capture yourself as you act, with no human camera operator around.
Tips for choosing the best smart soloshot3 optic camera
A good self-camera should have a high-quality resolution and offer flexibility to ease the entire process. The design is another important factor, it should be lightweight and compact. Always buy a device you find easy to use and is durable, and if you are purchasing a selfie-camera, make sure it's efficient to carry out the job.
Why smart soloshot3 optic camera is the best?
After a careful analysis of all the available products, we found the Soloshot 3 to be the best. The SOLOSHOT 3 with Optic Camera is a stable robotic filming product that allows you to capture photos and make videos of the action up to 2,000-ft. Away. It eliminates the requirement of having a person all the time with you to capture moments. Its primary purpose is to follow a target capturing all around.
This fantastic device is all you need for your perfect videography and photography!
• Indoor Accessory
One of the unique and the most exciting features is that the SOLOSHOT can be even used indoors as it comes now with Indoor Accessory. This little item attaches to the top of the Optic25 or Optic65 cameras and allows the base to track the tag up to 100′ away with no line of sight required.
• Soloshot Edit
Another useful feature is the addition of SOLOSHOT edit, an automated highlight-finding software built into the base that intelligently finds and pulls highlights from your clips and pushes them to the cloud to be easily viewed and shared later. This saves the time of going through footage and gives more time back in action. The Tag allows you to mark highlights in real time manually.
• Cloud Sharing
The clips can be uploaded to your cloud and then shared on your favorite social network sites. It also has the option of quick automated sharing. Moreover, the SOLOSHOT application just levels up your game by live-streaming your camera feed. All you need to do is to merely invite friends, family, and fans to join the SOLOSHOT community to view your live stream.
Top Unique Features
High Resolution
This camera is 4K,30p which is more than enough for high-quality picture and videography. The Optic65 cam shoots in 1080p120 and 4k30 resolution. It has a 65x zoom range and includes three specialty modes. This includes the12MP photo bursts, Motion Time Lapse, and Astro Photography mode to suit your needs. With this in your pocket, perfect videography is coming your way!
Touch Screen
It is equipped with a built-in touchscreen interface for more intuitive navigation. It has the OLED screen which is the latest and most efficient one available.
STRONG Design
The wearable tag that comes along is shock resistant and waterproof; and so is durable.
Adjustable base
The SOLOSHOT cam has a robotic base that can provide 360° continuous horizontal rotation & 60° vertical tilt to capture all around you.
Exceptional battery time
The lithium battery has an extraordinary battery time of 4 hours so can take it to any adventure without any worry of charging.
Pros. & Cons.
PROS:
It is available in both Optic65 and Optic25 Cam sizes.
This solo shot cam measures only 3 x 7.8 x 3.2 inches and so can fit all your bags.
Weighing 3 pounds, you can carry this anywhere as it is incredibly portable.
It requires 1 Lithium-ion battery for an operation which is already included in the package.
Auto pan, tilt & camera zoomLive to stream
Intuitive touchscreen control on the Base
Designed for Optic25 and Optic65 cameras
Wi-Fi for remote control
Battery lasts 4 hours
Multi-Mode for tracking multiple tags
Built-in the Soloshot cloud and edit software.
CONS:
It has some bugs
A little expensive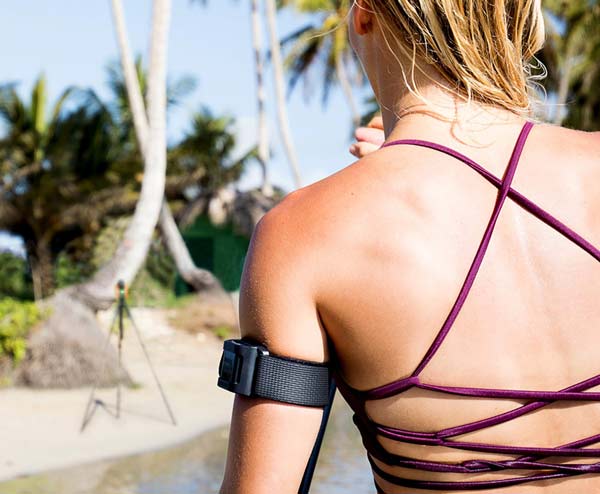 Buy SoloShot 3 Optic Camera on Amazon
Who is this for?
The SoloShot 3 is your own mini robotic action camera that follows you everywhere. It is essential for everyone who loves adventures and wants to capture every bit of it in high resolution without the expense and hassle of carrying bulky devices.
How does it work?
It is straight-forward to use. You just need to wear the waterproof and shockproof Tag and the Base unit will automatically pan, tilts, and sends zoom commands to the camera to shoot you to a range of 2,000′ away. With this aim automatic tracking camera mount in your bag, you have your own personal cameraman around you, all the time!
You will need to add a micro SD card to turn it on. When powered on, the screen on the back of the base will present you with several menu choices. Using these mini-apps, you can link the tag to the base, set your choice of tracking mode, the field of view. Once you've made your setting preferences, the base spins around and raises and lowers the camera angle to cover the area.
The tag uses GPS data to determine its position and then transmits it to the base of the single shot. The base is where all the magic happens. The base points the camera at the tag and automatically adjusts the camera's zoom factor and then it will follow the tag wherever it and the target go.
What's in the box?
The basic SoloShot configuration includes the SoloShot base, the camera, the tag and a couple of additional accessories. The accessories include an armband with clip, tripod tool along with adaptor screw and a mini USB charging cable to charge your device. A microSD card can be bought separately for storage purposes.
The camera choices are Optic 65 and the Optic 25. Optic 25 is less expensive, and it has some limitations regarding video resolution. The Optic 65 has a unique and powerful zoom feature and can record in different resolutions up to and including 4K at 30 frames per second.
If you want your photos to be of exceptionally high-quality optic65 is your choice. However, if you're on a budget, optic25 is still a good choice. It has all that you would want a camera to have.
Nevertheless, both the cameras are well suited to the job they do and perform efficiently. Whatever you choose we assure you that this automatic tracking camera mount is totally worth all your money.
Watch this video to know more about this awesome automatic tracking camera robot:
Final Verdict
It was hard to conclude all the amazing features and functions this awesome camera has, the Soloshot3 is one of its kind in the market. If you're into photography, have a motion video need and enjoy leading-edge technology, this automatic tracking camera for sports is surely for you.
It is equipped with a 65x telescopic optical zoom lens that provides a 35mm-equivalent focal range of 24 to 1560mm, making it ideally suited to tracking a SOLOSHOT3 Tag-wearing subject, even over longer distances. In addition to the video, the camera can also take 12MP still photos in bursts up to 30 fps, as well as can easily set intervals for creating time-lapse videos.
Moreover, it has built-in Wi-Fi to act as a remote control. The OLED touchscreen base makes it quite easy to operate, and the separately-available Indoor Accessory adds to the convenience as it becomes multipurpose. The auto tilt base just makes it more efficient.
We did a lot of research and rigorous testing to present you with the SoloShot3, and it proved to be the best of its type. We honor our commitments towards you!
We hope you find our article exciting and helpful in buying your personal camera. We wish you happy buying! Thank you for taking the time, stay safe and connected.