Ideally suited for people with busy schedules and too many things on their plate, an electric pressure cooker can save you time and help you cook the most delicious foods in the world, without too much effort. Whether you are a busy parent trying to strike a balance between home and work, or a student who has to meet assignment and project deadlines, or a senior who wants to have a decent meal without spending too much time in the kitchen, a pressure cooker is what you need.
Instead of waiting long hours for your food to cook or even skip meals when you are on the run and short of time, you should use an electric pressure cooker to make your life simple and convenient.
There are two types of pressure cookers that you can choose from.
One is the stovetop model and the other is the electric pressure cooker, (also sometimes are programmable slow cookers with a delayed start).
In this post, we will focus on the best electric pressure cookers and how you can find one that meets your needs.
Having a pressure cooker in your kitchen is very important. It is a cookware that can save you time and effort and help you process your bountiful agricultural harvest without any hassle. It is fast, easy, and convenient to use. Investing in such a product is not a bad decision.
However, with all the variety and options available in the market, it may be difficult to make the right buying decision.
For this purpose, we have brought together some of the best electric pressure cookers and briefly described their features and prominent points.
So, if you are looking to cook some soups, one-pot dishes, and tasty stews, in just one-third of the total time with the least amount of prep work, then instead of relying on the traditional pots and cookware, opt for an electric pressure cooker. (See 8qt electric pressure cookers here).
Suitable for both professional chefs and novice cooks, here is a line-up of the top 10 electric pressure cookers in the market.
Instant Pot Duo 7-in-1 – Best Electric Pressure Cooker for Canning
6 Quart Size
Touch Control Panel
7 in 1 Multi-purpose
Stainless Steel Body
3rd Generation technology-based
10 safety features
14 smart programs
Adjustable heat and pressure options
It comes with a Smart app compatible with both iOS and Android with many recipes.
This is a top-ranking model that is suitable for small families with 4 – 6 members only. It is a multipurpose appliance that can be used as a slow cooker, rice cooker, pressure cooker, yogurt maker, and many more purposes. (See our picks of best electric pressure cooker recipes).
The cooker has a prominent large-sized control panel. It is elaborately marked and very easy to use. You can choose between 14 pre-programmed smart options from this panel including slow cooking, sauté temperatures, and automatic warming.
Technologically this is sophisticated cookware that is equipped with a built-in microprocessor which helps to manage and monitor the internal pressure and temperatures. It is also responsible for adjusting the internal heat intensity and keeping the time.
The user has the option to choose between low and high-pressure settings based on what you are cooking. High pressure is ideally suited for fast cooking and low pressure for slow cooking. You can also choose which temperature settings you need for a particular dish.
The safety features of this product are also up to the standards. The pressure regulators, safety lid, lid detection sensors, anti-blockage vent and leaky lid detection are few of these notable features.
Aroma Housewares ARC – 914SBD – Best Cooker for Rice
Cooks 2- 8 cups of rice
Variety of Features and functions
Food warmer and delay timer equipped
Ability to cook 2 meals simultaneously
Stainless steel body with non-stick internal lining
Rice measuring cup included
Steamer tray
Digital cool touch
Ranked as America's number one rice cooker, this model is best suited for rice dishes of various kinds. It is a good option for people who are looking for ways to cook healthy food with less oil and fats. It acts as a great steamer and can cook food items in a very little time.
It can cook 2 – 8 cups of rice easily in one go. It can be used for all types of rice including brown and polished rice. The product is also equipped with the auto warm function which helps keep your food warm even after it is cooked.
One of the best features of this cooker is that you can cook two dishes at one time. There is a steam tray placed in the cooker that can help steam vegetables or meat over and above the rice.
The pressure cooker has a smart digital control that can be easily programmed as per your requirements. It is equipped with a number of built – in features and functions as well including food warmer, white rice cooker, delay timer, steam options and the power button. The delay timer of 15 hours is a great feature that allows you to set cooking timing for the near future. You can plan your meals before you get home through this feature.
Instant Pot Lux 6 in 1 – Best for Smart Cooking
6 Liters or 6.33 Quarts capacity
6 in 1 Multifunctional
Stainless Steel satin proof body
10 Certified Safety features
Adjustable temperature settings
Built-in microprocessor
Dishwasher Safe
24 Delay timer
It comes with stainless steel steam rack, soup spoon, measuring cup, rice paddle, instructions, cooking time tables, and recipes.
Instant Pot is a renowned name in the electric pressure cooker industry. It produces a number of different models that cater to different market needs and requirements. Each product has a variety of features and functions.
The Lux 6 in 1 electric pressure cooker is one of their best models. It is useful and convenient and can cook a variety of different items in very little time.
Among the 6 functions, it can perform include working as a rice cooker, sauté and browning appliance, steamer, slow cooker, food warmer, and a pressure cooker.
There is an easy to use the prominent touch control panel on the product that helps choose between the 10 pre-programmed smart functions. The auto keep-warm function is very useful and can be used with 3 different temperature settings.
Another mentionable feature of this product is its 24-hour delay timer option. You can set food cooking timing of up to 120 minutes. So, even if you are not home, food will be ready before you get back.
Powered with a built-in microprocessor, the cooker allows uniformity and consistency in the cooking process.
The cooker is manufactured from a brushed stainless steel material that is resistant to fingerprints and marks.
Mealthy MultiPot 9 in 1 – Best for Large Family
9 cooking functions
14 built-in programs
8 Quarts size
Stainless steel pot
2 meals can be cooked simultaneously
Standard safety features
Includes extra silicone gasket, silicone mitts, steamer basket, steam rack/trivet, ladle, rice paddle, and measuring cup.
Mobile and Healthy website to support the cooking process by providing step by step guides and recipes
Another renowned name in the electric pressure cooker products is Mealthy. MultiPot 9 in 1 is one of their best products in the market. It is popular for its versatile functions and utility.
The functions that it can provide include pressure cooking, steaming, slow cooking, saute and browning, cake making, yogurt making and pasteurization. It can also be used as a food warmer and cooking rice.
MultiPot has the capability to cook two foods simultaneously. The steamer tray is included in the package for this purpose.
The body and pot of the cooker is built from high-quality stainless steel material. It has 14 built-in programs to facilitate users. You can easily choose the one you want through a convenient control panel on the cooker. Each program caters a different type of meal and function. You can specifically select what type of food and meal you want to cook like cake, porridge, chicken products, and food warming function.
The cooker has an LCD display screen that shows all the functions with clarity. It also displays all the icons and indicators for the cooking process. You can easily remain updated on the cooking process looking at these indicator bars and functional icons.
Cuisinart CPC 600 – Best for Bone Broth
6 quarts in size
Non- Stick Pot
Push-button controls
Timer option
Digital countdown display
Dishwasher safe
3-year warranty
The capacity of this cooker is 6 quarts compatible with other models of its kind in the market. It is best suited for families with 4 to 6 members.
The product is known for its BPA free manufacturing. The company does not use any kind of harmful and unhealthy plastics for its making. The control panel is located on the side which can be used to select various functions displayed on a digital screen. You can choose from functions including simmering, sautéing, pressure cooking, browning, and warming.
The precision thermostats function allows the auto power-off feature when the given temperature and pressure has been achieved. This feature is very beneficial for avoiding overcooked food and also makes the product energy efficient. It is also an additional safety feature for the users.
The product has handles on the side that remain cool even when the cooker is working. The inner pot of the cooker is also made from durable material that has a non-stick lining. It is dishwasher safe.
Instant Pot Lux 60 V3 – Best For the Money
6 Quarts Size
6 in 1 functions
An additional feature of cooking eggs and making a cake
Stainless steel stain proof body
Microprocessor equipped
24-hour delay timer
240 minutes of cooking time
Another very good model of electric pressure cookers by Instant Pot is the Lux 60 V3 the 6 in 1 multi-functional pot. Similar to the other models it comes with some additional features like the preparation of an egg.
The V3 6 in 1 is designed to provide 6 different functions in one cookware. It is a rice cooker, a pressure cooker, steamer, food warmer, sautéing, and slow cooker along with cake making and cooking of eggs.
The cooker comes with 10 preprogrammed functions which can be chosen to make different dishes. The control panel is simple and easy to use. With one touch, you can start your process of cooking the meal. The pot is equipped with a 3rd generation technology of micro-processor. The body is made from high-grade stainless steel which helps cooking uniformly.
The cooker has a cooking timing of up to 240 minutes in one go. This is quite impressive and allows the preparation of a large range of meals and dishes. It also has a delay timer of 24 hours which provides the capability of food preparation even before you get home.
It comes with 10 certified safety features and a combination of cooking speeds and intensities.
Power XL Electric Pressure Cooker – Best for Meat
6 Quarts Size
Flavor Infusion technology
Digital Display screen
Safety lock lid with manual steam release
Brushless Stainless Steel pot
Sturdy handle
One of the best features of this amazing product is the flavor infusion mechanism. It is a common experience that foods processed in pressure cookers often lose their flavors. But this amazing technology in the Power Pressure Cooker XL helps lock the flavor of the food by trapping the steam in the super-heated pot of the cooker. This steam makes the food cook under pressure in very little time but still does not let it lose its aroma and flavor.
The cooker is designed with a digital display panel on one side that shows all the functions and indicators. It makes selecting and choosing the cooking functions easy and also helps you track the progress of the cooking process. The time counter displays the progress of the food being prepared in a given timed process.
The cooker has all the necessary safety features including a safety locking lid with a manual steam release option. The lid is also equipped with a handle for opening and closing of the cooker.
Made from brushless stainless steel material, the pot can be easily cleaned.
Instant Pot Duo Mini 7-in-1 – Best for Small Family
3 Quarts Size
10 Certified Safety Features
7 in 1 Functions
11 Built-in Programs for Cooking
Stainless Steel Structure
Easy to Clean and Maintain
One-Touch Control Panel
This is a small-sized electric pressure cooker by Instant Pot. It is 3 Quart in size is best suited for very small families and couples. It can be stored in little spaces and are mostly bought for boats, RVs, and hostels, and dorms.
But its small size does not hamper its ability to provide a large number of functions. It is still 7 in 1 multi-functional cooker that can make your cooking tasks easily and fast. It is ideal for cooking side dishes and is just a mini version of the original Instant Pot Duo.
Even with this small size, it has the capacity to cook almost 12 cups of rice. It can also be used for roasting a small-sized chicken, baking potatoes, and steaming 6 corn on the cobs without any problems.
Rest all its functions are the same as the 7 in 1 multi-functional Instant Pot Duo.
Ninja OP401 Foodi– Best Electric Pressure Cooker Air-Fryer
8 Quarts in Size
Built-in Air Fryer
Ceramic Pot
Non-Stick Lining
4 functions
This is a unique electric pressure cooker because it also offers the functions of an air fryer. No other cooker in the market provides similar functions. So, it saves you time, space, and effort when you can buy an electric pressure cooker with a built-in air fryer.
It is the latest appliance used in a healthy way of eating and living. It can be programmed for various dishes and foods in a manual manner. Additionally, you can also choose between various preset programs and options available in the control panel including saute, steam, and slow cooking.
It does not cook rice and is not multifunctional like many other products in the market. But if air frying is your priority then this is the right option for you.
The inner pot is made from ceramic material and has a non-stick lining.
Electric Pressure Cooker Buyer's Guide – Things to Consider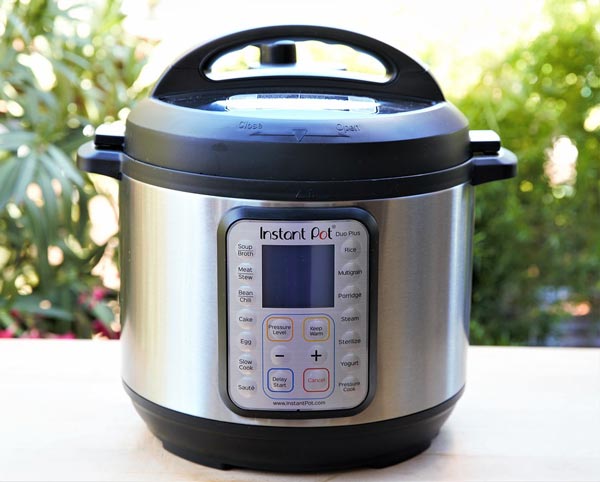 In the above discussion, we have highlighted 10 of the top-ranking electric pressure cookers available in the market. But when investing in a cooker you also need to understand what factors are important and what things you need to look out for while making the purchase.
We have therefore listed the things that you should consider when you make your final choice for a new electric pressure cooker.
Safety Features
Safety is the top most consideration we have to make when using an electric or a stove top pressure cooker. Slightest of an error or problem can lead to a big fatal accident. Due to the high temperatures of the cooker and the pressurized steam inside, a mishap can cause severe injuries and burns to the user.
Hence it is very important that a good electric pressure cooker should have all the necessary safety mechanisms in place in order to minimize the risk. Important features to look out for include pressure indicators, release valves, vents, secure locks for lids, and securely and tightly fitted lids that can withstand high pressure from inside and avoid an type of electric pressure cooker explosion.
Materials Used
The most commonly used materials for pressure cookers are aluminum and stainless steel. Both metals are of high quality and have different characteristics. In general pressure cookers made from aluminum are less durable and cheaper as compared with those made from stainless steel materials.
So, stainless steel cookers although expensive, are more effective as they heat food uniformly and are long-lasting. They also maintain food flavors in a better way.
Capacity
The third important factor that you should consider is the size of the cooker. You need to assess the amount of food you will be preparing in one time in the cooker. So, for families with more members, you will need a cooker with at least 8 quarts or more size.
For small families with 4 to 6 members the 6-quart models are sufficient. For couples and roommates, 3 quarts size is good enough. So, depending on your requirement make the choice that suits you. Too large and too small sizes both are not advisable for long term use.
Another important consideration while selecting a size is that larger the cooker the greater the time it will use to prepare food. This is because with a larger pot more steam will be required to produce the required pressure. So, keep this consideration in mind while making the decision.
Inner Lining
Most of the top brands today offer cooking pots with non-stick inner lining. This is a great feature that can make cooking more convenient and also allows easy cleaning of the pressure cooker accessories. It is important that the inner non-stick coating should be of very good quality to withstand the high temperatures and pressure inside the pot.
Without this lining, the food tends to stick on to the surface and layer up for unhygienic conditions.
Dishwasher Safety
You buy a pressure cooker to make your life easier and convenient. If it is not dishwasher safe, cleaning and washing of the cooker will require lots of effort. So, one should not overlook this feature and ensure that you buy a product that can be safely washed in a dishwasher.
It is important to note here that it is the pressure cookers lid and accessories that may need dishwasher cleaning and not the electronic components.
Heat Resistant Body
People often overlook this important factor while buying an electric pressure cooker. When preparing food, the outer body and handles of the cooker can become extremely hot. It not only becomes difficult to handle but is also risky in terms of mishaps and burn injuries.
It is therefore important to see if the model has heat resistant handles on either side for easy handling and the body does not heat up while the cooker is in operational mode.
Additional Functions and Versatility
In addition to the basic pressure cooker function, most models today offer a wide range of other features and functions as well. This may include sautéing, steaming, cake and yogurt making, Air Fryer option, and much more. These add on functions can enhance the utility of your cooker.
Other Features
Apart from the basic cooking functions, there are a number of other features that can make your cooking experience effective and efficient. These features may include digital control panel, preset cooking options, built-in timer options, manual programming, and many other features to facilitate the user.
Accessories like cooking and steaming racks, measuring spoons and cups are also very convenient and useful.
Frequently Asked Questions – FAQs
What is the mechanism to release the steam and pressure once the food is cooked in an electric pressure cooker?
First of all, you must switch off and unplug the cooker from the power source. Most pressure cookers have pressure release valves. You will need to turn, press or lift these to release the pressure inside. A loud noise of gushing steam is a common phenomenon in this situation.
If you have more time, you can simply leave the cooker and let the steam settle down on its own and then open the lid.
What intensity of pressure is suitable for cooking?
It all depends on the food that you are preparing. Some foods require more pressure and time while others requires less pressure and time. Most cookers have preset modes of high medium and low. You can choose your option depending on the food quality and requirement.
Are electric pressure cookers safe?
Yes, they are. But, only if all the safety features are in place. You should not ignore any of the precautions and risk measures suggested by the manufacturer. Most cookers consider safety as their top priority feature.
Can we cook all types of foods and dishes in the electric pressure cooker?
Most types of foods can be easily cooked in a pressure cooker. But mostly it is suitable for moist and juicy end products, not crispy ones.
Can we cook faster with high pressure?
No. High pressure does not necessarily mean faster cooking. It depends on the type of food being cooked.
Ready To Cook Food Faster!!!
For anyone who is looking for some information about investing in an electric pressure cooker, we have provided a complete buying guide with a list of the top 10 best electric pressure cookers in the market. Whether you are looking for the best value for your money, most convenient pressure cooker to save you time, an appliance with air frying features for healthy food, or simply multifunctional kitchenware to make your cooking life easy, we have shortlisted some of the best options for you. Just think about what you want and require and select the best electric pressure cooker for our list.