People often wonder why bowling shoes are mandatory in bowling alleys and how they are different from regular sneakers. Most people consider them unattractive and wonder if they could do without them. However, the fact remains that bowling alleys want you to remove your shoes before you enter the playing area. Is it a ploy to make money or is it justified? Let us find out.
You may think that bowling alley owners invented the need for bowling shoes to squeeze in an extra buck. But that is not true.
The reason why bowling alleys require that you wear bowling shoes is for your safety and ensuring a supreme condition for you to bowl in. The approach is the smooth path that you use to release your ball.
It is made of soft lacquered wood that allows you to easily slide so you can release the ball with the right intensity. 
The dirt and dust from the sole of your regular shoes will not just damage but also add friction to the surface of the approach.
Before you know it, you can not just, not slide over the surface but if worse comes to worst you might even slip over dirt and dust.
Also, the particularly made bowling shoes allow you to safely slide through the approach even with the momentum that you have.
If you wear standard sneakers, you may fall over and injure yourselves. 
This is due to the fact that standard sneakers have traction underneath them that is meant to prevent you from sliding on surfaces.
So when you try to slide on it, you may hurt yourself. Back pain and other spine injuries are some of the most common injuries on the bowling alley
Another thing that compels the administrative authorities to keep a separate set of bowling shoes is that if you fall in a bowling alley and get injured, the bowling alley administration may be held accountable and even pay up a fee for injuries.
It's better to be safe than sorry!
Bowling Shoes vs Sneakers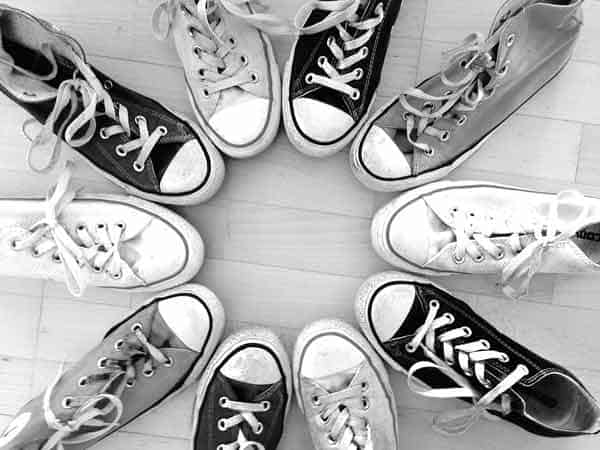 No matter the kind of bowling alley you visit, you'll notice that bowling shoes are not really one for a fashion statement and however obvious it is, that is not the only distinction between a good bowling shoe and your regular sneakers. 
 The sole of a bowling shoe is specially designed to allow you to slide. Both the right and left foot slide on the surface of the approach.
As you master the art of bowling, you typically want to stop before release to allow greater control. That is achievable only by the special performance bowling shoes custom-made for this purpose. 
Many sneakers have rubber construction to allow you friction like the non-slide braking shoes of bowlers. However, the obvious difference is that both soles are the same.
Can you wear bowling shoes as regular shoes?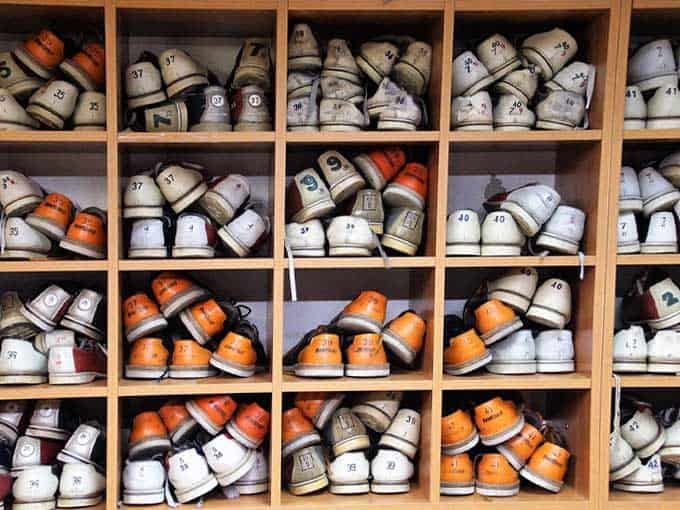 No, you should definitely not. The reason is that due to their smooth soles you can easily slip on different surfaces.
Bowling shoes are specifically made for indoor use, particularly for bowling alleys. 
The bowling shoe was first perfected back in 1888 and was known for its water-resistant and tough texture. During an aggressive, competitive game with a fellow bowler, you might need more control over your sliding across the approach. 
The rubber material and tight stitching that is specific to bowling shoes is actually manufactured to keep things easier and safer for you.
Regular shoes will not enable you to have a safe experience let alone an effective game.
Can I bring my own Bowling Shoes?

Yes, you can. This is a big proof of the fact that bowling alleys do not mean malice. Moreover, it is a great investment.
The rental shoes you get at bowling alleys may cost you a few dollars. But if you buy your own bowling shoe and spend some money, you will easily recover that investment after a few enjoyable visits.
So even if you only go bowling occasionally you would be better off buying your own bowling shoes instead of the rental pieces at the bowling alley.
Besides, let us spare you the details of the hygienic dilemma that concerns wearing shoes that have been passed down through a dozen other feet. 
The advantage of having your own shoe is that due to being your own custom size, they would fit you the best. Moreover, they would be in much better condition than rental shoes.
Why are rental bowling shoes so ugly?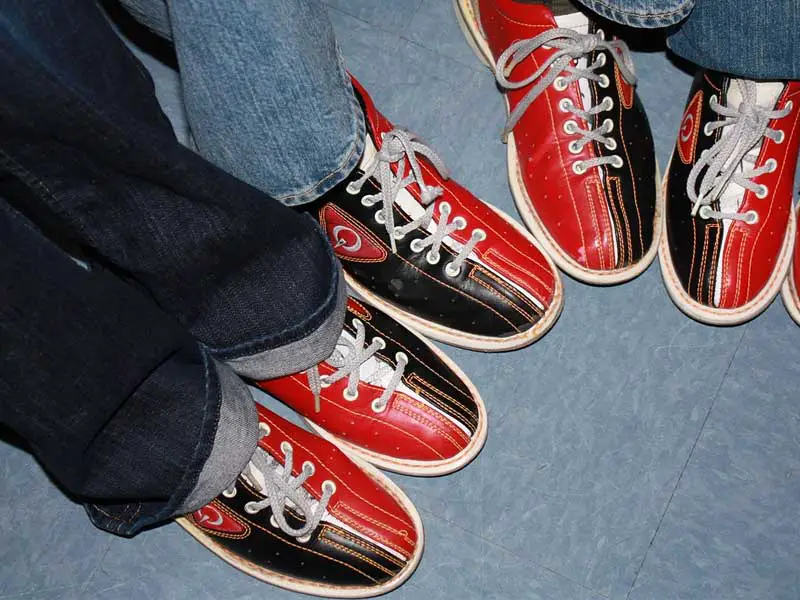 Another question that concerns us is why are bowling shoes you rent at bowling alleys so ugly. They are often made to simply serve the purpose of effective bowling instead of making a fashion-forward pair of shoes, this is to ensure that they are not stolen or taken out of the bowling alley. 
In fact, most shoes are distinctive and will be seen as having a specific pattern that can be detected from a mile away. This is useful to spot anyone who might have worn them out of the bowling alley.
Although if one goes outside, they may as well trip and get themselves caught anyway!
Having said that, in the present day and age, there exists a great variety of bowling shoes.
Some might even be more appealing than others. Here are some of our favorite bowling shoes picks. You can also check out our picks on the best basketball shoes.
Just click on the images to see them on Amazon.
Dexter Men's SST 6 Hybrid Bowling Shoes Right Hand Wide
These shoes may have an above-average price, but their specific features make up for the extra dollars. 
The right-hand Wide refers to the product's specifics,  it is meant for bowlers who throw the bowling ball with their right hand so their sliding foot would be the left one.
The leather and nylon upper and toe protector make it great for habitual bowlers. There is an adjustable dial at the back meant to adjust the fit just by turning it over.
This Boa fit system means that the lacing is adjusted by this dial. This is a handy feature loved by users.
This shoe is a good professional choice with breaking and sliding options and looks good while you wear it. The removable heel gives it a decent amount of customization.
The only drawback is that left-handed players have to look elsewhere.
Hammer Men's Force Performance Bowling Shoes
These shoes are as trendy as your average sneakers while being performance friendly.
The soles are a sight to behold for professional bowlers. One sole has traction while the other one has a sliding character which makes this pair, like the last an ideal pick for the right handed people
 There is the option to customize it for left-handed people but that may cost an extra few bucks.
The leather body is highly durable and can last you many years of professional bowling. The fit gets better every time you use it. 
The TPU outsole is flexible and makes you comfortable. There is an Ortholite insole which is premium technology making your bowling experience even better. This one's for the professionals.
The only drawback would be the price since it is a limited edition product dedicated to the armed forces.
Dexter Men's Bowling Shoe T.H.E 9 HT
This is a beautiful performance shoe that can take your game to the next level.
And the update from the SST6 is that the soles are interchangeable making it suitable for both right and left-footed players. Both the soles are made of a balance of sliding and traction. 
In addition, the breathable mesh upper allows you to be comfortable during a long night of bowling. It also increases your flexibility in the game.
The fit is very good due to the streamlined design ensuring that the toe area is snug and fits you closely.
Storm Gust Bowling Shoes
This smart shoe really helps break the stereotype that bowling shoes are ugly.
With its canvas body, they look really similar to the world-famous Vans.
The comfort of these shoes is great due to padded collars lined with fabric and is a great option if you want to own a more athletic style of a bowling shoe. 
They fit very well and give you the comfort and mobility you need for a good bowling experience.  
However, the sliding is not enough on these shoes but those have been infrequent. Anyhow it is a good choice for a beginner bowler.
Brunswick Vapor Men's Bowling Shoe White/Black
If we had to recommend just one shoe that is ought to bring about an extra spark of efficiency in your bowling performance then we would suggest this trusted pair from the Brunswick. This pair is definitely one that ticks the boxes of comfort, functionality, and style. 
The body is made of comfortable synthetic material with extra light molded EVA outsole. One of its strengths is the snug fit which is pivotal to have a safe bowling experience.
The collar and tongue are foam-padded which makes these shoes highly comfortable to wear.
It is an athletic type of bowling shoe. The price is reasonable and makes a great buy for recreational users. The sole is not removable which may be an issue for some. Both the right and left sole have the same sliding effect. 
BSI Men's Basic #521 Bowling Shoes
These shoes are as simple as bowling shoes get. But they do a good job. Their design with an upper leather and a leather out sole is pretty basic and functional. 
There is the common sliding sole for beginners and infrequent bowlers. There is an extra internal lining to ensure comfort.
The price is extremely affordable and makes sure you save a lot of money if you buy these instead of rentals.
One con of this product is that the fit is too loose. Many people have complained the sizes are not true and that the shoe is actually too wide.
SaVi Bowling Products Women's Classic
Trendy designs for a Bowling shoe? Who would have thought!
This show from SaVi is for women and it is a highly comfortable design.
There are three modern colors available so make your own pick.
There are sliding soles on both feet so it is suitable for both right-handed or left-handed bowlers.
The upper is shiny to add a pinch of glamour in the mix, make sure you're ready to pull it off with your outfits before you buy it. However, the shoes do not compromise comfort,  it is breathable with top-notch quality. 
The fit has not been the most ideal for a lot of people and people often have a problem with the wide nature of the shoes. If you have a wide foot these may be a good pick for you.
Things to Consider before buying a bowling shoe
Durability is an essential component to consider.
If you are a frequent bowler and are looking for a one-time investment, single pair of shoes that will definitely last you a year or two then you might need to do a little more research about the product you buy.
As a casual bowler who wants to just save some bucks and get a bowling shoe that is simply functional, you could use the synthetic leather shoes in some of the lower-end models. But as you go pro and the competition thickens, you would need a premium material anyways. 
Comfort is another consideration that needs your due diligence. 
If you are not comfortable enough to walk in the shoes, you will not be comfortable throwing the ball down the alley in it.
The pivotal determinant of comfort in your bowling shoe would be the insole.
The recommendation is for the insole to be made of EVA. It is stretchable and adjusts according to your shoe. Other features like extra padding at the toes or sides of the foot are an added bonus.
The out sole is usually made of rubber but the thing to look for is "microfibers" attachment in your sole to give you the perfect slide in your athletic style shoes.
Of course, if you want a professional type of shoe you would want traction to make your braking easier.
A typical struggle at the bowling alley is fitting of the shoe. The size needs to be just right.
Too big and it starts to move around making you uncomfortable and too tight and your toes start to hurt.
That is why the boa system in the Dexter SST6 is so great. It allows you to modify your fitting with a dial that makes the whole process a lot simpler.
Summing up
Bowling is a fun sport and before you go on a shopping spree for the perfect shoe to win you through to the bowling Olympics, remember that the quality of the product you use is not a testament to your number of wins, technique is! so no matter the shoes you opt for remember to practice and most of all enjoy the sport.