Khaki pants are a mainstay of the modern man's wardrobe. They offer an unmatched level of versatility without compromising on style.
Due to their adaptability, khakis can be worn on a number of occasions. For men who want to take their style game up a notch, it is advised to switch jeans for Khaki pants.
Khakis are every bit as adaptable as jeans while being much more lightweight, breathable, and cooler.
It is important to know how to style Khakis so that you may look your best. One major question is what shoes are appropriate to be used with khakis.
With so many options that can look great with khakis, one can easily be spoiled for choice.
Let this be a comprehensive guide to help you decide how to pair your khakis with your shoes so you can look the most dapper.
But first, let us look at how khakis came into being. Khakis have an interesting history.
The term 'Khak' for dust originated from Persian or Urdu so Khaki means 'dust-colored'.
That is because they were worn by British officers in colonial India so their uniform would blend with the rugged environment and had a resemblance with the color of the dust.
It also allowed their uniform to get dirty less often compared to their traditional white pants.
These days though, Khakis are found in various tones and colors and have become a type of pants.
However, the spectrum of colors used in the majority of Khakis remains closer to its dust-colored origins.
Are Khaki pants the same as chinos?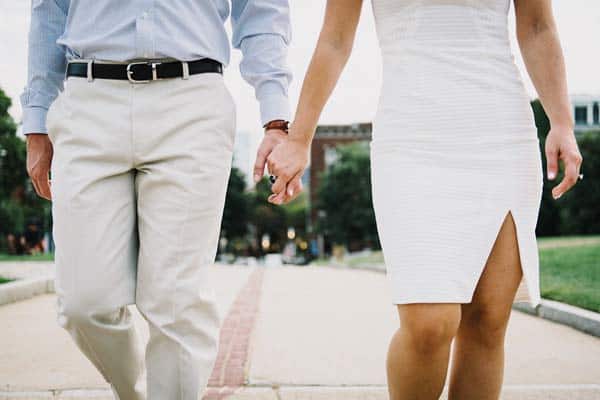 Khakis and chinos are two terms used interchangeably these days but were originally two different items.
Basically, "khaki" is a color of a pant (light-brown soil-like), while "chinos" are a style of pants, so basically, khakis are greenish brown-colored chinos.
But of course, khakis, with their growing popularity have become a separate category of pants themselves.
Chinos, of course, have a much larger color variety with colors like maroon, navy blue as well as olive green being widely in use.
They are even being made in pastel colors like yellow or green but those are tough to pull off and not as popular.
Chinos are also made with a lighter fabric and have a more refined look, while khakis have a comparatively heavier fabric that makes them a bit more casual than chinos
Khakis are a bit less formal than suit pants and a bit more dressed up than denim.
This makes it a good option for professionals who do not want to wear jeans and a good option if you want to bring your casual attire up a notch on the fashion scale.
Considering how versatile khaki pants are, It is crucial to take full advantage of that. With not much variety in color of the khaki pants, what you can do is perhaps style your shoes differently to fit the occasion.
Here are a few we picked out ourselves.
Best Work Shoes to wear with Khakis?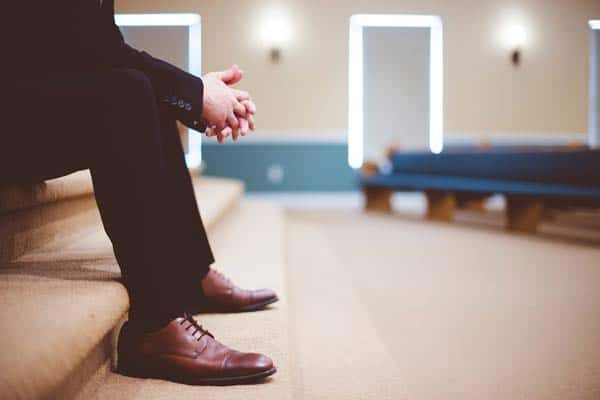 It is tough to generalize what shoes to wear with khaki pants in the workplace since every workplace has its own regulations.
But in most offices, khaki pants can be a good alternative to suit pants when you don't feel like dressing up as much.
And a good, formal option for Khaki pants that upholds your style in your professional environment are the Derbies.
Derby Shoes
Derby shoes are greatly similar to the more formal Oxfords but have an "open lacing" which means that the shoelace eyelets are on top of the regular body of the shoe.
This makes derby shoes a bit less formal.
Oxfords, on the other hand, have a closed lacing and are better reserved for suit pants for that polished formal look.
However, the distinction has become more of an academic value with most lace-up basic shoes being called oxfords instead of making the distinction between it and the derby
A good example that we would recommend is:
Florsheim Men's Montinaro Cap Toe Dress Shoe
A gorgeous shoe to go to work in.
These can make a beautiful combination with your khaki pants. This is by far one of the best shoes to wear with khakis.
The comfort is incomparable with memory foam technology.
The leather is thick but breakable and can be used for your workdays.
You can Choose from three possible colors but our recommendation would be to go with the brown color
The synthetic sole could have been of better quality but that is a compromise you have to make for a reasonable price.
Best Formal shoes to wear with Khakis?
In terms of formality, khakis are not considered as formal as suit pants.
So in case you want to wear khakis with some sort of formal shoe you may have to compromise on the traditional formal attire so that it doesn't look out of place.
Black is tough to pull off with khaki pants because it is the most formal of all colors and doesn't go well with the khakis.
So it is advised to avoid using black with khakis.
However, if you do wear black with khaki pants you may have to wear a formal suit jacket on top to balance out the look.
In terms of the design, Brogues and Chukka Boots are a great combination with khaki pants.
Brogue Shoes
Brogues are hugely popular low heeled shoes that have perforations on their surface, a pattern called broguing.
They may be classified by the degree of broguing into quarter brogues, semi-brogues, as well as the full brogue, that is known famously as the wingtip.
This design tones down the formal nature of this shoe but makes it ideal to wear with khaki pants.
A touch of formality with lots of personality.
That's a rhyme!
Our personal favorite for the borgue shoe is: Stacy Adams Men's Dumbar Wingtip Oxford
From an aesthetic point of view, you will not find much better brogue shoes.
Available in five colors, you are welcome to experiment to find your favorite pick..
With a beautiful leather body, stitched synthetic sole, and perfect fitting, this one may become the highlight of your wardrobe.
Comfort is not compromised with cushioned memory foam.
The construction is lightweight so you can wear them all day with no worries.
It does begin to crease after regular use but more often than not, the creases blend in with the shoe and add to the rugged leather feel. In any case, leather shoes require great care to maintain good quality.
Chukka Boots
Another great option is pairing khakis with chukka boots.
Chukkas are ankle-high boots with open lacing and two or three eyelets.
They are mostly made of suede and leather.
The reason we have paired them with khakis is that it matches with the vibe of khakis and will look elegant with a good suit jacket.
Just make sure that the chukkas are of a darker shade making them a bit more formal.
Also, make sure that the khakis are well-tailored so they give a more refined look.
A stellar Chukka Boot from our list of the best boots is: Frye Men's Murray Chukka
This is a high-quality chukka shoe you should definitely consider.
It has a beautiful leather finish with a beautifully stitched rubber sole.
The price is on the steeper side but if you want to invest in a good quality boot, this one takes the cake.
Best Casual shoes to wear with Khakis?
Chelsea Boots
Chelsea boots are ankle-high, close-fitting boots with a flexible side panel so they can be put on with ease.
They do not contain laces and a band of fabric at the back makes putting them on easier.
This boot is a must-have in your wardrobe if you don't have one already.
Every stylish man invests in a good quality Chelsea boot for times when he wants to leave an impression.
Chelsea boots are considered a casual option to be worn with jeans but you would be surprised how good they can look with khaki pants.
The key is to choose the right color.
A personal recommendation would be to go with Coffee colored leather or Suede Chelsea boots to set you apart from the crowd.
The Chelsea boot we would definitely recommend is the Dr Scholl's Shoes Men's Credence, Chelsea Boot
Scholl's Shoes Men's Credence Chelsea Boot
This Chelsea Boot combines comfort with style with ease.
With its beautiful suede finish, this will help you stand out in a crowd.
The rubber sole is durable and prevents you from slipping easily. The major selling point of this shoe is its comfort. This is due to memory foam inside that keeps the shoe cool and fit.
From the two colors available, we recommend the "Tan Suede" color because it looks better with a Khaki pant.
Overall, this one is an all-rounder that checks all the boxes for a stylish casual outfit.
Loafers
Khaki pants with loafers is a great option for you if you want to look good without trying too hard.
Make sure your khakis are well fitted for smart casual attire.
A smart style option in the summers would be to go with ankle socks and pin roll your khaki pants to show off some ankle.
Experiment with various loafer styles like a tassel, penny, horse-bit loafers among others.
Our pick for a loafer you should buy is the Cole Haan Men's Wagner Grand Penny Loafer
Cole Haan Men's Wagner Grand Penny Loafer
This is a shoe that can easily be mistaken for a shoe twice it's cost. Such is the finish of this product.
With a beautiful leather finish and a rubber and leather mixed sole, this shoe also has a cushioned leather foot-bed to ensure convenience.
This one will get you a lot of compliments and definitely will be something you can put on without a second thought.
Boat Shoe
This is a hugely popular shoe and makes you look like you have a distinct fashion choice.
They look great with khakis, especially when in the brown tan color scheme.
They are one for a stylish casual environment, although they have a diverse appearance, similar to many of the formal shoes, thus can be a good alternative for any formal wear as well.
Our Personal favorite: Sperry Men's Authentic Original 2-Eye Boat Shoe
This leather shoe features an added heel cup that gives it a great comfort.
Hands down construction make for an elegantly casual look.
This show is one of the best feeling loafers you will find with its rubber sole, shock-absorbing heels, stain, and water-resistant nature, there is no weather that will not allow you to rock this pair with a checked shirt and blue jeans.
Flip Flops
On hot summer days, our most used pair of shoes is probably the good old flip flops. These diverse strapped shoes can not get any more comfortable on the feet.
The rubber sole acts as a shock absorber and the ease of putting them on is probably what makes them a winner in the casual shoe criteria.
Flip flops look great with khaki pants and this is a huge testament to their flexibility. The sandals we would probably opt for are the Reef Men's Leather Smoothy Sandal:
Reef Men's Leather Smoothy Sandal
These sandals combine comfort, durability, and style seamlessly.
With the sleek leather construction, you will look stylish even if you step out on the beach in this one.
The quality of the strap is immaculate so that it may last you several years and you can spare yourself of an unfortunate occurrence.
This sandal is especially beach-friendly which makes it a great buy for those who like to spend their summer days strolling on the beach and getting a suntan.
Apart from this, they are water-friendly and the absorbing nature of the shoes you will be able to take a stroll much closer to the beach waves than with any other shoes.
No matter how many years in a row you pack them in your beach bag on your way to the beach, you will know that they are unshaped and flawless.
What are the Best Athleisure shoes to wear with Khakis?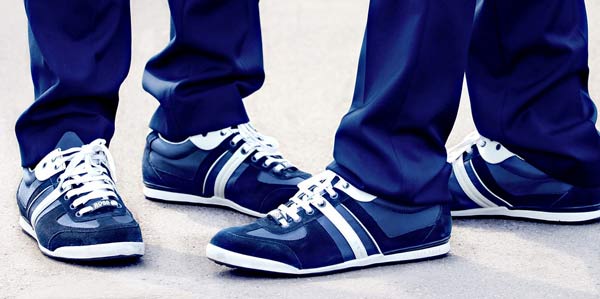 A major advantage of wearing khaki pants is that you get great adaptability.
They can look as good with trendy sneakers and with leisure shoes as they can with comfortable sandals
Athleisure shoes coupled with a pair of khaki pants has become somewhat of a phenomenon, it is used for not just athletic reasons for of course more subtle sports like golf, but has also earned its place as casual wear.
They are in trend and definitely pass for a fine fashion statement.
Sneakers
Honestly, there are so many possible combinations with sneakers that we can probably let you decide.
Sneakers are a statement of comfort over style most of the time, however coupled with khakis there is more of a balance if anything.
You can couple your khaki pants with any colored sneakers and maybe even set your own trends.
As a starting pick, we recommend:
FRYE Men's Walker Low Lace-Up Fashion Sneaker
because you can never go wrong with a quality white sneaker and this leather sneaker is a legend for it's generic category.
This classic design is the perfect fit for a pair of khakis so that you can stand out in style.
This particular brand of sneakers has stuck around for a long while and thus had enough time to perfect in comfort and design.
The current design is perfect for comfort and even better for style.
The cushioned sole is to reduce impact and the padded collar ensures comfortable wear for even long hours.
For a set of trendy white sneakers, this one is highly recommended.
Conclusion
So it is apparent that the Khaki pants are a highly adaptable piece of clothing.
It is recommended for every man with style to keep a pair of them in their wardrobe along with a couple of these shoes to match every occasion.
Fashion choices like these make you memorable