Although one might doubt the working of these amazing gadgets. Some of the below-reviewed products would do the job just fine.
Generally, they work quite efficiently, especially if you are a fan of DIY (Do It Yourself) projects, a perfectionist who doesn't like a single thread of his precious clothes out of place, or you simply do not have the time to acquire such a critical skill.
It mostly if not all depends on what needs fixing and how you plan on carrying out the art of sewing. Most handheld sewing machines work best on light fabrics since they are versatile and protean. Because of this, they are not capable of performing heavy-duty textile tasks that conventional sewing machines can.
The simple answer to your question is that while they have gained popularity for being versatile, portable, and convenient; most of them are also criticized for being difficult to use and breaking down easily.
Depending on the purpose you need to use it for, a handheld sewing machine can either be your best friend or just another item that collects dust sitting idle in your cupboard.
But this gadget is all everyone raves about when it comes to the world of crafting tools while working on light fabric materials.
Now, you have to have some sort of experience with these things before getting used to them (that's the case with almost all of these handhelds).
But it becomes easier to work within time.
When Does a Handheld Sewing Machine Work for You?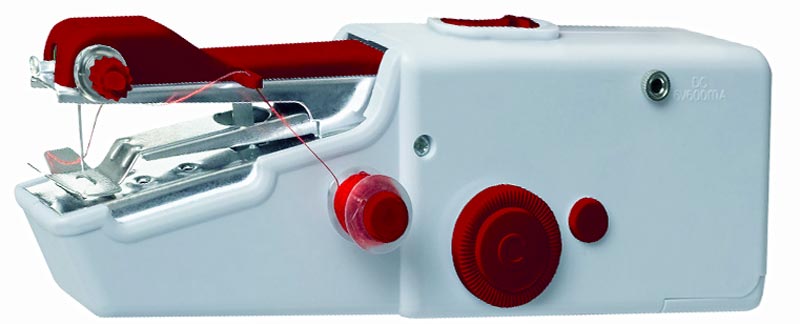 If you are short on budget and want to get some light stitching tasks done around the house, buying a quality handheld sewing machine is a good idea. On this note, it is also important to be aware of the companies that are selling these machines at reasonable rates while still functioning well.
It is also important to mention that careful research is extremely important before buying a handheld sewing machine since many of them out there don't even work once and break down easily, because of their fragile nature.
Handheld sewing machines also work for beginners since they can be easy to use, are convenient and some of the good ones are sold at dirt-cheap prices. They're also useful for anyone who travels often since it's lightweight and portable. It is also a great way to fix fly-away threads on your worn-out clothes.
Some of these versatile machines are pretty much a blessing for anyone who does not own a regular sewing machine since they can be used to sew any fabric less than 1.8mm thick.
This the very reason handheld sewing machines have gained popularity at such a rapid pace.
So you may buy these if
You often need to fix only the tiny seams falling here and there off your favorite clothes.
You are a beginner sewist.
You often travel and can't carry your standard sewing machine everywhere.
You are not interested in using or learning to sew with a standard sewing machine.
It's hard for you to put the thread in the needle or you lose the grip of a needle more often.
So these are conditions where handheld sewing machines can work for you.
When Does a Handheld Sewing Machine Not Work for You?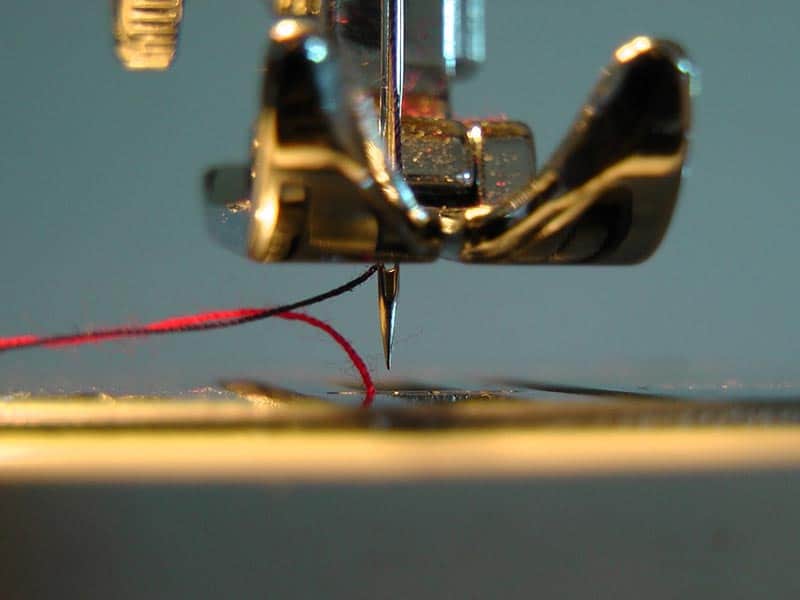 While handheld sewing machines can be great, some of them can prove to be a waste of money. Buying a sewing machine from an unpopular company without proper research is likely to end up making you regret the purchase.
There are very few handheld sewing machines in the market that are worth your money since many of them are infamous for breaking down easily, not being usable, or completely wasteful.
If you have been sewing for ages and prefer concise, perfect stitches on your clothes and often sew dresses as well as trousers made of thick fabric, this machine is not for you.
Another important thing to mention here is that although this product brings convenience to busy housewives, hodophiles, and all those who worry about quick fixes to minute damaged details, this can be a savior, as that is what handheld sewing machines offer, i.e quick fixes.
So, keep in mind this gadget might not be a substitute for the standard sewing machine. you will need to compromise on a lot of stuff.
Now that you have a clear idea about the pros and cons of handheld sewing machines.
The question is…
Which Handheld Machine To Buy? Still!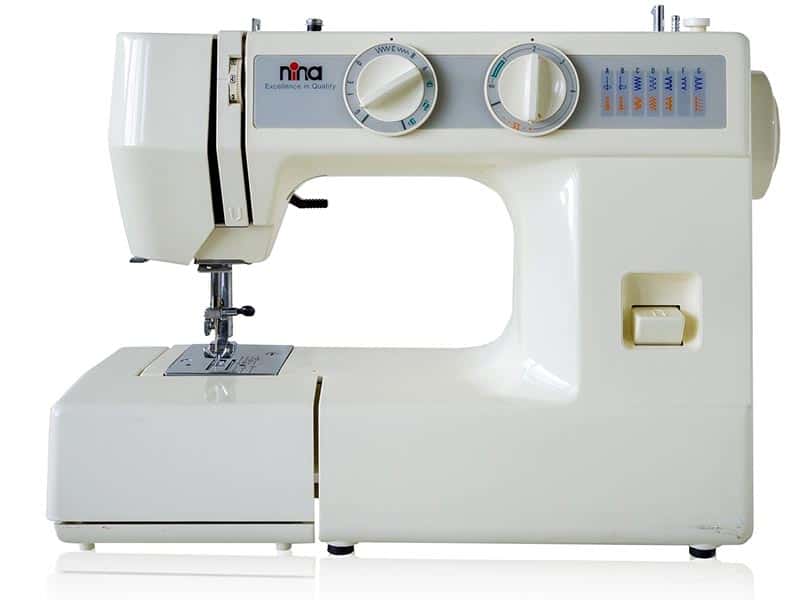 Now we want a small portable gadget that does a job of a proper conventional sewing machine right? Well, I am afraid, we aren't there yet. But we got close.
Like we mentioned earlier the purpose of using a handheld machine should never be to replace your all-purpose heavy-duty sewing machine.
That would be a very unrealistic expectation.
We picked and reviewed a few which we believe just be able to do the job for you. These are the toughest portable sewing machines we could find.
Singer 01663 and 01664:
Singers are the most distinguished and celebrated among the others. With many models out in the market already, they have rapidly gained success in the business.
The SINGER 01663  is one of the Singer's best products.
It is not only extremely reasonable, but its cordless, handheld functionality makes it tremendously easy to use.
It has a small size which makes it compact, lightweight and as a result, your travel buddy that goes everywhere with you to fix those threads prodding out.
It is prepared and packaged intricately with everything you need to use already present in the box.
This includes machine needles, a threaded spindle, and a needle threader.
Now, SINGER 01663 has it's both pros and cons.
There have been problems relating to its design and the pressure plate is may seem too heavy (to lift) to some users.
But still, once you crack this item, it is a savior.
The sewing machine saves tons of time and energy that would've been used up had you sown with your hands or a big machine. (Given the sewing is on a light fabric).
You may also check out the Singer 01644 which is a more advanced version of its predecessor with a few new techniques under its belt.
It also has good durability and features dual-speed control, double thread feed, and automatic winding function.
It has a port of a power adaptor so you won't have to fret about buying new batteries over and over again. And as for the cons, it can get jammed a couple of times. (Which is common with all handheld sewing machines)
MIXI Hand Sewing Machine:
Also a good pick.
Is Handy, electric, cordless, and portable – has all virtues of these handhelds.
Any fabric with a thickness of less than or equal to 1.8mm can easily be stitched with this machine.
It is a small machine with just the perfect size and weight i.e 20cm(length)x 7.5cm(height)x 5cm(width) weight: 241g.
We suggest this gadget if you are a busy mom or fond of traveling cause this may not be a professional choice but is perfect for tackling little accidents related clothes.
YSMOTO Sewing Machine:
This one is a multi-functional, machine with a foot pedal.
The package came with 1 x Sewing machine , 1 x Instruction , 1 x Foot pedal , 1 x Adaptor , 2 x Thread spool , 2 x Bobbin , 1 x Needle threader , 1 x Needle(#14).
Speed can be adjusted, thus ensuring your safety during stitching.
It is very lightweight and can easily be carried in your shoulder bag. (Measures 27.5×12×26 cm)
Alongside its beautiful and smart design, its exciting features are a good catch.
Such as automatic bobbin winder, easy stitch selector dial, reverse sewing, built-in free arm, thread tension control, and bright LED lighting, two-thread lockstitch, one-step button, four-step buttonhole sewing, drawer included, including all-purpose presser foot replacement holder.
Alongside all these features, like all of these handhelds, this one also gets jammed up in the bobbin instead of completing a stitch. 1 out of every 20 times.
It has two power modes a power adapter and 4 AA batteries. (DC 6V 1200mA). And it is essential to know that the cord and batteries can only be used once at a time.
Altering and designing clothes, crafting, quilting, home decor, and more can quickly be done with this gadget.
Zigzag width and adjustable stitch length allow you to create and customize your designs.
Textiles like clothes, pillow cover, bedsheets, etc. require creativity, and this gadget claims it all. It allows you to create beautiful designs and creative textures on your fabric.
Thus, you can utilize your imagination and creativity to develop magnificent DIYs, textures, designs, and styles in your home accessories.
Arespark Handheld Sewing Machine
This is just another modern version of these machines. (Size: 210* 70* 35 mm)
Due to its easy usage, lightweight (230 grams) and small size, enhanced functions, and quick repairability, it is a perfect choice for students, employees, offices, mothers, and people from almost all life fields.
You can mend a torn pocket without removing your pants and can sew a curtain without removing it from the rod. (Given the fabrics are not too thick).
Sewing with a single button and application, much similar to the working mechanism of a stapler, this machine is a perfect option for light-weight DIY sewing projects.
It is effortless to operate, and anyone can use it with some time. Its automatic cloth feeding function gives an elegant and somewhat professional result.
This machine claims to be so reliable that it can sew two surfaces of jeans fabric easily. However, We do not suggest this because the stitches can be unreliable at times. (If you don't know what are we talking about, read the introduction again).
It also claims to work on fabrics like silk, wool, denim, leather, and crafts. It can be used for purposes such as quilting, cloth remodeling, and crafting, etc.
(You will have to purchase these AA batteries separately.)
FONESO Sewing Machine:
Sized 7.9×7.9×3.9 inches and weighing only 0.76 KG/ 1.68 LB, this machine is also a good pick.
It carries a pedal switch and a push-button for you to use it. The featured bottom line and surface line creates its two-line design and thus enable you to enjoy good sewing for your light fabric projects.
It comes with a Cuff slot that makes it perfect to sew pants and sleeves.
Easy replacement of bottom bobbin by using the rewind device allows you to use a large spool. High and low-speed selection buttons make sewing safe and potent.
It comes with a foot pedal, which makes it even easier to use. Concentrate on the machine with both your hands and enjoy a fast, easy, and safe sewing with the foot pedal.
This machine has adapted upgraded environmental material and is powerful enough to be used even on thick fabrics and multiple layers.
This is an ideal choice for beginners, kids craftspersons, moms, DIY enthusiasts, and even students.
KFF Sewing Machine for Beginners:
Meet your needs by changing the selection dial to adjust the type of stitch that you require. It offers 12 different types of stitches, and this is a scarce quality.
This quality and the durability of its stitches make this gadget a right choice for somewhat professional use.
This gadget offers many different types of sewings.  You can enjoy buttonhole sewing and can even change the sewing operations while sewing.
You can adjust the sewing speed to either high or low, depending on your expertise level and your ability to stitch and sew. This will help you practice how to handle the cloth. Moreover, it will make your stitching and sewing journey even safer for you.
This will help you create great sewing products with this gadget.
It has a strong working ability. It is not at all noisy and guarantees a stable operation. It is small in size, which makes it easy to carry along anywhere with you. Its robust functioning enables you to work on even the thick and hard textures of fabrics.
This is simply a must to have a kind of gadget for anyone who likes or needs to sew often.
At the time of writing this: Its packaging includes 1 x Sewing Machine, 1 x Foot Pedal, 1 x Adapter, 1 x Needle,1 x Buttonhole Presser Foot, 2 x Bobbin, 2 x Spool, 1 x English User Guide.
ChenLee Mini Sewing Machine:
The package came with 1xSewing Machine,1XSewing Kit Set 62PCS, 1x Extension Table, 1x US Plug,1xPedal, 1 * operating manual.
(Size of the machine: 19.5*12.5*21 cm / 7.7*4.9*8.3 inches)
This gadget came with an extended table. With a scale marked on it, the table is suitable for all 202 type sewing machines. It is 25-20cm in size and has a foldable leg, making it easy to carry and store.
The machine also carries a working lamp that can also be helpful in low lighting conditions.
There is a built-in thread cutter in there as well.
All of these features can come in real handy if you want to sew while traveling.
Besides its double thread and cross sewing ability, it also came with a pedal switch and a push-button switch.
It also has adjustable speed fits and tension adjusting screws, to adjust the speed of the sewing machine and the tension in the thread, respectively.
Talking about the power supply, it has two power supply modes with an AC adapter and4 AA batteries add to its power.
Sewing with the Handheld Sewing Machine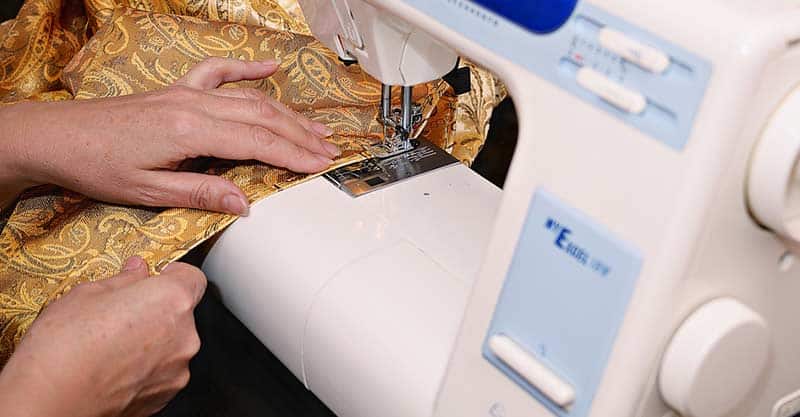 Now, all of these machines have a learning curve to them.
It may seem difficult to sew with it at first as the fabric keeps rolling over.
(Which is one of the compromises you will need to make with almost every handheld sewing machine.)
However, the obstacle can be tackled by a little technique.
So you must keep in mind that whenever you use this machine you should use your free hand to stretch the remaining cloth so that it is not an obstacle while it's sewing operation.
Now there are two ways to use the handheld sewing machine and to sew.
The first one is that you start the handheld sewing machine when it starts to move up and down, place the fabric from one end in its tip and start pulling it from the other side.
This way you have to make sure that the material or the cloth you are sewing stays in a straight direction so you do not mix the direction of stitches up and down. This is for time-saving concerns.
The second way is also very easy.
For this, you turn the handwheel so that the needle goes to its highest point.
Next, you lift the fastening plate while being careful you do not press on the needle arm as it will de-nature the needle and will not provide expected results.
When you have lifted the needle arm, place the cloth in it from one side and then release the plate.
Use the handwheel to make the needle come to its position where you want and then start the machine.
Now you will only have to pull out the cloth from the other side because the straightness of stitches will be ensured by the fastening plate this time.
The last and the most important thing to keep in mind is that when you finish sewing, turn over to the back of the cloth and tie a knot to the thread so it does not leap out again, ripping the cloth again.
This is the final step.
Conclusion
So, now it's time we give our verdict on these cute little handy gadgets.
Well, honestly we would suggest you buy them only for instant mending and repairing of fabrics around your house.
Even with that particular zone of work don't expect high precision with stitch quality as it might be better than manual stitching but can definitely never beat your good old standard sewing machine.
For us, sewing is an art and like all other arts, it demands time, effort, and a good apparatus. So, saying that we admit that we are not huge fans of these handheld sewing machines.
but you may pursue with your purchase if you feel this gadget is worth buying for you.
Make your choice for the best as per your requirements and stitching jobs and you are good to go.