Crafting is not just a hobby, it's an art. And art never really cares about what you wish for because it's democratic and it's not for everybody. It is only for those who are willing to go in deeper and understand it from its core.
But this art can still be enhanced with the best crafting tools so you can take your creativity to the next level.
These home improvement crafting tools will make a lot of difference, I've learned over the years. Now when it comes to crafting tools, it really depends on the projects lets take the obvious ones out if you don't have these, and you are looking to get into crafting, these are the must-have, now we have compiled with the best of these products.
Heres the list of the top crafting tools you must need for DIY projects at home.
Scissors
Scissors are simply the first love for a crafter. Now there are different types of scissors and I would recommend getting all different types as they are quite cheap and makes your crafting really easy when it comes to papers.
Westcott 8″ Titanium Bonded Scissors
Now picking up the best scissor wasn't easy, we had to put so many things into account while choosing the best one for you, to name a few, which one is the safest? Which one allows to work for longer hours without hurting your hand? What size should be best?
Why do we like it?
Works flawlessly. It has a Titanium Blade, unlike most of the stainless steel scissors which are not as strong, these scissors can cut through things quite easily. And plus they are also corrosion resistant as it is coated.
Soft handles provide comfortable grips and also allows you to work for a long time without feeling fatigued.
Its dimensions are, 10.9 x 0.8 x 4.4 inches, which is the best size when it comes to crafting.
Other Scissor we recommend:
Fiskars Micro-Tip Scissors
Why do we like it?
Very accurate cutting precision
Helps a lot when you have to cut through tight cutting patterns
Very good value for money.
ok, so next on the list are the paper punches.
Paper Punches
Now there are different types of paper punches, now they come in various sizes and of various paper cutting shapes and you can alway look for what you need exactly but there are some products that made my crafting way easier.
UCEC 6 Pcs Craft Hole Punch
why do we like it?
Very easy to use
has many cutting designs
You should also look into border punches as well.
The best product for that is:
Fiskars Border Punch
It's strong and allows punching and making designs on your scrapbook, or the homemade cards or other punching projects very easy.
It has an oversized punch handle, so its very comfortable to use
Dremel Maker Kit
When it comes to the best hand made DIY crafting projects, Dremel makers kit is a must-have. Dremel is a brand that makes many power tools mainly for crafting. The Dremel makers kit we are recommending includes 3 tools in it. It comes with a very good box where all 3 tools are lined up neatly.
Rotary tool
VersaTip Butane soldering torch
Dremel Engraver tool
Let's talk about the Rotary Tool:
This tool can be used for all sorts of various applications, as carving, shaping, cutting, polishing, sanding the wood, glass, metal, or any other material depending on your crafting needs.
It is 3.2 lbs in weight (1.4 Kg) and the diameter of the cutting wheel is 1.25 inches. The rotor offers 2 speeds at 5k to 35k RPM and can even auto-adjust it's speed based on the feedback it takes while working. It comes with 6 different attachments too and they can easily be taken off and added on.
One thing about this tool which we didn't like was the noise. But despite that, it is really good.
And if you buy this product separately, which can from here on Amazon, it will cost you more. Hence the Dremel Makers kit, where you are getting 3 tools for a cheaper price.
VersaTip Butane soldering torch:
Now, this precision torch is shaped like a regular solder that you see, but it's cordless with the heating source, butane. Which means you need to fill it's tank back up once it's finished.
At a full tank of 0.3 ounces, it works for 70 to 80 minutes.
It has a lot of different accessories to it with 2 being my favorite, the soldering tip and the cutting knife (excellent for cutting through plastics)
It has soldering tip, storage cap, wide flaming head, shaping and cutting knife, tin to put hot things in and so many other accessories. The torch may look complicated but it's quite easy to use. And it has all the instructions you need to get you started.
The overall body doesn't get hot at all when being used, only the tip area does and you have to be careful with that. It's best to leave it out of the reach of children, although it does have a child safety lock on it too.
Besides the child lock toggle switch, it has a flame control knob which basically feels like a big cigarette lighter switch if you will. And if you want to keep the torch on permanently, there is a switch for that too.
One of the best applications for this instrument when it comes to crafting is jewelry work. Soldering of the jewelry becomes very easier with this especially at home. You can mold them up and make new designs.
Apart from that the cutting tool is quite handy too and helps a lot when it comes to cutting nylon and different sorts of plastics.
A few safety tips regarding this tool:
Before changing the tips, make sure you let it cool down a bit first.
If you do need to change it, make sure you use some sort of insulating material, but still, don't put it back into the box as the inside of the box is plastic as well and it can burn it down.
Dremel Engraver tool:
This amazing tool can be very handy. It is a tattoo machine if you will, for so many different materials. It basically has a tip made up of carbide that moves back and forth or vibrates one might say to carve into materials. And has 5 position settings that allow adjusting the engraving depth by simply turning the knob.
You can engrave down all your creativity on different materials, some tough ones too even, like the metals and leathers.
The feel of the tool is good too, it has a nice grip to it and you hold it like you'd hold a pen. It has a variable setting in it on how many engravings per time period you want which they call strokes control, which is a nice feature to have as it allows you to control the tattooing intensity. It has 6k strokes per minute at a maximum which is good enough power for crafting.
Let's talk about its tip
Its replaceable tip is strong enough and ensures precision as well. It is made up of carbide, which is strong enough and gets the job done.
If you want to carve in to even soft metals like the aluminum or copper or some thin sheets of even steel, it can get the work done, but when it comes to thicker elements or hard metals, it will not work and you would have to buy the tip/point separately.
They have diamond tips (or diamond wheels for the rotary tool) to get that done.
Basically it all depends on which material you want to work on, and you may not even need the diamond one after all. For example, the granite has the hardness factor of about 7, and the carbide tip this tool has, has the hardness of about 8.5.
Glue Gun
If you are looking for the best hot glue gun for fabric, look no further. We got you covered. We will recommend you the best glue gun for fabric. Moreover, if you are thinking about buying the best hot glue gun for wood, we heard you. All you need to keep in mind that low-temperature glue guns must be used with low-temperature glue sticks.
Those types of glue sticks are in particular formulated for melting at lower temperatures making material secure and safe. There are even all-temperature glue sticks that can be utilized in both high and low-temperature glue guns, making them all-purpose. We assume there are remarkable for adjustable temperature glue guns so you do not have to buy separate glue guns.
Cobiz hot glue gun
Why this glue gun is the best?
It has a selection switch with an LED which shows whether it's heating right now or not.
There is also a power setting with which you can increase or decrease the flow of glue.
The trigger is very "grippy" and fits perfectly with the fingers and this gives better control over the flow of glue coming out.
You can even set the temperature on this thing, and it also has a stand for safety as the tip is hot and you can make this guy stand like shown in the picture with the help of the stand. There are 2 heating settings, 60 Watts, and 100 Watts.
It comes with 5 glue sticks as well which were just okay, you can find better ones on the market, but I do appreciate that they came with the box.
Its construction is also very solid.
This hot glue gun for fabric and wood is an amazing buy for many reasons.
The two key features include the power selection switch with the led to exposing its miles heating and the trigger. The electricity setting is notable as it helps determine how the glue could be coming out.
Its hundred-watt placing flows very quickly, so it's far incredible for big amounts at one time in order that it does not cool before you're completed.
The 60-watt placing makes a thicker glue and cools faster. It has space for three fingers, which allows it to manage easily with the glue coming out.
Different glue guns particularly the mini size is most effective as it has space for one finger. Another great feature is its safety stand. If you are cautious in placing the gun down, the stand will hold it but it you need to place it down quickly so it would not always preserve it and the tip finally ends up touching the surface of my paintings.
If the stand could hold the gun up higher it would have been perfect.
Self-healing mats
After our research, we found that the best self-healing mat is the OLFA Self Healing Cutting Mat.
OLFA Self Healing Cutting Mat
Self-healing mats go hand in hand with the blade roller, it's just a piece of plastic-like material, it includes almost 5 layers and they come in different sizes. It has a scale on it and the material is just a sandwich of PVC, it's not hard, but you can't scratch it with figures either. But it will pick up stains.
It will look clean for years if you buy a darker color.
Actual self-healing boards are made from microscopic cells of liquid polymer. Cuts pierce the cells, releasing the liquid, filling the cut, and then hardening in place. now u still see the scars but it gives you the smooth surface to work on. If you are cutting with a knife it's not gonna interrupt your flow of cutting.
Why this cutting mat is the best?
A big mat, with measuring lines very easy to see and nice build quality.
Cuts made by rotary cutter vanish very quickly.
It comes in 2 different sizes, 18 and 36 inches, and is 1.5 mm in thickness.
The mat is also double-sided, so after years of wear and tear, you can use the other side and it will just feel like a new cutting mat.
What we don't like about this product still?
It smells weird for some time when unboxed, of some chemical, but after washing it once the smell got away.
It is a little expensive compared to other mats. But then again other mats were not as good as this one is.
Disposable Craft Gloves
Now for the gloves, I will definitely recommend going with the Nitrile gloves instead of the regular Latex ones. Why? Well because they offer better hand protection and are tougher and more durable while keeping the allergies to the minimum.
Best Nitrile gloves for crafting
After researching out various nitrile gloves, we found that the GlovePlus have the best Nitrile gloves which are highly recommended if you take your crafting seriously. They come in a pack of 100 and 1000 gloves and they give out a good deal.
GlovePlus Industrial Black Nitrile Gloves
Why did we choose these gloves?
They are nitrile.
They come with the textured fingertips, fingers, and the palms, which mimics our own and give out a very high precision of work which is highly required in the field of crafting.
They are 5 mm thick and provide very high durability as they don't easily get punctured.
Nosed Pliers
When working with projects which involve jewelry, keychains, or the beads, these tools come in handy. There are a lot of different nosed pliers, like snipe, round, flat, side, bent nose plier, nylon nose plier…and the list goes on.
If you are a beginner in crafting, you should just get a regular nice needle nose plier.
CHANNELLOCK Nose Plier
View on Amazon
Now you don't have to worry about much when buying a nosed plier, there are so many good ones out there, but we still like Channellock 3017 Long Nose Plier the most.
Why?
The endpoints meet precisely, so the plier is very accurate and has a nice build quality.
The point where handles meet, don't touch together so you can work for longer hours without tiring your hands out.
The grip is good and doesn't bite your hands if slipped.
Cutting Knife
If you want to cut through a paper or cardboard, you would want to use a cutting knife. Of course, you would also need the self-healing mats as shown above.
When choosing the best knife for your cutting crafting projects, you should consider a few things:
Is it safe?
Is it sharp enough?
What are my cutting requirements and would the knife cut through?
Can it provide precise cutting?
Now keeping all these questions in mind, we came with the best cutter for crafting and which is we think, the X-ACTO.
X-ACTO #2 Knife With Safety Cap
Does this cutter answer all our questions?
Well for the safety feature, it has a solid cap.
The knife is quite sharp, with the cutter made out of carbon steel which can cut easily through carboards.
It provides very precise cutting for 2 mains reasons, first, since you grab it like a pen, it makes cutting easier, and second, it is very lightweight as it is made out of aluminum.
Circuit Machines
Cricut machines are a must-have if you love doing DIY projects and they help a lot in making personalized and customized crafts easier. Now I have compiled the best 3 die cutting machines and all of them are simply awesome.
Cricut Maker, Champagne is the best to buy
View on Amazon
Why it's the best?
Has a USB port to charge your device while you're working on it (others don't have it).
It can cut about 300 different types of materials which other cutting machines can't.
Has a new rotary blade that can cut out different designs easily (Others don't have this kind of blade).
Has a new knife blade (sold separately) – It makes cutting thick materials easier such as wood. Others aren't capable of cutting such hard materials.
Simplifies sewing and quilting projects because it easily cuts any type of fabric.
Has an adaptive tool system – nobody has this.
Has a docking slot to hold your tablet or smartphone which is a thoughtful detail not available in other cutting machines.
This Cricut maker has an expandable suite for tools that include powerful blades, pens, and a scoring tool that allow you to learn with every new type of craft you make. It can cut the most materials, about 300. Other tested products don't have this feature. It has built-in Bluetooth and allows you to connect your mobile or computer to it where you can customize and personalize designs and also use their simple designs app.  It has over 100s of digital sewing patterns that you can choose and the Cricut maker will cut and mark all the pieces for you, leaving you with only the sewing part to yourself. It is made with thoughtful details such as a docking slot for keeping your tablet and mobile phone and a USB port to charge your device.
Who is it for?
This is the best die cutting machine for beginners as well as for professionals. It gives you the freedom to make crafts from various types of materials. It is a great product to buy and can be useful for teachers, business purposes and school/university projects or just for making home décor or for making creative sewed quilts or blankets to gift your close ones.
Pros. & Cons of this Circuit maker
PROS:
Cuts about 300 different types of materials.
Has a docking slot for keeping a tablet or phone.
It has a USB port.
Includes user manual and guide.
Rotary blade, knife blade, pens, and 2 cutting mats included.
USB cable and adapter included.
Design apps for iOS and Android.
Built-in Bluetooth.
Adaptive tool system.
CONS:
It doesn't allow personally customized images to be uploaded from an iPad to use with the maker.
The size of the cutting mat is 12×12 inches, which can make making quilts a longer process.
Expensive.
Cricut Explore Air 2 Mint is another great choice
This product is your personal DIY cutting machine which is best for making paper crafts and allows you to make things for home décor, custom vinyl stickers or make unique greeting cards. It is not suitable for sewing and quilting projects since it has a cutting mat having a size of 6×9 inches which makes it inconvenient to cut patches for a quilt.
It includes a German carbide premium blade that resists wear and breakage for longer life and allows precision cuts. This blade is not available with other cutting machines.
And it is easier and simpler to understand and use, especially by beginners because of it's basic model structure and has a smart set dial on the machine which makes sure that the machine cuts at the correct depth and pressure for any type of material that you put in.
This product carries out outstanding functions and thus is our runner-up. It has a double tool holder for cutting, writing, and scoring, all in one step. This is the best Cricut machine for vinyl lettering and paper projects which cuts over 100+ materials up to 2x faster and has built-in Bluetooth for wireless cutting.
So you can be sitting somewhere else while you choose your designs from the Design space app by Cricut (available for Apple and Android) or make a customized personal design in your phone or tablet and send it to your machine to print, write and cut it out.
The smart set dial on the Cricut ensures that your cuts are at the correct depth and with the right pressure for the type of material you put in the machine.
Who is it for?
This product is a very beneficial tool for beginners. It especially works best with paper crafts and vinyl projects. It is easy to operate. You can make customized crafts for home décor or greeting cards. You can also make creative items such as, give away gift pouches for your child's birthday.
Pros. & Cons Circuit Explore Air 2
PROS:
Cuts over 100+ materials.
Built-in Bluetooth.
Access to Space Design App by Cricut.
Includes a German carbide premium blade and many other materials designed for use with the Cricut machine.
Smart set the dial on the Cricut machine.
Double tool holder for cutting, writing, and scoring.
CONS:
It doesn't include the latest tools for advanced cutting.
Laminators
Laminators will help protect your document from any kind of harm. But when it comes to crafting, It will avoid ripping, tearing or any unwanted stain. A laminator will increase the life of your document and will make sure you get to make use of your document for as far as you want.
There are several best laminators available in the market for you consider. We did our research and gathered around some fine details that could help you know better about the best laminators for and take your decision.
Scotch TL901C-T Thermal Laminator
Scotch TL901C-T Thermal Laminator gained a lot of popularity in a short period of time. It was regarded as the best laminator for crafting on the internet due to several significant reasons.
Why do we recommend it?
It takes only 3-4 minutes to start working which is great as an average machine would take more time.
It works fast. The speed is 1 letter-sized page per minute.
It has the capability of laminating 9 inches wide letter.
Less expensive than average laminating machines.
Fellowes Laminator Saturn3i
Fellowes Laminator Saturn3i is next on our list for the best laminator for crafting. It should definitely be your pick if you are looking forward to using your laminator a lot. It has speed and function and does your work on high quality.
Why do we recommend it?
Combines speed and quality in the best rate possible.
It only takes a minute to warm up and begin the process of lamination.
It is very fast. It works at a speed that performs the task faster than the average household laminator.
Gives you two options. You can set it for hot and cold laminations according to your preferences.
User-friendly
Has an additional feature of auto-shut-off that will stop the lamination on its own.
It can be used with pouches that are 3 mils, 4 mils, and 5 mils thick.
AmazonBasics Laminator
AmazonBasics products are always handy and have a high life. They are able to work hard to produce fine quality work to depict good results. This laminator is also on our list as it has the best ratio of high quality to price. It has the capability of performing various functions without getting too heated.
Why do we recommend it?
Best ratio of high quality to price.
Great at laminating documents that are up to 9 inches wide.
The warm-up time is also no more than 4 minutes.
The laminator has heat settings for 3mil and 5mil pouches
High quality and function
If you are a teacher who happens to take several trips to the printing shop, you can lessen your work by purchasing the best laminator for crafting. There are several options available for you in the market.
Fellowes Laminator Saturn3i is a good option. Users are recommended to review this laminator first. It serves quality and function simultaneously. The best thing about Fellowes Laminator Saturn3i is that it is very speed. Teachers who have several students to cater, do require something that saves up their time. This is where Fellowes Laminator Saturn3i can a great pick as it combines speed with quality like no other.
It has several features with specifications. Teachers can make use of all the features and benefit their class in various ways. It does not even take a lot of time to warm up. Only a minute or two is required to start the process. It will complete the lamination process within minutes.
You can adjust various pouches. The Fellowes Laminator can be used with pouches that are 3 mils, 4 mils, and 5 mils thick.
6 places to sell your handcrafted things
If you are an artist by heart and want to change it in your side business or career; then these places are offering you the most wonderful opportunity ever! All the time that you invest in making those great handmade goods, is definitely not going to waste if you decide to sell it on one of these incredible online marketplaces. It is always good to get some tips about e-commerce before you dive into this pool and read the policies on the website that you pick. And once you are done with all the investigation…you can simply just start selling. Art never goes to waste, you just need the right opportunity to expose it to the world and make everyone appreciate it and want it.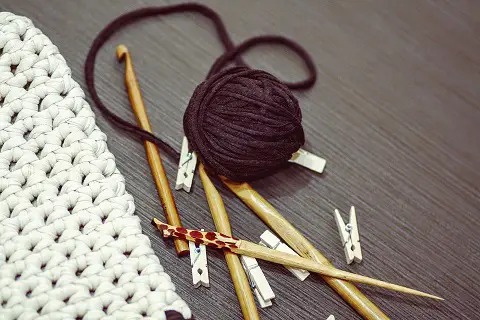 So you have handcrafted things to sell. Well, I am here with the best places you can sell them. Crafting things is an amazing time pass. A lot of us did that stuff while we were kids and some took it as their profession.
Let's just say that some of us are just too good at it.
But it gets boring if nobody appreciates it or you aren't able to sell it off.
Studies show that art helps beat stress at a great level. But what if your art is just a fun time pass but you want it to be more than just that?
What happens when your friends adore it a lot and start telling you to sell it all and earn. That spark on your face is wonderful but you know that you have no means to sell that amazing stuff of yours.
But what if I tell you that you can? Crafting things would definitely become triple times more fun.
You are certainly going to invest money into buying those supplies and you will have to invest time in it also.
But you are going to do that anyway, right?
So why not get something out of it, rather than just passing your time?
Tired of getting too curious already?
Best places for your handcrafted things to sell
Let's get down finding out about the best places where you can sell anything within minutes:
Etsy:
Etsy is a great place to start selling your creativity.
This website is created for artists and crafters who are able to showcase and sell their work through it.
You are allowed to price them as much as you want and list as many items for sale as you want to.
So that is it!
Shopify:
Shopify is yet another amazing place to sell your creative and handmade goods at.
You will be charged $9 per month and you can easily sell your items (as many as you want and at whatever price).
You can also try a hand at the trail period first and then dive into your business.
Before you start off with this, you should read the Shopify Business Encyclopedia so that you can grab the best tips to help you along the way.
It also aims at improving your e-commerce skills.
eCrater:
This is totally free of cost tool which allows you to make your own online store to sell your creative goods through.
eCrater only takes some minutes to help you set your own online store up.
You are also allowed to import your eBay into this online store.
iCraft:
If you are great at imagination, then this place simply rules for you.
iCraft is a great place to sell goods that you create from your imagination.
Just make sure that they are great because of everyone imagines…but not everyone does it well, you know.
This site is made for the purpose of selling great handmade goods.
You cannot fake vintage item as handcrafted stuff.
Misi:
Misi is a life saver for all those damn good crafters out there. It offers you a lifetime free online shop. Yeah, I am serious; you can definitely check it out for yourself also.
I mean a totally free online shop.
This website is a UK based craft market on the web. They are going to keep a little commission on everything that you sell (which sums up how they earn through his website).
You also get advice on how you can get started on this website along with some tips to help you out. You just need to check their forum for this.
Folksy:
Folksy, a UK based craft market, is great for you if you are good at creating things.
If you are able to make something great, you can sell it right here.
The majority of people are selling amazing items here.
For instance, they are selling handmade soaps and jewelry and incredible photography items on this website.
Conclusion
Crafting has taught me alot, besides skills to create amazing stuff, it boosts happiness and almost all people who love crafting do it because it makes them calm and improve their senses to details. It boosts self-esteem as it reminds you of how well you are of creating beautiful stuff. It is a kind of meditation on its own too – How you ask? Well, what is meditation, well it's simply clearing up your mind and focusing on only one thing that is breathing, now that one thing can be anything and the only difference is that here you will be focusing on only one thing at a time and that is work. One other thing that I learned from crafting is that it really gives you motivation and patience. Sometimes you work on a single piece for hours and you have to be really patience and once that is completed, you feel proud and motivated to work on another product.
Stay tuned while we work further on this list and bring you more crafting products.