Who does not want to have a juicy slice of meat flavored with their favorite seasoning? Mmm…the very thought of it makes my mouth water. Having a slice of meat once in a while is a common practice in almost every household around the world. It is one of the basic staple entries in the food cycle.
Meat can be sliced into different types of cuts making it suitable for various dishes and snacks. Starting from sandwiches to cold cuts to steaks, the varieties of options you have are endless.
That is why we are here to help you select the best meat slicer for you to buy.
Purchasing a Meat Slicer for the First Time?
It can be a bit confusing. There are a large number of meat slicer machines present in the market and each one offers different features and specifications. To make things simple for you, we have shortlisted a top selection of meat slicers available in the market.
Everyone has their own line up of kitchen appliances and gadgets in the house. These machines make our lives easier and simpler. They help save precious time as well as energy. They enhance our productivity and make cooking a less tiring and boring activity.
For meat lovers, a meat slicer is must-have kitchen equipment. Having a handy machine like this in the house, allows you to conveniently host BBQ parties and dinners without having to worry about getting your meat sliced from outside.
Invest in a Good Quality Meat Slicer that Lasts for a Lifetime
Investing in good quality and powerful meat slicer is a wise decision. Whether you use it for bread, cheese, vegetables, or meat, it will definitely bring value to your money. There are different types of meat slicers available in the market. They differ in size, power, design, and other features.
Let us have a look at the different types of meat slicers that fall in the top slots of the market.
Chef's Choice 615A Electric Meat Slicer
This is one of the best meat slicers for home use available in the market. It has less weight but possesses all the power needed to meet your meat slicing requirements. Let us have a closer look at this amazing masterpiece by Chef's Choice.
Power and Motor Capacity
The machine works with a 120Watts engine. It creates a torque of high levels giving the machine the required power for slicing various types and thicknesses of meat. It is known for slicing the thinnest layers of meat with its 7 inches super sharp blade. The engine produces very little noise and has its own cooling mechanism to prevent malfunctions.
Safety Shut Off
To avoid any mishaps or accidents the machine features an emergency shut off button. This button allows the machine to cover the blade if the machine is idle.
Strong Grip
Being a powerful machine with lots of torque, it will move automatically if let loose. For this purpose, the manufacturer has added four strong rubber footings that help maintain a strong grip with the kitchen surface. It prevents the machine from moving when it is running.
Body Structure
Although the machine is made from a high-grade stainless steel machine it is still light weighted and attractively designed. It weighs around 12 lbs. only. The cast iron finishing adds to the additional strength to the body.
The product is easy to carry and store. Its strong body structure enhances its durability and makes it last for a lifetime.
Cleaning and Maintenance
The Chef's Choice meat slicer can be easily dismantled for cleaning purposes. You can take off various parts of the machine and clean them with mild dishwashing detergent or soap and then dry them with a dish drying rack.
You have the option of removing the blade for washing purposes as well. You can also clean it without removing it from the machine by a simple wipe.
Why is it a Good Choice?
The machine is light weighted and can be moved easily when not in use.
It provides great power even with a smaller engine
It does not produce much noise and has self-cooling properties.
The Cantilever designed machine is very advantageous as it allows food handling conveniently.
Food slicing and cutting capability of up to ¾ inches
7 inches blade
Cuisinart FS – 75 Kitchen Pro Food Slicer
For the more professional chefs at your home, this meat slicer by Cuisinart is the best gadget. It can slice loads of meat in deli styles by ensuring food freshness and beauty.
Power and Motor Capacity
Although the size of the machine is not too big, it contains a powerful engine of 130 watts. It is ideal for slicing various types of foods and meats.
The machine is equipped with a serrated type of blade that is 7.5 inches in thickness. It conveniently cuts through meats of different thicknesses and slices foods like hard cheese without any extra strain on the engine.
Body Structure and Design
The overall structure including the blades of the Cuisinart meat slicer is made from high-quality food graded stainless steel. The covering on the machine is manufactured with die-cast aluminum which keeps the weight on the lower side and still provides the durability and strength for maintaining a long life.
Cleaning and Maintenance
The machine can be easily disassembled into various components for easy washing and cleaning purposes. You can remove the blade of the meat slicer by a simple 90-degree rotation of the specified screw. Once cleaned, it can be put on back in the same screw rotation manner.
Suction Grips
Suction pads at the bottom of the machine ensure the machine does not move while in running mode. This makes the slicing process safer and more stable.
Why is it a Good Choice?
It is a powerful machine in the given price range
With a lightweight body, it can be easily moved and stored
Can be adjusted to a thickness of 1/32 – ½ inches
A good and renowned brand with a 5-year warranty
Ideal for home use
Beswood Premium Electric Meat Slicer
This is an efficient and affordable model manufactured by a popular brand on meat slicers called Beswood. It can fulfill your entire slicing and cutting needs in the kitchen.
Power and Motor Capacity
This is a popular meat slicer that is widely used in the commercial food industry. However, this does not make it an alien for the home kitchen. It can be used effectively and efficiently for meeting household needs as well.
Whether it is ham, large meat pieces, fruits, vegetables or hard cheeses, the machine can be utilized for a variety of materials and purposes and provide the precise thickness of food slice you desire.
The machine is powered by a heavy-duty motor of 240 watts. It is fast and lets you complete your cutting and slicing work in no time.
Structure and Design
The body of the Beswood meat slicer is superior quality aluminum giving it extra long-lasting capabilities.
This machine has super sharp blades manufactured from Carbon Steel which is chromium plated and are 10 inches in size. This material has been processed under very harsh and high temperatures to enhance blade strength and durability.
Blade Sharpeners
The material of the blade ensures that they remain sharp for a very long period of time without having to sharpen them separately. A very innovative feature that comes in the Beswood meat slicer is the presence of a pair of stone blade sharpener. These two sharpeners continuously work to keep the edges of the blade super sharp for efficiency.
V Belt Feature
In order to keep the machine stable and motion-free while running, there is a premium quality v belt attached. It also reduces its sound considerably by preventing excessive vibrations.
Rubber Grips
The machine has a strong rubber footing attached to the bottom. This is an essential feature to enhance the machine's grip on the surface and so that it does not skid off while running.
Cleaning and Maintenance
The blades of the Beswood meat slicer are made from chromium-plated carbon steel material which prevents it from being corroded over a long term period. The machine has a safety switch for on and off operations to avoid any electric shocks. There is also a cover on the blade which reduces the risk of mishaps and accidental incidents.
Why is it a Good Choice?
It has a more powerful motor than any other counterparts in the market
It has a slicing thickness of 1-12mm (about 0- ½ of an inch)
It can be used for a large variety of hard food items
It has a durable long-lasting body
It fit for both commercial and home use
Safety is a top priority
Nesco FS-250 Stainless Steel Meat Slicer
This is a good option of meat slicer for people looking for small and compact equipment for their kitchens.
Power and Motor Capacity
The machine is powered with a 180 watts motor which is driven by gears. The slicer has one of the biggest sized blades that are serrated for effective and diverse food cutting and slicing process. The blades are paired and can be adjusted to slice different thicknesses accurately and precisely with the help of a simple knob.
Body Structure and Design
The body is structured and manufactured from premium quality stainless steel.
The blades are serrated made from stainless steel and have a huge 8.7-inch thickness.
This machine has a lightweight body with an approximate weight of almost 13.2 lbs. It is easy to carry and portable. The weight is enough to maintain stability while the slicing process in underway.
Suction Grip
To keep the machine gripped to the working surface, there is a suction cup located at the bottom.
Cleaning and Maintenance
You cannot remove the carriage of the meat slicer from the main bar. For this purpose, the cleaning is only possible by tilting it into the sick. Blades are, however, removable and can be cleaned thoroughly.
Power Switch
The placement of the power button is on the side of the slicer. This prevents it from being switched on by accident or unintentionally.
Why is it a Good Choice?
It is compact and light-weighted
The machine has the largest blades compared with other machines
It has thickness adjustable to 9/16 inches
Very less noise
It comes with a one year warranty
Affordable yet durable
Della 8.7 Inches Electric Meat Slicer
Della is a famous name in the meat slicing industry. It produces top quality meat slicers for both commercial as well home uses.
Power and Motor Capacity
It is a heavy-duty machine that is powered by a durable motor of 180 Watts. Its powerful motor allows slicing and cutting in very little time.
The machine has a serrated large-sized blade of 8.7 inches.
Structure and Design
The body of the Della Meat Slicer is constructed from stainless steel material which long-lasting and strong. The blades are also made from stainless steel and suitable to cut various types of foods and meats in the same sized thickness and size.
A food handler is located on the main carriage.
Cleaning and Maintenance
The body of the machine has a hinged design. You can easily clean it without any hindrances. Flipping up and wiping is all you need to do. It comes with a protective covering on the blade to prevent accidents when not in use.
Suction Grip
To keep the machine from skidding, slipping and moving during operations, there is a suction cup attached to the bottom.
Why is it a Good Choice?
Heavy-duty motor suitable for both commercial and home activities
It is fast and efficient and has a strong grip to surfaces
It can slice meat to the thickness of 5/8 inches
Easy to maintain and clean
Meat thickness can be adjusted by a simple dial
The stainless steel body is durable and sturdy for long-lasting operations
You Need a Meat Slicer and here's why
First off, for those of you who don't know what a meat slicer is. It's a machine that is designed to slice and cut meat in different measurements and shapes is called a meat slicer. Some of them run on electricity while the more conventional ones are manual. For those who are more diverse and versatile in their cooking, this machine can also be used for other food items like cheese, vegetables, and even bread.
Generally, people who want their meat sliced would go to a deli or a butcher shop for this purpose. But sometimes it may not be possible because of your busy schedule and work-related activities. It can also be time-consuming if you are looking to get your meat cut in different ways. So, people who like to have sliced meat very often in their meals would prefer to have meat slicer in their homes. This way they would not have to wait in long queues or rush to the deli every now and again for different meat cutting tasks.
With a meat slicer in your house, you can get your meat sliced anytime and anyway you like without having to go on the road. It is a very useful and handy machine for every kitchen. It saves you time, money, and effort.
Why Should You Have a Meat Slicer at Home?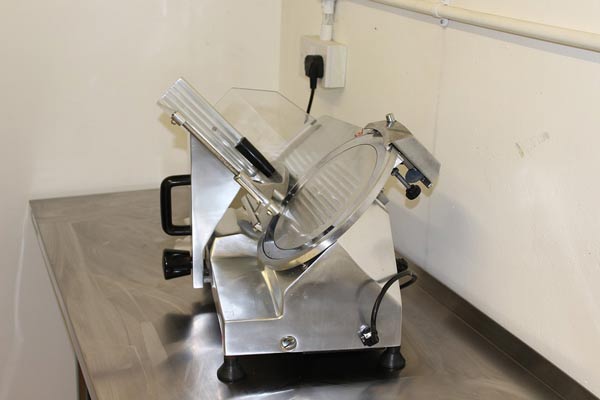 We all know that the real secret behind mouthwatering, juicy and tasty meat is in the cut and dressing. For every meaty dish that you eat, the chef would like to have a different cut and shape. The chef at home may sometime find it frustrating to stand in long lines just to get their meat cut and sometimes may even end up having the wrong shape.
So, what does one do? Should you keep on taking the pain and anguish of standing in queues of the delis and butchers? Or do you simply take out your own meat slicer and get what you are looking for in just a few minutes? Definitely the latter is better than the former.
Many people may think that having a meat slicer at home will only be a burden on their pockets. They may not understand its importance until the time they actually buy one. Among many other benefits of having a meat slicer at home is cost saving. If you happen to buy pre-sliced and dressed meat from supermarkets and delis, you will see that their prices are more as compared to buying whole pieces of meat. In fact, they may cost you three to four times extra.
Having a meat slicer in your home saves you money and lets you enjoy the enhanced taste of meat that comes from freshly sliced meat. Even the texture of thinly sliced meat is better than the thick pieces.
When you have a meat slicer at your home, you can slice meat according to your usage needs. In most cases even in a refrigerator environment, sliced meat will become bad in just 2 to 3 days. With a slicer at home, you can slice the exact quantity and prevent it from rotting in the fridge.
And above all the feeling of being in control of the thickness of your meat is priceless!!
What to Look for in a Meat Slicer for Home?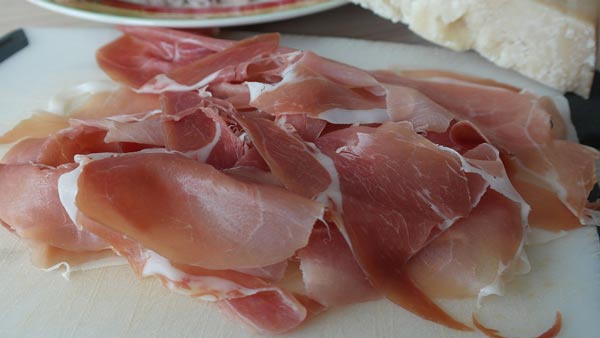 In the most basic type of entry-level meat slicer for home use, you should look out for the following:
How much power does it have?
What is the price?
What is the size of the blade?
How would you clean it?
What is the size and weight of the machine?
How will you store it?
Is it mechanical or electric powered?
Buying a meat slicer is not something that you do every day. It is a long term investment that is going to last with you for a very long time. So, making this decision to purchase should be a very wise and careful one.
Hasty and unthoughtful decisions and selections can lead to big regret. As they say, there is no point in repenting over spoilt milk. So, do not waste your money and choose a product that you will cherish life-long.
To make a wise decision, you need to be aware of various features offered in a meat slicer and understand their specifications to analyze the various available options carefully.
You might be thinking what are the major factors that I should consider before making the purchase? How do I go about making a practical comparison between various models?
For your convenience and ease, we have highlighted some of the essential factors that you must compare in order to gauge the efficiency and effectiveness of different meat slicers.
Motor Power
Meat is a tough material to slice. In some cases, it requires lots of power to make the precise slices and exact sized pieces that you want. The quantity of meat you handle with the machine is also important in this regard. For large amounts of meat, you need a powerful motor that can work for longer periods of time. Most meat slicers range in power from 120 Watts to 240 Watts.
The power of the motor defines the actual power of the meat slicer. The more power it has the more meat it can slice and greater the precision.
The motor can be of two types. It can either be driven by a belt or by a gear. The motor-driven by gear is much more long-lasting and powerful than the other.
Type, Size, and Material of Blades
The blade is one of the most essential components of the meat slicer after the motor of course. Blades can either be serrated or smooth. The type of blade you choose depends on the type of materials you plan to slice with your machine.
Smooth blades are ideal for lean meat and vegetables. A serrated blade is used for slicing tough meat and different types of bread.
Thickness Adjustment Capability
Almost all types of meat slicers have a thickness adjustment dial or knob. This helps adjust the thickness of the meat you want to slice. According to experts the greater the thickness range the better the slicer.
Safety Features
A meat slicer can be a very dangerous piece of equipment if used with negligence and less care. It has super sharp blades that can lead to a severe injury in case of an accident or mishap.
It is therefore important that a machine has safety buttons placed in a safe location to avoid accidental start. Some models even come with a dual safety switch.
The handguard system is a precautionary measure that keeps the user's fingers from touching the blade by acting as a barrier.
Additional safety features like blade covers, rubber grips, suction cups and secure flip on attachments should be given priority while making a selection.
Ease of Cleaning and Use
The efficiency of the slicer is important but the ability to operate in a friendly and non-complicated manner is also very vital. No one in our household can be an expert in the process. A meat slicer should have simple and less complex working to ensure use by all kinds of people.
Cleaning and maintenance of meat slicer are also very important. Keeping your meat slicer in unhygienic conditions can lead to severe health issues. It can also reduce the life of the machine. So, it is important to clean the machine thoroughly after every use.
It is advised to select a meat slicer that allows easily removable components that can be reassembled after washing and cleaning with mild dishwashing soap.
Levels of Noise
When selecting the best meat slicer for home use, it is important to give noise level a good consideration. You do not want to wake up the neighbors every time you slice your meat.
On average a meat slicer produces a noise of 60 to 70 decibels. In some models, the initial sound is less and it gradually increases with time. Choose a model that produces lesser sound.
SO, these were some of the things that you must look out for when buying a meat slicer. It is important to ensure that you select a product that is most suitable for your slicing needs.
Once you have understood the various factors and features of the meat slicer you are ready to browse the market for the available options. But still, it can be tricky confusing because of the large number of options available to you. For this purpose, we advise you to choose from the 5 best meat slicers that we have shortlisted above suitable for your home use.
FAQs about a Meat Slicer
Although we have provided you with thorough information about the meat slicing machine and the top models in the market, there might still be some queries and confusions boggling your minds. Here are some frequently asked questions that may be able to solve your problem.
Is a meat slicer actually suitable for home use?
The answer is absolute yes! Having a meat slicer at your home provides you a lot of advantages. All of the above-mentioned meat slicing machines are suitable for home use as well as commercial use.
Can we slice and cut raw meat with a meat slicer?
With razor-sharp blades, most meat slicers can cut any type of meat whether processed or raw. However, sometimes raw meat is too soft to handle and the slicer may fail to achieve a perfect slice or cut. For this reason, many experts suggest that you semi freeze your raw meat and then process it on the meat slicer for better results.
Can I use a meat slicer on frozen meats?
Frozen meat can be one of the hardest food items in our kitchen. Cutting it with a meat slicer will only strain and over-burden its blade and motor. Although very heavy-duty commercial machines do have the power to cut frozen meat, it is not advisable at home.
Can I use a meat slicer for other foods?
Of course yes! As already mentioned in the above discussion as well, meat slicers are suitable for cutting and slicing various types of food items including cheese, vegetables, fruits, and pieces of bread. If a machine can cut and slice meat than it can cut anything.
You Are Ready to Slice!
With all the detailed information that we have provided to you, you must now be able to make a better decision about buying the best meat slicer for home use. The top picks that we have provided you in this post all have the necessary characteristics of a good meat slicer. They all have renowned brand names, great efficiencies, adequate motor powers, and safe and smooth functions.  You should always select a meat slicer that is easy to use and provides the required outcome effectively. So, go ahead and pick a choice and start your meaty and juicy journey of splendid taste and delight.