Whether you are getting ready for your prom night or you are just casually creating your perfect brows ever; a clear view of what you are doing is extremely crucial. Getting ready in the morning while you sip on your coffee is a huge task. And makeup is no joke guys, right?
If you don't get the right view, of what you are doing, then how will you ever be able to achieve that flawless and perfect makeup look? Well, this is exactly why you must invest in a good and high-quality makeup mirror. We would suggest you buy a wall mounted makeup mirror because it helps you get a remarkable view from each angle.
A wall-mounted makeup mirror is not going to be cheap. Thus, we recommend you to invest in the best one so that it goes on for years to come. We also adore the wall-mounted mirrors that have lights installed in them as it really boosts the view and gives you an enhanced look of what you are creating.
Wall-mounted makeup mirrors vary in size, quality, and prices. Some have additional features and some don't and in the light of those, you can invest as little as $30 and as much as $300 or more on a makeup mirror.
It really depends on what you want to buy and what your requirements are. However, we have summed up the top makeup mirrors for everyone. Whether you are looking for something basic and affordable or you are in search of something amazing and you are ready to invest a handful of the amount in it; we have something for everyone in this list.
Jerdon HL65N
This adjustable wall mounted makeup mirror is everything that a makeup freak would want. It has everything that you would want but the lighting is just average. It comes with a 14 inch extension and smooth, nickel finishing. You can rotate it at a 360 degree swivel design and comes with a 5X magnification.
It also comes with a spare bulb. The best part is that the mirror has 4 different finishes available too. It is extremely user friendly as it is quick to install and doesn't give it a hard time.
The only drawback to this makeup mirror is that the lighting is a bit dim. If you want brighter lighting then this might not be a good pick for you. But if you are fine with dimmer lighting then there is literally nothing better than this one.
Conair Round Shaped Double-Sided
The second runner up is the Conair, double-sided wall mounted makeup mirror. This is an affordable option to pick if you are in search of a well-lighted mirror. It comes with 1X and 8X magnification and you get 2 color options in this as well. The plug-in lighting does an extremely remarkable job and doesn't fail to impress you.
It is also a little bulkier but that isn't much of an issue because you are getting the right lighting and magnification as well. The mirror is easily installed and mounted on the wall and comes with all the hardware that is needed. Moving it to a newer position is easy and smooth and it stays in place firmly too.
If you are looking for a makeup mirror on a budget then Conair will not disappoint you at all.
Hamilton Hills Vanity Mirror
This is a large premium modern wall mounted makeup mirror which is well-known and praised for its appearance. It is a magnified mirror and you must pick this one smartly. Make a wise choice as to what "type" of mirror you would want. However, its magnification is only 3X which might not be wonderful for detail lovers.
The contemporary design gives this makeup mirror a very modernized outlook. It is well-built, sturdy and extremely well-balanced too.
It rotates till 90 degrees and that is great for your makeup. Installation of the mirror is also easy and quick but it won't fold flat against the wall which can be a bit annoying.
DecoBros 9.8-inch Two-Sided
If you have as little as $25 for an investment, then this one is the best bang for the buck! Costing you just $25, DecoBros brings you a very decent and well-built wall mounted mirror which won't disappoint you in such a cheap price tag.
This mirror is very basic and easy to install. It comes with 1X and 7X magnification and has a very minimalistic design.
Clean and minimal is certainly the modern design rule and DecoBros has fulfilled it amazingly.
The magnification is fair enough and does not leave your vision distorted.
The only downfall to this mirror is its swivel arm as it is a bit stiff and it gets hard to move the mirror. If you have been eating a good diet, that won't be much of an issue (lol). Other than that, everything is quite great, considering the fact that you get it within $25!
FAQ About Wall Mounted Makeup Mirrors:

We all have queries when we decide to invest in something and that is completely normal. Here we have answered the most basic and frequently asked questions about wall mounted makeup mirrors. This will help you eradicate all types of confusion before you make your choice.
Are wall mounted makeup mirrors tough to install?
No, they are not. It is just like a DIY project and you can do it within no time. The mirror you pick should always come with the hardware that is needed to install it. Thus, pick wisely.
Do wall mounted makeup mirrors offer any warranty?
Not all wall mounted makeup mirrors come with a warranty. Usually, lighted mirrors come with a warranty of a year or two.
Do lighted wall mounted makeup mirrors come with bulbs that are required?
Lighted makeup mirrors usually come with the bulbs that need to be installed in the mirror. But if the bulbs get burnt out after some months (which they obviously will), then you will have to buy the bulbs yourself. It is rare for mirror companies to provide you with spare bulbs as well.
Things to Consider before buying a makeup mirror: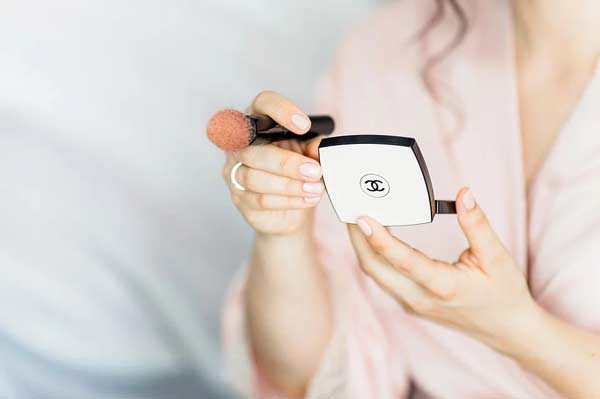 Before you start searching for the best wall mounted makeup mirror, it is important that you consider some basic things. Here are the key considerations that can help you pick exactly what you are looking for.
Adjustable Mirror vs Fixed:
While buying a wall mounted makeup mirror, you will come across two options. Some are fixed which means that once they are attached to the wall, you cannot move them around. Although these are the most selling wall mounted makeup mirrors, the fact that they are not adjustable at all, puts off many people. However, the choice is yours to make. If you are a sucker for wider angles and you don't mind leaning in while you are creating a glam eye look, for the perfect view, then go for it.
On the other hand, we have adjustable wall mounted makeup mirrors too. They are attached to the wall through an arm that can be hinged or swinging, depending on the mirror. The benefit with the adjustable mirrors is that you can bring the mirror closer to your face while you do your eye makeup and you can move it around to any angle, without having to lean in. The versatility of these mirrors is undeniably incredible and is the perfect choice for people who are super finicky about their winged eyeliner.
Single-Sided Mirror vs Double Sided:
The next thing you need to consider is whether you need a single-sided mirror or a double-sided one. However, you do not get this option in fixed wall mounted makeup mirrors. They are single-sided (obviously). But if you choose for an adjustable mirror, then you come across two varieties; single-sided and double-sided. For tasks like tweezing, a double-sided mirror is the best choice as it helps you look into details.
Now there are various features that matter when it comes to buying a wall-mounted makeup mirror. They might have small features but they can help you make a good choice, depending on your room and wall dimensions, etc. features like size, shape magnification, lighting, and finishing of the mirror matter a lot too.
Keeping these things in mind, you need to start searching for the best wall mounted makeup mirrors and you will make a smart pick.
Conclusion
With a huge variety of wall mounted makeup mirrors in the market, it gets confusing as to which one is the best choice to make. But if you consider the type of mirror you want, along with its size, shape, and other important features like lighting, etc. then you can certainly make a smarter pick. We absolutely adore the Jerdon Wall Mounted Makeup Mirror and if you have the budget then this investment really pays off. However, the Conair and Hamilton Hills doesn't fail to impress you either and are many affordable options to choose from. All in all, you now have the best wall mounted makeup mirrors reviewed for you right here and you can pick the one that suits your needs and budget the most. We have also answered some of the basic queries that people have while buying a makeup mirror. We hope that they are of help to you! Do share your valuable thoughts in the comment section and interact with us!