Many men struggle as a single dad, but some pass the test of single parents with flying colors, one such person who not only raised his daughter (Marina Pearl Leblanc) alone but also helped her battle against a major disease is Matt le Blanc.
Let's start off with some fact about Marina Pearl Leblanc before going in her life:
Born: February 8, 2004
Star Sign: Aquarius
Uncle: Justin LeBlanc
Parents: Melissa McKnight, Matt LeBlanc
Siblings: Jacqueline Esposito, Tyler Esposito
Grandparents: Patricia LeBlanc, Paul LeBlanc
Friend: Coco Arquette
Hometown: Santa Barbara, CA, USA
Nationality: American
When you lose your spouse and the mother of your kids due to any other reason, whether it's divorce or death, adjusting to the new reality of things and being able to accept the upcoming challenges is a life-changing task.
Matt (her dad) always stuck by.
Matt was born on July 15th, 1967 to parents Paul and Patricia Le Blanc in Newton, Massachusetts U.S, Mathew Steven Le Blanc is an American actor, a comedian, and a television host.
The actor is best known for playing Joey in the well-known American TV show "FRIENDS".
Matt Leblanc and Marina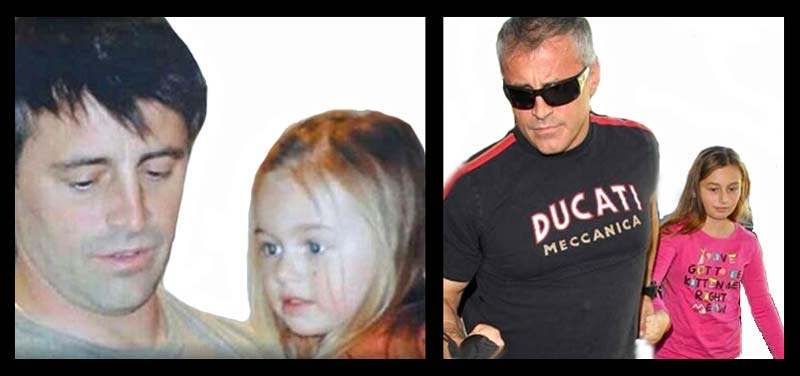 For Matt Le Blanc things haven't always been as perfect as they are nowadays. After studying construction technology in college for a brief while, Matt took a friend's advice and entered the acting career, but had to go through numerous hardships in the beginning.
As a teenager, he moved to New York to pursue his career in acting.
The actor says, he was doing Commercials in the day and working at Fat Burger at night.
His initial financial conditions were so terrible that his mother tried to convince him to leave acting when she visited his shabby place in the city.
In the early years, striving to become a successful actor, Matt was cast in a few commercials for big companies like Coca-Cola, Heinz Ketchup, and Doritos which helped him somehow manage to pay the bills.
The breakthrough however came when he was cast in the all-time famous American show, "FRIENDS".
Marital life and Marina Pearl's Birth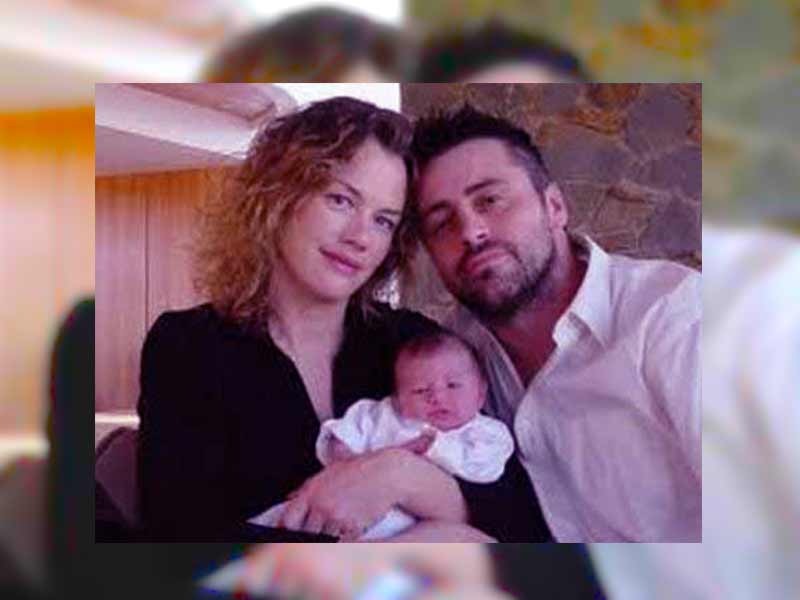 In 1997 he met his future wife Melissa McKnight who was a supermodel at that time, soon Matt was smitten with her and proposed to her in the very first year of dating.
They got hitched together in the year 2003. On Feb 08, 2004 happiness knocked at Matt le Blanc's door and a baby girl whom they named Marina Pearl LeBlanc was born.
Unfortunately, when Marina Pearl Le Blanc wasn't even two years old, the couple decided to go their separate ways.
Matt le Blanc continued to have a cordial relationship with his ex-wife even after the divorce.
Matt and his Father's Relation; An unpleasant, Yet Valuable Experience.
Certain things might harden your life, but they do teach you valuable lessons. For Matt, one of those things was his father's nonchalant approach towards their relationship.
Matt's parents split up in his early childhood, he says that his dad wasn't around when he was born and he only met him for the first time at the age of eight, his father wasn't around most of the time when he needed him.
This was a hard yet a learning experience for Matt as he says "you can learn valuable lessons from unpleasant people, too".
Despite the fact that Matt and his wife Melissa weren't able to carry on with their relationship for a long while, to ensure that his daughter was his top priority. Matt's relationship with Marina Pearl was nothing like the one he had with his father. He always made sure that his child didn't have to take the brunt of his failed marriage.
Marina Pearl Leblanc Disease
When you are born to a three-time EMMY award winner having worldwide recognition, people assume that you are living the life of your dreams.
They believe that being born with a golden spoon in your mouth could just vanish all your problems, but life isn't always as flawless as assumed, and similar was the case with Marina Pearl.
When Marina Pearl was only 8 months old, the actor for the first time realized there was a problem when she kept tumbling onto her left side while crawling. On diagnoses, it was found that she had Cortical Dysplasia.
This Dysplasia caused Marina Pearl seizures on the left side of her brain and also affected her vocal cords which became a hindrance in her ability to crawl and walk.
Darkest Years of Matt's Life
The diagnosis of her daughter's incurable disease left the actor in intense pain, who then decided to prioritize her health over all the fame and popularity that he had gathered. The TV star says that Marina Pearl's condition had put him into severe distress.
It affected him so terribly that he took a break from all the other activities he was doing. He hardly left the house for years and wanted not to have a schedule so that he could always be there for her.
Matt left everything else and ensured there wasn't even a slight moment when he wasn't beside her. In an interview, he says that most actors call their agents looking to find a role but, due to Marina Pearl's condition, he told his agent to lose his number for a few years.
He moved to a cattle ranch that he owns in Santa Barbara with her and withdrew from the public life.
He abandoned all the other events that he had planned for. It was the darkest time for his life and he almost had a nervous breakdown.
He became a full-time dad. He says that "I knew I wasn't missing out on anything. I had dabbled with the celebrity world. I'd partied a bit.
But there wasn't anything there that could fulfill me. I mean, I have beers in the fridge at home,".During that period, his prime goal was to give his full attention to Marina Pearl.
As they say, "What doesn't kill us makes us stronger", the same could be said about Matt LeBlanc's struggle.
Although doctors declared that there were barely any chances for Marina Pearl to be completely recovered, all the years of depression and not appearing in public ended up nicely when Marina Pearl's disease was cured.
Marina's recovery was nothing less than a miracle that her father made happen. He always ensured that he placed anything in the world before her and was glad to see her becoming healthy after her recovery.
Reserved Nature
When you are loved as a character you played in a very famous television show, one of the many drawbacks is that fans expect you to be as you portray yourself in that show.
Matt Le Blanc is, however, a low key and reserved person than his character in FRIENDS, he says that more often than not, people meet him and ask if he was alright, they assumed he was sad, upset or depressed but it's just that he's trying to be himself.
He just has a reserved personality.
Another reason to remain reserved has also been his daughter Marina Pearl.
The actor says that along with his restrained nature, one of the reasons why he doesn't appear too often in public is that he prefers staying home with his daughter.
He loves spending time with her and believes that despite all the fame and achievements, being around his daughter is the best thing that could ever happen to him.
A Remarkable Bond
Matt is known to share an unbreakable bond with his daughter. The father and daughter are very close to each other as Matt says that "She's a daddy's girl".
When asked the reason for not being as public as his other fellow stars, he says that he isn't hiding out anymore, it's just that he loves spending time with Marina Pearl, and its the most precious thing to him in the world.
Their Routine and Hobbies
In a world, where children spend more time with their electronic gadgets than they do with their parents, Matt and Marina Pearl are more into things that are unconventional. Every morning Marina Pearl helps her father make breakfast.
They go hiking and are often spotted in malls shopping together.
One of the biggest challenges for single dads is the need to establish new routines and healthy hobbies for their children when their partner is no longer with them.
Matt and Marina Pearl often go horseback riding and it's one of the things she enjoys a lot.
Initially, he thought that riding horses, to her was just a leisure activity and would end up soon but now she's made her way into horse jumping and competitions. Matt says that he has a great bond with Marina Pearl and it's the best thing life could have ever given to him.
Who is Marina Pearls Favorite singer?
In an interview, Matt says that his daughter Marina pearl is a big Taylor Swift fan.
He further added that once when Taylor came to LA for a concert, he arranged tickets and a backstage meeting between her and Marina Pearl.
During that backstage meeting, Taylor asked Matt to join her for this thing that they were doing in the concert, and Matt agreed because of his daughter.
Although Marina Pearl thinks that he did the worse dance ever but was glad and very thankful to her dad for this.
Marina is her Daddy's world
It wouldn't be wrong to say that Matt's top priority was always his daughter. Besides being significantly conscious of her health and her needs, he is also overly emotional about Marina Pearl.
Matt says that he is a little gooey, she can wrap him around her finger and make him tenderly powerless.
In another interview, he said that at this time, the best thing in his world is knowing that he'll be going home to his daughter.
So what does Marina Pearl think of FRIENDS?
The 52-year-old entertained us in his all-time famous show FRIENDS from 1994 to 2004, the TV show ended before Marina Le Blanc was born but now that she has seen it, she often shares her opinions with Matt about the show.
Matt and his daughter do not share the most common taste when it comes to watching TV shows. Matt's more into watching news in the morning whereas Marina wants to watch "My Little Pony", but they often catch up with few episodes of the show FRIENDS. She loves asking questions about his scenes in the show.
Matt said she'll say:
'Was that real? Did you really eat that? What did that taste like? Ooh, you ate that off the floor? That's gross! You're so funny, Dad."
The actor believes that it's fun to sit and watch the show with her. As a child, she used to call it "The Joey Tribbiani Show" until she grew up and became aware of the show's real name.
Marina Le Blanc Just couldn't care less:
Matt is so infatuated with his daughter that he doesn't even mind the kind of opinions she has on his personality as a TV actor.
He mentions that his daughter doesn't think he looks cool in the TV shows, although her friends think that his performances are quite commendable, but she just couldn't care less.
The actor doesn't claims that his daughter gets harder to impress with time.
Has Marina Pearl learned Joeys Catchphrase?
Matt is so obsessed with his daughter that he's always finding opportunities to talk about his little girl on the TV.
In an interview in 2012, Matt says that the 8-year-old is learning his iconic phrase: "How you doin?", a phrase that he used for picking up girls in the show FRIENDS, but she does her version of it by saying:
"How are you doin".
In a world where everyone is trying to find their benefits, people leaving their families to achieve their own goals, and to live the life they want, Matt le Blanc has been the most ideal father and is surely an inspiration for single dads trying to raise their children alone.
Without a doubt, single fatherhood is a difficult transition to be in, but till the day, Matt has so far coped with it quite brilliantly.
Apart from being an inspiration to the struggling actors, there's no denying to the fact that this superstar is also a role model to look up to as a single father.
Doing things his daughter desired and leaving behind all the fame to go through a hiatus when he was on the peak of his career are nothing else but a proof of how much love and affection he has for his daughter.
We wish Matt and Marina Pearl a very healthy life so the duo pursue this unbreakable bond.
Featured Image Credit goes to Instagram