If your work or hobby has anything remotely to do with sewing leather, you'll know that handling this material is way trickier than your average fabric. The slightest of mistakes could ruin the whole piece you're stitching
With leather pieces already being priced as high as they are, you don't need us to tell you that you don't want to be ruining a fine piece of leather.
A good leather machine comes here. Now there are many types of leather, from belts and wallets to sheaths. And there is no machine that can be used for all the applications/types of leather. Still, there are some which do are versatile among others.
So when it comes to versatility, 2 machines are worth looking at. Sailrite Ultrafeed LS 1 and the Janome HD300.
Where Sailrite is the budget pick among them currently. These machines are powerful and will get most of the work done as well. They are good for certain type of projects (still more than others) and they are comparatively cheaper and portable as well.
And if the high price is not an issue for you, or you're looking for a sewing machine for leather that gives a performance well worthy of industry standards, we recommend going with the Techsew 1460 Leather Industrial Sewing Machine.
Find all these machines reviewed below:
Sailrite Ultrafeed LS-1
This machine came with the promise of sewing through leather, but also claimed to be versatile. It enjoys good marketing. But they do get the job done with most types of leather.
It can sew any material under the 3/8" lift and the performance it gave, coupled with the smooth rolling of the fabric meant that this sewing machine was a particular favorite of ours!
The Sailrite Ultrafeed came with a straight stitch walking foot and we found that this allowed the needle to seamless cut through any material we tried, and yes, that includes leather. We had no complaints of having to jerk the fabric or getting uneven stitches, complaints that were common in other machines in the lower price range.
So basically besides leather , you can work on canvas, upholstery, and denim fabrics with ease.
Other features we liked were the convenient assembly, all the contents required were already packaged with the machine, and the convenient adjustments of the stitch length and string tension. It even had a built-in cording feature that we found very useful.
The machine was built well and we particularly liked the sunset orange color, a pleasant deviation from the usual boring white exteriors.
We did run into some performance issues with it however, including the occasional incident where the clutch would come off randomly. We found the cord to be too short and we had to use an extension cable.
The price to performance ratio and its versatility is what makes this machine our top picks. Besides that this thing is portable as well comparatively (17.38″ W x 15″ D x 2.88″ H).
We recommend trying this option out if you're looking to stitch leather pieces and you're on a budget.
Getting into technical specs on the paper you get 500 stitches per minute (less is better for leather as mentioned above). You get motor RPM of 6.6K (power of 110V A.C., 1/10th hp, 1.5 amps), 34mm needle bar stroke and manual lubrication.
Tippmann Boss
If your sewing needs include leather belts, this is a perfect pick. Ideally, for belts, this machine still can handle other similar thick materials as well.
Thick fabrics, such as nylon, denim, canvas other than leather can be easily sewed with this thing. It is able to stitch through ¾ inches or 19mm of leather
Other than that you get adjustable stitch length and needle size, which is useful when switching over to another material. You get self-sustainable functioning.
It is handy as there were no cords or electrical outputs required. You are able to stitch right away. There is no need for the strenuous setup process.
Needless to say, it's a heavy-duty machine. But what we didn't like about the machine, on the other hand, was its inability to handle thin materials. It seemed like far too much focus was placed on making it able to stitch through the thickest of materials. Right after we switched over to a thinner material, the stitch length became inconsistent.
If it wasn't for the lack of versatility in handling materials of different volumes, the Tippman Boss sewing machine would have ranked on the top of our list here.
Nevertheless, if your use of the sewing machine revolves around stitching thick materials only specifically belts, Tippmann Boss is the boss.
Janome HD3000
What we thought to be a simple sewing machine for leather fit for use at home, was a sewing machine that offered much more; earning it a place in our top 3!
What we liked the most about the Janome HD3000 was its versatility, even more so than Sailrite's machine. As far as domestic sewing machines go, we did not find any that could be as versatile and give the performance that we got out of this sewing machines. We found the aluminum body to be built well both in terms of ergonomics and durability.
Another feature we particularly liked was the fact that it came with needles especially designed for sewing leather, it basically saved us the hassle of ordering leather sewing needles of our own. The ergonomic design we spoke of earlier was highlighted by the extra high pressure foot that allowed for some smooth maneuvering of our leather pieces.
We also found the free arm to be quite helpful when sewing larger pieces of material.
That isn't to say that this sewing machine didn't come with cons, there were definitely a few.
The first machine we ordered had an issue where it kept sewing backwards. We discovered many users online had the same issue and for the sake of reviewing a proper piece, we returned the malfunctioning machine and ordered a replacement. The replacement definitely solved the initial problem we had but it had a few performance issues of its own.
These had to do with the timing of the stitch. The thread grabber kept skipping more times than we'd like and the machine kept un-threading itself when we tried to stitch stretch and knit fabrics.
These issues meant that we liked this machine enough to rank it in our top 3, but not higher. Overall, the proper piece we got was definitely worth using despite the minor performance issues. We'd advise to check your machine as soon as it arrives and get a replacement if its faulty because a fully functioning Janome HD300 is definitely worth your time and money, especially for stitching with leather!
SINGER 4423 Heavy Duty Sewing
This sewing machine for leather came as a pleasant surprise to us. For the low price it came in, we expected it to be a starter level entry in Singer's long line of heavy duty sewing machines. But we quickly found that it exceeded our expectations.
The main thing this sewing machine had going for it, apart from being able to stitch through leather ofcourse, were its functionality and ease of use.
The stitching experience was as smooth as you'd want it to be and was silent too. It gave off the lowest noise out of all the machines on this list.
Speed was another feature we liked.
Singer advertised it as having a speed of 1100 stitches per minute. Though we couldn't exactly put that figure to the test, we found the machine to be quick for most part.
What the machine lacked was a rugged design. We found many moving parts to be flimsy and frankly not of premium quality. It also needed regular cleaning, after about every 10 days of use. One particularly annoying issue we ran into was the tangling of the bottom thread with the fabric every now and then.
These key design element flaws ended up costing the Singer 4423 the top spot on our list. But that's not to say that this is a bad machine whatsoever. For the comparatively low price you end up paying for it, you'll find this machine to be more than worth its price tag; especially if you're just starting out on thicker materials like leather.
Techsew 1460 Leather Industrial Sewing Machine
Coming in at the top of the pile, we have a machine of an industrial caliber that has just about everything you could ask for in a sewing machine for leather; at a premium price.
We found this machine to excel at stitching a variety of both fabrics and products.
Leather, synthetics, upholstery, vinyl, canvas, and all the other tough materials you can think of- you name it- we threw them all at this machine and were always left pleasantly surprised. Not just by the end product, but also the satisfaction that came with its use.
When stitching through thicker materials, such as leather and denim, we found the walking foot and the bottom feed that came with the machine to be of special help. The added option of adjusting the speed of the motor was a nice touch.
We even tried sewing other leather products such as vests, satchels, and belts and found the machine to be equally capable of handling these.
Among the other things we liked were the little things that made all the difference.
These were the XL bobbin size, allowing heaps of thread to be stored on it, the option of adjusting the stitch length, and the self lubricating functionality of the machine; though it did benefit from the occasional oiling.
With the Techsew 1460, the only thing that might throw you off is the price. But that's not to say that the machine is not worth the money. We found it to well and truly live up to its industrial grade tag and we feel that, if the obvious budget issue is to be ignored, this is truly the best sewing machine for leather out in the market.
Frequently Asked Questions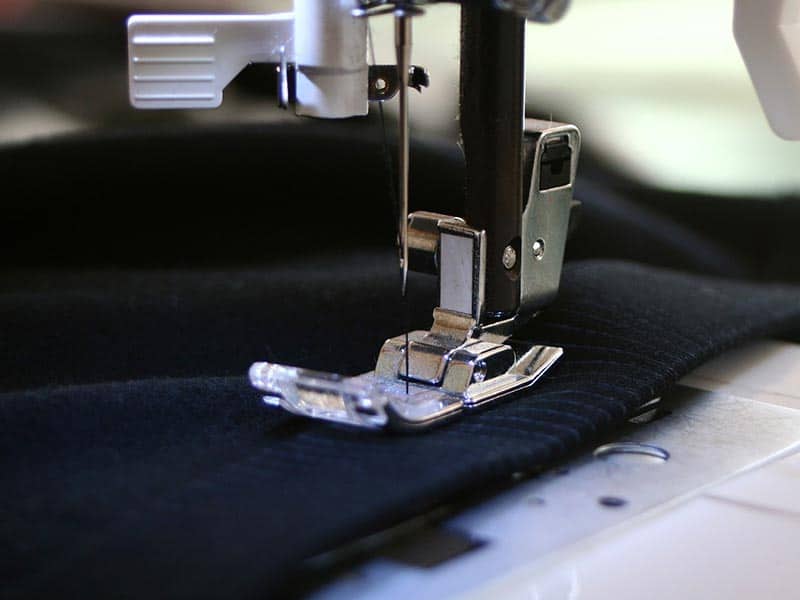 Do I need a special sewing machine for leather?
Though it is always best to get a sewing machine that specializes in leather, for the occasional stitching you can use your regular sewing machine with a few modifications. You'll have to change your presser foot, change the sewing needle, the stitch length, and use the right thread.
What needles should I use for sewing leather?
For pieces of leather that are under 4 oz (or 1/16 inches thick), it is recommended to use the sharp R point Groz-Beckert needle. If you're looking to stitch pieces of leather that are thicker than 4 oz, you'll need a cutting point needle. These are commonly tagged as the letters "DI", "S", "LR" "LL", and "D"
How much does a leather sewing machine cost?
Leather sewing machines are considerably more expensive than the standard sewing machines. A good and reliable leather sewing machine should cost you anywhere between $500 and $2000 whereas standard sewing machines are available for as low as $150. For leather sewing machines, you need stronger and more durable parts and motors to stitch through the thick leather which drives up the cost of these machines.
Which thread is recommended for sewing leather?
For sewing leather, you will need either polyester or nylon threads. These threads are stronger and are a must if you want the stitched end product to hold up longer. There are two types of nylon threads you can use, bonded nylon and waxed nylon thread.
How often is it recommended to change a sewing needle?
As a rule of thumb, you should be changing your sewing needle after every project. Needles are available for pretty cheap prices so the budget should not be an issue and its always advised to have spare needles with you at all times in case of unexpected breakage.
It is also recommended to inspect the needle if your sewing machine has jammed, as this can cause the needle to bend or break resulting in a substandard quality of the stitch. Similarly, if your sewing machine is making any strange sounds as the needle goes through the fabric, it is definitely advised to switch your old needle for a newer one.
Final Thoughts
Overall, there are some really impressive options in the market for sewing machines that can be used for stitching leather. Compiling a list of 5 of the very best was not an easy task but we can comfortably vouch for each of the machines we've listed down for you.
Our recommendation would be to go through the reviews carefully and find out which sewing machine best fits what you're looking for in terms of versatility, ease of use, reliability, and budget.
For multiple applications, we would still recommend the JUKI Industrial Sewing Machine LU 1508 H. This machine will be able to cover most of the leather materials. From leather wallets to belts. Just beware of the cloned copies. And get one from the original store.