RF is an acronym for Radio Frequency, and these are made up of electromagnetic waves. RF is the lowest and least harmful to humans' frequency band in electromagnetic waves. The electromagnetic energy in the RF waves heats up the skin, both the upper skin (also known as the epidermis) and the lower dermis skin.
The RF machine aims for around a 67 degrees C/153 F target temperature or more, being the ideal temperature to carry out the skin tightening procedure.
Our List of Best Radio Frequency Skin Tightening Machines: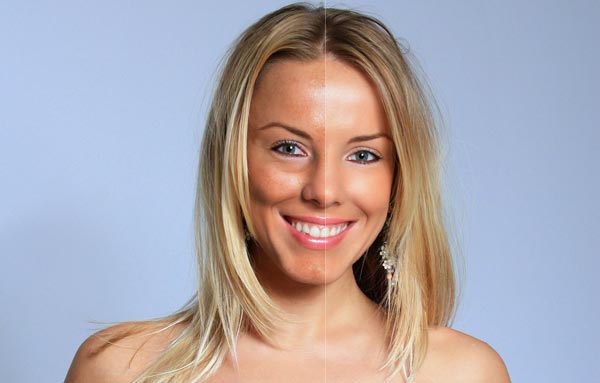 RF skin machines do more than non-surgical, lifting and contraction of the skin, many machines offering treatment for the reduction of cellular fat on the face as well as body, acne, blackhead removal, and skin rejuvenation so a wider range of temperature from 67 degrees C is used by varying the RF intensity.
Following is the list of our top picks which after reviewing we think are simply awesome.
MLAY RF Device
The target temperature for skin lifting and remodeling is 67 C or 153 F.
The MYLAY comes with an energy level/temperature selector. On the right side, the timer selector is located:
3 level energy/temperature selection
Low; 104 degrees F or 40 degrees C
Mid 122 degrees F or 50 degrees C
High 140 degrees F or 60 degrees C
Automatic temperature cut-out at 65 C/149F
The Holistic Curing Approach
Quite a large number of non-surgical are EMF RF machines operate by rousing the facial muscles only. The approach in the MLAY machine is holistic (involves the complete body) and very different from area muscle stimulation. Treatment healing that lasts up to a good 30 months.
In contrast, the muscle stimulation by RF has a much shorter life span. This holistic approach is carried out by enticing the body to heal by the body's natural self self-healing process.
When the epidermis and dermis are heated to an ideal a target temperature close to 67 degrees C and more, the body is tricked into believing that the skin is injured. This is followed by a release of collagen, the main skin-healing protein ingredient as well as releasing elastin fibers, giving the skin stretchability and also hyaluronic acid that helps maintain moisture and freshness within the skin.
Separate face & body annular probes
These twin different diameter annular (ring-shaped ) probes come affixed with the latest technology bi-polar function. The design emits uniform energy and thus prevents dents in the skin, damaged due to uneven heat application. The smaller diameter annular ring is used for the face, while the larger diameter applicator ring being used for body applications.
Built-in overheat safety feature
This device has a reputation to be amongst the safest in the market. This is because the latest updated annular (ring-shaped)Bi-polar technology is used. In many RF skin devices, there is a danger of creating dents in the skin due to non-uniform heat application.
By contrast, this machine has a built-in safety feature that automatically reduces the electrical energy when the sensors read an overheat condition at 65 C/149 F, thereby lowering the temperature and thus saving the skin from harm and preventing dents to be formed within the skin.
This is by no means a small plus point and is, in fact, a huge plus point as home use is often done by amateurs and such a safety feature for novices is so very reassuring.
Conductive gel essence application (Mandatory before switching on RF heat)
There is a gel nutrient essence supplied with this product. When used in conjunction with the machine the gel nutrients get absorbed by the skin, further improving the treatment for a youthful like wrinkle-free skin or a reduced wrinkle, radiant skin. In the absence of a conductive essence application, the machine will not operate.
Discomfort eliminated
The vast majority of RF devices are non-penetrative to the skin save a few devices operating with features like skin penetrating micro-needles and the like. So what is the difference between this device and the other non-penetrative skin devices? Many customers feel pain in the skin due to high temperatures.
The MLAY RF having a built-in device, sensors that prevent the skin from an overheat condition, 65 C/149F by lowering the electric energy levels and thus lowering the applied heat automatically.
This prevents the user from skin pain due to an overheat condition. Customer feedback confirms that users feel very comfortable using this device which is discomfort-free in operation.
Positive customer feedback
Customer feedback has observed that there was a noticeable improvement in the overall face skin tightness from about a fortnight to 4 weeks. For the various body parts, more time is involved, at least 3 to 4 months to observe a visible improvement.
The recommended usage time is 6-9 minutes for the visage (face). 10-12 minutes for the arms (both) and 12-16 minutes for the chest and abdominal area.
Portability
There would be no real reason to waste money, hundreds and thousands of $ for skincare in beauty salons and spas, along with the commuting costs and thus also time wastage when one could get the same results from the convenience of home, sometimes even exceeding the spa-quality.
For the traveling person, this device would be well suited for use in hotels, thus preventing a break in the continuity of skin treatment.
Refund and safety
This product is offered with a 30-day money-back guarantee and a 1-year warranty.
Some Negatives about this device
Many mention the high price as a negative factor. I beg to differ. Priced about 5 times more than your average good quality skin RF machines, the extra $ are fully justified. Most of the other RF machines do not have an automatic electric energy reduction feature as the MLAY has at 65 C/149F. Check it's price on Amazon.
This is such a crucial feature, for, at home, the novice could apply uneven and high heat from an RF machine. This would result in dents within the skin due to uneven skin healing.
A customer needn't worry about that with the MLAY. By paying slightly more, one is doing a big favor to one's skin and in doing so have probably saved a person thousands of $ rather than, to rectify these dents from a classic plastic surgeon, should they have occurred.
This machine also has one of the best long term reliability reputations saving a person the bother of rectifications.
NORLANYA Facial Skin Care Time Master
The machine achieves skin lifting results with a duo of methods.
Photorejuvenation: This method uses the Intense Pulsed Light (IPL) scientific know-how for damaged skin, like Sun damaged, red/brown spots, melasma, and more.
RF waves:  The vastly used effective method for skin rejuvenation. The reversal of loose baggy skin into tight, toned, and lifted skin.
The machine operates in 3 modes
RF/EMF an acronym for Electronic muscle stimulation. When combined with RF the results are better than solo RF.
Nurse mode: In this mode, a gentle massage of the skin helps increase the metabolism and increases blood circulation. The nutrients in the skincare creams/gels are absorbed nicely in this gentle massaging mode. This helps in the absorption of the nutrients by about 60%.
Photon mode: Light-emitting diode photon therapy (LED) by exposing the skin surface to light, activates the skin photoreceptors that in turn start absorbing energy from the light. Effective for inflamed skin and acne.
The machine arrives with 4 different application heads each containing 4 bipolar points that can be interchanged with ease. Each application head is affixed with 5 LED lights in each. With a total of 14 different LED's.
LIGHT, 630nm for wrinkles, production of collagen.
LIGHT, 415nm for inflammation, reduction of pimples, blemishes
LIGHT525nm for skin balance
LED LIGHT a combination of Red, Blue, and a green light for daily skincare. Most RF skin machines are restricted to not being used more than twice or thrice a week. However, in this mode, the machine can be used daily.
The machine has 3 intensity modes, Low, Medium, and high.
The battery is rechargeable and lasts about 45 minutes, which is more than sufficient for a single daily application.
This machine does not have an automatic high-temperature cut-out, however, this machine is not without a safety feature. After 10 minutes of use, the machine automatically switches off by default.
So a high-temperature cut-out, No, but a de-fault time cut out, Yes. The treatment probe needs to be cleaned with a wet cloth after each application. One of the best machines when the cost and quality ratio is to be considered.
Negatives of this device
Long term durability of this machine seems to be questionable. We chose the MALY RF machine over the NORLANYA Facial Skin Care Time Master is that the MALAY RFTurned out professional or better than professional skin treatment results. These results were confirmed from various customer surveys.
A better and more sound safety feature. This machine has an automatic default temperature cut-out, making maximum utility. In contrast, the Norlanya has a time-related cut-out. That would limit the maximum utility because that is not necessary that high temperatures are reached in a low or medium intensity mode.
This expensive machine has a reputation for long term reliability. The same cannot be said about the Norlyana.
Beauty Star Radio Frequency Facial Machine
This handheld portable skin machine is finished in a very pleasing metallic finish. That is housed in the center of an especially attractive white Tripod stand that has a beautiful Blue lining at the top. The two unequal chrome adjustment knobs accentuate the beauty even further.
"It ain't just paint" and beauty alone about this machine, for this one is amongst the top-rated RF skin machines available, for very good reasons.
The machine comes with 5 different temperature intensity settings. The temperature range is from 86F/30C to 140F/60C.
2 different annular (ring-shaped) bi-polar heads. The smaller diameter 10mm probe being used for the face and the larger 32mm diameter probe for body applications.
The machine is designed to be used twice a week, each session lasting about 15-20 minutes. 15 minutes for the face, 5 minutes for the neck, 2-3 minutes on various parts of the body. Nutrition skin gel is to be used when operated.
That is recommended to avoid using this product every day. This is so that the new collagen being developed does not die out with the applied heat. The new collagen needs a couple of days to form firmly.
The everyday application would slow down the healing process.
It works in the safe 2 MHz + – Frequency band. (MHz, M for mega or million).
Just like in all RF skin machines, the principle treatment method is unanimously the same.
The bi-polar probes heat up the lower dermis skin, close to 67C/153F target temperature for collagen remodeling.
The machine may only go as high as 60C however the skin would get hotter than that to 67 C. This tricks the skin into thinking that is injured and this is followed by a production of new collagen protein.
The new collagen then smoothes out wrinkles and lines, contracting the lower layer dermal skin. This, in turn, makes the top epidermal layer of the skin, firmer in tone, the skin tightened and contracted, wrinkles and lines, reduced or cleared, baggy eyes improved, and also a rejuvenated youthful-looking skin.
In this process elastin, for restoring elastic skin and hyaluronic acid for the correct levels of moisture in the skin is also produced a new.
What we did not like about it?
This is a truly wonderful machine. The flaw in this is that there seems to be no safeguard against high temperatures. This machine is without a de-fault temperature cut-out or a time-based cut-out.
Why we chose the NORLANYA Facial Skin Care Time Master over the "Beauty Star"?
They are both admirable and wonderful RF machines and both would have been a tie for second place. The exception in the beauty Star was that there was no high-temperature safeguard, thus making this the third choice.
Do this Radiofrequency (RF) Treatments Hurt?
No, this treatment doesn't hurt. RF treatments are Non-ablative, non-penetrative in the procedure. Due to the heat of the target temperature of about 67 C a tingling sensation may occur.
The NuDerma RF Skin Therapy Wand
This effective RF skin stretching device comes with 4 different glass wands each with a different head. Every glass wand is sealed with the electrolyte, NEON GAS, within the glass tube, giving that a slight performance edge over other RF devices.
Different application heads for varied areas:
The 4 types of heads being
Mushroom
Bent tube
Tongue applicator
Comb shaped
Safety
The device is perfectly SAFE for home use, in the hands of a novice as the machine works on a low amplitude electric current.
Mushroom head applicator
Nuderma RF works in aging wrinkles and lines by applying the correct amount of RF heat to the lower dermis skin this producing new collagen. The preferred head for this being the relatively larger diameter mushroom head tube. Over a period of application from 4 weeks to 6 months, the upper and lower skin is visibly tightened, toned and rejuvenated to youthful-looking skin. Baggy eyes wrinkles and lines disappear or are made lighter.
Clearing of acne and pimples by the BENT TUBE
With the help of the bent tube, spot treatment for pimples and skin acne are effectively eliminated by killing the bacteria through RF heat application. The bent tube is very effective as the RF concentration is centered over a small area thus eliminating, evaporating, and drying the harmful bacteria-infected area. Pimples that are not completely eliminated are reduced in height.
TONGUE head applicator
In size, being in between the wider diameter mushroom tube and the smaller diameter bent tube, this application head is for difficult to reach areas like under the nose and around the lips. This is accomplished by a tongue-shaped head that helps in reaching these awkward areas.
COMB applicator
This Neon gas-filled glass applicator is combed shape, rejuvenating the hair to become firmer, thicker, and more vibrant, achieved by continuous use over a span of time. The RF heat is applied gently to the scalp thus stimulating the hair follicles. To become the owner of healthy hair is such a boon. Hardly any other RF machine works both in conjunction with the skin as well as scalp hair.
9 different heat and INTENSITY SETTINGS
Most RF skin machines have 3 heat intensity settings, High, medium, and low. The Nu Derma has 9!
The user can thus be very specific about choosing their preferred heat intensity settings.
In conclusion, the NuDerma therapy wand is one of the best value for money machines one could purchase. The machine offering the widest heat intensity settings of 9 choices. The 4 different glass wands being filled with Neon gas gives the machine a unique RF operating low amplitude frequency that is very effective. By operating the RF with low amplitude waves, this makes the product very safe to use, protecting the skin from a harmful overheat condition. The machine is one of the few that not only ensures rejuvenated skin but ensures healthier and vibrant hair as well.
Dees Demi RF
Rated amongst the top RF skin machines is the Deess Demi. This device uses both RF and LED technology simultaneously
This bi-action ensures swifter skin lifting, tightening, and rejuvenation. The red LED light was developed by NASA to help heal the wounds of astronauts while in space. The Deess uses both yellow and red LED lights.
LCD display screen
Shows what mode/ intensity/time has been selected on an LCD screen. A very beautiful presentation. Works on regular electricity. Deess Is supplied with a portable electric adapter.
Modes
The machine has 3 operating modes, a temperature intensity selector as well as a timer.
SR- In this mode, the RF + yellow LED lights work simultaneously. The yellow LED works to increase skin elasticity.
WR- RF +red LED lights used simultaneously. Along with RF the red LED's stimulate muscle contraction which boosts blood circulation. This mode is used to eliminate/reduce wrinkles.
SRT- Only RF treatment is available in this selection. This is a gentler mode that is used around more sensitive areas like the eyes.
A WATER BASED Conductive collagen/ nutrient SKIN Gel is required for use..
A conductive collagen protein skin gel with nutrients is needed to be applied to the area of treatment. This gel should be water-based. The face or treatment area needs to be washed first.
The purpose of this gel/cream is for,
To provide external collagen protein and nutrients to the skin aided by RF absorption
To prevent the skin from pain and overheating during RF operations.
To cause the head of the RF devise to glide along the skin.
Should RF be carried out without the gel, unpleasant shocking pain and burn is experienced by most people.
Frequency and time of use
That is almost standard with most RF devices, that they are to be used for not more than 15-20 minute sessions. These sessions should be carried out for about 3 times a week. The break in sessions is recommended so that the new collagen protein that is naturally produced by the body is not damaged by applying heat. Of course there are a few deviations about frequency and time of application by some RF machines that are clearly mentioned in their specific operating manuals.
Frequently asked questions

Does Radiofrequency (RF) Skin Tightening machine Work?
Yes, that does. And has been clinically been proven many times over. One of the most promising effective new treatments.
How Long Do the Results of Radiofrequency (RF) Treatments Last?
After the final treatment, the collagen is reproduced up to about 6 months. With some very effective treatments, the estimate is for about 24 months.
How Much Do Radiofrequency (RF) Treatments Cost?
RF treatment in a beauty spa could typically cost roughly around 500$ for a single session. Costs would vary with the amount of area being treated in a session.
A home handheld RF skin tightening device would range approximately from 40$ to a maximum of 500$.
Do Radiofrequency (RF), Treatments Hurt?
No, this treatment doesn't hurt. RF treatments are Non-ablative, non-penetrative in the procedure. Due to the heat of the target temperature of about 67 C a tingling sensation may occur.
What is exactly the RF machine and how it works?
Like mentioned at the top these machines reduce fat form your face which reduces the about of blackheads as well as acne.
RFA, Radiofrequency ablation is used only by medical professionals to get rid of tumors without surgery, by evaporating them due to the heat applied.
After a certain period of heat application, varying typically about 8 to 16 minutes on a particular area of the face.
These RF sessions being applied anywhere from 1 to 3 times a week. This heating close to 67 degrees Centigrade seems to trick the skin into believing that is injured, and this results in increased collagen production to rectify the skin.
Elastin and hyaluronic acid are also produced, helping in skin elasticity and correct levels of moisture resulting in skin rejuvenation.
The collagen, elastin and hyaluronic acid then work mostly on the underlying lower dermis skin structure, tightening the underlying dermis structure thus, which in turn also tightens the upper layer epidermis skin, that helps in removal and lightening of sagging, lax lines in the skin, baggy eyes, and thereby giving a person'S skin a toned, firm rejuvenated, youthful look.
All this is done at an extremely economical cost.
The total time for the RF skin tightening change to take full effect takes an average of around four months, plus, minus. After finishing the final treatment the new collagen is reproduced for about 6t to 24 months.
Skin tightening by a classic plastic surgeon costing thousands of $ as well as causing pain and injury.
A visit to a salon or Spa, A non-surgical treatment done with RF. costing about 500$ for a single visit and requiring many visits.
Non-Surgical home treatment with RF skin machines, a typical machine costing about 1/10th the cost of a single visit to a Spa. All done at a time of self convenience and within the comfort of home. The portable RF machines can also be carried while traveling out of the city and used with convenience at hotel stays, thus ensuring continuous treatment without a periodic break.
Below electromagnetic waves are mentioned from the lowest frequency to the highest, in ascending order of the different categories and types.
RF Radio Frequency
The RF, frequency range is from 20Khz (K for Kilo or thousands) to around 300Ghz.(G for Giga or billions). Mhz is also in between (M for Mega or millions.)
RF Radio Frequency
Microwaves
Infrared radiation
Visible light
Ultraviolet radiation
X-rays
Gamma-rays: Atomic
The typical RF treatment frequencies are 0.3 to 10 Mhz ( M for Mega or million.) From the above, that can be ascertained, even to the layman that the RF electromagnetic radio waves, carry the least amount of energy and hence cannot harm humans or cause a change in the human DNA. Some RF machines even use laser light for treatment.
What is collagen?
Collagen is the main protein that forms the major structural cellular matrix (ECM) in the human body as well as in mammals. Collagen, a protein, is the most abundant connective tissue and is consisted of 30 to 35% of the total protein in the human body. Skin is a collagen protein matrix. The skin is held together by this interconnected scaffolding matrix.
Protein Collagen and the different types
There are three basic types of protein collagen and more subdivisions. This results in a total of 16 different types of collagen in the human body.
THE THREE BASIC TYPES OF PROTEIN COLLAGEN.
Type 1, Type 2, and Type 3.
Type 1 Protein Collagen
By far the most abundant protein Collagen found in humans and mammals. Found in,
Bones, A Collagen matrix strengthened with calcium phosphate
Tendons
Ligaments
Skin and the interconnectivity skin matrix structure
Eye cornea
Blood vessel walls
Other connective tissues
Type 2 Collagen
That is used in cartilage and joints. Type 2 collagen is the least abundant collagen in the human body.
Type 3 Collagen
That is something like a cellular net matrix enshrouding internal organs such as the muscles, intestines, blood vessels, uterus and more.
Type 1 and type 3 Collagen accounts for about 90% of the collagen found in the human body.
Ultrasound, executed by professionals is operated by RF and so are home-based RF skin machines. Both are used to heat the lax and loose lower dermal layer of the skin by the effect of increasing collagen production. Ultimately both produce the same skin tightening results.
The difference between them is that while they both use frequencies in the RF range, most skin tightening machines use the LF low frequencies within the RF band while ultrasound uses the HF (high frequency) also in the RF band.
As frequencies get higher, they have more energy, therefore LF lower frequency RF 0.3 to 10 MHz machines are considered to be less harmful and safer for humans as compared to HF 3 to 30 MHz high-frequency ultrasound skin treatment, although both are operated on the RF wave band spectrum.
Uneven heat application of the RF skin machine might result in dents and atrophic scarring (an indented scar) within the skin. This would be due to uneven healing responses within the applied area. Care should be taken to ensure uniform heat application.
Type of Electrodes; Monopolar, Bi-polar, multipolar.
Monopolar Electrode
The monopolar electrode is a pencil-like electrode and needs a metallic return pad in order to provide a return path, in order to complete the electric circuit.
Penetration is deep, up to about 20mm which is especially good for removing lower-level cellular fat. Most home-based RF machines do not use the monopolar set up because a return pad is required to complete the electric circuit, separate of the handheld device and is usually operated by medical practitioners, salons and spas.
Bi-Polar Electrode
This is by far the most widely used electrode for home use RF machines. The skin penetration is shallow in comparison to the monopolar electrode about 2mm to 4mm, but more than adequate to effectively execute the skin lifting and contraction of the skin procedure.
This electrode is fork like where the current does not flow directly from one pole to another but rather takes a horseshoe-like path. First, the current going down into the skin penetrating and heating that and then making a U shaped reversal turn towards the other pole.
This is more convenient for a home-based handheld device as a metal return pad is not required and a single handhold of the device is all that is needed.
There are other ways used for heating the skin like Laser light, LED lights, argon and neon electrodes( used in the Nu derma therapy wand) and more.
RFA. Radio Frequency ablation
Removal, dissolving, evaporating of tumours without surgery.
That would be interesting to note that RF machines operating between 0.3 to 30 MHz do not injure the upper skin epidermis or lower dermis skin however there is an RF application that destroys tumours etc without the need for any surgery, by evaporating them.
This is done by continues application of waves in the 350 to 500 KHz range, medium range. (K, kilo….thousand). Such a procedure is called Radiofrequency ablation. (RFA) and is carried out only by well trained medical specialists.