Mattresses are the most significant investment any family makes to their sleep comfort. So, they deserve to be protected and taken care of.
A quality mattress protector is all that you need. It can keep your mattress new for a more extended period.
When investing your money in a quality mattress protector, you are already investing in the long life of your mattress.
However, choosing a protector ideal enough for your particular mattress can be tricky.
Here we present you our list of top five best mattress protectors available. Going through this list will help you find the perfect protector for your mattress.
Our Picks for the Top 5 Best Waterproof Mattress Protectors: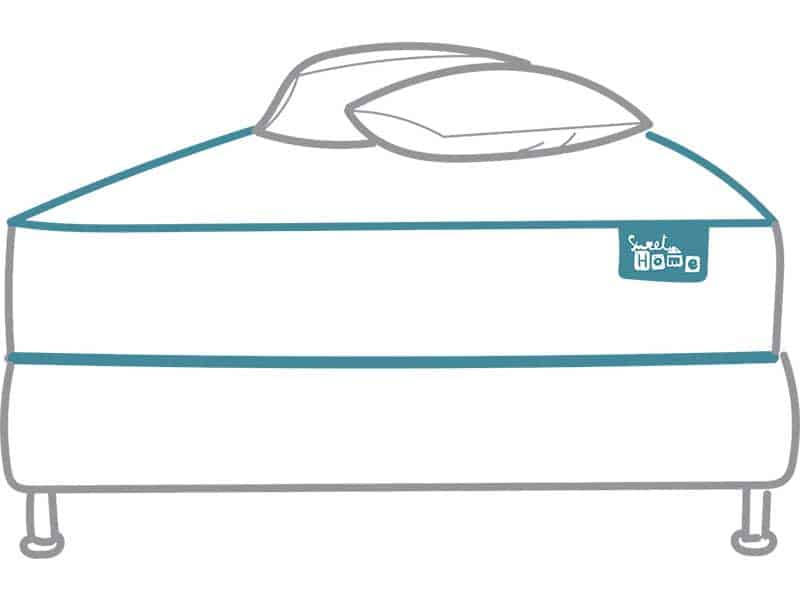 We have compiled here a list of 5 Best Waterproof Mattress Protectors while trying our best to explain all the features that any user can possibly desire in a mattress cover.
But before getting into the depths of the covers on our list, you need to know why you want a mattress cover?
Different covers have different properties. They may share a few, but no mattress cover will provide you with a complete package.
Therefore, before purchasing one, be clear about what you need in your mattress cover.
Either you want it to be water-proof, static during the night, noiseless, bed bug repellent, or easy to wash.
When you are clear about what your mattress and your environment demand, only then can you make the right pick.
SafeRest Waterproof Mattress Protector:
This mattress is vinyl-free; dustproof has a soft and skin-friendly cotton surface. It is machine washable, has a fitted sheet style with elastic bands, and it maintains the feel of your mattress as it is noiseless, hypoallergenic, and breathable.
If you have kids, Pets, Eczema, asthma, or any other allergies, this mattress protector is just the right thing for you.
During our sleep, we shed dead skin. All of it accumulates and absorbs in our mattress, thus providing a home for dust mites and bacteria.
Kid's urine, pet hair, sweat from your body, and incontinence can provide just the perfect environment for germs and diseases.
Using Safe Rest Mattress Protector will eliminate the chance of having a contaminated or dirty mattress. It will trap all the gunk and dirt on its surface, thus blocking the way for dirt to reach the mattress.
Regular suggested laundry will help wash away all the allergens, pollutants, dead cells, and dust mites. Thus ensuring a clean, hygienic, and dust-free surface to enjoy a good night's sleep.
Sleeping on a rough or harsh fabric can be uncomfortable for your sleep as well as your skin. Therefore, keeping your comfort in mind, we suggest Safe Rest Mattress Protector as it comes in cotton fabric, which is exceptionally soft and hence skin-friendly as well.
Cotton terry naturally absorbs moisture, makes the surface of the protector Breathable, Noiseless, Hypoallergenic, and  Waterproof to some extent.
You can easily wash this mattress protector with your daily household detergents. However, do make sure that the soap you are using does not have any bleach in it. Also, make sure to tumble dry it on low heat and never iron the protector.
The elastic band on the side skirts of the protector makes it an excellent fit for your mattress. It will pull all excess portions of the mattress and will keep the cover in place.
Irrespective of the type of mattress you have, i.e., innerspring, latex or memory foam, etc., this protector is equally suitable for all of them.
The best part is that this protector will maintain the feel of your mattress. You won't feel any difference in the mattress surface while lying on your bed.
This protector comes with a 10-year product warranty and replacement backup. It is phthalate- free, vinyl, or PVC's. Moreover, the product is registered as a class 1 medical device with the FDA.
The only concern some people had about this mattress cover was that it was not waterproof when they used it.  So, if you are a parent and want the cover to protect your mattress from your child's night time accidents, then this might not be an ideal choice for you.
However, you may check Linenspa Mattress Protector and some others on our list for this particular case.
LINENSPA Mattress Protector:
If you have a baby who does his best to show a pull up of who's the boss by making your bed wet every night, don't worry. Here we have just the perfect solution for you.
Apart from being waterproof, this protector is dustproof, has a polyester breathable membrane, it is noiseless and breathable. It also has elastic pulls and a perfect fit.
Keeps your mattress safe and clean by protecting it from all sides. It is waterproof and dustproof thus traps all the dust, allergens, dead skin cells, and fluids of all kinds from seeping into your mattress.
An ideal choice for moms, pet owners, and those who suffer certain skin conditions like eczema, or other allergies. This Linenspa Premium Smooth Fabric Mattress Protector has a polyester surface lined with a breathable membrane. The cover is very soft, gentle, and noiseless. This ensures a night of good sleep.
Moreover, its noiselessness and softness will help it to maintain the feel of your mattress.
This feature makes it suitable for almost all the mattress types. Elastic pulls are situated at the corners and help to grip all sides of the mattress.
However, this is not a mattress encasement; instead, it is more like a fitted sheet. If you are looking for something that covers your mattress altogether, then you may check PlushDeluxe Encasement in our list.
This product comes with a list of easy instructions to help you extend the life of your protector. It has instructions to take care of while washing or drying the protector.
For some people, this surface can be too hot, thus initiating sweat and perspiration. It can be a pro or a con depending on your personal preference.
It is washable. However, you need to be careful when washing it. Machine washing can ruin this mattress cover. Even if you follow the instructions they have mentioned on the cover, it may destroy the product.
So, you better opt for handwashing it or air drying.
This mattress protector offers a full refund within 90 days of its purchase in case if you don't like or are not satisfied with the product.
Moreover, it has a 10-year warranty and as told above you can enjoy risk-free 90 days before you conclude the product.
Bedecor Twin Mattress Protector:
This mattress cover is Waterproof, Breathable, Blocks Dust Mites and Allergens, it is a Smooth Soft Cotton Terry Cover. The Premium Mattress Protector will surely increase the life of your mattress.
This mattress protector will safeguard your sleep even if you have a pet or a kid that often experience night accidents.
With its high fluid repellent properties and advanced waterproof technologies, this product claims a healthy, clean, dry, and comfortable sleep. It repels all fluids while maintaining the airflow through the mattress.
We ended up knowing that it was waterproof for some people, and for others, it couldn't stop the fluids from seeping into the mattress. So, make sure you buy the real deal.
It is highly hypoallergenic as it shields all allergens, stains, and fluids from escaping the protector surface. This makes it a suitable mattress protector for all those who suffer skin allergies.
Particularly ideal for those with asthma, eczema, or other skin allergies. It will protect your mattress from allergens, pollens, dust mites, moulds, pet dander, and bacteria.
Twin Mattress Protector is made up of cotton terry. This makes it breathable, soft, moisture absorbent, and smooth. Covered with a miracle membrane topper, it has polyurethane, which is claimed to make it soundless.
However, some people reported it to have a cringy plastic noise. But what we experienced was that it is soundless.
The noiselessness and smooth texture of this mattress protector will never disturb the real feel of your mattress. It will only add to the comfort of your mattress.
It has some easy to follow instructions. It can be washed with no bleach detergents and should be tumbled dried. Following these will help you increase the lifetime of your mattress cover. It has a ten years warranty, thus ensuring a long companionship with the product.
PlushDeluxe Mattress Encasement:
Following are some qualities of this mattress:
Waterproof, Bed Bug repellant, Dust Mite Proof 6-Sided Protector Cover, Hypoallergenic Cotton Terry Surface (Fits 12-15 Inches H) Twin,10-Year Warranty.
It claims strong fluid repellent properties. It is said to protect all six sides of your mattress from all types of liquids, including fluids, bedwetting, perspiration, and stains. It claims to keep your bed dry and thus will ensure that you get a comfortable, dry, and good sleep.
What we observed was that the quality of this product is not so waterproof. So, if you are looking for something that saves your mattress from getting liquid stains, this is not an ideal product.
It will not allow any allergin, dust particle, dead skin, dust mites, etc. to reach your mattress surface. Thus acting as a barrier between the atmosphere and your mattress. This will keep your mattress clean and new forever.
Bedbugs are also a big problem which is faced by many people. They are not only creepy and irritating but also bring with them a couple of allergies and diseases. Moreover, it is unhealthy to have insects living in your bedding.
But we have a cure for that. So, you need not worry. Just buy yourself this PlushDelux Premium Zippered Mattress Encasement, and forget the bugs. It will cover your mattress from all six sides, leaving no space for the bugs to enter.
And for this feature, you need to be cautious as the bugs already present in your mattress would have no escape and will die within. If that sounds ok, you may opt for this product.
It can be a little noisy for some people, so if you want something that does not crackle while you sleep, you may see other products on our list.
It is washable. You can wash it with any mild detergent. Later tumble dry it at low heat and you are good to go.
Free From Vinyl, PVC, And Phthalate, this mattress cover can fit almost all types and sizes of mattresses ranging from 12 To 15, 39 X75.
Cotton terry material makes it soft for your skin. It also makes the mattress encasement noiseless. Thus ensuring that this protective cover does not spoil the comfortable, quiet, and soft mattress feel.
Like most of the quality mattress protectors, this one also has a ten years warranty. Thus you may purchase it with full confidence that you'll be refunded in case if you don't like the product.
ZAMAT Mattress Protector:
This cover provides mattress protection, dust mite protection, and liquid repellent abilities, easy cleaning, and comfort.
With an 80/20 cotton/polyester blend to ensure a long life of your protector as well as the mattress, this product has been constructed, keeping in view all your requirements.
Along with its perfect fluid repellent and hypoallergenic features, this mattress comes in a variety of sizes, i.e., Twin, Twin XL, Full, Queen, King, and California King and thus ensure the perfect fit on your mattress.
ZAMAT Breathable Mattress Cover provides the most aerated and pad dry protection. It allows your mattress to breathe as it doesn't restrict the air currents from flowing in and out. This will help you sleep like a baby. And what more do we want than a peaceful and comfortable sleep.
This mattress cover protects your skin and respiratory tract by blocking the pathway and thus trapping all the allergens, bugs, mites, dead skin, and dust particles on its surface. This, in turn, keeps your mattress spik and span and ensures a long life of your mattress.
This mattress protector is very easy to wash. Unlike most mattresses covers it is Machine Washable, thus reducing half of your expected effort with a mattress protector.
It has elastic bands that ensure that the cover stays in place over the mattress. These elastic bands are claimed to keep the protector from losing its grip over the mattress and bunching up or slipping out of place.
The sides of the cover have a net material, and for some people who are not static during their sleep, the covers may lose the grip so, if you are looking for a perfect fit cover. This is perhaps not for you.
Conclusion:
Our research concluded that most people wanted their mattress protectors to be waterproof. Keeping that in view we have compiled a list of 5 well-known Waterproof Mattress covers.
But, we ended up knowing that a cover maybe 100% waterproof for one user and not for the other. The reason being the difference in the mattress types and the quality of the same cover.
It is also essential to buy the real product and beware of the fake items in the market.
Different covers are differently designed, and no cover is 100% ideal with all specific features. Our list has different mattress covers highlighting different particular properties. You can choose one according to your personal preferences.
If we had to choose between these 5, our suggestion would be Bedecor twin mattress protector because our personal preference is a noiseless cover that maintains the natural feel of mattress and Bedecor is quite good for that.
Likewise, you can easily pick one as per your comfort and requirement.