Buying a new gaming PC and rigging it out with all the newest, shiniest accessories is no small investment, and in fact, one that can set you back thousands of dollars depending on your desired specs.
But you might still be seriously considering it, in spite of all the confusion and daunting choices, because the way things are looking, we may all be spending a lot more time at home for the next few months.
Whether you're in the market for a premade build, or you're looking to DIY your own rig, there's a wealth of options out there that we're here to help you navigate.
To build or not to build, that is the question.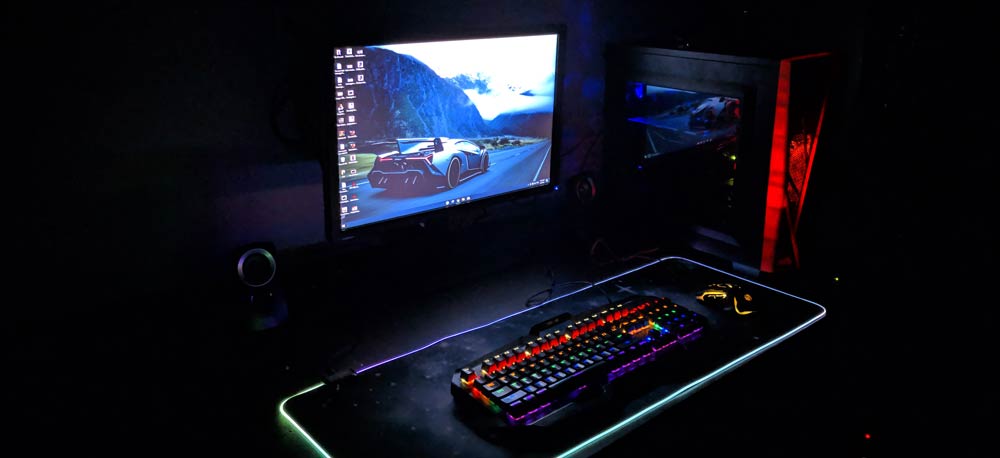 All but the most diehard devotees of either option will agree that there's no real wrong answer; each method has its own particular advantages and disadvantages and ultimately, it boils down to a question of your own preferences, budget, and whether or not you happen to be in a rush.
Building your own PC offers the greatest degree of customization, you can price and build in accordance with your own needs, and it can even be cheaper than one right out of the box if you don't opt for the ritziest specs.
You have complete control over every component of your build, from the CPU to the fans and even the lighting. If you do it right, you'll have ensured that you always have the exact hardware you need on hand and that your build will look the way you want it to.
Plus you can reuse the parts you've got at home if you already have a PC and there's pride in using something that you know you designed and built—and because you built it, you'll know exactly how to upgrade and customize it.
Let's break it down:
On the other hand, buying a prebuilt gaming PC is easier, faster, and generally more dependable. If you're not too fussed with all the little details of every part of your PC (like who the manufacturer is, or how many extra SSDS you'll need) a prebuilt system is a great option.
Knowing what you want (for example, your preferred graphics card) can help you find the PC that's right for you, but trust your manufacturer to make decisions about any additional hardware. If you're looking for convenient and fast, a good pre-built system should be right up your alley.
When you pay the manufacturer's premium to put together or buy a prebuilt PC, you're not paying for just its parts.
You're shelling out for that sweet, sweet warranty service, tech support, and the knowledge that your PC was assembled by capable professionals.
You're paying for peace of mind.
Prebuilt PCS also frequently come with features you can't purchase like pre-installed software, exclusive components, and warranty safe overclocking.
Companies like Corsair can make their own prebuilt PCS very tempting with features like elaborate liquid cooling, dedicated ray tracing, and DLSS hardware.
Here's a quick rundown of the pros and cons of buying a PC:
What does all this mean?
Like we said earlier, there's nothing wrong with either option, and both methods are capable of delivering a great product — but they're not the same.
You'll find that many prebuilt, gaming-focused desktops, like the immensely popular Alienware machines, have ridiculous profit margins and are hugely overpriced.
You can build a similar, or even better PC by yourself for far less.
You'll even end up saving more money over time, by upgrading your enthusiast build yourself and reusing components which isn't something you'd be able to do with a prebuilt machine since parts are proprietary.
Without further ado, let's get right into our pick for the essential components of the best gaming PC for under a thousand dollars.
Central Processor: the Intel Core i5-9600K / Ryzen 5 3600X
Let's start with one of the most important factors to consider when you're in the market for a new PC: the hardware inside. When it comes to the CPU, you really only have two manufacturers to choose from: Intel with its Core series and AMD with Ryzen.
We've narrowed it down to two great options, both of them well within budget to help you assemble the best gaming PC for under a 1000 dollars: the Intel Core i5-9600K and the AMD Ryzen 5 3600X.
AMD has revolutionized the market with its sophisticated, powerful multi-core products offering simultaneous multithreading, but these are of limited utility if you're not doing other stuff on your PC like video editing and encoding or live streaming while you play.
If gaming is your one area of activity, then the Intel Core i5-9600K is by far your best bet.
It features great single-core performance and beats out its rival slightly in that regard. When it comes to the Intel, you get a lot of chip for your money,
The base frequency of 3.7 GHz means it's just quick enough for most of what you could throw at it, and with a turbo of 4.6 GHz across all cores, and up to 4.9 GHz on single-core tasks, it can adapt to heavy workloads well.
The K suffix means that the chip is unlocked so that if you want to squeeze even more performance out of the chip, you can overclock it (provided that you have sufficient cooling and expertise). Be warned that overclocking isn't covered by most manufacturers' warranties.
The AMD CPU comes with the added benefit of six extra threads and handles multitasking way better than its counterpart.
The build features a powerful RTX 2060 Super, which breezes through games in 1080 and 1440p resolutions, with some proven performance for gaming at 4K too. At its current price, it's an unbeatable value.
With the AMD build you're paying for 1TB SSD, more than enough to store your operating system and games with ease.
This SSD is primed to give you way faster boot times, and it's 16GB RAM kit is nothing to laugh at. While memory is all well good, it is worth noting that this piece of machinery features a clock speed of 3600MHz, well suited to keeping your build in tip-top shape for years to come.
Motherboard: Gigabyte Z390 Aorus Pro Wifi
Motherboards might not be the crowning glory of PC gaming, but they are its unsung heroes and no rig is complete without them.
Literally.
Yes, they're obviously important because they house your hardware, but that's not all they're there to do. Sure, motherboards don't really have all that much of an impact on your FPS or your gaming performance  — not directly — but they're unquestionably important because they provide stability to your system.
That's why you can't skimp out. Getting a crappy motherboard can result in system failure and irreparable damage to your other (expensive) parts.
It's just not worth the few dollars you might end up saving. There are other smaller benefits to shelling out for a solid motherboard from minor luxe features like a few extra USB ports or performance-boosting add ons like the ability to install better, newer CPUs down the line.
That's why we love the Gigabyte Z390 Aorus Pro Wifi, fully-featured, and reasonably priced, the Aorus uses a 12+1 phases digital CPU power design which includes both digital PWM Controller and DrMOS.
These 100% digital controllers and additional 8+4 Solid-pin CPU Power Connectors offer incredible precision in delivering power to the motherboard's most power-hungry and energy-sensitive components, allowing enthusiasts to get the absolute maximum performance from the new 8-core 9th Intel processors.
We dig the pre-installed IO shield because it means that everything comes working right out of the box, and there's no need for tedious wifi installations.
Memory and Storage:  Corsair Vengeance LPX
Most current mainstream PC games require a minimum of 8GB of system RAM, but we recommend 16GB, no more, and definitely no less. 16GB is going to be plenty for all your needs, and there's no sense spending way too much money on 32GB or more, especially when you're trying to build the best gaming PC for under a thousand dollars.
In fact, most developers don't have that much on their own machines. When it comes to storage, solid-state drives (SSDS) tend to be more expensive than hard drives, but they allow much faster access to data and thus quicker boot times.
Most people use some combination of the two, because of the SSDS higher price point. A common option is fast SSD for Windows and games you play the most, and then something like a larger capacity mechanical drive for everything else you've got going on.
It should be noted that SSDS continues to decrease in price, so you might even consider going that route entirely unless you have a lot of data that'd make it cost-prohibitive.
Your high-end PC is going to need a high-end memory kit.
Enter the Corsair Vengeance LPX: designed for high performance overclocking, this is everything you could want at a great price point. Its heat spreader is made of pure aluminum for faster heat dissipation and the custom performance PCB helps it manage heat while providing superior overclocking headroom.
Each IC is individually screened for peak performance potential.
To top it off, it looks as good as it runs, the Vengeance LPX is available in several colors to match your motherboard, your other components, or just your favorite color. Pair it with the good old Samsung 860 QVO 1 TB SSD and you're most of the way towards finishing the bulk of your build.
Graphics Card: Nvidia GeForce RTX 2060 Super
Any gamer worth their salt knows that the GPU is one of the most important components of any good gaming system, in many cases, even more, critical than the CPU when it comes to certain sorts of gaming experiences. Once again, we're dealing with two primary manufacturers: Nvidia, with its GeForce series, and AMD with Radeon.
The vain thing to be thinking about is support for ray tracing.
It's a rendering technique that produces hyper-realistic lighting effects; essentially an algorithm and then mimics the way that the light interacts with the virtual objects it hits within the game itself to produce more dynamic and realistic lighting.
It's incredibly cool, and a bit of a costly effect, as it can impact the rate at which frames are generated.
The award-winning Nvidia GeForce RTX 2060 Super is a great option for aficionados looking to play around with ray tracing at the expense of dialing down a couple of other features.
It's still a respectable piece of hardware, combining Nvidia's revolutionary architecture with its all-new GeForce RTX™ platform, fusing together real-time ray tracing, artificial intelligence, and programmable shading so you can get the most out of the best gaming PC for under a thousand dollars.
Monitor: Acer Predator XB271HU bmiprz 27
There are tons to think about when you're buying a monitor, like a screen size, refresh rate, response times, resolution and panel type, and on and on. The most important thing to consider, though, is GPU compatibility: if you have a budget graphics card, it won't have the panache to warrant paying for a super high-spec display.
What's the point of dropping so much money on the best monitor on the market, if you're going to run it on 1080p?
You need one that will synchronize effectively with your GPU's frame rate to cut down on tearing. If you have an Nvidia GPU, get one that supports G-Sync, and for AMD, go for a FreeSync monitor.
The sweet spot's still where it used to be at 1440p resolution (2,560 x 1,440) and 144Hz refresh rate. You also need to think about the panel type of your monitor which makes all the difference when it comes to the brightness, sharpness, and richness of color reproduction.
In-plane switching technology monitors, or LCDs, to put it plainly, do it better than everything else in terms of colors, brightness, viewing angles, and refresh rates. TN (twisted nematic) panels potentially have the fastest response rates but truly abysmal viewing angles, while VA (vertical alignment) panels have excellent contrast but a far slower response time than their counterparts.
We're trying to build the best gaming PC for under a thousand dollars and turbocharge your gaming experience, and that's why we think the Acer Predator XB271HU bmiprz 27″ is a great choice for our midrange build. A 4ms response time, 144hz refresh rate, and WQHD support make it a great value for your money so you can game without compromise.
Case: Phanteks Evolv Shift X
We've arrived at the last part of our build, the case! Finding the best PC case for you is about more than just aesthetics.
How you choose to house your build is going to impact more than just how it looks on the outside, but also how long it'll last you. After all, it's what protects your hardware, and investing in one that does the job is very important.
The Phanteks Evolv Shift X is our pick for the job because of its got plenty of room for all your massive components, a slick one of a kind aesthetic, and a reasonable price tag.
When you first look at the Phanteks, it might look like more like a speaker than anything else but this means it's guaranteed to blend in wherever you put it.