You would like to make your surroundings delightful, isn't it? Undoubtedly, Imagination is the best tool to fight against reality. When a fairy tale is reflected through illustrations and art pieces, it leaves folks in awe. This platform is going to take you on an incredible journey of Alice in Wonderland art. You can choose any of the mesmerizing art pieces elaborated below. This striking artwork collection enhances the beauty of your home, schools, offices, daycare, or anywhere you want.  So why not be an admirer of art and let the worries fade away
We have huddled some of the most liked Alice in Wonderland artwork. The artists have spelled magic through their brush strokes and graphics. We bet you can never resist the captivating posters and the paintings available.
Alice in Wonderland Illustrations
In 1865, was introduced by Lewis Carroll. It was in the shape of a novel with the name Alice's Adventures in Wonderland.
It is regarded as one of the best works of fiction with rich narration and imagery. The tale tells of a young girl Alice who sets on a journey of bizarre adventures. Her adventurous trip begins by falling into a rabbit hole.
Alice finds herself in a whole new dimension. It was full of odd and intriguing characters and experiences. These characters and her wonderland were illustrated magnificently by John Tenniel in the book back in the nineteenth century.
The Role of Animated Craftsmanship by Disney Films in Alice in Wonderland Art
How could Walt Disney productions resist bringing an influential tale to the big screen? It was incredibly beautiful when the characters came up on screen drenched in rich and bright shades. The film, with its vibrant color palette has been equally applauded by adults as it has been by children.
Best Alice in Wonderland Art to Buy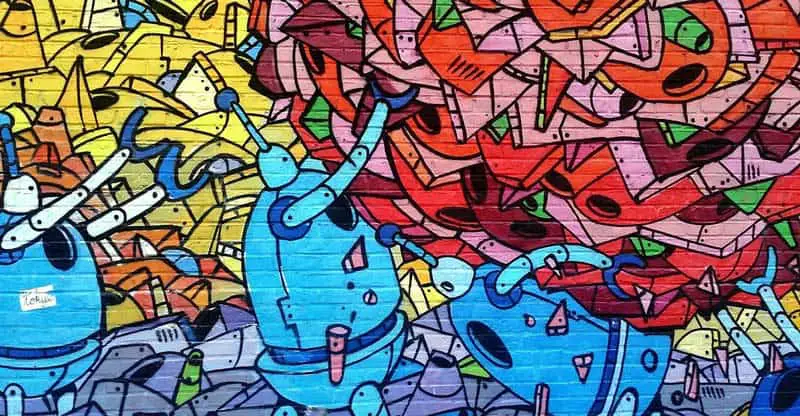 When it's about buying something, you may even get a little conscious. We all try to avoid spending our money by purchasing something that we later realize does not suit the interior of household. The product you opt for must be worth your money.
The amount financed in an art piece is the amount invested in the overall vibe of its designated room . Whenever you take a glance at your surroundings, you must rejoice them.
Although when it is about purchasing paintings and crafts, you need to look into several aspects. For instance, the art technique, color scheme and combinations, material, print or canvas, hanging accessories, availability of frames, the size, and much more.
Does it seem boring to search for these minute technicalities?
No worries!
The following description carries every detail. Let's have a review of the best Alice in Wonderland art pieces one by one.
Alice in Wonderland' Oil Painting Print on Wrapped Canvas
The oil painting print on wrapped canvas is the first out of a few best art pieces. This painting is one of the best choices when choosing Alice in Wonderland art pieces.
Want to elaborate Alice in Wonderland in one go? This artwork by Bill Bell summarizes the whole story of Alice in  Wonderland with a striking color palette.
Bill Bell's artistry is God-given. It is well known for the use of vibrant colors. He is adept at encapsulating the minute details and characterization of the tale in his artwork.
This particular masterpiece depicts several scenes in the woods with Alice in other characters. It is comprising of different encounters i.e. mad tea party, Caterpillar, Cheshire cat, and many more.
The painting comes up with the frameless presentation by stretching the painter's canvas around the sides of a hidden frame. This method of presenting a finished painting is known as Gallery wraps.
The most modern printing process has delivered premium quality art reproduction. Hence, the colors and effects seem indistinguishable from the actual piece. This refined and advanced printmaking method is called Giclee.
With a solid wood frame, the luxurious art piece is made resistant and durable. It comes with an attached sawtooth hanger. You can hang it in your kitchen, living room or anywhere else for decorative purposes. For your ease, you can get it in customized size as well.
The orientation of the painting is horizontal, and it makes a rectangle shape. The art technique used for this masterpiece is oil painting.
The primary painting color is green. It bestows soothing and natural effects on the surroundings. You can bring one and rejoice the musical and rich art around you.
Disney Alice in Wonderland
Our next masterpiece on the list is coming right from Thomas Kinkade Studios. It is capturing all the great Disney characters that play a role in the wonderland, down the rabbit hole. It is inspired by the tremendous animated artistry of Walt Disney.
The highly saturated shades, spontaneous flow, and rustic composition are worth the amount you paid for.
In the collection of best Alice in Wonderland art to buy, this is one of the attractive products on amazon. It has 14″x14″x1.5″, an appropriately sized canvas. It comprises the art image that does not need any frame. The art image stretches from top to bottom and around the sides of the hidden structure.
What does this enchanting art piece portray? The painting features the quick White Rabbit, the mysterious Caterpillar, the nut Mad Hatter, and the two famous Tweedledee and Tweedledum from Alice in Wonderland.
We see innocent Alice among all these characters, finding herself on an adventure towards this bizarre yet impressive wonderland.
You can buy the masterpiece for yourself or the ones you love. The best-loved gallery-wrapped painting could be an excellent present for your near and dear ones.
We bet, the vivid artwork with high-quality color effects can add a little imagination to the room.
It entails remarkable versatility through the frameless presentation. It could be the best way to signify your artistic taste.
Alice in Wonderland Imagination Quote Vintage Dictionary Art Print
We are going to open up every option available for you. As a result, you would be able to buy the best Alice in Wonderland art. From oil paintings to canvases, from graphic prints to vintage dictionary prints, our collection has it all.
The classical dictionary prints are a subtle way of displaying artistic touch to fairytales.
Furthermore, it would be the icing on the cake to get a quotation on art pieces along with the depiction of Alice in Wonderland.
This particular wall art print for office or home decor reads a beautiful quote that compliments any art itself.
Runaway from normal, run wild with my imagination, says Alice.
The dictionary print art is nothing but an inspirational way to provide a daily dose of romance, beauty, serenity, and motivation.
The print comprises a silhouette of Alice that reads the imagination quote mentioned earlier. The dictionary print is printed on the recycled paper piece of the 1900's dictionary.
Isn't it incredible?
The prints lack any frame. These wall art prints appear in the size of 8″x10″. They can fit in the structures of your choice. You can choose the best framing style for this premium quality wall art.
The vintage dictionary wall art can also be the perfect gift. You can give it to your students, colleagues, your spouse, children, or friends. You can inspire and get them motivated through the artwork and quotation imprinted on it.
On Amazon, you can find them available in all kinds of frames.
Alice in Wonderland- Set of four Unframed Prints for Home Decor
Are you a die-hard fan of Alice in Wonderland and Disney? If your answer is yes, here is a treat of four prints for you.
The high-quality picturization of Alice in her encounters in wonderland is well encapsulated in these prints. The vintage touch of the unframed prints is unique and stylish.
The artwork inspired by a fairytale portrayed on the prints takes you to another world. It rejuvenates your senses and fills you with joy.
These crispy and stunning art pieces with Alice in wonderland images serve as promising decor. They are great for your entryways, hallways, kitchens, study, porch, washrooms, dressings, dens, and game rooms. It can go well with every type of surroundings. Furthermore, it adds elegance to it.
The four 8″x10″ prints are without frames. As for the outer structures, you can find them conveniently on Amazon. You can purchase them according to the color scheme of the place and the prints.
The paper used for these prints is semi-matte. The durability comes with Fuji Crystal Archive paper, on which the images are printed.
The four prints Mark the four images including Alice with mysterious Caterpillar, Alice with Cheshire Cat, the quick white rabbit, and a Mad Tea Party.
You can employ them anywhere in your home separately or collectively in an interesting pattern.
You can make them an easily affordable and as well as a charming gift to your boss, spouse, children, grandchildren, and students.
It can also serve as a perfect present on various occasions like birthdays, wedding days, anniversaries, retirement ceremonies, or even father's day and mother's day.
Alice in Wonderland Art Mad Hatter Tea Party Framed Print
Here is a bold choice in buying the best Alice in Wonderland art. The catchy and inspirational print of the Disney sensation along with one of its popular quotes is a plus on its part.
The Mad Hatter: "Have I gone mad? Alice: " I am afraid so. You are entirely bonkers. But I will tell you a secret. All the best people are."
The print with this ironic quote spreads compassion all around. The excellent framing quality and decent colored print can go with any setting.
The enchanting piece of art depicts a sketch of the Mad Hatter Tea Party along with the quote.
The finished print has its unique presentation with a sturdy and modern wooden frame. The ready to hang factor makes it the best choice for art lovers. The ones who want to be surrounded by exotic art pieces; this is the best choice they can go for.
The high quality reproduced fine art print is lovely, stable, and a stunning art product. Additionally, the premium quality print of the artwork is printed on a luminous fine art card. Undoubtedly, it lasts for a long time.
As for the print size, it is 9×7 inches including a 2.5 cm border. The border serves best for framing and mounting.
For framing, you can opt for your favorite color on Amazon. Through Amazon, you can select versatile wooden frames for individually printed fine art pieces.
Alice in Wonderland Cheshire Cat Cheshire Woods Gallery Wrapped Canvas
Cheshire woods, a fantastic artwork is inspired by Alice in Wonderlands' characters of Cheshire cat and Alice. Christopher Clark has done a tremendous job by depicting a more in-depth image of the Cheshire cat.
The Cheshire Woods is a rendition by the great artist Christopher Clark for paying tribute to Lewis Carroll's tale. The artistic sense, along with profound insight is what makes this painting worthwhile.
In the cat image, there is a depiction of mysterious woods. In the foreground of the art piece, one can find roses and the white rabbit while looking closely.
Alice is dressed purple by the artist in the painting. Therefore, it depicts the cognition and self-sufficiency of Alice, and the magical surroundings she finds herself in. On the other hand, it also signifies her portrayal that comes up in Through the Looking Glass. The majestic and full of grandeur.
This particular artwork features a gallery-wrapped canvas on Amazon. It weighs 1.85 pounds with 19.1×15.9×2.3 inches package dimensions.
The ready to hang painting on Amazon does not require any frame. The advanced printmaking methods reproduced an excellent quality art piece.
As for the color scheme, it is somehow dark and mysterious. However, the mystery of the painting is so inviting. Furthermore, its beauty compels every passerby to stand and observe. Undoubtedly, the art piece will inevitably catch your attention.
Alice in the Cheshire Cat Framed Graphic Art
Alice in Cheshire Cat framed graphic art is the classic yet dramatic illustration by none other than famous Sir John Tenniel. He is well remembered for his illustration work in the original book of Alice's Adventures in Wonderland back in the nineteenth century.
An encounter between the Cheshire cat and Alice is portrayed in this artwork by John Tenniel. This beautiful graphic art is available in various color options.
The orientation of the artwork is horizontal. The framed image makes a rectangle in shape.
The color scheme is decent. It can fit in the various surroundings, whether office or home. It is budget-friendly. Thus, you can gift it to family or friend's circle.
You can hang it anywhere in your home to give an artistic touch.
Conclusion
We hope that our list functioned as a guide for everyone out there. The folks who are planning to invest their money in the artwork, can refer to our picks to find an easy and reliable collection.
Even if you don't want to buy them for yourself, these masterpieces can brighten up the aesthetics of any home. In the shape of a beautiful and long-lasting present, you would be portraying your excellent taste to your art lover buddies.
Alice in Wonderland was yet another Disney success, it has inspired many children and adults alike to accept their imaginations and encouraged the idea of imagination. You can now inspire imagination in your surroundings through this striking artwork.