No one enjoys the loud sounds of the alarm clocks in the morning. Why wake up others? It is a dreadful way of waking you up from the peaceful slumber and become part of the hustling bustling world. So we have shortlisted and highlighted some of the best silent alarm clocks based on their target markets and users.
We have provided categories of silent alarm clocks for couples and roommates, best silent alarm clocks for heavy sleepers, best silent alarm clocks for the deaf and hearing-impaired, and best alarm clocks for the elderly.
Waking up from deep sleep is often very difficult especially for people who are heavy sleepers or those who may have some hearing impairment. Waking up from the sound of an alarm clock may not be the best option in their minds.
They are unable to wake up simply because they do not hear the alarm clock ringing. Another complicated situation arises when you are living with a partner or a roommate.
He or she may have the same needs for having a sound sleep but their schedules and preferences of waking up may be different.
A similar situation is when you have a baby or toddler sleeping in the same room.
The loud sound of a buzzing alarm clock can be lethal for his sleep. Waking him up from deep slumber is the most dreadful thing that can happen to a happy mother.
Best Silent Alarm Wristbands and Clocks for Couples and Roommates
If you are looking for ways to wake up in the morning with the freshness of sound sleep and no panic, and do not want the guilt of disturbing others to hover around your head all day long, then you need to invest in a silent alarm clock or a wristband that can localize its alarming effects.
It is just a small little device but it can affect your early mornings in a hugely impactful way.
There is a wide range of silent alarm wrist bands or watches that are available in the market.
We have shortlisted a few to help you make the right pick for your needs and requirements.
Shake-N-Wake Vibrating Personal Alarm Clock
It is all said in the name. It shakes you to wake you up.
All you need to do is wear this clock on your wrist before going to sleep and set the timing of waking up.
The rest will be done by the clock itself.
When the alarm goes off, the vibration of the wristband will notify you and wake you up.
The Wake-N-Shake is just like an alarm clock bracelet. It is a great and effective way of waking yourself up without disturbing others.
It is also suitable for people who are hard of hearing or deaf.
Why is it on our list?
One of the differentiating features of this silent alarm is that it offers a snooze function. Most other models in the market do not come with this feature. It can snooze for 5 minutes and is quite effective.
It is quite affordable when it comes to price comparison with other costly watches and wristbands.
It has a very strong vibration making it ideal for people who have deep sleep or hypersomnia.
Even if you place it under your pillow, it will be effective for the light sleepers
It is a little big and bulky in size. Some people might find it comfortable to be worn on the wrist. You can use it on your ankle or place it under a pillow.
It is powered by AAA batteries.
It is portable and suitable to be carried on your travel trips and tours.
You can opt for audible alarm as well
Large display with backlit LCD
It also has stopwatch features.
Fitbit Charge 3
Although this is a fitness and health gadget, it also acts as a silent alarm clock for users.
Most people buy this wristband for keeping a track of their physical activities like exercise and walk and how this exercise affects their physical statistics like heartbeat rate, blood pressure, and so on.
However, this gadget also has a built-in clock which provides a silent alarm feature for its users.
Why is it on our list?
As compared with other silent alarm wrist bands it is much compact in size. It has a slim design and very comfortable to wear at all times.
It gives a strong vibration function when the alarm goes off.
One of the best features of using this gadget is that it can track your sleep patterns as well. It can assess whether you are getting optimum sound sleep or not. The data about your sleep can be useful for monitoring your health and fitness.
It is a little more costly than simple silent alarm wristbands because of its multifunctional nature.
Pavlok Shock Clock Wake Up Trainer
This unique gadget by Pavlok is a great way to wake you up without disturbing others in the same room.
It is a silent alarm clock that gives you an electric zap at the time of the alarm.
It not only acts as an alarm clock but also a trainer to improve your sleeping and wake up patterns.
Pavlok offers several shock devices to control bad habits like smoking and nail-biting e.t.c.
This device is directed to overcome the hard habit of snoozing.
Putting the alarm off for every 5 to 10 minutes and trying to get a little extra sleep even when you are going late on your early appointments and commitments.
You can save yourself an extra hour or so if you can overcome this bad habit of snoozing.
Why is it on our list?
At the time of the alarm, the Pavlok Shock Clock gives the user an electric zap. This can wake him or her up immediately.
When you snooze, you will know that another zap or jolt will be coming in soon, so you tend to get up from bed before receiving the next unpleasant shock.
It comes with six different types of wake up modes including the electric zap, vibration, beeping, and a combination of all.
For deep sleepers and hypersomnia patients, you have the option to go for multiple electric zap function
You have the capability to adjust the intensity of the alarming modes. The device allows an incremental 10% increase or decrease in the intensity of the zap or vibration or beep.
You can use this clock not just for waking up from sleep but for scheduling other important activities of the day including work-related tasks or personal chores like drinking water, exercising e.t.c.
The gadget is also equipped with a sleep tracker for analyses the quality of your sleep.
It can be used as a stopwatch and timer with alarm
It is supported by an app compatible with both android and iOS systems. This feature offers control of the device through wireless connectivity.
Amplicom TCL Vibe Alarm Clock with Vibration Wristband
This is a great product that is an alarm clock with a wristband for the deep sleepers.
It is a small-sized cube-shaped alarm clock that is easy to carry and travel with.
Why is it on our list?
This alarm clock comes with a wristband that vibrates to wake up a person from sleep.
You have the option to choose between alarm modes like vibration or sound or both.
Wireless connectivity with the wristband allows alarm vibration is almost 20ft range from the clock
The wristband works on rechargeable batteries that can be charged through a USB port.
The wristband is made from a soft and comfortable material. It can be tied with an adjustable hook and loop.
The clock has a snoozing feature of 5 minutes
You have the capability to set date month and days on this clock and use it as a weekly calendar.
It has built-in thermometer and displays room temperature
The display is large with a backlit screen that stays for 8 seconds
It comes with a travel pouch for safety and protection
The product is powered with 3 AAA batteries
e-Pill CADEX VibraPlus
CADEX VibraPlus looks like a normal sports watch, with a leather strap. It has amazing functions and features which can be easily used by all people of ages looking for silent alarm clock options.
This vibrating alarm wristband is ideal for the elderly, deaf, hearing, and visually impaired.
It is also suitable for children to remind them of setting alarms about daily bodily functions, daily activities, or those with ADHD/ADD.
You can easily set medication reminders and put them on repeat to make it more convenient for yourself.
Why is it on our list?
It looks like an ordinary watch but has multiple functions and features to offer its users
It comes with a Repeat feature, which allows you to continuously repeat your programmed countdown time.
The Button Lockout Feature is also noteworthy because it allows you to lock the settings to prevent any accidental changes.
The e-pill also comes with the Stopwatch mode, which can be used to time any task.
It has an easy to read backlit display screen
It comes with 8 alarm options with sound, vibration and combination modes
The duration of the alarm is around 15 seconds which quite sufficient
The watch uses a replaceable leather strap.
Lark Silent Alarm Clock
The Lark Silent Alarm clock is coupled with an app that works with iOS. It works with the help of a motion sensor wristband that makes a person wakeup through vibration.
The prominent feature that gives it a competitive advantage over other products in the market is its ability to track your sleeping patterns through the night.
It can assess your sleep quality and provide you information on how to improve it.
It not only helps you wake up without interrupting the sleep of your partner but also improves your health if you are suffering from sleep deprivation.
In essence, it can initiate a transformation of a sleep-deprived owl into a well-slept lark in the morning.
Why is it on our list?
The package includes a wristband, Lark sensor, and charging dock for the device.
You can charge your wristband when not in use by plugging it in the dock through a USB port.
The Lark sensor can provide a lot of sleep-related information about you. It gauges the time you take to fall asleep. How long you sleep and how many times you wake up during the night? The device tracks such vital sleep statistics through analyzing body movements.
The wristband can be tied around with the help of a Velcro. It is comfortable to wear at night time.
You can use pre-programmed 11 tags of the clock to mark your collected statistics. The app will allow you to compare various pre-sleeping activities with your sleep patterns through graphs.
You can also express how you felt in the morning after a given cycle of sleep.
These were 6 of the top-ranking wristbands that can be used as silent alarm clocks. This silent alarm clock is an essential product for people who are hearing impaired or deaf.
Alternatively, you also have the option of using a regular wristwatch that provides vibration function as an alarm option.
Below is a list of top 3 wristwatches that offer vibration mode in their alarm settings.
Best Silent Alarm Clocks for Heavy Sleepers
For people who go into a deep slumber where no one can reach them easily, sleeping through the alarm ringing can be a common problem.
Long working hours, late-night parties and deadlines to meet assignments lead to heavy sleeping patterns in people.
To cater to this market, manufacturers have come up with some unique and effective alarming mechanisms which can help deep sleepers in waking up at the right time, reaching workplace on time, not missing appointments, and no worries of not waking up at the time you hit the bed.
Sonic Alert Bomb – Bed Shaker
Key Features
Loudest Dual Alarm Clock
Sound, Vibration and Light Alerts
113 decibels sound alarm
One year warranty
Strong vibration
This is considered to be the loudest alarm clock in the market. Hence it is one of the best options for heavy sleepers.
As compared with the average alarm of 80 decibels this device creates noise up to 113 decibels.
This huge sound can match the sound of an airplane take off.
You have the choice to use this clock as a silent alarm clock as well.
It provides a choice between various alarm mechanisms including light, sound, and vibration mode. You choose any one or a combination of all three depending upon your requirement.
The clock is able to get you out of the bed with a very strong vibration.
It is coupled with bright flashing lights and sounds that can be adjusted conveniently.
Although powered with an AC adapter, the clock also has a 9V battery for power outage and breakouts.
It comes with a one year warranty and you can select between various colors to match your settings.
ILUV Timeshaker Super
Key Features
Dual Clock Function
Built-in Speakers
FM Radio, Bluetooth and USB connectivity
Multiple Alarm Alert options
Adjustable LCD Display
Known as the all in one alarm clock for heavy sleepers, this device is based on digital technology and provides a wired bed shaker for a super-strong alarm mechanism.
There is a pair of built-in stereo speakers that can be run through FM radio, USB audio port, and blue tooth connectivity.
The product is ideally designed for people who sleep deep and heavy. The LCD display screen is quite attractive and displays the date, active alarm times, and the current time.
The LCD brightness level is adjustable.
Using the blue tooth connectivity and USB port, the clock can be connected with your smartphone as well.
There are 5 alarm modes that you can choose between.
They are FM radio, the Bed shaker, and the buzzer. You can select either one or a combination of all three depending upon your requirements.
Homtime Alarm Clock with Wireless Bed Shaker
Key Features
Comes with a wireless bed shaker
Motion and Sound alerts
Night Light for safety
Connectivity with iOS
It is a loud alarm clock that comes with a strong wireless bed shaker for the heavy sleepers.
The product provides a large number of features in a great price range.
It is ideally suited to people who find it hard to get up from sleep after a long day at work or late night activities.
It is a vibrating clock and you have the option of choosing between motion and sound alerts or a combination.
You have the option of syncing your mobile settings with this alarm clock through a wired connection.
You can easily program it to play a favorite song or music as an alarm option.
Night light turns on when senses motion around it.
Sonic Alert – Digital Sonic Boom with Telephone Signaler and Bed Shaker
Key Features
Powerful wireless bed shaker
Strong vibrations
5 level light adjustable LCD
Telephone alerts
This clock comes with a powerful bed shaker feature that is ideal for people with hearing loss and who wants to sleep deeply.
It offers a wireless vibration option that is the most powerful in its category of products.
It uses 12V power for creating the required vibration and sound.
It can create a sound of 113 decibels for people who are hard of hearing or go into deep sleep mode.
The volume can be adjusted according to your requirement.
It can be synced with your phone and receive phone call alerts on it as well which a remarkable feature for people who are heavy sleepers.
The display screen is quite large and has light adjustment options.
Best Silent Alarm Clock for the Deaf and Hearing Impaired
Finding the right alarm clock for the hearing impaired and deaf people can be a difficult task. These alarm clocks use different modes to wake up a person who is hard of hearing or totally deaf. We have shortlisted 3 of the best options for you. Let us have a look.
Bellman and Symfon Alarm Clock Pro
Key Features
Large Size Display
Aesthetically Designed
3 Alarm modes and combinations
Designed especially for people with hearing issues, it is a durable and high-quality product. It provides dual modes of alerts including flashing lights and motion. Ascending sound alarm is also programmable for people who are hard of hearing.
The clock has a large-sized LED screen that is visibly conspicuous. It also has a night light for darker room settings.
​​​​The Philips SmartSleep
Key Features
Gradual Lighting mechanism
Soft Grapefruit Orange light
8 hours of battery life
Smart App equipped
AmbiTrack Sensors
Combination of stimulus including light, sound, and alarm
Ranked best among many other competitors, the Philips Smart Sleep uses light stimulus as an alarm to wake you up at the right time.
It recreates a natural sunrise process by gradual enhancement of light.
Most of the other competitors use very bright white lights as a waking up tool but in the case of Smart Sleep, the light is very soft and its grapefruit orange-colored which resembles the sunlight of the early sunrise time.
It gradually increases in intensity and changes its color into bright white for a stronger impact.
The clock provides a subtle and refreshing start to your day. You can choose between various intensity modes, set different alarm preferences, and make other selections according to your requirements.
Users can select from a variety of different lighting patterns and sounds as their alarm.
The Wake-up Light can be controlled wirelessly with a smartphone app as well.
Equipped with the AmbiTrack Sensor, the clock is able to collect different bedrooms and its surrounding data and information including noise levels, room temperature, humidity in the room, and overall lighting level.
Using this data, the clock suggests ways of enhancing and improving your sleeping process.
Sharp Vibrating Pillow Alarm Clock
Key Features
Designed for the Deaf
Compact and Portable
Uses sound and vibration both
Lock button
Two-time display
Backlit screen
Battery operated
This alarm clock was specifically designed for the deaf and hearing-impaired people.
It is very lightweight and easy to carry even in your pocket.
You can put it under your pillow or in your pocket and get notified about the alarms that you set through a vibration option.
The clock can also be used with or without sound alerts.
The lock button has great value as it secures your setting without being changed through accidental touch or movement.
​Best Alarm Clocks for seniors and the Elderly
Seniors and elderly are another important category who may need alarm clocks for not just waking up early morning but also to schedule their medicines and other daily activities of the routine. Their forgetful nature at this age can be a challenge for them to remember things. A good alarm can be very useful to help them schedule their activities easily and do things on time. Let us have a look at our top picks.
Med-Q Digital Alarm Pill Box Dispenser
Key Features
Beep alarm for medication
Pair of electronic wipes
One liberty cloth
Anti-slip and skid-proof bottom
Low battery indicators
Large-sized compartments
Loud alarm with ascending feature
Flashing lights
This is a great alarm clock for the elderly who may forget to take their medication on time.
It provides alerts through ascending beeping sounds and flashing lights to alert the user.
The boxes of the pills also light up as an indicator of which is the scheduled medicine.
You can open the containers of the pills easily without any problem due to their large size. It is not just an alarm but also a pill organizer.
TimeVision ShakeAwake Vibrating Alarm Clock
Key Features
Compact and small-sized
Suitable to place in a pocket
Vibrating as well as beeping alarms
The bright backlit screen
Simple button and easy to use
Snooze function
Battery operated
This another small-sized clock option that an elderly person can carry in his or her pocket for timely alerts and alarms.
It provides dual alarm modes of vibration as well as sound.
The display screen is quite large and backlit for good visibility at night time.
The clock is easy to use and very simple in its design and function.
VOBOT Day Clock Extra Large
Key Features
Alzheimer Clock for elderly
Large-sized for enhanced visibility
Prominent in design and size
Dementia clock with 5 programmable alerts
3 medicine reminder options
Calendar with date and time
Sound alerts with chimes and extra loudness
Vibration feature for hard of hearing people
Screen brightness adjustable
This is a very good device for elderly people who are suffering from dementia or Alzheimer's diseases.
It is programmable with 5 different types of alarm and alerts for medicines.
It has a very large screen to ensure visibility for weak eyesight people.
It has a very loud alarm the tone and volume of which can be adjusted.
The clock can also vibrate to wake you up or alert you about a given time.
It is battery operated and shows date, time, and alarm settings on the screen. The backlit features help to see the time at night also.
Alternatively, you also have the option of using a regular wristwatch that provides vibration function as an alarm option.
Below is a list of top 3 wristwatches that offer vibration mode in their alarm settings.
Casio Men's G Shock Stainless Watch
Casio is a renowned name in watches and other digital gadgetries. The G Shock Stainless model is one of the best watches with vibration function available in the market.
The watch is resistant to shocks and works on solar power as well.
It has a state-of-art design based on the multi-band atomic structure of time-keeping
It is waterproof ideal to worn in different weathers. You can wear it when swimming to almost 100 meters underwater. This means it can be worn while scuba diving and snorkeling as well.
Other noteworthy features of the Casio G Shock include auto calendar, hourly time signaling, and countdown timer. It also features world timing.
NIXON Regulus – PU/Rubber/Silicone Band
This is a digital watch that can be programmed to give a vibrational alarm keeping it silent for the other person.
The band of the watch is made for thermoplastic polyurethane which is very durable yet comfortable.
Important functions other than vibration alarm include timer option, dual chronographs, and auto calendar.
The band is adjustable and can be worn by people of various age groups
It is water-resistant and can safely be worn to a depth of 100 meters underwater.
Timex Ironman Classic 30
Currently, the top quality vibrating alarm watches are produced by a watch manufacturing company called Timex. The Ironman Classic 30 is one of their top models.
It comes with an adjustable black colored resin strap. It is suitable for a wrist size of up to 8 inches.
The digital watch offers 100 different chronograph designs and patterns
It has 30 lapping memory and a timer based on 24 hours.
The watch has a black and grey colored resin case of 38 millimeters. It has a grey display with digital technology and the watch dial can be lit up in indigo color.
The watch is water-resistant and can be used up to a depth of 100 underwater.
Silent Alarm Clocks – Buyers Guide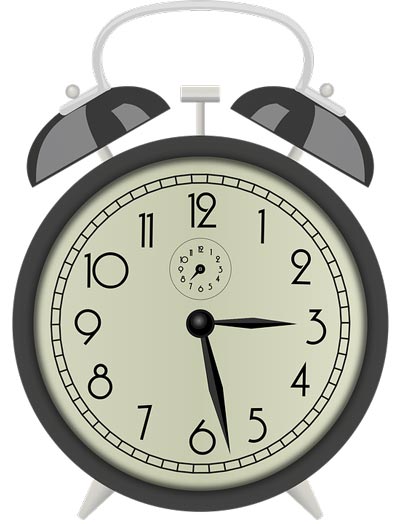 Forget sleeping through your alarms!! No more waking up in panic and grogginess.
There are a number of different silent alarm clock options available in the market. Each model offers a variety of features and functions.
So, how does one choose between these options?
What are some of the things that you should consider in a silent alarm clock that too a wristband?
Let us find out.
Size and Weight
A silent alarm wristband is worn when a person goes to bed or sleeps.
It is important that it should provide a comfort level that is suitable for most people. Too large or heavy wristbands can be irritating and annoying.
Instead of making your sleep sound, it may keep you awake.
The too-small size might not provide the required impact to wake you up from deep sleep.
So, before buying the silent alarm clock wristband, you should look out for its size and weight.
Wake Up Stimulus
Every silent alarm clock uses some kind of force or energy to stimulate the human body and mind.
This external stimulus wakes up the user from a deep slumber. In wristbands, you can mostly see vibrational force as the main source of this external stimulus.
Some might provide an electric zap still others may work with a combination of different energies.
Light and sound are also important factors to consider while selecting your option.
Intensity of the Force
The sleeping habits of different people are different. Some people are light sleepers and wake up to the minutest of disturbances in their surroundings.
Others may be deep sleepers and some might even suffer from hypersomnia.
The intensity of the vibrational force of the silent alarm clock wristband is crucial in this regard.
You need more force in deep sleepers and lesser in light sleepers.
Many models come with adjustable intensity modes.
You should look into this function before making your final choice based on your requirement.
Battery Life
It is important that the device you are buying is long-lasting and durable. At the same time, it should have good battery life.
You do not want the batteries running out every now and then.
You also do not want to miss an important meeting or appointment just because the alarm did not go off due to weak batteries.
Other Features
You should also look out for what other features are important for you in a clock.
Mobile connectivity, phone alerts, sleep tracking, and room statistics are some of the features that may attract you to buy a product.
Time to Wake Up In a Silent Style
We hope this has been a comprehensive guide for you to invest in the best silent alarm wristband and clock in the market.
You should first assess what is the requirement you are buying this clock for.
Whether you are looking for a way to wake up without disturbing your partner, or you want a clock that is suitable for the heavy sleepers or you want to facilitate the deaf and elderly.
Our list of the top-ranking products has some of the best options you can choose to meet your waking up requirements.