Traditionally a suit jacket is always worn with the matching trousers that came along with the jacket.
And it makes total sense to do it that way, right?
But recently, suit jackets with jeans has been trending all over social media platforms.
You may have seen an Instagram male model posting it as his OOTD or an actor walk up a red carpet in his suit jacket with jeans or even see an actor in this outfit combination during one of his interviews.
The internet accepts it.
But you must be having your doubts about the whole styling process because come on SUIT JACKETS with JEANS?
Sounds ridiculous. A bad fashion trend?
Well, let me assure you that it is possible to wear and slay in a suit jacket with jeans!
Plus getting out of your clothing comfort zone and ending up looking super good always gives one a great dose of boosted confidence.
The key is to the suit jacket with jeans styling trend is knowing when to and how to bend the rules.
And there are certain rules you need to keep in mind before taking out that expensive suit jacket of yours for the sake of the internet.
So, tag along and let us get right into the article!
Styling Suit Jackets With Jeans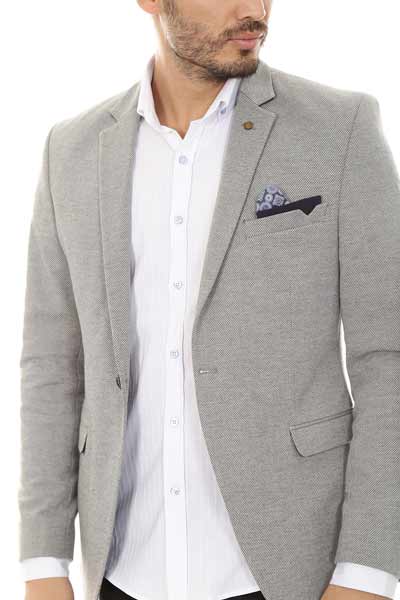 This combination requires putting two totally opposite clothing items degree together i.e., formal, and informal.
And since this look has two clothing items, there are a certain suit jackets rule and jeans rules that I have narrowed down after my research.
You must abide by these rules to make this look work for you.
RULE 1: THE ONLY SUIT YOU OWN
Most of us own a maximum of two or three suits because of their high price range and because suits are often just worn at special or important events like a job interview, a wedding, or even a funeral
So, buying a bunch of them like the multiple pairs of jeans you own is just a waste of cash and heavy on your wallet.
However, if you own just one suit then do not try to experiment with it, because it is more valuable to have a ready-to-go suit for your future important events than to end up with none if the suit jacket gets damaged or discolored while experimenting.
So, you do not want to be left out without a suit when you absolutely need it because replacing it can be expensive.
You should always have one suit saved in your wardrobe. It is an essential wardrobe rule.
But if you really want to achieve this look, then you can always get a blazer which is relatively an inexpensive purchase.
And if you still cannot opt for a blazer, then go a couple of the nearest thrift stores to try and find a couple of options and sizes for the blazer or suit jacket you are looking for
Thrift stores are always there for you!
RULE 2: THE FIT
This rule is for all the clothing items you own.
Never wear clothing that does not fit you well. Clothing items that claim to be "oversized" are tailored in a different way, so buying a clothing item that is 2 or 3 times your size will fall under the category of ill fit.
To now if a suit jacket fits you well, is to keep the following points in mind
It should sit comfortably on the shoulders
It should be easy for you to move around your arms and shoulder.
It should not restrict your upper body movement
It should be free of pulling or wrinkling over the shoulder
It should not appear to be loose or baggy
RULE 3: STYLE OF THE JACKET
The style of your jacket is also an important factor.
A classic jacket that fits well is the best option.
The lapels, pocket placement, shoulder build, button placement and vents must all be tailored proportionally well.
Think of something that had only 2 to 3 buttons, is single breasted, has 3 pockets.
Remember I said a classic suit jacket and not vintage.
RULE 4: SUIT JACKETS FABRIC AND JEANS COLORS
Most of the suit jackets that are patterned like pinstripes, chalk stripes, or plaid are rarely seen paired with jeans.
If the fabric of the jacket is wool, then it is not what you should be going for because wool is considered formal.
Fabrics like tweed, linen, cotton, or corduroy are easy to use separately without their matching trousers and it makes them one of the perfect picks to pair with jeans as these fabrics appear more casual than formal.
I researched and complied a color code that works well with certain color jeans.
With a dark-colored Denim
A suit jacket in solid navy, medium grey, light grey, true blue, flannels, nails head, bird's eye, checks, and tweeds work very well with dark-colored denim.
With a light-colored Denim
A suit jacket in different shades of browns and dark greys work and even a solid black will work well with light-colored denim.
In short, solid matte colors that complement the color of your jeans should be your go-to choice.
RULE 4: TYPES OF JEANS
Now that you have your perfect suit jacket ready, it is time to pick the perfect pair of jeans to complete your look!
Your jeans must be dark, well fitted, and not distressed.
Stonewashed, ripped, baggy, and ill-fitted jeans must be avoided.
Low waist jeans are always a no. Go for medium or a higher waisted jean to give it a more fitted look.
The key is to find well-fitted jeans.
Skinny jeans work well too.
RULE 5: PICK AN UNDER SHIRT
You may have found the perfect suit jacket and a pair of jeans that go with it, but your look is not complete yet!
Not at least without a shirt to compliment your jacket and jeans with.
Solid, plaid, or striped shirts are great options, to begin with.
You can also pair your combination with dress shirts in plaid, striped, or solids.
Tuck in will give it a cleaner look while an untucked will give it a more casual look.
Furthermore, you should always leave the first one or two buttons unbuttoned for the casual look. This step completes the outfit.
And lastly, skip the tie. Trust me, you do not need any form of neckwear because, its not a formal look. This combination is a casual look.
Rule 6: IT ENDS WITH SHOES
To finally complete your entire look, lets talk about your shoe's options.
Loafers, derby's, cap-toe shoes, Chelsea, and chukka boots are your best friends here!
Whatever your pick for the shoes is, it will all together put your outfit nicely.
To Sum Up
Bending the rules of fashion to achieve a certain look is always tricky but with the help of these guidelines and doing a little bit of hunting you can find the perfect combination of suit jackets with jeans!
And remember, always wear this combination with confidence!
Keep slaying!