In the fast and busy progression of life, we often lose sight of the simple yet amazing things that make our life exciting and fun. Wakeboarding behind a boat or a Jet Ski with your water shoes on, in the sunny summer months, with family and friends, is like a dream coming true.
It is one of the best and most enjoyable water sporting activities for men and women alike. Gliding above the water, with strong winds blowing through your hair and water surfs splashing all across your face, it is one of the most exciting feelings that you can have with only a board and a tow rope.
But if you want to go underwater too, make sure you have a decent underwater action camera with you. Talking about rope, it's not just any rope; this is specialized wakeboarding equipment. This is the only connection that you have between yourself and the boat.
In this post, we have shortlisted some of the best wakeboard rope and handle combos and illustrated for you the factors that you need to consider while buying the best one.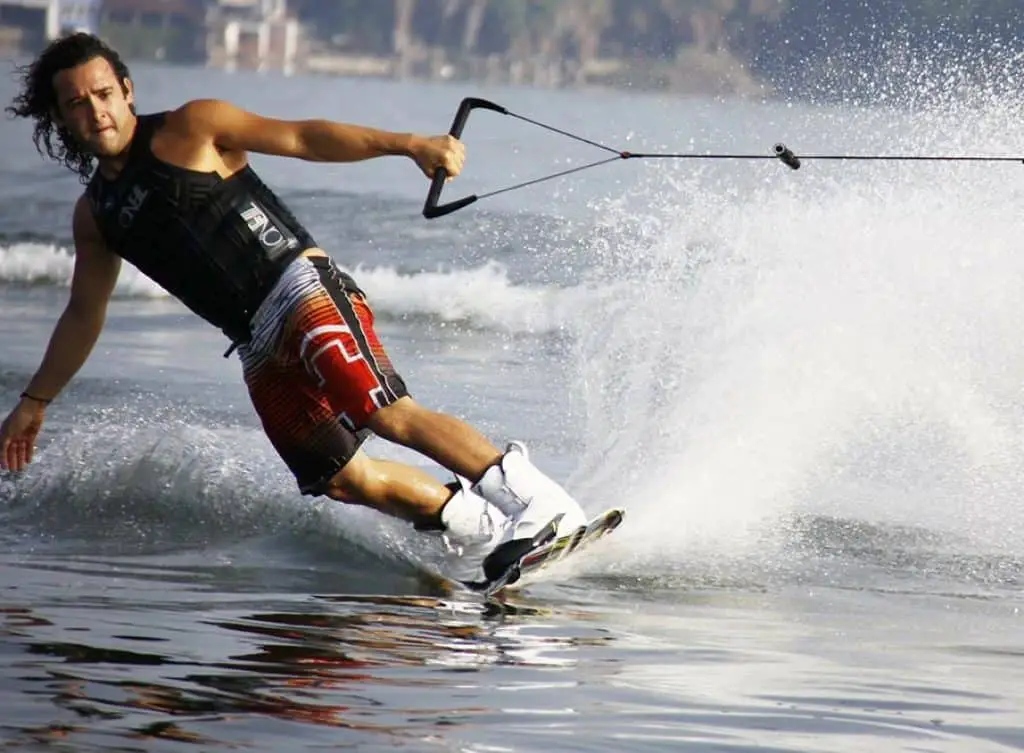 One should not be fooled with the idea of thinking of it as a simple rope. It is equally important to have a good quality rope and handle it as it is to have the right wakeboard. It should have minimum or no stretch, with the best quality and durability and the right length. Selecting a low standard wakeboard rope and handle can adversely affect your ability to perform tricks and stunts or simply hamper the maneuvering through the water surfs. You may end up in the waters hitting your face down.
To strengthen your confidence and improve your experience you can choose from the top-ranked Airhead line including the AHWR 4 Spectra Thermal, AHWR 3 section or the AHWR 1 section wakeboard rope and handle. Other prominent options that we have highlighted include the Straight Line Apex Suede, the O'Brien Floating Ski Rope Combo, the Ronix 5.0, Accurate Lines Apex, Hyperlite 20' Knotted Surf rope, Kwik Tek Bling Sleath, or the Seachoice 5 section rope and handle. All these are top quality and superior standard wakeboard rope and handle products that you can choose from.
Airhead AHWR-4 – Spectra Thermal Wakeboard Rope and Handle
Key Features
Zero Stretch for quick response
Zero scratches and injuries with handle bridle
Full length of 70 feet with 4 sections
2000 lbs tensile strength
Constructed from quality and reliable materials
EVA grips and foam floats
PVC coating full length
15 inch handle
The length of the tow rope is 70 feet with 4 sectional divides of 5 feet each.
The handle of the combo is 15 inches in size and D shaped which is wide enough to grip with both hands. It also has a 5 feet handle bridle to protect against scratches and twists.
This wakeboard rope and handle is considered as the best product for your money.
This best wakeboard rope gives zero-stretch to provide instant response to various moves just what an expert wakeboarding rider wants. This enables you to perform acrobats and stunts just when you kick your leg and not wait for the time delay for when the rope is stretched.
It is coated with Thermal-coated Spectra that makes it less prone to twisting and also resists forming a sharp curve or twist which might imbalance you.
The EVA grips and foam floats on the handle make it float when not in use. It also has a PVC coating for an extra strong-hold.
Airhead AHWR – 3 Section – Wakeboard Rope and Handle
Key Features
Tow rope of 65-inch length with 3 sections
15-inch squid pattern handle with aluminum core
Rope made from 16 strand UV protected low stretch material
EVA grips for safety and buoyancy for easy retrieval
Durable and flexible
Rope keeper included
This is an amazing product manufactured by the market leader of the wakeboarding equipment called Airhead.
It is a wakeboard tow rope divided into 3 sections making it suitable for use in different wakeboarding styles.
The combo includes a 15-inch aluminum base EVA handle that has a squid pattern on it. This pattern ensures a solid grip for the rider. The EVA protection provides the buoyancy when it dives in the water.
The tow rope is made from low stretch 16 strand UV processed material that has super strength and durability. The length of the rope is 65 feet and can be divided into three sections for best use.
It has full finger protective grips on the handle. The handle is wide enough to put both your hands in a comfortable position. It comes with a rope keeper for storage assistance.
Airhead AHWR-1 Section – Wakeboard Rope and Handle
Key Features
Rope length of 70 feet with 5 sectional divisions
Aluminum handle with 4-inch floats and finger protectors
Rope keeper included with the product
EVA grips
5 feet vinyl-coated handle bridle
15-inch handle
This product is widely used by professionals as well as wakeboarding beginners. It is a simple, easy to use and highly safe wakeboard tow rope with handle.
The combo has an aluminum-based 15-inch handlebar. For the protection of the fingers, there is a 4 inches protective coating along with foam floats on the handle sides. There is also a 6 inches TRP covering on the handle for enhanced protection and strong grip.
The rope is made from durable and robust material that has low stretchability. It is a 16 strand 30 filament rope. The initial 5 feet is the handle bridle for enhanced safety and durability with flexible vinyl coating. The length of the tow rope is 70 feet and is divided into four sections suitable for different riding styles.
Straight Line Apex Suede Wakeboard Rope
Key Features
Rope made from Leader Dyneema no stretch material
Full length of rope is 65 feet
The length divided into 5 sections
12-inch handle with Ultra Suede and EVA grips
PU coating on mainline
Aluminum handlebar
Ranked as the best wakeboard rope by many people, this rope has excellent reviews from experts and enthusiasts both.
The rope mainline is made from Dyneema which has a PU coating for extra protection and safety. This length of the wakeboard tow rope is 65 feet. It is divided into 5 sections for different take-off lengths.
The handlebar of the combo is made from aluminum. It is sturdy enough to avoid any bending or twisting during the wakeboarding process. The handlebar is covered with ultra-suede leather material which provides it the required grip for safety and the softness for comfort.
The 12-inch handle is further lined with EVA padding for enhanced grip and comfort. It also allows the handle to remain afloat when in water.
O'Brien Floating – 1-Section Deep-V Ski Rope Combo
Key Features
Suitable for deep-water wakeboarders
Bridle Section with a vinyl coating
12-inch Aluminum handle
Durable rope material
Crossbar in bridle section
70 feet long with 5 feet detachable addition
This wakeboarding rope and handle have been designed for deepwater adventurers. The rope's highlights include a bridle section with a vinyl coating that acts as a protective covering over the rope. It helps reduce the chances of scratches and damages to the rope.
There is a crossbar located in the bridle section. This is a feature that enables in keeping the ski tip in the appropriate place. It also provides protection from scratches and crunches on the knuckles.
The wakeboarding rope is accompanied by a strong and safe handle that is 12 inches in size and made from good quality aluminum. It provides a sturdy yet comfortable grip for safe rides.
The rope itself is manufactured from a highly durable material that is proven to have reduced damages. The mainline has a length of 70 feet. However, there is also an additional 5 feet line that can be attached or detached according to your needs.
Ronix Combo 5.0 Wakeboard Rope and Handle
Key Features
Handle covered with 3mm thick memory foam
Tow rope length is 80 feet
It has four different color codes
Made from 12-strand ultra non-stretch Dyneema
Dyneema Barlock anti-roll
Rope material is durable and long-lasting
Adjustable rope length
The handle has EVA filling
EVA grips on the handle
This is another top of the line product that is brought to you by Ronix, a popular and trusted name in the wakeboarding industry.
The rope is designed and manufactured to remain afloat whenever left idle. It has a length of 80 feet which is sufficient for the changeover of wakeboards. The rope is divided into 4 sections with different color codes.
The handle of this combo is covered with thick memory foam of 3mm. It is ideal for providing a comfortable and strong grip when making various maneuvers and turns on the wakeboard. The handle has an EVA filling inside. This helps keep it afloat in the water.
Accurate Lines Apex Rope Handle Combo
Key Features
Highly durable and sturdy design
Made from Poly E Mainline
Molded EVA grip on the handle
15-inch wide handle
65 feet rope length
Brought to you by a renowned name in sports equipment, the Accurate Lines Apex Rope and Handle combo is best suited for high-quality performance and durability.
It has a length of 65 feet/20 meters with a division of 3 to 5 sections. This enables the wakeboarder to use different take-off lengths as per the need.
The 15 inches handle is firmly equipped with EVA grip that helps the user in maneuvering for various flips, jumps, and twists. It has foam floats that improve the retrieval capabilities of the rope and handle it in case there is a dive in the water.
Hyperlite 20' Knotted Surf Rope Wakeboard
Key Features
Hyper Braid ample float design
Rope length is 20 feet
10-inch handle
4 machined EVA floats
Available in assorted colors
A leading brand in the wakeboarding industry, the Hyperlite Knotted surf rope is designed with sufficient floating capacity to allow you to enjoy your wakeboarding experience thoroughly.
The design and structure of the line are hyper braided. This provides the extra flexibility and strong grip needed for a comfortable hold on the line. The wakeboard rope is 20 feet long. This is the minimum ideal length required for any time of wakeboarding jump and flip.
The combo comes with a strong and robust 10-inch handle that is safe to hold and grip.
Kwik Tek Bling Stealth Wakeboard Rope
Key Features
Zero scratch and injury safety
High-quality durable material
Shiny and reflective material braided together
Highly comfortable handle grip
Wakeboard rope length 75 feet/23 meters
Adjustable rope length with 4 sections
Aluminum Handle 15 inches in size
The handle is equipped with EVA and PVC tube
If you are looking for a rope to go with your high-end boat, then nothing can beat this product in looks and style. It is made from a shiny material that sparkles in the sun and glows in the night light.
Made from highly reliable and good quality material, this wakeboard rope, and handle combo are considered to be one of the best in the industry. It enhances the wakeboarder's safety by offering zero scratch and injury features. The rope is smooth yet solid enough to maintain a good grip without feeling any discomfort.
The handle is made from durable aluminum material as core and is fully covered with PVC tubing. The size is standard as 15 inches.
The Kwik wakeboard rope and handle combo are ideal for the enthusiast looking for some jump and flip action in their sport as it is flexible and has super strength. Strands are braided together to add this extra durability.
The length of the rope is 75 feet and it is dividing into 4 sections thereby providing the user an option of 4 take-ups off lengths.
Seachoice 86801 5-Section Wakeboard Rope
Key Features
Tensile Strength of 2050 pounds
Rope and Handles Float attached
15-inch handle with EVA grip
16 strand construction
5/16 inch diameter
High-quality rope material with UV protection
75 feet / 23 meters rope length
Although last not least, this wakeboard tow rope has been manufactured from superior quality materials. They are strong enough for holding a tensile strength of up to 2050 Lbs. The wakeboard rope length is almost 75 feet.
The rope handle is designed to have a strong yet comfortable grip through the 15-inch size and its dense EVA grip. The stronger grip is ideal for the enhancement of safety features.
The floats attached to the Seachoice wakeboard rope and handles enables the user to quickly retrieve them if they go inside the water.
The wakeboard rope length is divided into five sections. For the convenience of the user these sections are color-coded as well.
The rope is strong and durable and is capable of holding the weight of a maximum 225 Lbs with one person.
What is Wakeboarding all about?
Wakeboarding is the sport of riding a short rectangular and wide board on the surface of the water. The rider holds the handle of a wakeboard tow rope which is connected to a motorboat.
It is an adventurous sport that is a combination of the fast driven aquatic rush of waterskiing and the thrill and gliding pleasure of snowboarding. Wakeboarding is exciting and thrilling and allows the wakeboarder to be towed around in a water channel behind a jet ski or a water boat.
Holding on to the handle of the wakeboarding tow rope, it gives extreme adrenaline rush as you cut through the water waves at an amazing speed.
Professional and expert wakeboarders are able to perform various types of stunts and tricks as they ride their journey through the water. They can jump and flip not only to amuse others but also to feel the adrenaline pumping in their own bodies.
What Do You Need for Wakeboarding?
Wakeboarding sport is not very complicated. All you need to have is a motorboat or jet ski, a long and wide board, and a tow rope with a handle. This simple equipment used in the right way can provide you the wakeboarding experience you are looking for.
Ropes are used in several other adventure sports as well. The make and type of rope in each of this adventure is different based on the requirements. The rope and handle employed in wakeboarding is also specially designed and manufactured keeping in mind the requirements of this sport.
You need a rope that is strong enough to provide the needed force for carrying out various maneuvering tasks and stunts with ease. The element of safety is also kept in mind while manufacturing this sporting equipment.
Buyer's Guide – Things to Consider when Choosing a Wakeboard Rope and Handle
The material of the Rope
Material is a very important consideration when buying a tow rope for wakeboarding. It is the connection between the boat or the Jet Ski and the rider on the wakeboard. Even the slightest issue in the rope can lead to a mishap or problem for the wakeboarder.
Different materials vary according to their strength, stretching capability, performance, durability, and of course their looks. The best rope materials are the ones that come with spectra features. This makes the rope lightweight and stretch proof. It also adds floating properties to the rope.
The most common types of wakeboard tow ropes are made from Dyneema. This material is UV protected, it can last for a long period of time without being affected by abrasions and saltwater erosion.
The less costly wakeboard ropes are made from poly E material. They have a low stretching capability of about 3% which is acceptable in wakeboarding. Such ropes are suitable for newcomers and amateurs. You can choose the right option according to your own requirements and needs.
Handle Size, Material and Shape
The second most important component of your wakeboarding experience is the type of handle you use. Gripping the rope and the handle in the right way is essential for all types of flips and jumps.
Handles are also made from different types of materials and have different designs. You should select a design that is ergonomically comfortable and ease to grip for long periods of time.
Many of the wakeboard rope and handle products come with aluminum handlebar cores. These handlebars are then coated with various types of anti-slip and strong grip materials like EVA, Foam or PVC.
Some of these materials have water buoyancy that allows the handle and rope to stay afloat the water if it falls from the rider's hand.
The size of the handle is also of vital importance. If the handle is too small the rider may not be able to hold it with a strong grip with both hands. If it is too large it may obstruct your ability to maneuver the handle while making stunts during your ride. The average wakeboard handle ranges in size from 6 inches to 15 inches.
Length of the Rope
Most of the wakeboard tow ropes have a length that ranges between 55 to 80 feet. Different lengths of ropes are used to adjust for different types of riders. For beginners, you usually use a small length while the better you get at the sport, the longer the length of your rope.
Smaller ropes help to keep the rider closer to the boat and are much safer. Long ropes keep the rider away from the boat and used for advanced level wakeboarding stunts.
Many of the wakeboard ropes are divisible into sections. Most commonly they have 5 sections. This means that this rope can be used by different types of riders and surfers.
How do You Choose a Good Rope?
The entire action of the wakeboarder in the water is dependent on the rope. A slight adjustment in the length of the wakeboard can make a huge difference for the rider. It can lead to a pleasurable height of adrenaline rush or a hard hit landing of low morale through failure. It all depends on your rope. So, selecting a good rope is critically important.
For beginners, choosing the right wakeboard rope can strongly affect your learning process and do wonders for you. Vice Versa, selection of the wrong rope with inferior quality and properties can make a very adverse impact, making the learning experience really hard.
A lot of people new to wakeboarding sport have the misconception that the ropes used in waterskiing are equally suitable for this sport. However, this notion is not correct. The ropes may look the same from the outside, but their make and type are very different. Wakeboard ropes are specially designed with materials that have minimum stretching capabilities. They help the wakeboarder in maximizing the air time he or she has and make the water surfing and cutting activity smoother.
Beginners should mostly use a rope that is shorter. As you progress up the learning curve, you can increase the length of your rope. To keep it simple and convenient, most wakeboard ropes come with larger lengths that are adjustable through division into sections. Longer lengths are also great for higher jumps and wider cuts.
If you are an old-timer, the selection of your rope will depend highly on your own personal preference along with quality and material.
But what does make a rope the best? There is no hard and fast rule for determining this. Most beginners should experiment first and use a couple of ropes of others to decide which is best suited for them. You should practice with someone else to come up with your own preferences and requirements. For the experienced and professional wakeboarders, this selection will not be a very difficult task.
Whether you are a professional or a beginner, either way, our list of top 10 wakeboarding ropes and handles will be very useful in the selection and purchase process.
Tie the Rope and Grab on to that Handle!!!
A combination of surfing, skateboarding, and snow skiing, the wakeboard adventure involves a simple wide board with rubber bindings that help the rider hold on to it. The only connection between the wakeboarder and the boat is the tow rope and handle in between. Scary for some but adventurous for others, wakeboarding provides the extreme adrenaline rush that no other water sporting activities can match.
Unlike regular water skiing, wakeboarding involves the rider loading up the rope and propelling off from the wake. This is how he or she pulls together various tricks and stunts. A good rope will not only improve your experience but also help you perform better in the sport. I am sure our list will surely help you make a wise decision and select the best wakeboard rope and handle for yourself.