Have you just discovered the early signs of hair loss? Well, it can be undoubtedly a traumatic situation! While some popular hair loss treatments include serums, shampoos, conditions, and serums; they are not permanent. So, if you are looking for something lasting, you should look out for laser caps.
Since there are many options available in the market, choosing the right laser cap can be a bit overwhelming. So, for your convenience, we have compared two of the most popular brands out there: iRestore vs. Illumiflow. This will not only make things easier for you but you will also be able to make a well-informed decision. So, let's get started!
iRestore is an FDA-approved procedure that helps in the restoration of hair in both men and women without the need for any surgery. It works by using a low-level laser light therapy (LLLT) and LED lights for the improvement in hair health and the stimulation of hair growth. Apart from making your hair look stronger and thicker, this procedure will also make it look fuller. Currently, iRestore offers two types of laser hair remedies that are the core products of the company. These remedies are known as iRestore Essential and iRestore professional.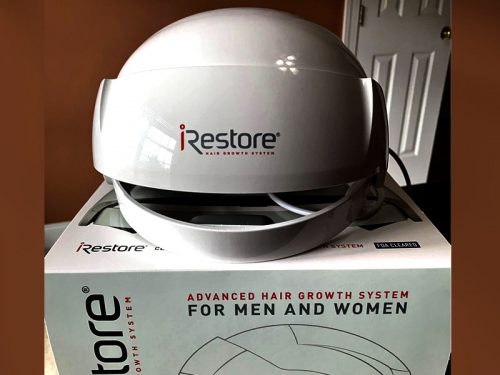 On the other hand, Illumiflow laser caps are LLLT devices that not only aim to restore the hair that is lost but also improve hair growth. It is an effective treatment for hair loss in both men and women. These laser caps are FDA approved which makes them safe to use on both the hair follicle and skin. You can get this product in two different variants. While one variant comes with 148 diodes, the other has 272 of them. So, the one with more diodes covers the scalp better than the other. Other than that, there is no significant difference between its variants.
Comparing iRestore with Illumiflow Hair Helmet
| | | |
| --- | --- | --- |
|   | iRestore | illumiflow |
| Price |   |   |
| Therapy Duration | 25 minutes every other day | At least 30 minutes 3 times a week |
| Treatments | 18,000 treatment sessions | 20,000 treatment sessions |
| Size | Available in one size that fits all | Available in one size that fits all |
When it comes to laser caps, iRestore and Illumiflow are considered among the top companies. That's because they never compromise on their products in terms of reliability, safety, and durability. Not only this, but both of them use advanced technology for effective results and satisfaction of their customers.
Other than that, iRestore and Illumiflow use LLLT technology in their devices. Apart from this, they are FDA-approved as well. This means the brands fulfil all the safety standards set out by the authorities. This is what makes them completely safe to use.
Some Major Differences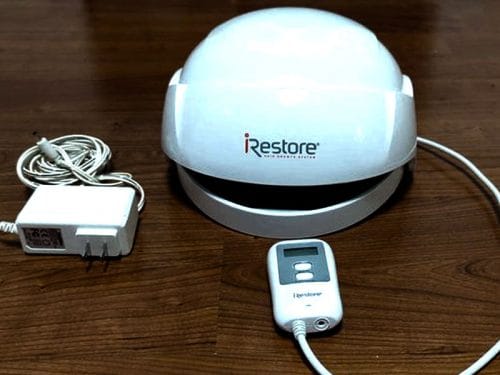 Even though both iRestore and Illumiflow are similar in a lot of ways, there are also many differences between the two products. We have listed and compared these major differences below for you. In addition to this, we have also determined a clear winner in each case that will help you pick the perfect match for your needs!
Warranties and Return Approaches
All of us hope that the device we buy works great so that there is no need for any customer satisfaction guarantee or warranty. However, these factors still offer satisfaction to the customers. For this reason, it is incredibly important to know where iRestore and Illumiflow stand in terms of warranties and guarantees.
As far as iRestore is concerned, you get a one-year warranty if the laser cap breaks down. Other than that, the company also offers a money-back guarantee if you do not see hair growth after twelve months of use.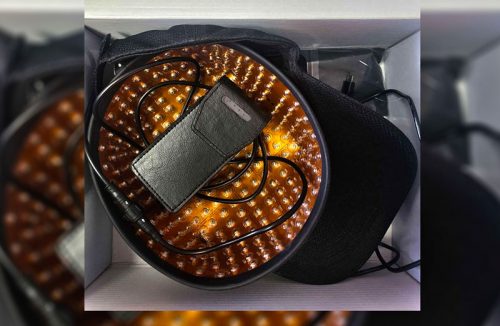 When it comes to Illumiflow laser caps, the company offers a five-year warranty to the customers – no questions asked! Additionally, there is a money-back guarantee of six months for customers' satisfaction.
Product Differences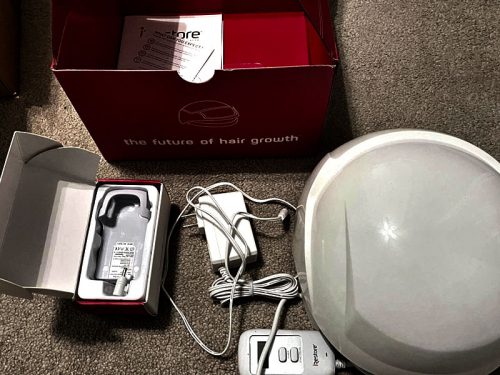 As mentioned above, iRestore works by using both LEDs and lasers in its laser caps. It has a total number of 282 caps in which LEDs are also included. However, LEDs cannot treat deeper tissues as effectively as lasers can. Not only this, but their power is also lower than the lasers and having high power is an essential factor for better results.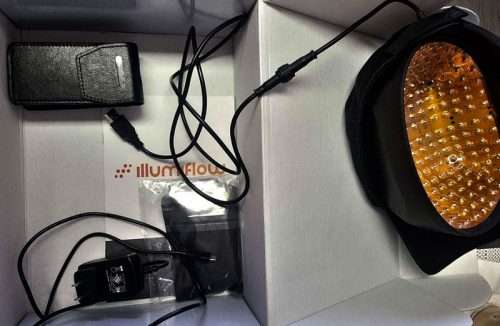 In contrast, Illumiflow only uses laser diodes technology for its laser caps. There are a total number of 272 laser caps that only use laser diodes. This is what makes the Illumiflow capable of reaching the right tissues. So, in short, the more laser diodes a laser cap uses, the more effective it is for full scalp coverage.
Therapy Time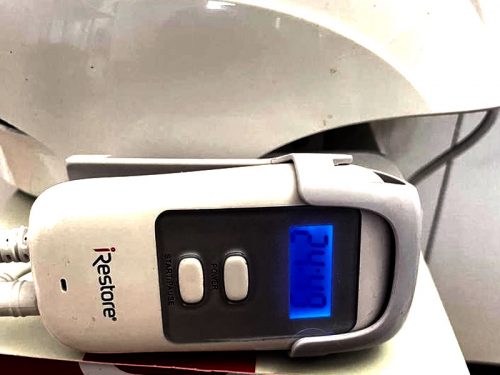 With iRestore, you can see visible results within twelve to twenty-four weeks if you continuously use the device for just 25 minutes every other day. However, the therapy time of Illumiflow is at least 30 minutes which is a bit longer. But, you need to ensure that it does not exceed 60 minutes as it can be harmful to you.
Size & Design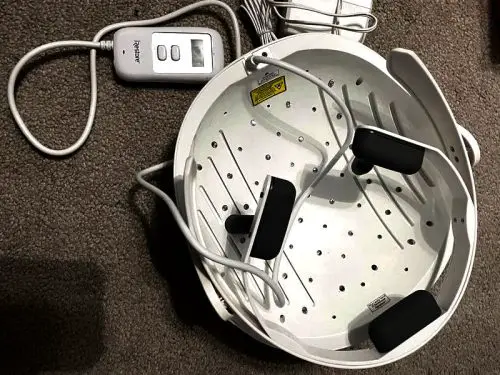 The size and the design of the laser cap that you purchase will determine how discreet your therapy can be.
The design of the iRestore laser caps houses red components on a large helmet. So, it is obvious that you cannot use it discreetly. However, when it comes to Illumiflow, you get a discreet and lightweight design that you can easily hide in a basketball cap.
Portability
When it comes to laser caps, having a portable option is always a nice idea! These days, laser caps are available with two power sources: wall chargers or batteries. While you will have to sit close to a power port with a wall charger, this is not the case with batteries. You can move and sit wherever you want and that too at complete ease.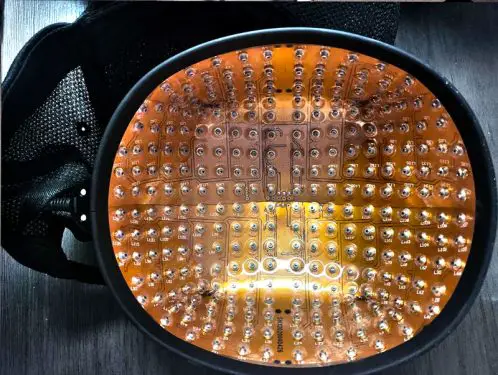 For the convenience of its users, Illumiflow comes with a battery pack upon its purchase. So, you can take the device wherever you want without worrying about finding a power source. On the other hand, iRestore only offers a wall charger to the users unless you purchase a separate pack of batteries. This can cost you an extra $40!
Working of these Laser Caps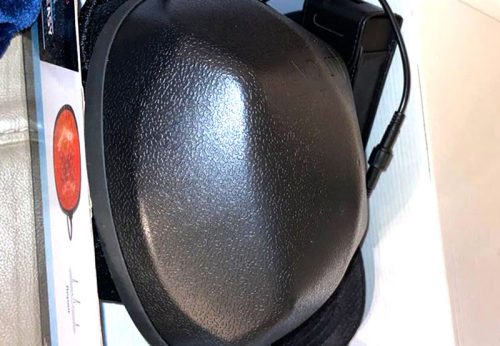 The detailed working of iRestore and Illumiflow laser caps are mentioned below for you to check out.
As opposed to some conventional hair treatment solutions, iRestore is completely safe to be used by both men and women. The device works by using low-level light therapy or LLLP. This technology helps in the regrowth of hair by increasing the energy efficiency in the body and improving the metabolism of the cells. All of this takes place at the follicular level resulting in the growing back of the healthier, thicker, and fuller hair. In addition to this, the light energy present in the device also helps in nourishing and stimulating the hair follicles. As a result, they get the energy to fight breakage that arises from brittle and dry hair.
Illumiflow uses a medical-grade laser that produces light energy on both the hair follicle and the scalp. According to research, the optimal frequency of the wavelength is between is 630nm-670nm which is essential for promoting thickness and hair growth. Apart from this, the technology also works on different mechanisms such as improving the supply of blood to the hair follicles and the scalp that encourages the process of growth. Additionally, it decreases shedding and slows down the hormones that are responsible for hair loss. In short, the working of the Illumiflow laser caps is the same as any other device. The only difference is that they use a higher number of lasers.
How to Use these hair helmets?
iRestore
Position the device comfortably and securely on your head.
Make sure that you place it properly on your head. Otherwise, the safety sensor present on the device will not let it start.
Press the START button and your session will start.
If you remove the device during a session, the session will be paused automatically.
To resume the session, place it back on your head and press START.
The device will automatically shut off once the session is complete.
You must use the device for 25 minutes every other day for effective results.
Illumiflow
First of all, charge the laser cap.
Once the device is fully charged, place it on your head.
Make sure that it covers the entire affected area.
Turn it on and let it sit on your head for at least 30 minutes.
Do not exceed 60 minutes!
You must repeat the entire procedure at least 3 times a week.