If you're on the heavier side, you understand the struggle! Only a few months after buying your mattress, a permanent dent starts to form where you sleep. The mattress starts to lose its support, firmness, and buoyancy—basically; it becomes a lump of foam that leads to nothing but sleepless nights and back pains! More often than not, you find yourself just passing out on the living room couch because that seems more comfortable than the mattress.
Mattress shopping is hard enough as it is since you have to cash out the big cheques; without being accompanied by the disappointment of your mattress giving out on you after 3 or 4 years.
Well, what you need is a mattress specifically designed for withstand weight, that's going to be strong enough to support your weight while providing comfort, and durable enough to last you a good decade or so!
When it comes to choosing which mattress to get, the market can be intimidating and it can be hard to figure out which is the best one for your body weight and sleep pattern.
The comfort level of a mattress is unique to everyone. If you're a side sleeper, you probably need something that provides a little more sinkage and pressure relief.
On the other hand, if you like sleeping on your stomach or back, a firmer mattress will probably be the more comfortable choice for you as that keeps your spine aligned.
To help you out, we've compiled a list of some of the best mattresses for heavy people.
Our picks for the best mattresses for heavy people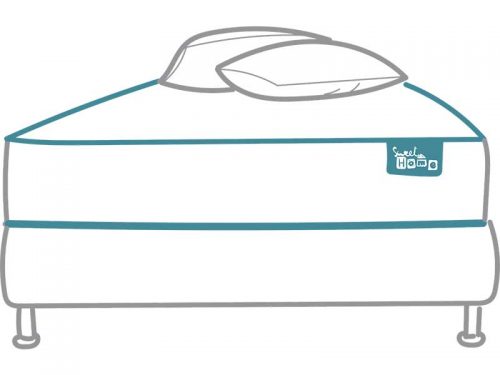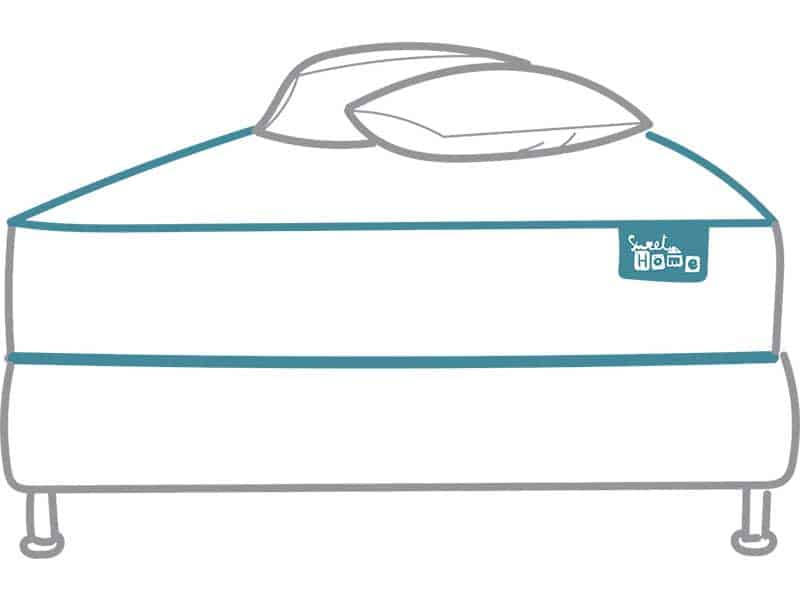 We've picked out the best mattresses based upon their build, materials, durability, support, buoyancy, and comfort.
Whether you're a side sleeper, back sleeper, combo sleeper, or you prefer sleeping on your stomach, if you're over 200 pounds, you'll find something that's right up your alley in this list!
So let's get on it with it, shall we?
Helix Mattress
Helix offers a variety of good- quality mattresses; however, the Nightfall version of the Helix mattress has been specifically designed for big and tall people.
The Nightfall is a hybrid mattress which means it uses both coils and foam to provide support rather than just innerspring tech as used by Saatva or just memory foam as in the nectar.
This takes the number one slot on our list because it comes with the best cooling properties (for those of you who tend to get very hot while sleeping) as compared to other mattresses.
Plus, it's suitable for all kinds of sleeping positions- back, stomach, side and combo while still providing the sufficient support that heavy people need as opposed to other mattresses which are better suited for one or the other.
It also allows you to choose your firmness comfort level from 6 different options- 2 for firm, 2 for soft and 2 for a medium firmness. So there's bound to be something for everyone!
What puts it over the edge is that it offers others benefits similar to other mattresses, with the addition of better cooling properties for a much more affordable price point!
The top layer of this mattress is made up of breathable polyester, followed by a dynamic foam layer, unlike other mattresses, which typically work with a latex layer.
This dynamic foam works similarly to the latex but provides added firmness and comfort.
Coming to the cooling aspect of this bed, which makes it more desirable than its competitors in the first place, this bed uses a gel memory foam layer rather than regular memory foam along with individually pocketed coils, and extra 2-inch space.
The gel memory foam works better than a regular one when it comes to dispersing the body heat around for cooling of the mattress.
This cooling is also aided by the air space in the coils which allows air to flow through easily and cool down the temperature.
If that isn't cool enough for you, you also have the option of adding an Ultra-cool layer on top of the polyester cover!
The main support of the mattress is provided by the pocketed coils which work better than regular springs since they are individually wrapped with fabric, allowing them to also help to stop the motion transfer.
This simply means that if you sleep with a partner, you won't be able to tell every time they get on or off the bed, change their side, etc. which can be great if you're a light sleeper.
The extra inches allow you to sink deeper into bed for a more comfortable sleep. This makes it perfect for side sleepers as well who will find beds like Saatva too firm for their liking.
It does also work great for other sleeping positions such as the back, stomach, and combo, as it is firm enough to allow the spine and hips to align properly when you're sleeping.
There is edge support provided by an added layer of polyfoam around the edge of the mattress. So feel free to move around without the fear of falling off the edge!
It does lack the body contouring abilities of a regular memory foam mattress.
However, considering that it's built with durable materials and can provide the ideal comfort for most sleeping positions because of its customizable options, it's definitely worth the buy.
Saatva Mattresses HD
The Saatva is an innerspring mattress that does come in various versions; however, the HD is specifically designed to provide sufficient support for heavy people.
The mattress has multiple layers of latex, foam, and springs that work together to provide a medium-high firmness that works best for back, stomach, and combo sleepers.
The top layer of the mattress is an organic cotton layer that's not the only eco- friendly but also quilted with foam. This is followed by a latex layer underneath.
Both these layers work together to provide an instant feeling of comfort while still giving you a bit of a bouncy feel when you first lay down on the mattress.
The latex layer also works as a cooling layer to disperse your body heat to allow for a cooler sleep.
Underneath the latex, is an added memory foam layer that provides additional comfort.
However, similarly to Helix, since this memory foam isn't the primary layer of the mattress, it won't give you that same full-body contouring support that a lot of people look for in a traditional memory foam mattress.
The main sources of support in this mattress are the dual coil layers. In comparison, most hybrid and innerspring mattresses only come with a single-coil layer.
The added layer simply provides more support for heavier people while still allowing enough mobility to roll around the mattress without feeling like you're 'stuck in the mud'!
This mattress works best for people who are combo, stomach, or back sleepers.
Since it's higher up on the firmness scale, it won't provide sufficient pressure relief if you sleep strictly on your side, so you might want to look at some of the other choices like the Helix or Purple mattress for that.
Pressure relief essentially means that it takes away the tension from places such as hips, shoulders arms, etc. after a long tiring day.
When it comes to a motion test, this bed doesn't hold up as well as its competitors such as the Helix because of the combined buoyancy provided by the latex and springs.
However, when it comes to quality, you are genuinely getting what you pay for, since this mattress is built with durable materials to last you at least 20 years and comes with a 120 nights long trial period.
If you're looking for a memory foam version of this mattress, Saatva offers the Leaf and Loom. It's another eco- friendly mattress that offers 2 levels of firmness, appropriate pressure relief and a cool sleep.
Winkbed plus mattress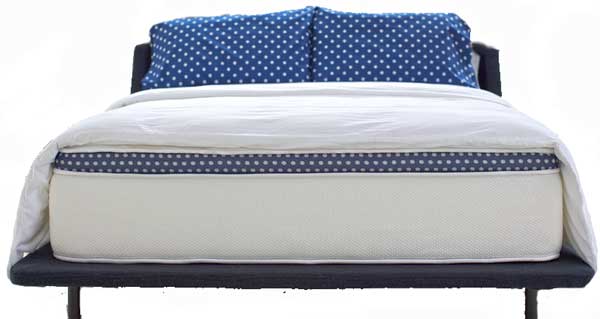 The Winkbed plus mattress version is another great hybrid option on our list that's specifically designed for heavy people.
It provides more bounce and support when compared to the Helix Nightfall and Saatva. However, when talking about motion isolation and conforming comfort, the Helix definitely wins.
The conforming comfort refers to the sinking feeling provided by the memory foam layer in the mattress.
This mattress is quick to respond to pressure and provides instant comfort as you lay down on it because of the soft top cover that's quilted with durable foam.
This cover also works to aid in the cooling of the mattress.
Since it is a hybrid mattress, the structure of the mattress consists of coils and foam.
Similar to the Saatva, there's a layer of perforated latex above the polyfoam and coils that not only aids in cooling but also provides that much-needed bounce in a mattress.
The pocketed individually wrapped coils that act as the main support system of the mattress also have a lot of space that gives adequate room for airflow and cooling.
It has a very strong high-density polyfoam base that provides edge support and base support for the entire mattress.
The mattress provides medium firmness and can easily support people weighing more than 300 pounds while providing appropriate pressure relief.
Keep in mind, the heavier you are, the softer the mattress will initially feel until you hit the firm layer. Even then, you will be able to move around the mattress pretty easily.
This mattress works best for the stomach, back, and combo sleepers.
Brooklyn Bedding Titan 11
The titan is yet another strong competitor in the market of the best mattresses for heavy people.
Similar to the Winkbed and the Helix, it's a hybrid mattress that makes use of individually wrapped coils and multiple layers of foam to provide a very supportive and comfortable mattress.
However, in place of latex or dynamic foam, for a comfort layer, titan mattress makes use of Titan flex foam.
Although this foam is also quick to respond to pressure and offers a lot of buoyancy, it's not as conforming as the latex or dynamic foam used in the Winkbed or Helix.
This mattress is best suited for back sleepers rather than side sleepers because of the increased firmness of the mattress, which can come up to about a 7 and a half on the firmness scale out of 10.
This does mean that it provides sufficient lumbar support and pressure relief in the shoulders as you lay down on your back.
The cover of the mattress is a polyester cover that's quilted with about an inch of memory foam that provides a soft surface to balance out the increased firmness, especially when lying down on your stomach.
The coils of the mattress are 6 inches long, which means not only is there a lot of air space to aid in cooling, but they also control the motion transfer on the bed, allowing you or your partner to easily move around at night without disturbing the other.
Even though the coils aid in cooling, it's not as cool as the Winkbed or the Helix as the Winkbed's cooling system is also aided by its top cover.
However, to counter this heat, you can opt for a special Phase Change material cover to go over the polyester if you live in especially hot conditions and tend to sweat during sleep.
Avocado Mattress
If you're looking for an eco- friendly, very naturally produced mattress, look no further than the Avocado mattress.
For example, the latex layer of this mattress is very made from the sap of a rubber tree and it comes with an organic cotton cover.
However, being made from organic materials with available vegan options, does not compromise on its durability as this mattress uses coils, latex, and an air spring form to provide a very supportive and long-lasting mattress for heavy people.
With a medium level of firmness, this provides sufficient back support because of the coils and sufficient pressure relief when sleeping on your side.
However, when sleeping on your stomach, your hips do tend to sink into the soft layers of the mattress which makes this slightly uncomfortable for that position.
This is because when you sleep on your stomach, you need a relatively firm surface that's going to align your spine and hip properly, but is also soft enough to prevent pressure build up on your chest.
If you're ordering the mattress, just by itself, it's going to be a lot firmer, however, if you want to take that firmness down a notch, feel free to get the mattress with the added pillow topper.
In comparison, the Helix mattress allows you to choose your desired firmness level from a given range and even offers to customize two sides of the bed with different firmness levels to accommodate to the needs of 2 different people.
This eliminates the need for an added pillow- topper with the Helix. However, the Avocado does provide more support overall because of its greater thickness compared to the Helix.
This is a traditional innerspring mattress like Saatva and comes with a 25-year warranty.
Nectar mattress
Nectar is by far the most affordable mattress on this list that still puts up a good fight against its competition.
This is a simple memory foam mattress that uses a base layer of poly foam and a quilt gel memory foam layer for added support, cooling, pressure relief, and motion transfer reduction.
However, since it is memory foam, laying down in it will provide that classic memory foam body-hugging support that basically conforms to your body shape.
It's a good option for heavy people looking for a memory foam mattress; however, it's still nowhere near as durable as its hybrid or innerspring competitors in the long term such as the Helix or Saatva.
This is because memory foam tends to break down faster over time compared to springs in mattresses.
When compared to the Helix, it definitely won't be as bouncy either because it lacks the spring and the latex layer. You're more likely to sink 'in' the mattress a little rather than be 'on' top of it.
That being said, it will support all users with side, back stomach to combo sleeping positions due to its medium-level firmness.
Purple Hybrid Premier

Last, but certainly not the least on our list are the especially bouncy purple hybrid premiere mattresses.
What makes this mattress unique from all others is its use of an innovative technology known as the hyper-elastic polymer purple grid (in combination with coils and foam of course) to provide a particularly springy mattress.
The softness of the mattress can differ based on the type of mattress you get.
The premier version of the mattress offers you two options, with either 3 inches or 4 inches of the purple grid, whereas the simple hybrid version comes with 2 inches of the purple grid.
When compared to foam mattresses, the hyper-elastic purple grid makes the purple mattress much more durable. It works as a pressure relief the moment you get on it, while also providing support.
Along with this grid, the mattress uses latex, memory foam, and individually pocketed coils for added support and comfort.
Its buoyancy, responsiveness, and firm, yet soft feel make it usable for all types of sleeping positions depending on the version you get.
We recommend purple 2 for back and stomach sleepers as that's the most firm, purple 3 for combo sleepers ad 4 for side sleepers who need the most pressure relief.
This does not hold back on the coolness either as the top layer of the mattress allows efficient airflow through the mattress.
Purple mattresses are quite a hit or miss with people. Those who love it, swear by it, and those who don't, well, they simply don't understand what the hype is about.
If you want to avoid the feeling of sleeping on foam and latex layers, definitely go for this brand of mattresses.
On the other hand, if you prefer that slight memory foam feel of a mattress, or like sleeping on mattresses with a pillow- top covers, we recommend opting for the Helix instead.
Luckily, as with most mattresses, it comes with a trial period of a few months so you can always return it with you end up disliking it!
Conclusion
When looking at the best mattress on the list, we recommend the Helix mattress, as it's not only compatible with all sleeping positions, but also comes with an efficient cooling system.
A similarly great mattress to the Helix is the Winkbed which provides additional support for people over 300 pounds with decreased motion isolation.
Opt for the Saatva if you're looking for the best innerspring mattress to buy, however, for a softer, memory foam version of the Saatva, opt for the leaf and loom mattress.
If you're specifically looking for a very bouncy mattress, we recommend the Purple mattresses.
Lastly, if you want to purchase a memory foam mattress while saving some cash, we recommend the Nectar mattress.