It does not matter whether you are a novice backpacker wanting to explore the great outdoors for the first time or a regular camper finding new ways to enjoy your activities in the wild, your packing list cannot be complete without a stove. You need to carry this piece of utility everywhere you go in your backpack. Having the best wood burning backpacking stove is not only important but essential. It should be light, it should be compact and it should be easy to carry along. You should be able to set it up in a matter of minutes and even seconds without much effort.
And most important of all, it should be able to burn with fuel available in your surroundings.
Camping is a fun activity but it can be tiring. With all the walks and exploration in the woods and on the trail, nothing can be better than to have a scrumptious hot meal at the end of the day followed by a good night's sleep. But it is not easy to build a fire for cooking when you are this tired.
It is therefore essential to carry a wood-burning stove with you during such adventures.
In this article, we will be talking about 9 of the best wood burning backpacking stoves available in the market.
A brief description of the products will help you make an informed decision about your purchase.
You can choose between the Biolite CampStove 2, Solo Stove Lite, FireBox Bushcraft Fire Burning Kit, KampLITE Wood Burner, and Emberlit Stainless Stove.
And many more exceptional options.
BioLite CampStove 2 – Best Overall
Key Features
It generates 3 watts of electricity.
Its battery can store excess power.
It has a USB charge output which has 50% more power
It provides you with a kettle pot which stores 1.5 liters of water.
If you are someone who likes technology and wants to add a little tech fizz in your camping adventures, then this is a great buy for you. This Campstove is capable of generating 3 watts of electricity which can be used through the USB charging port to charge your mobile phones, LED lights, or other devices.
Its internal battery 2600 mAh is rechargeable and can store in excess power to charge your devices even if there is no fire.
Campstove 2 is an advanced model with 50% more power in its USB charge output, updated thermoelectrics which provide more electricity from the fire, internal jets providing 4 advanced fan speed settings which help you boil 1 liter of water in 4.5 minutes.
Along with this, the best part is they provide you with a portable grill, which makes the Campstove a grilling surface on which at least 4 burgers or six hot dogs can be made.
Likewise, you get a kettle pot along with this which looks like a pot but pours water like a kettle. It can hold up to 1.5 liters of water.
Why do we like it?
It has a rechargeable battery that is capable of storing excess power to charge your devices even without the presence of fire.
Updated thermoelectric which provides more electricity from the fire.
LED dashboard which gives you timely feedback on the fire strength.
Internal jets have 4 fan speed settings that help circulate and regulate air to boil 1 liter of water in 4.5 minutes.
It provides you with a portable grill.
It also provides you with a kettle pot which can store 1.5 liters of water and pour it out like a kettle.
Downside
The portable grill and the kettle pot increase the weight as a carrying case for the Biolite Campstove.
It is slightly an expensive item compared to the previous model.
The Solo Stove Lite – One of the Lightest stove
Key Features
Weighs only 9 oz.
Made from Stainless Steel and chrome wires
Comes with a carry sack
Compact space-saving
Does not require fuel
It is a smart and lightweight product that frees you from the worries of carrying fuel for burning fire during your camping trip. You can conveniently utilize other biomass fuel forms like pine cones, leaves, twigs and small sticks to burn a fire in this stove.
It is smartly designed to emit a minimum amount of smoke during the burning process. The side cut-outs are ideal for adding in new twigs and sticks and poking the fire to make it last longer.
It has been awarded the #1 position in the wood-burning backpacking stove category by the popular Backpacker Magazine.
It may seem heavier than other products in the market but it is definitely lighter to carry when you do not need any fuel to keep it lit. It saves you effort and space in your backpack. It is efficient, flexible and can be used for meeting your cooking and heating needs.
Why do we like it?
Made from high-quality material without any moving parts that can be breakable
Lightweight
Durable and long-lasting
No need to carry fuel
Ideal for small fire cooking and heating
The Downsides
Small fire takes longer to cook and heat
Smoke produces soot that can cause blackening of the cookware
Not permissible to burn wood in some places
Firebox Bushcraft Camp Stove Kit – For Families
Key Features
It is multifunctional and can be used in different situations
It comes with a number of accessories to meet diverse cooking and heating needs
Made from thick stainless steel for durability and extra strength
Foldable for portability and carrying in a backpack.
This is the most versatile camping and wood burning stove in the market. It can be a little difficult and annoying to assemble but its utility and usefulness overshadow this inconvenience. Once you get familiar with it, you can put it together in no time.
The stove comes with several different accessories including fire sticks and a detachable ash pan. The fire sticks can be used as grilling skewers as well. The different accessories can be put together differently to make this stove standout in its versatility and utility.
The ability to adjust the fire flame makes it the best backpacking stove for simmering.
It is, therefore, best if you plan to use it for different purposes and in different situations.
The fuel delivery feature is unique and helps in altering and strengthening of the fire flames. Made from high quality thick stainless steel material it is quite durable and long lasting.
Why do we like it?
It is multifunctional and versatile
A unique feature of adjustable fire flame
Comes with many accessories
No smoke issues
Easily collapsible to pack and go
The Downsides
Heavier than other stoves
Weighs almost three pounds
Difficult and time consuming to set up
KampMATE WoodFlame – Stove for Groups
Key Features
Sufficiently sized and lightweight
Easy and quick to setup
Foldable for portable and storage
Great design and sturdy stainless steel structure
Burns all types of biomass
This is a low budget good quality backpacking stove that is best suited for beginners and novice campers. The stove can be used for cooking and heating and uses various types of biomass fuel including sticks and wooden twigs, charcoal, and even leaves.
Known for its lightweight, it is easy to carry along without any hassle or extra load. Its foldable structure allows the user to pack it up in your backpack or carry case easily and conveniently.
It is not difficult to assemble and set up and can be put together in no time with very little effort. You can make small coffee breaks and snack times without wasting lots of time on setting up the stove and starting a fire.
Due to its simple design and less number of parts, the stove is very easy to clean and does not require very high-level maintenance. Made from heavy-duty thick stainless steel material, the stove is durable and long-lasting and has a sturdy look.
It makes your requirement to carry along fuel on a camping trip vanish and hence provide a lightweight solution to your problems. It is portable, affordable, and functional.
Why do we like it?
Folds flat for storage and carrying
Lightweight yet sturdy and durable
Large-sized and stable
Comes with carrying case
Convenient and easy to assemble
Suitable for various forms of biomass fuel
Affordable and low budget.
The Downside
Large size may be a dislike for many
Emberlit Stove – For Hunting
Key Features
Made from durable stainless material
Foldable to pocket size
Easy to use and clean
Stable and strong
10 minutes water boiling time
Lifetime warranty
The stove may not come from a renowned brand in the camping gear industry, but it is sure worth a mention. Although new, this manufacturer offers a great variety and creativity in camping equipment.
The Emberlit backpacking stove is made from good quality stainless steel material which is thick but weighs only 11.3 oz. This makes it easy to carry along on long walks and hiking endeavors. It is strong and sturdy structured and can last with you for a long time.
This model is also resistant to various harsh weather conditions and this makes it ideal for the great outdoors. The corrosion-proof body is a good value for your money.
Like many other backpacking stoves, it can work with a variety of burning options including leaves, pinecones, twigs, and wood. You can also use charcoal with this stove.
It is easy to set up and does not require any complicated manuals to work with. The sturdy design is stable and does not wobble while cooking. With simple maintenance and assembly, it is very simple to clean.
Why do we like it?
Can fold to a very compact size
A folded stove can even fit in your pocket
Works with all-natural and biomass fuels
Quick to assemble and easy to use and clean
Sturdy and stable to hold large pots and cookware
The Downside
Because it requires an assembly before cooking, it may be a little time-consuming.
Ohuhu Stove – Best for Outdoor Adventures
Key Features
Made from sturdy and durable material
It is stable and safe to use
It uses all types of natural fuels
Cost-effective and efficient
Can be used for backpacking, camping, and even back yard BBQs
Considered a great option by many campers around the world, this stove is known for its durability and strength. It gives you great value for your money and is a good option for investing in.
The body of the stove is made from thick stainless steel which may be a little a heavy as compared to other stoves but it sure is strong and long-lasting. It weighs around 14.2 oz. The design has an inner burning chamber that can use both biomass fuel and other flame burners like fuel tablets and charcoal.
The windows on the side allow sufficient air passage for efficient fuel burning and ventilation. With its 3 armed integrated design, it is able to hold large heavy pots and cookware very easily.
The product comes with a storage pouch mesh for protection and portability.
Why do we like it?
Affordable and cost-effective
Durable and sturdy
Usable with different fuels
Stable to hold large pots and pans
The Downsides
Weighs more and can be difficult to carry
With prolonged use stability arms can wear off
TOAKS Stove – For Travelling
Key Features
Made from strong Titanium material
Lightweight yet stable
Compact sized
Easy to set up and assemble
One of the best options in the wood burning backpacking stove category, this model by TOAKS is a compact and lightweight stove ideal for carrying along with trips. Suitable for all types of outdoor excursions, the stove is designed for efficient fuel burning. It is usable with all types of natural and biomass fuel forms.
The design comprises of 3 distinct parts that can be fully separated and roll into one and other for easy portability and storage.
The package includes a nylon carry sack that can be very useful while moving around on trails and hiking tracks.
With so many features and extra stability, it only weighs 7.9 oz.
Why do we like it?
3 separate parts that stack in for easy storage and carriage
Effective design for efficient wood burning
Titanium body with durability and stability
Lightweight and compact
It comes with storage nylon sack.
The Downside
Fuel-burning is quite fast
Produces lots of smoke
Bushcraft Essentials – For Camping
Key Features
It is lightweight and easy to carry
Made from stainless steel material
Foldable to pocket size
Durable and multifunctional
One of the most desired features of a stove in camping adventures is its ability to pack into a backpack. This model by Bushcraft Essentials can easily fold into a small-sized compact product that can even fit into a pocket. This is a very good feature as it saves you space to carry long other essential items and also keeps your carrying load less.
It weighs almost 9.5 oz which may be a little more compared with its counterparts but it is still considered in the lightweight bracket.
Like all wood burning stoves it can work on various forms of biomass and natural fuels including cotton pads and wood shavings.
This product is known for its multifunctional design and versatility. It has two trivets that can help in holding various types of pots and pans easily.
The package includes a cotton carry sack for storage and protection.
Why do we like it?
Versatile and multifunctional
Lightweight and durable
Foldable into pocket-size form making it very easy to carry
The Downside
Storage bag made from cotton is not long-lasting
Takes time to assemble
überleben Stöker – For Cold Weather
Key Features
A good quality backpacking stove made for the experts in camping. It burns both artificial and natural fuels and hence it is ideal to use in winters as well. One drawback of wood burning stoves is that they cannot burn wet inputs in winters and very cold weather. So, they should be able to work on different fuels. The same is the case with this product.
It is a must-have piece of equipment for campers, backpackers and other outdoor adventure lovers. It is even recommended as a survival kit component.
You can use organic biomass fuel of various kinds to keep this stove functional. From twigs to leaves to moss, tree barks, needles, and cones of pines you can use anything and everything that burns in the forest for your cooking and heating purpose. Hence the need for carrying extra canisters of fire fuel is eliminated.
You also have the option of using this product with an alcohol-based stove. You can make use of charcoal or Esbit tablets to keep it burning. It is, therefore, versatile and convenient to use in different situations and circumstances.
The product is very lightweight to carry and can be folded up to flat design for space-saving and convenient storage. Setting up the 5 panel structure is very easy and quick. It is made from stainless steel material which makes the product long lasting and durable to withstand high temperatures and various types of climates. It has anti-corrosion properties which are highly useful in outdoor activities.
The package includes a canvas carrying case which is also made from organic materials.
Why do we like it?
It can pack flat easily
Five panels robust and sturdy design
Weather-resistant
Versatile and multifunctional
The Downsides
These were some of the best and top of the line wood burning backpacking stoves available in the market. After going through their description and features you must now be in a better position to decide which might be a good option for yourself.
However, like all good shoppers, before making the final decision, you should also understand and become knowledgeable about the various aspects of this product, it's working, and the factors that you should keep in mind while making the purchase.
What is a Wood Burning Backpacking Stove? Do You Really Need One?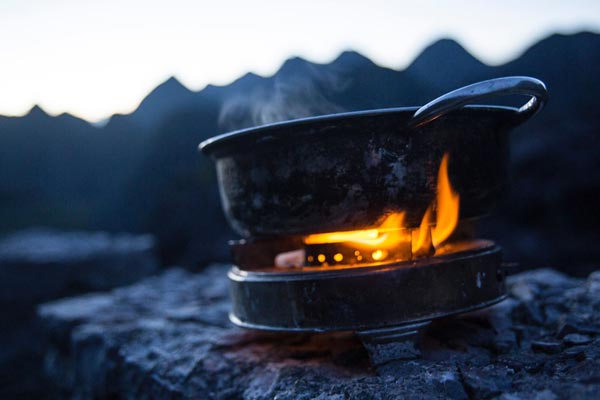 A wood burning stove is a cooking and heating equipment that uses naturally available fuel inputs from its surroundings. You can utilize wood and its various other derivatives and forms to keep your stove burning. In most cases, the stove is made from high-grade heat resistant materials like cast iron and stainless steel.
The designs of various wood burning stoves may differ from one model to another but the basic components remain the same. These essential design components include an outer frame or stand, an inner burning chamber, air controlling vents, and openings, and a base.
These types of stoves are ideally used when you are not carrying or not willing to carry any type of artificial fuel for making a fire. It eliminates the need to carry and use alcohol or other carbon-based artificial fuel inputs when living a life in the great outdoors. It also reduces your expenses by utilizing inputs that are available in your surroundings for free.
This does not mean that it cannot run on other types of fuels. You also have the backup option of using fire inputs like charcoal and gel cans when natural fuel is unavailable. So, they have the versatility of operations.
In older times, most stoves were heavy and difficult to carry, making it highly burdensome equipment in the camping gear. But things are very different today. Modern stoves are lightweight, versatile designs and foldable to carry along easily.
This is a common question that hovers in our minds every time we purchase a new product. Apart from being overwhelmed by the number of products and a variety of options available in the market, you are sometimes skeptical about your overall decision to purchase the product.
Other questions that may be bothering you may include, what is that product all about and why do I need to buy it? What are the advantages and disadvantages of using this product? Can I do without it? Is it in my budget? How can I use it? What are the features that I should be sensitive about? Is this product worth the value of money?
These and many more questions often come into the minds of people buying a product for the first time. For this purpose, we have provided some information and a buyer's guide to help you find your answers.
Things to know before buying a portable Stove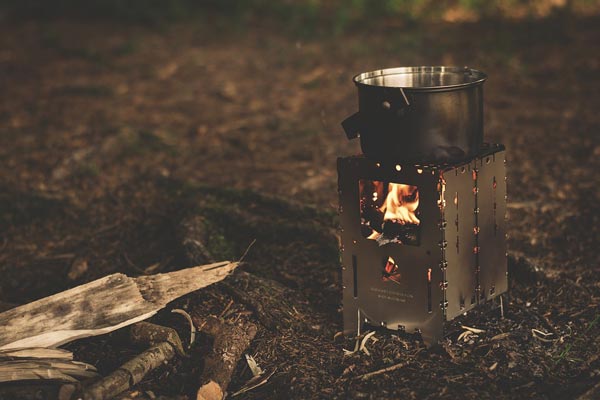 Like all other products, there are some features and characteristics that one should look out for while buying a good quality stove. A brief description of each is discussed below.
Types of Wood Burning Backpacking Stoves
There are mainly 3 types of wood burning stoves for backpackers and campers. They differentiate not in their features but their shape and size. Based on their design, the three types include cylindrical, pyramid and rectangular stoves. The pyramid and rectangular stoves are most easy to carry and store as they most collapse into flat modes or disassemble to become pocket size objects. That is why they are most liked by expert and regular campers and backpackers. The cylindrical option is also very good as it leads the three in fuel efficiency and effective burning of fire.
The Weight
One of the most important aspects of carrying a wood-burning stove in your backpack is its weight. Trekking, hiking, and climbing can all be very difficult if you have a heavy stove in your backpack. Good wood burning stoves have a weight range of 6 – 16 oz.
The Design
As already mentioned in the above discussion, the stoves have three basic designs based on their shape. Most campers prefer using pyramid and rectangular designs as they are collapsible to small sizes and are easy to set up quickly. They have good air ventilation as well.
But that does not mean that cylindrical options are not good. They are more fuel-efficient and provide a better burning function for cooking and heating. Their drawbacks include being overheated and emission of soot which makes the cookware go black.
When selecting the design you should select a model that is easy to set up, convenient to carry, takes little storage space, and can withstand high winds and harsh temperatures.
The Material
This is a very important factor to consider while making a selection of choice. The material of the stove is critical for its durability and sturdiness. Mostly wood burning stoves are made of stainless steel or titanium materials. The latter is lightweight compared with the former ones but they are also more expensive.
So, because weight is a critical issue when it comes to carrying a stove along with you on tracks and trails, buying a titanium made product is more convenient and wise if you can afford it. But if your budget is less and you have stainless steel options with better features that such a product is also advisable.
The Size
Another important feature that is critical for campers is the size of the stove. A too-large stove can be a burden to carry along. The size of the product can be gauged from its base and its circumference. The second dimension to note is the height of the product.
Although there is no perfect best size, it should be sufficient to carry easily, hold various sizes of pots and cookware stably, and should be able to burn a sufficient quantity of fuel for a longer time.
Generally, pyramid and rectangular wood burning stoves have base dimensions of 3.5 to 5.5 inches and 3.5 to 6 inches. The cylindrical products have base dimensions of 4.25 to 5.1 inches. The height of a good stove will range from 4.5 to 8 inches.
When in folded or collapsed form, these stoves can reduce their size to 0.5 inches.
Other Accessories
Customers always feel delighted when they receive more than what they expect. Having other accessories to compliment your wood burning stove is always an added advantage. So, you need to look out for these accessories while making a selection. The most common add-on for a stove is a carry sack or pouch. Some products come with cooking utensils, pots, or pans. Others may have a grill or stand to offer. Some others may even include burning fuels like Esbit tablets and gel cans.
Start Your Outdoor Cooking Adventure in the Most Natural Way!!!
We have highlighted in detail some of the best wood burning backpacking stoves in the market for you. You can carefully go through the various options and make an intelligent comparison to see which product best suits your needs and requirements.
So, do not wait and make a purchase for the best wood burning backpacking stove from our list and let your outdoor adventure begin.