Plants are notoriously hard to take care of, especially indoors where there's no sunlight or natural water. Go a couple of days without watering the more needy ones and boom, you're left with a wilting plant limping across your desk.
Luckily in 2021, technology has a cure for almost everything; enter indoor self-watering plants. Their name is pretty self explanatory so let's cut to the chase; we went through the process of growing a bunch of different plants, indoors, in some of the best indoor self watering plants the market has to offer now.
Some of the plants we grew were thirsty plants like African Violets, Snake plant, Money tree, herbs like Basil, Thyme, Romaine Lettuce, Sprouts, and many more. Continue reading our in depth review of how each product did.
7- Window Garden Aquaphoric Self Watering Planter
At number 7 in our review, we had this impressive self watering planter, with features that we thought were tailor made for those just starting out on indoor gardening. The plants we grew in this self watering planter during our review were African Violets and herbs like Basil. Here's how we fared:
As mentioned earlier, the whole planting experience with this planter seemed very thoughtfully planned to meet the needs of those just starting out. Everything a beginner might need, from soil to adequate instructions, it all came with the package.
The soil was advertised as an oxygen rich fiber soil, the concept sounded promising but it had its own pros and cons. For the sake of finding out if this soil truly did wonders, we planted the same plants in standard soil taken from our garden and we noticed that the plants in the oxygen rich fiber soil grew taller and were more vibrant.
The downside of the soil, however, was that with repeated watering, we found it to be prone to get molded, which is something you should watch out for.
Overall, this was a very functional self watering planter. There was an easy to read water level indicator to prevent over-watering. We liked the overall build quality, apart from a few design issues.
It is also worth mentioning that this was a lightweight planter and we liked its overall aesthetic. A very gift-able item overall.
What we didn't like about the design was the fairly small space for watering. This made it difficult to water the plants without water splashing all over the place.
You might want to avoid placing this self watering pot on any surface you wouldn't want to get wet, carpets, shelves etc. Another thing we didn't like was the reliability of the water level indicator. It seemed to stop working quite a few times and had to be tapped to get it to work again.
But the consistent beginner friendly theme and the overall package you get when you buy this self watering planter made it one of our favorites and easily our top pick for those who are just starting out with indoor plants, and are not quite sure what they'll need to get going, or how much water do different plants actually need.
6- HB Self Watering Planter
At number 6 on our list, we placed this self watering planter that offered excellent value for money. We tried growing Money plant and Maidenhair fern on this planter, and here's how it did:
What impressed us the most about this self watering planter were its intelligent design features coupled with the multi-functionality of use.
What we noticed first about the design, was the deep platter that held a large volume of water. This would be fit for those who water once and then forget for days. The deep platter also allowed us to avoid any water spillage or wastage, perfect for conservationists.
We also found this self watering planter to be multi-functional, it could be used outdoors as well as its design incorporated drainage for extra water. We also liked the fact that the design included special consideration for aeration, and it worked because throughout our period of review, we didn't grow any mold or fungus.
What we didn't like about this self watering planter however, mainly had to do with its build quality. Though most of the items on this list are made of plastic, this one felt especially cheap. Another thing worth mentioning is that we found the gap between the pot and the reservoir to be uneven, not a very nice sight for people with OCD.
The build quality could easily be ignored when compared with the price it came for. That, and the inclusion of impressive design elements made this the HB Self Watering Planter our top pick when it comes to the overall value for money.
5- AeroGarden Harvest Elite
For reviewing the AeroGarden Harvest Elite, we grew mainly herbs like Basil, Sprout, and Romaine lettuce. We found this self watering planter to offer something extra, earning it the number 5 spot on our ranking. Here's how it did:
Easily the most impressive feature, and the most noticeable, about this self watering planter was the LED glow light. On paper it seemed like a very useful feature, especially for indoor apartments with little access to sunlight, and we found that it actually worked. And though it had its cons, the LED light was a perfect stimulus for our herbs! We were able to harvest at least twice during our short period of review.
This was by no means a difficult planter to maintain. Easy to use, and very giftable. The instructions it came with were very clear and concise, and we also liked the overall aesthetic.
What we didn't like however was the build quality. The buttons on the planter seemed way too fidgety for the price point, and there were many occasions where we accidentally pushed them in, prompting the settings on the pot to go crazy. We didn't like that there was no external battery backup, this feature seemed a must because if you experience power outages, be wary that the LED light will go off. We found the height to be low, because of the LED light, so it wouldn't be recommended for those looking to grow taller plants, although herbs would do just fine.
Speaking of the light, it did not fall evenly on all the herbs which is something worth looking out for. Another thing we'd like to mention is that this light is very bright, enough to disturb your sleep if you have it in your bedroom. If you're looking to grow a thirstier plant, you might have to purchase a separate external water tank as the water capacity of this self watering planter is decent at best. Hardly ideal as it adds to the already hefty price.
But for a particular use case scenario, where the user wants to grow herbs or dryer plants of short height, and in the setting of an indoor apartment with limited access to sunlight, this would easily be our favorite pick.
4- Lechuza Cubico Color Self Watering Planter
Lechuza is one company whose products impressed us greatly, which is why they feature thrice in our top 4!
At number 4, we had their Cubico Color Self Watering Planter; a planter with lots to like, and little to dislike. In a nutshell, we found it to be fit for taller plants, unlike our option at number 5. This self watering planter was available in 3 sizes and for our review, we chose the 30" variant. We grew the famous Snake plant in this planter, and here's what we found:
The ease of use was highly impressive! Thanks to its extremely functional design, we were able to lift our Snake plant in and out of the pot with ease; a desirable feature for those who transfer their plants regularly. We also liked the fact that we didn't have to fill the entire planter with plotting soil, thanks to the inner liner.
Speaking of the plotting soil, the substrate the self watering planter came with seemed to be quite suitable for our Snake plant, growing by up to 5 inches in our period of use. The design and the overall aesthetic were very pleasing, a theme consistent with many Lechuza planters.
Moving on to what we didn't like; mainly the price. As you'll find out later in this list, neither of Lechuza's self watering planters come cheap and this one was no exception. The pictorial instructions were a bit tricky to decipher at first and it is also worth pointing out that though pictures might show you a black variant of this self watering planter, what we received was more of dark gray than black.
Additionally, we would recommend watering your plant regularly for up to 3 months before you start to rely on the self watering capabilities of this planter. Thanks to the height of this planter, it can easily take up to this long for the water to reach the reservoir.
The price pill could well be swallowed if what you're looking for in a self watering planter is the ability to grow taller plants, with great ease of use, and an aesthetic design. For people with these requirements, the Lechuza Cubico Color Self Watering Planter would be our recommended option.
3- Mkono Self Watering Planter
For our 3rd place, we chose this budget friendly self watering planter, which excelled in all regards considering the price it is available for. Similar to most of the planters on our list, we chose to plant African Violets for this review, and here's how it turned out;
Ever since we bought it, it was hard to believe the features that were available and the price we had to pay for the Mkono Self Watering Planter. The look was modern and sleek, and the build quality frankly felt the same as some of the more expensive self watering planters on this list. Our African Violets thrived in this set up, even when we forgot to check up on them because we were able to store up to 8 days worth of water at a time in this self watering planter.
We found it to be very capable of handling plants that need more water. Apart from the water storage capacity, this was further helped by strings in the black insert that drew up water and prevented our lush African Violets from ever drying out completely.
For every budget item made, the company understandably has to make some tradeoffs. For this self watering planter, these tradeoffs were made in the design. This was by no means a large pot; it was small and had a tapering end which further decreased its depth. You might want to keep that in mind because growing any sort of tall plant would be impossible in this self watering planter. Moreover, it seemed unsuitable for dry plants because of the involuntary water storage and the lack of water level indicator.
Overall, what we got vs what we paid for the Mkono Self Watering Planter impressed us just enough to break into our top 3 and edge out its competitor at number 4. We would gladly recommend this self watering planter for anyone looking to grow a short, thirsty plant indoors, and on a budget.
2- Lechuza Classico Color Planter
At number 2 we had another one of Lechuza's impressive line of indoor self watering planters; the Classico Color Planter. For this review, we chose to plant herbs like rosemary, thyme, and fern. Here's our review of how it did:
Apart from the missing removable liner, this was another self watering planter with great functionality. We found the large internal volume to be very useful especially with plants that needed more water, and the water level gauge that was installed in this self watering planter was very easy to read. From our experience, the reservoir lasted us 3 to 4 weeks which was great to see.
Another aspect of its highly functional design that we found very useful was the drainage plug in the bottom. We prevented getting the soil waterlogged by using this plug to drain off the excess water.
Lechuza focus on making aesthetically pleasing products was evident with this one as well. We got the slate matte variant and not only did it blend in with our home décor, but we were receiving compliments on it regularly.
The things we didn't like about this elf watering planter however, and those that eventually ended up costing it the first spot on our list, were;
The missing removable liner, as mentioned earlier. We would have loved to see this incorporated into this self watering planter's functional design; it would have made it significantly better. We also found the assembly and set up to be a little complicated owing to the lack of clear instructions. There are also a couple of things worth noting; for what you're paying, you're essentially getting a plastic pot, which might put those of you who prefer ceramic off. Secondly, this self watering planter would not be fit to grow taller plants.
For all the features it had, we found the Lechuza Classico Color Planter to execute brilliantly. Our herbs were up and growing in no time and in our period of use (6 months), we were able to harvest at least thrice. Its functionality, coupled with a beautiful design earned it the second spot on our list, and rightfully so.
1- Lechuza Cubico Cottage Self Watering Garden Planter
And now our number 1 pick, another one of Lechuza's brilliant line of self watering planters, and the one that impressed us the most; the Lechuza Cubico Cottage Self Watering Garden Planter. To review this self watering planter, we planted Alocasia and Jasmine. Here's how it went:
In simple words, this self watering planter had everything we wanted in these pots, and it executed them very well. Functionality was a particular strong suit and some of our most favorite things were the quick and easy assembly, the large reservoir, and the water level indicator. We regularly got 4 to 5 weeks of use from a single watering.
We were also fans of the drainage plug that allowed excess water to be drained off, and thus allowing us to use this self watering planter both indoors and outdoors. Another smart design element was the inclusion of retractable handles to lower the liner into the planter and lift it out if needed. These seemed like excellent design choices, and though they were, we ran into some minor issues on use which we mention later.
Just as the other two Lechuza products on this list, this one had a very nice aesthetic appeal to it, tall with a good black finish (for the one we used). We found it to be well built and sturdy, though it was still essentially plastic. The company advertised it as being UV resistant and we tested that by placing it out in the sun for about 3 weeks in total. Though that's not a long time by any means, it is worth mentioning that we didn't observe any fading of color.
A few minor things we did not like about this self watering planter were the relative difficulty we found when trying to insert the drainage plug, and the functioning of the retractable handles. We had to make use of a screw driver for the drainage plug. For the retractable handles, we found that we had to stand directly above the planter and lift them outwards or else they had a tendency to get loose. It's also worth noting that we had to water for at least 2 weeks to get water into the reservoir and avail the self watering functions.
Overall, we found these flaws to be minor compared to what we got, and compared to the other products on this list, this one stood as our number one pick. It faced strong competition from Lachuza's other self watering pots but we felt this one edged them out based on its features, and design.
Frequently Asked Questions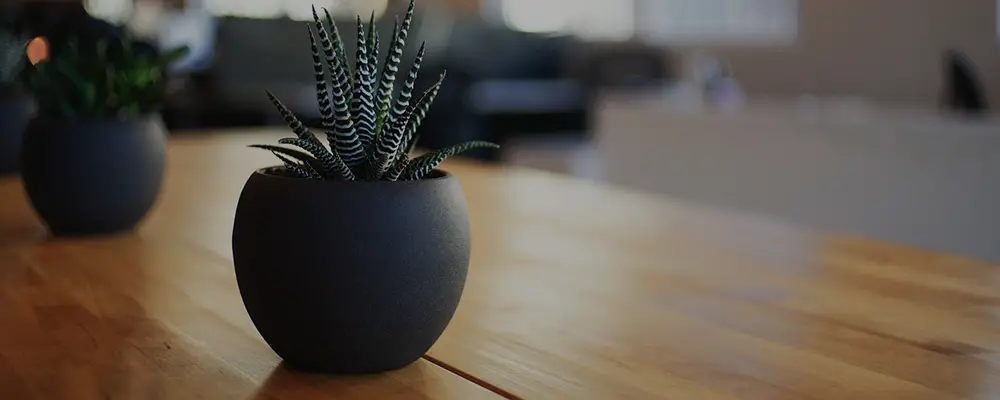 Are self watering pots good for indoor plants?
Definitely! For most indoor plants, self watering planters serve as an excellent solution. This is particularly true for plants such as herbs, vegetables, tropical plants, perennials and annuals. Houseplants that like moist soil probably do not need a self-watering planter though, as it's hard to maintain the degree of necessary soil moisture.
Do self watering planters actually work?
Yes, they do, provided that you know how to use them correctly. A self watering planter doesn't actually water the plant itself, but it uses a water reservoir at the bottom to water the plant whenever needed.
How long do self watering pots last for?
Usually, for 3 to 4 weeks. Self watering pots include a bottom reservoir that stores excess water and this water is usually enough to meet the plant's needs for about 3 to 4 weeks.
What plants do well in self watering pots?
Any type of plant would do well in a self watering pot, except the dry ones like cactus. You could grow herbs, African violets, cherry tomatoes, and even carrots.
What is the best soil to use in a self watering pot?
This can vary depending on what type of plant you're looking to grow. Usually, in a self watering pot, you will need loose soil that allows proper drainage of water to prevent mold and rotting of the roots. For the majority of houseplants, a mixture of potting soil and sandy soil will do.
How long should I water a self watering pot?
Usually, every three weeks. This can vary depending on the type of plant you're planting, the levels of sunlight available, the time of the year, and also the design of the self watering pot you have.
Final Thoughts
Each of the products we reviewed came with its own merits and demerits.
To sum it up, through our review, we found the Lechuza Cubico Cottage to be the best overall, Mkono Self Watering Planter to be the best for those on a budget, Window Garden Aquaphoric to be the best for beginners, Lechuza Cubico Color to be the best for those looking to grow taller plants, Aerogarden Harvest Elite to be the best in terms of smart features, HB self watering planter to be the best in terms of value for money, and Lechuza Clasico Color to be the best when it came to functionality.