In this post, you will find the best smart plant moisture sensor Wifi inbuilt & having real-time connectivity with your phone.
We have tried and tested some of the best smart plant WiFi moisture sensors that will assist you to become a professional gardener in no time! With these smart plant sensors, you can stay updated with your plant's health condition and be its very own therapist.
Our Judgment Criteria
We based our verdict on the following factors:
Features
Design
Usability
1- Xiaomi 4 in 1 Plant Flower Care Smart Monitor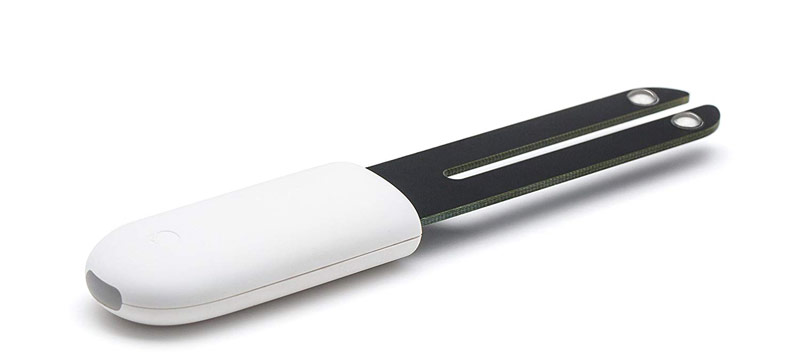 We have come to the conclusion that "Xioami 4 in 1 Flower Care Smart monitor" is the best Plant moisture sensor.
Get a healthier and greener looking garden with this 4 in 1 Wi-Fi plant sensor by Xiaomi. It is one of the most reliable and accurate plant sensors out in the market. All you need to do is sign up for a Xiaomi account and let the plant do the talking.
Why it's the best?
With similar features as well as design it was a tough decision to make and so based on the following features we have rated it as our top choice.
Real-time, accurate readings on Sunlight, Moisture, Temperature, and Soil Fertility
Tabulates and tracks daily plant growth in real-time, and provides reliable tips on how to better tend to your flower/plant/vegetables/herbs
The database stores a variety of over 5000 different flower and plant species with individual care recommendations for each
Connects via Bluetooth to a free, user-friendly mobile app (compatible with iOS & Android)
Quick and simple set-up process that increases the odds of earning a green thumb in no time!
Use indoors and outdoors (IPX5 Waterproof)
Multi-Plant tracking capability
Intuitive Flower care app
What makes this product stand out, even more, is the accuracy in the measurements it provides us with. It is equipped with some of the basic yet crucial sensors that will help you keep your plant fresh and healthy. It also comes with an app for ios and android both that you can download on your smartphone via the QR code provided in the user manual or from their respective app stores.
These apps also update your phone once you are logged in and have the multi-plant tracking feature to keep health checks on more than one plant.
Why do we like it?
This tiny probe is now your magic wand and with it, you can do wonders for your garden at 1/4th the price of the Parrot Flower Power (Our 3rd choice).
Design
The device is sleek and resembles an apple product. It looks like a probe and is a very smart looking Wi-Fi plant sensor
Real-Time Sensor
It's 4 highly essential sensors allow you to fulfill your plant's nutrition, sunlight, temperature, and water needs. This feature has us falling in love with this product due to its accurate readings and is one of its outstanding features.
Expert care tips
Provides recommendations along with expert tips especially for your plant.
Full species coverage
All in all, it has a database of over 5000 different kinds of plants that sync their growth parameters with your own plant so you can regulate your plant's vitals.
Friendly app
You have the option to get daily, weekly or monthly reports and the sensor keeps logs of all the information that is downloaded on to your phone once you are logged in. This keeps a track of your plants' growth rates and helps maintain its health accordingly.
Easy setup
The setup process is pretty simple as well, all you have to do is insert it into the pot of your respective plant and connect it to your smart device via Bluetooth. Every-time your device connects with it all the data is updated through cloud services
What's inside the box?
1 x Xiaomi Flower Care Smart Monitor
1 x DC 3V CR2032 Button Battery (built-in)
1 x User Manual.1 Big Shortcoming
It does not have the option to set up alerts on your to-do list to minimize accidental negligence.
Who is it for?
If you are looking for a cheap yet efficient device that serves your purpose and isn't a burden on your own pocket then this is the perfect smart wifi sensor for you. If you are a beginner at gardening or even tend to be negligent at times then this sensor is your Holy Grail product
Pros. & Cons.
PROS:
Frequent update
Real-time and accurate reading on essential Flower Life parameters
Multi-Plant tracking capabilities
Easy setup
User-friendly app
Plant and flower identification of over 5000+ species
CONS:
Not waterproof
Works only if the sensor is within Bluetooth range
Delay regarding soil conductivity and moisture levels
Does not measure pH or NPK levels electric conductivity
2- Digital Plant Monitor by Flower Care
(Our 2nd Choice)
Digital Plant monitor is your ultimate plant whisperer. It can help you minimize wilting and drying out of your plant and along with the individual care recommendations feature you can now monitor its health.
Why is Digital Plant Monitor 2nd on our list?
This smart Wi-Fi plant sensor is our second choice even though it comes loaded with features that will enhance your gardening experience not all work the way they should.
You can pair this smart plant monitor with your android devices only unlike our first choice.
Readings aren't as reliable as our first choice
Cannot track multiple plants at a time
Unable to measure nutrition level of the plant
However…
Digital Plant monitor has a database of 5000 plus plants, flowers, vegetables as well as herbs while Xiaomi has a limited database of plants only.
Xiaomi also lacks moisture sensor along with soil fertility levels.
Digital Plant Monitor provides us with individual care recommendations for a plant while Xiaomi is locked with expert care tips only.
Find all of these Smart plant monitors here on Amazon
Why do we like it?
Real-time Soil and sunlight sensor for indoor and outdoor
Whether it be your indoor plants or your backyard vegetables this is the perfect gadget that analyses and keeps their Light and nutrients in check.
Waterproof design
Allows the smart plant sensor to survive rain and other water-related garden activities
An in-built Plant moisture sensor
Measures the moisture levels for the plant and provides alerts to restore them accordingly.
Individual care recommendations
Provides expert tips on how to better take care of your flowers, plants, vegetables, and herbs. The database supports over 5,000 different flowers and plants with individual care recommendations.
Temporary Care
You can now leave your plant with a friend while you are away on a holiday without worrying about them drenching your plant in water with the help of the moisture meter.
Who is it for?
For someone who loves nature but often finds themselves too busy to take care of themselves or their plants, this smart plant sensor should be your top priority. It is loaded with features that are great for you if you recently discovered your love for gardening.
Pros. & Cons.
PROS:
Energy efficient
Water proof
Individual care recommendations
CONS:
Not compatible with ios
Temporary care feature does not work
3- Parrot Flower Power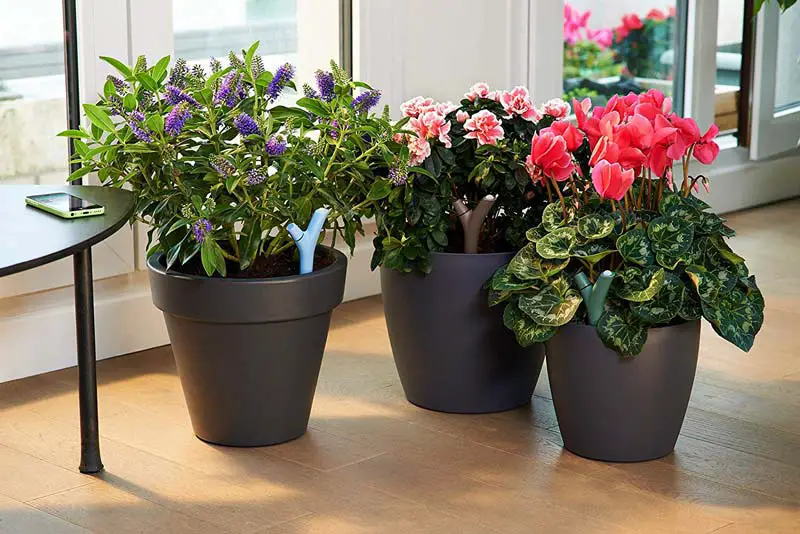 Why do we like it?
Design
The twig shaped Smart Wi-Fi sensor comes in three different colors blue, green and brown.
Measures health parameters
Its smart sensors allow it to measure soil moisture, fertilizer, ambient temperature, and light intensity while making sure all plant needs are being met.
Waterproof IPX5
The smart sensor can be used for outdoors and indoors alike.
Smart app
This product like the other two also comes with an app (currently supported by ios only) and is compatible with all Bluetooth devices in ding the iPod touch.
Informative Plant Database
Unlike the other two choices, it has an informative plant database from Parrot's research at Dutch university Wageningen UR.
Recommendations and Expert care tips
Moreover, it updates you with recommendations and expert tips for your plant. The probe sensor compiles data and takes about 24 hours before it gives you it's first reading and compiles the data into charts.
Live Mode
Another function it has is the "Live Mode" which updates the data while you are tending to your plant.
Downside
The product has a few downsides and one of them is that this smart Wi-Fi sensor is a bit pricey. Another problem is that it is not compatible with Android devices which is inconvenient for android users. A frequent Bluetooth disconnectivity issue has led us to struggle with the synchronization of data which may be due to some glitches present in the software. Hence proving fatal to the plant health.
Who is it for?
If you are a gardener who is keen about growing a certain plant in their kitchen garden then this is the product you are looking for
Its ability to convert raw data for comparison with the cloud-stored data is somewhat beneficial for personal research.
If you are struggling with a certain type of plant and can't figure out why your plant keeps drying or wilting then this is the therapist you are looking for!
Pros. & Cons.
PROS:
Accurate readings
Excellent soil moisture test
CONS:
Bluetooth restrictive connectivity
Slow alerts
Inconsistent communication
Fertilizer test not accurate
Conclusion
If you want a cheap yet fun way to regulate your kitchen or home garden then Xiaomi 4 in 1 Plant monitor (our 1st choice) is the right plant sensor that is worth your money and provides you with the promised results.
But if you're looking for something more patent and expensive then Parrot Flower Power (Our 3rd choice) is your guy. It has the features and the durability for your experiments.
And if you value extra features over price and perfect results then the Digital plant monitor is the one for you!