If you believe that mouthguard isn't much important in boxing then you probably aren't very experienced and never had a strong hit to your mouth.
A single head butt or elbow to the mouth is good enough to make one realize the importance of a Mouth Guard.
If you don't use a mouth guard you might end up with more head trauma and even Broken or cracked teeth.
No matter how good you are, you'll always need a mouthguard while boxing if you love your teeth and want to protect them.
Not only do they protect the tissues of your jaw but also prevent neck injuries.
The Basic Functionality of a Mouth Guard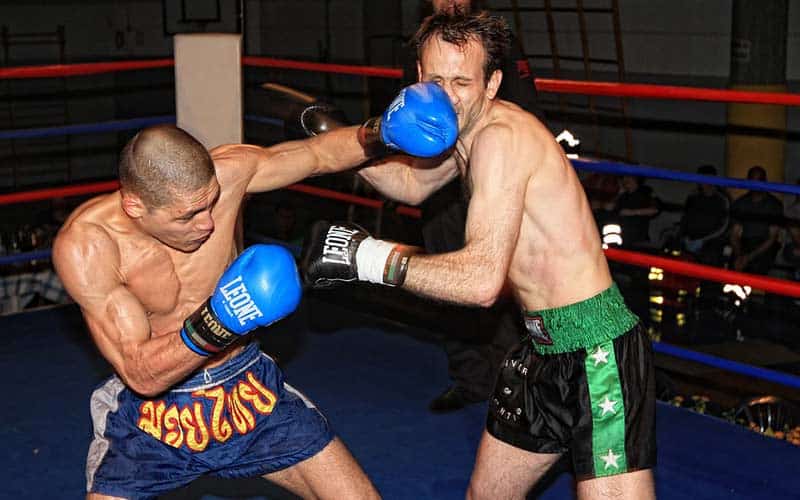 The basic function of a mouth guard is to provide you protection. When you get hit by your opponent in the jaw, a mouth guard absorbs some of the force.
This might prevent a broken tooth or injury to the tongue or lips and in addition to that, the impact creates a heavy shock wave originated from your jaw that has the potential to cause a significant brain injury.
Using a mouth guard will dilute the kinetic energy generated by the shock wave by splitting the force you felt in the area where you got hit.
There are tons of mouthguards in the market, this article will help you decide which is the best for you and why you should prefer it over others based on various aspects.
Our Top 10 Picks For You
There are numerous mouth guards in the market differentiating from each other on the basis of their features. We have picked our top 10 boxing mouth guards and have explained their working, their functions, their pros, and their cons so you will be able to choose the right one yourself.
Shock Doctor Double Braces
The shock doctor double braces mouthguard comes number 1 on our list. It's a unique product developed to address the request of the boxing community. When you adjust the brace brackets, a mouthguard that has been form fitted becomes no longer comfortable as it alters the teeth positions.
The" Shock Doctor Double Braces" address this issue through its fitting design, it has a special oil flow channel that fits around your brace bracket and adapts the changes into two positions. This provides you an instant fit that no other mouth guard does.
These mouth guards are recommended by many pro boxers after testing them in the boxing ring.
These mouth guards use high-quality medical-grade silicone that makes them extra durable.
The shock doctor double braces come with magnificent looks. In addition to those looks, it gives you the protection that no other mouthguard provides.
Instant Fitting:
Instant fitting is another feature that makes the shock doctor different from others. You don't have to boil it to adjust fittings before use.
No Breathing Issues:
While some mouthguards make it very difficult to breathe, the Shock Doctor Double Braces comes with four breathing holes so you can breathe while you are sparring.
Easy Cleaning:
Due to the design and the silicon material, these mouthguards are pretty easy to clean and maintain.
Excellent Fitting:
Your teeth gradually shift in their positions while you have braces on while normally you would have to make adjustments to have a better fit. The shock doctor adapts to the change in your teeth because of the silicon.
Feels Heavier:
These mouth guards might feel heavier in the mouth than other ones which can be mildly uncomfortable at first, but then eventually adjusts.
The Ridges:
There are drops of silicon that are inside ridges of the top part of the mouth guard. When you first use this mouthguard those ridges get caught up in your braces. Although you get used to it very quickly, it does bother you for the first three to four days.
The Venum Challenger
The Venum challenger comes with an inner advance next fit gel frame that will provide you great comfort. All you have to do is to follow the instructions on the packaging on how to carefully mold the gel frame to your teeth. With a perfect mold of your teeth, you can feel confident that they are protected from all kinds of lacerations.
The venom challenger is made from high-density rubber that provides you the ultimate protection with finer shock protection.
This mouthguard also comes with a protective case so you don't have to worry about hygiene problems.
Compact:
This mouthguard is compact so it becomes very easy to carry with its additional protective case.
The unique gel frame offers you greater comfort and better adjustment than the other mouthguards.
A harder shell on the outside and a softer material on the inside offers you great protection against those hard hits.
All you need to do is follow the instructions, boil it, sit for a few minutes and then casually put it in your mouth and it literally takes the shape of your teeth. With the other mouthguards, you have to try too hard to get them into the shape of your teeth but it's very easy with this one.
The only bad thing with this mouthguard is that it isn't much flexible so you want to make sure that you aren't putting much pressure on it while it placed in your sports bag or else it might just break.
NXTRD Classic Mouthguards
NXTRD is a rather new name in the sports industry but they are emerging at a very rapid rate. Their classic guards are the most multifaceted mouth guards ever made. In addition to the ultimate protection, they come with a sleek single layer shell that ensures that you can easily breathe, drink and talk.
These are deformed mouth guards. They are easy to maintain as you need to put them in cold water and then back in the storage case.
NXTRD offers you a very soft frame. Their designs are pretty cool and modern too. The mouthguard is both sleek and flexible.
More grip on your teeth:
Something that really makes these mouthguards apart from the others is that they come with small grip pads on the bite pads. This really makes your teeth stuck between them and when you get a hit it won't just fall off easily.
Expensive:
Despite all the good features, these mouthguards aren't cheap and are listed among the few most expensive mouthguards.
Uncomfortable:
This mouth guard although offers great protection but isn't much comfort. You might face speaking issues and it might be very difficult to drink water with these on.
Sisu Aero Custom Fit Sports Guard
This mouthguard offers you better protection than the normal mouth guards. It comes from the diffusive technology of plastic that spreads the impact of the hit among all teeth and reduces the chances of greater damage.
It can be molded up to 20 times. Molding is the best feature of this mouth guard and it really folds to your teeth and you might even get hollow bite marks on it.
It fits very well and won't fall out. In fact, some even days that its fitting is so good that it makes it difficult to remove.
Another appreciable thing about this mouthguard is that you drink, talk, and breathe just the same way as you could without a mouth guard placed in your mouth.
This mouthguard is comparatively very thin that makes it easier to use although the protection level is pretty admirable.
It can be molded up to 20 times and would still work the same way as the brand new one, moreover, it's one of the few mouthguards that come with warranties.
Despite of all the good things, there are small holes in the mouth guard that might feel unusual to your lips and can cause irritation.
Impact Custom Professional Mouthguard
The way these mouthguards are manufactured is pretty amazing itself. The company sends you a trail mouth guard made of a different substance that you need to make a mold of your teeth. After taking a mold of your teeth, you send it back and they send you your very own custom mouth guard at a price much lower than your dentist will mold you one.
They also come with cool cases to protect them. You can get them in different colors. The company also gives you the facility to get your own custom logos or texts written on the mouthguard which is pretty cool.
They aren't the cheapest mouth guards in the market but for a custom mouth guard, they really are very cheap.
They fit you very well, you can talk normally and aren't restricted at all.
The mouthguard is 6-7mm thick that is considered as the best size. In addition to that, these mouthguards are made according to your own personal sizes so there's literally no chance of fitting problems.
But since they are made according to your personal measurements and the designs are pretty cool too, there have no such bad reiews.
Shock Doctor Max Airflow
This mouth guard is used by athletes worldwide. One of the key features of this mouthguard is that it is breathable, the company opened the hole larger than the other mouth guards. They also added an I beam, a feature that keeps the hole open even when you are clenching down.
You get a whole new range of new graphics with these mouth guards.
There is no need to boil it and adjust it, all you need to do is to take it out of the packaging and you are good to go.
No need to boil and wait:
They can be used in other sports besides boxing too. You don't need to boil them, take them out of the packet and you are good to go.
Convertible Tether:
It comes with a convertible tether so you can take it on and off the face mask. It also works with braces.
This mouthguard also comes with a 10 thousand dollar dental warranty which shows that this company isn't doing any compromises on the protective measures. This isn't necessarily a full 10 thousand dollar warranty, it says $13 per injured or replaced tooth that can go up to ten thousand dollars.
These mouthguards are heavier than the other mouthguards that might be a problem if you aren't comfortable with that.
Red Line Sportswear Custom Model
These are also custom made boxing mouth guards. The company uses 100% FDA approved BPA free, latex-free, and PVC material to manufacture the mouth guards.
They also come with protective cases which have carabineer clips that help you attach them to your bag and makes it very easy to carry.
These mouthguards are available in a wide variety of colors so you can choose the one you like. They also offer great protection which some companies, that emphasize colors and design compromise on.
With all those great features and remarkable facilities, these mouthguards are slightly expensive but they do fulfill all your mouthguard related requirements.
OPRO Power Fit Mouthguard
The Opro power fit is designed to improve strength, speed, and performance. This is a malformed mouth guard engineered by the dental professionals themselves. It's a dual outer shell mouthguard that is made to absorb the high impacts and spread the shock in the larger area.
They offer you different categories of sizes made for different age groups.  With the Opro you can feel confident about your protection that will give you the desired peace of mind to concentrate on the win.
Although these are stock mouthguards the great thing is that the company has created the same design in multiple sizes so you get the option to choose the one that fits you best. Furthermore, you also get a wide range of colors and designs.
The OPRO Refresh Mouthpiece cleaning kit:
In the package, you also find an antibacterial tablet, just put that tablet into water and put your mouthguard in it. This will clean your mouthguard and will make it last much longer.
Smoother Edge:
You might want to prefer this mouthguard for gripping because it has a little smother edge and it reaches your teeth a little bit further back so when you are getting grinded or cross base, it's a lot more comfortable.
The users haven't complained much about these mouthguards because they are simply amazing and fulfill all your needs, however they might not fit if you wear braces.
Venum Predator Mouthguards
These mouth guards provide you a blend of incredible comfort and great shock absorption. In addition to that, the flexibility offered by these is simply implausible. The design itself is an attraction for many.
This mouthguard also comes with a dual-core design made with a high-density rubber frame that aligns it to your jaw and hence ensures you a better absorption with every single impact.
Good adjustment:
The mouthguard comes with a gel frame that helps you adjust better and fits your jaw with great comfort.
Durable:
These mouthguards are durable and last for a comparatively longer period of time than their competitors.
Optimal Protection:
It will make sure that you surely protect your jawline from damages when punches are thrown at you.
Advanced Breathing Channel:
The advanced breathing channel ensures that you are able to breathe properly so you will be able to improve your performance in the boxing ring to defeat your opponent. Having the right breathing channel will provide you the right amount of oxygen you need.
Venum Protection Case:
The Venum predator mouthguard also comes with the company's iconic Venum protective case that's everybody's favorite.
Overall, it's a good product, the only drawback is that it's a little thick.
Oral Mart Sports Youth Mouthguards
Recommended by many athletes, Oral Mart Sports also makes it in our top ten picks for you. These mouth guards are both reliable and cost-effective.
These mouthguards might look similar to others but the company uses excellent high-quality materials to manufacture them. They are available in a wide range of colors.
Often kids aren't able to find the perfect fit for themselves, Oral Mart has specially designed their mouthguards keeping that in mind so they will fit your kid's jaw better than your anticipation. They manufacture them for both adults and kids.
In the package, you will also find an Oral Mart case that will protect your mouthguard from any external bacteria and germs.
The major plus point with these mouthguards that also differentiates them from the other is that they fit well for kids. The company offers you both Stock and Malformed mouthguards so there's a very rare chance of fitting problems.
They are soft and stay in your mouth pretty well.
This mouthguard is also latex and BPA free.
It also comes with a case to protect the mouthguard.
Fortunately, the users haven't complained much about these mouthguards and in general, they are pretty great mouthguards considering all the aspects.
Should you really be spending money on a mouthguard?
Healthy teeth and a charming smile are two things you never want to lose.
Despite your boxing skills, it just takes one punch in the right area to get a tooth knocked out.
As a matter of fact, never hesitate in investing money in the right mouthguard as it will help you protect your teeth.
Qualities that are must in your Mouth Guard
There are a few qualities that your mouthguard must-have.
Protection:
Protection is your number one priority if you are looking to buy a mouthguard. Hence you should ensure that your mouthguard is good enough to protect your mouth, teeth, and brain.
Comfort:
The second quality every mouth guard must have is to make you feel comfortable. In this regard, the best mouth guard will be one that feels natural and you don't even feel that you are having one in your mouth.
Breathable:
Some mouth guards out there look really cool and protect your jaw too, but you might also want to ensure that you can breathe easily with your mouthguard. Everyone's mouth has a different shape so you'll have to choose a mouth guard based on your personal preference which allows you to breathe properly.
Fit:
It is very important for a mouth guard to fit properly in your mouth. Only then will you be able to concentrate well on your fight.
Hence make sure that you choose a mouth guard that essentially checks all these things.
Types of Mouth Guard
Mouthguards can be divided into three main categories. Understanding that the mouth guard you choose lies in which category might help you in making a better decision.
Stock mouth guards have a preformed shape which means that you don't have to boil to turn them into a particular shape. This also means that their fit can't be adjusted so they might not fit you really well. This also makes them less effective than the other options but if you aren't willing to spend a lot of money then you might just pick one of these as it will provide you protection to some extent.
These mouth guards can be molded to the individual's mouth by boiling them before using it for the very first time. So they come with the option to fit you according to your jaw size.
Custom made mouthguards are made by the dentist according to a mold of your teeth. As they particularly designed for you, these types of mouthguards give you the best fit and ultimate protection. These types of mouthguards are considered the best option but they are also the most expensive ones.
Conclusion
According to the American Dental Association, around 200,000 oral injuries are annually prevented by mouth guards. If cost is a consideration, remember that any mouthguard is better than none at all. Make sure to make a mouth guard a priority on your sports list and you will certainly reap the benefits.