Gaming laptops are specifically built for gaming purposes. These laptops have powerful processors and superior heat control technology along with high-end graphic cards installed to run your favorite games smoothly and fast without worrying about the compatibility and life of the system.
On average a gaming laptop costs between $800-$1500. That means you can get an excellent quality gaming laptop for this budget.
By the way, ever wondered, why gaming laptops are so expensive? – (See 5 Reasons)
However, you will miss some amenities that are available in laptops above this price range such as premium build, enhanced display, and high-end the GPUs.
Still, you can get an incredible gaming laptop for entry-level to intermediate level gaming in this price range.
What type of gaming laptops can you get under $1200?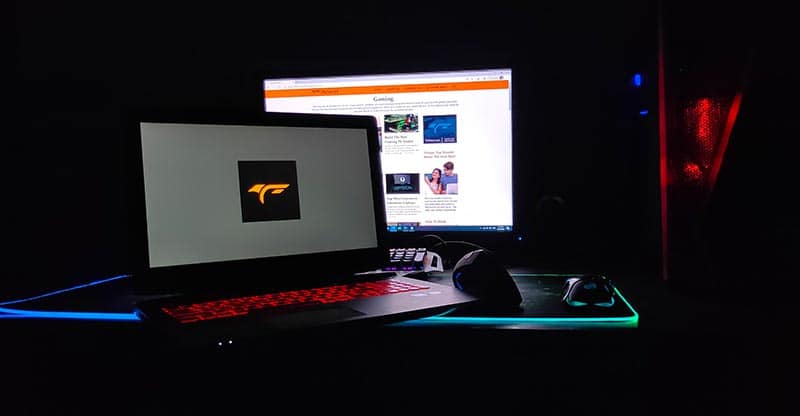 Moreover, to become a catalyst in the process of selecting a gaming laptop best suited to your needs.
The laptops in this price range come with a decent battery life of 4-6 hours.
Plus, you can play games many games on these laptops like the next GTA.
Let's talk in detail about these laptops and discuss the benefits they offer.
And also shed some light on the limitations of purchasing these laptops so that you can evaluate the devices in a better way.
Acer Predator Helios 300:
Acer Predator offers a lot against its price that is what gives this laptop a competitive edge over other laptops.
Now, let me add to why this laptop has an edge over other gaming laptops mentioned in this article.
Better visuals and low motion blur are essential for better gameplay and quick decision making while playing intense action games.
And so the Acer Predator comes with a strong refresh rate of 144 Hz that will provide you with high-quality gaming visuals along with minimized motion blurs that eventually allows you to take less time to react.
The processor of this laptop is also powerful and in fact the best option in the i7 processor range. With Intel i7 10th generation you get a smooth and lag-free gaming experience.
That's not it, the predator becomes a beast of a gaming laptop with 6GB NVidia GeForce RTX 2060 and provides you the absolute speed when overclocked.
Moreover, Acer's Predator offers powerful audio with its built-in stereo speakers that come with supreme bass optimization.
Plus, with Acer's true harmony technology you get a nice and crispy sound quality to make your gaming experience better.
The laptop comes with a wide 15.6 inch IPS backlit display screen and RGB backlit keyboard.
Multiple USB ports make the device more compatible with different types of third party devices and the 16GB RAM storage assists in transferring data easily as well as altering the launch speed of your favorite game.
Pros:
Appealing and stylish design
The gaming experience is fast and lag-free when playing online games like PUBG
Improved gaming graphics
Cons:
Battery life isn't perfect for long gaming sessions
Webcam quality isn't remarkable
The fan makes a loud noise that can be distracting
Not a portable laptop
ASUS TUF Gaming A-15:
Asus A-15 has a significant price difference in comparison with the Acer Helios 300. However, the features are quite similar to each other.
The processor that ASUS A-15 uses is an AMD 5 6400H which is equivalent to i7 10th generation and maybe a bit better-performing processor than the Intel i7 which can be found in the above-mentioned Acer predator Helios 300.
The laptop comes with a wide 15.6-inch screen with a 144hz refresh rate similar to the predator.
That means that this relatively cheap laptop can also give you smooth and high-quality gaming graphics with enhanced clarity and sharpness.
Moreover, it is equipped with dual fans that come with self-cleaning and anti-dust technology to preserve the life of the system.
The backlit keyboard of this laptop facilitates playing games in dim or no light.
However, this laptop is lit with a single light, unlike the Acer predator that has multiple RGB lights.
Lastly, to boost the performance and speed of the device ASUS added an NVIDIA GeForce GTX 1650  graphic card which may not be as effective as RTX 2060 that is present in the Acer predator but is good at getting the job done at a beginner's level.
By going through the benefits of this laptop's features we realized that it is quite similar to the Acer Predator Helios 300.
But the interesting and good thing about this laptop is that it is cheaper than Acer which gives this laptop an edge over Acer Helios 300.
Though not everyone prefers AMD processors so the people who prefer Intel over AMD can opt for Acer Predator Helios 300.
Pros:
The battery life lasts up to 5 hours that is enough for moderate gaming sessions
Provides good value for money
Impressive trackpad and keyboard
Lag-free gaming along with sharp and clear graphics
Cons:
Dull display quality
Low-grade hinge and lid
Dell G5 Gaming Laptop:
This laptop is a good pick for people who prefer DELL. The Intel i7 10th generation present in DELL G5 delivers a solid gaming experience as it is one of the best and powerful processors created by Intel.
Besides that, the laptop comes with an anti-glare display screen that prevents eye exhaustion and enhances display contrast and sharpness.
Nevertheless, the refresh rate is lower than the previously mentioned laptops. 60 Hz is an okay refresh but not as good as 144hz so this is something that can be considered a low point for the device.
However, the laptop does come with NVIDIA GeForce GTX 1650 Ti GPU that helps in enhancing the graphics and speed of the device.
Moreover, the built-in HD Webcam can be really handy if you're a person who makes gaming videos on YouTube.
But, battery life is shorter as compared to Acer Helios 300 and ASUS A-15.
This means it isn't a good fit for long gaming sessions. Hence, if you're someone who spends hours playing games then this might not be a good choice for you.
Pros:
Decent graphic quality
Remarkable GPU and CPU performance
Good laptop for entry-level gaming
Cons:
Shorter battery life
Dim display quality
Inadequate speaker quality
Lenovo Legion 5 Gaming Laptop:
We've added another AMD laptop to the list because AMD is known for its incredible performance when it comes to gaming and using heavy applications like Adobe Premiere.
Lenovo installed a high-performance AMD processor in its Legion 5 that is the AMD Ryzen 7 4800H which is equivalent to Intel's i7 9th generation.
Moreover, with AMD's Zen 2 architecture the device becomes more power-efficient and effective in providing top-notch performance when gaming.
Thus, if you want a laptop equipped with an equivalent to i7 9th generation at a good price then Lenovo Legion 5 will be your right choice.
Furthermore, the dual burn feature will ensure that your GPU and CPU are working simultaneously to display better frame rates.
I'll also like to shed some light on its build quality. The laptop is built using matte plastic that feels tough and has the potential to withstand everyday wear and tear.
Hence, a low price doesn't mean that you're getting an unreliable product. Lastly, the battery life of the laptop is also pretty decent.
You can use the laptop for up to 6 hours for normal games and up to 4 hours for heavy games.
Altogether it's quite a decent gaming laptop at an affordable price and I would highly recommend it.
Pros:
Plausible overheat control technology
Impressive CPU and GPU performance
Promising trackpad and keyboard quality
Great value for money
Cons:
No USB-C charging available
No SD card reader feature
Acer Nitro 5:
If you wanted to purchase Acer Predator Helios 300 but it was a little expensive for you then Acer Nitro 5 can be your ultimate gaming laptop choice.
A downfall in price may result in a little bit downgrading of the processor too so instead of the 10th generation, Acer Nitro 5 comes with an i7 9th generation which doesn't affect the performance that much.
Nonetheless, it'll get better when used with an Nvidia GeForce RTX 2060 graphic card that takes the speed and graphics quality of the laptop to the next level.
With this laptop, you can easily play games at 100 or more fps which is essential for  quick reaction in intense battle games
Acer Nitro 5 further boosts game loading and running speed with its 16GB RAM and for further improvement, you can install up to 256 GB of SSD storage.
The  Acer Nitro 5 is a reasonable purchase if you want to buy a value providing gaming laptop for your budget.
Pros:
USB C port available
Sleek design for gamers who prefer a glossy finish
HD IPS display screen
Cons:
Not a portable and travel-friendly device
Lacks Thunderbolt 3 port
No card reader available
HP Pavilion Gaming Laptop:
HP Pavilion doesn't have high-end processer and RAM storage like Acer Nitro 5 but it's a good option for mediocre or entry-level gaming as Intel i5 and 8gm RAM works fine for those stages of gaming.
The design of the laptop is thin and the laptop is light in weight as compared to other gaming laptops mentioned in this article which makes this device more portable.
Added graphic card NVidia GeForce GTX 1650 amplifies the speed of the device while playing your favorite game.
Besides, the laptop provides reasonable battery life for long and short gaming sessions.
But, the laptop doesn't support high-resolution 4K and 6K video quality but you can still play on the standard HD 1080p video resolution with a widescreen of 17.3 inches.
Moving on to the OMEN command center feature that comes with this laptop enables you to have full control of your CPU overclocking.
IPS backlit antiglare display screen is useful in many ways such as preventing eye fatigue and making the visuals more clear.
Thus, if you want a buy an affordable HP gaming laptop with a good processor and GPU along with decent battery life then you can opt for the HP Pavilion gaming laptop.
But at this price, the laptop can't provide you high-resolution sharp graphics or the speed of other laptops with more storage and better performing GPU.
Pros:
Wi-Fi 6
Decent CPU performance
Impressive build quality
Innovative and effective optane memory
Cons:
60Hz refresh rate that displays fewer frame rates per second
Missing Thunderbolt 3 port
Upgrading to the latest processor will be expensive later on
Acer ROG Zephyrus GA502DU:
If there is high usage of a laptop then the device may go through wear and tear.
To minimize the effect of that wear and tear you can opt for Acer ROG as the material of this laptop does a commendable job in preventing the device from scratches and damage.
Usually the processor of this laptop AMD Ryzen 7 3750H is considered equivalent to one of Intel's best processors i7.
Nonetheless, a low generation processor can affect the performance of the laptop negatively.
By that, I don't mean that the laptop isn't good for gaming but the speed and overall performance decreases.
Nonetheless, this gap can be filled by it's GPU NVidia  GeForce GTX 1660 Ti Max-Q.
The solid 16GB RAM improves the overall speed of the device and you can equip it with up to 512GB of SSD storage to further improve the speed of the system.
Moreover, the laptop is also lightweight that makes this device more portable and travel-friendly.
Furthermore, the LED-backlit keyboard provides comfort and convenience when playing in a dim or no light environment. Hence, this laptop can be referred to as a decent purchase for casual gaming.
Pros:
USB-C port
Good value for the money
Remarkable battery life
Strong audio quality
Cons:
Lacks RGB lighting in the keyboard
No WiFi-6 available
Doesn't have a webcam
Dull Display
MSI GF63 Gaming Laptop:
MSI is a company that is known for manufacturing good quality gaming laptops and the laptops it manufactures come in many different prices and specs to satisfy the needs of a variety of customers.
MSI GF63 enables you to game in 1080p HD resolution with a refresh rate of 60Hz which isn't able to display more frames per second like 144Hz but it is fine if you want a mid-range or entry-level laptop with decent graphic quality and visual speed.
The laptop uses an Intel i5 9th generation processor which in my opinion does an excellent job in terms of performance.
Performance and speed can further boost by the NVidia GeForce GTX 1050Ti GPU installed in the device.
However, this GPU may not be as effective as the other latest versions but it can still do a good job in making the device more fast and efficient.
16GB RAM lets you install large games fast and with ease. Plus, it makes the process of web browsing and running other applications smooth.
Overall a good laptop to buy but it does have some cons that are highlighted below.
Pros:
Interesting design
Good quality keyboard and touchpad
Decent graphics and performance
Cons:
Disappointing battery life
Poor display quality
Deciding the best gaming laptop for yourself :
We've mentioned a number of gaming laptops above that include some well-known laptop manufacturers like Acer, HP, Dell, etc.
After you've gone through every laptop mentioned in this guide. You've to list down what things you want in a gaming laptop and what things you don't want on your laptop.
Then compare that list with the mentioned laptops and the one that best fits your requirements. Pick that one for the final purchase.
Lastly, the laptops mentioned in this article are the best ones you can pick for gaming under $1200 so you don't have to worry about their credibility.
But if you've some questions then you can approach us in the comments section below. And we'll certainly try to reply to you with the best answers we have.