Alienware products are generally 10 to 15% more expensive. But Why? Well, the simple answer to that, is because they can.
Have you ever seen a billboard with just company's name and nothing else. They are paying so much money for advertising and they are just displaying their name… Why? Because they want you to get familiar with it. And more comfortable you get with the "name", the more comfortable you'd be with "your" laptop having that name.
But don't get me wrong, Alienware still offers you amazing products especially designed for "gamers" so they have a lot of aesthetic looks to them (RGB stuff) besides having a great hardware and premium finish. (In other words, they won't look cheap at all).
But build the same PC with same specs and you'll end up saving a few bugs. But who has time. And the ones who don't go for Alienware. Because here they know for sure, that are going to enjoy their games without having to worry about any technical specs.
Consider the additional "cost" part of their "fee" for resembling all those top notch components for you. And they do come with great keyboards might I add. Really enjoy those keyboards. (Reviewed one below as well in the cheap Alienware products section".
How Alienware Justifies its Cost?
With ordinary RAMs they also come Video Rams that offer you extreme gaming experience. (Most people don't know what a V Ram is). And they make sure that the RAMs are up to the mark with latest tech.
And since the technology used in these laptops is advanced, that is why many cheaper laptops fail to surpass the epic blend of form and function.
They make sure all things are top notch including the display which is often overlooked. They offer you with 9 mm response time, besides the great Hertz display.
And they come with a great cooling systems consisting of top and bottom vents, as well as rare and side exhaust systems to run your games smoothly without heating the processor. And we have to admit, the cooling that comes with this laptop is amazing. Cooling is "the" no 1 issue most gamers have to face. And Alienware really make their laptops "aerodynamic".
To manage the temperature of the laptop, precision point glass touch-pad, the high voltage driving fan, and a hardwired hardware system is fitted in, to offer high efficiency.
Why other laptops are cheap?
The reason lies within the engineering and manufacturing costs of the laptops.
For example if we look at the Razor Blade 15 which does provide similar qualities and features like the Alienware m17, but it lacks the top-notch manufacturing and use of expensive components.
Of course, such first-class elements cannot be used to construct a cheap desktop or laptop. That is why Alienware laptops and desktops are incredibly costly as compared to many other existing brands.
For example, for the best gaming experience, the Alienware Headsets cost around $100 featuring the best quality sound so that the gamers can absorb entirely in the game.
The other components of the laptop, for example, a video card alone costs around $300, while a simple CPU that is not too advanced costs around $400, now add up other components to the mix.
So basically you can get a product as expensive as $4000 with the INTEL Core i9 where NVIDIA RTX 2080.
While the other gaming laptops, such as Razor Blade 15, Dell G3 15, and more, use the i7 generation Intel CPUs and NVIDIA RTX 2060 and 1660 GPUs and are cheaper but do not provide the same qualities and performance that the Alienware products provide you with.
Upon comparison, you will find your own built version, quite less expensive, even more than the cheapest Alienware.
Making a personal computer requires a different investment of around a minimum of $300 to a big amount of $2000, depending on your needs.
Alienware is a computer hardware subsidiary of Dell which contains all the products specially designed for gamers. These products are highly suitable to provide the best gaming experience and of course, comparing with other brands, they don't come in cheap. But why Alienware products are so damn expensive? 
So yea there are expensive, but which ones are the cheapest?
You may still afford to buy a good laptop with brilliant features yet, in a very suitable price.
Or, you can look for second hand Alienware laptops and computers which are definitely available at an economical cost.
Overall we believe right now, these following desktop and laptop options in Alienware are the cheapest options to buy.
M15 R1 – One of the Least Expensive Alienware Laptops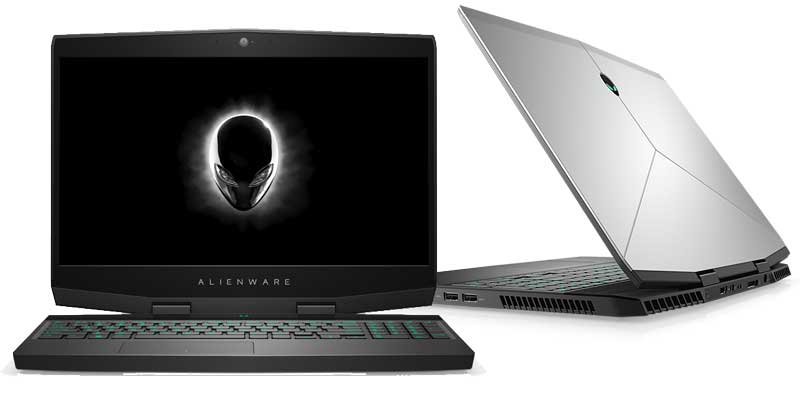 Gaming is something only a gamer knows. What on earth can be a better treat than sitting in your lounge, with some snacks on your side, and having this beauty on your lap, with Far cry on?
Alienware has always been tremendous in creating quality gadgets for the viewers. But again, it ain't cheap.
Still, we managed to find out one of the least expansive Alienware laptops, as of now, which is Alienware m15. Find other cheap Alienware laptops.
Besides the killer looks, the new Alienware m15 is a gaming laptop with an exceptionally terrific interface.
It has a 2.2 GHz Turbo Boost 4.1 (9 MB Cache) speed, upgradable video ram, and NVIDIA GeForce GTX 1060, 6-GB GDDRS which will make gaming experience worth remembering.
And when it comes to portability, its quite lightweight weighing at just under  5 pounds so you can have non stop gaming experience on the go. With a battery life of almost 3 hours.
The gadget is still expensive, but one will find every feature, which is required for a perfect and stupendous gaming machine. So, yea it's worth it.
Gear up for a fantastic gaming experience!
Performance 
The device can easily cope up with several games at a time because of it's 8 Generation Core i7-8750H Hexa Core processor (6 Cores-12 threads). The processor has a phenomenal speed that helps to save maximum time.
The hardware has a considerable size of 1 TeraByte HDD (+8 GB SSHD) Hybrid Drive, which has a speed of 7200 RPM.
The switchable graphics helps to enhance the beauty of its interface, and also makes it more engaging for the users.
The keyboard is designed in such a way that it gives a pleasant feel touching it. Typing on the keypad provides an exceptionally soothing impact on the ears.
The fans can be a bit noisy sometimes, but they are unlike ordinary gaming laptops and machines, which can't let you play your game with the utmost leisure. 
Design
In this world of style, fashion, and trends, all the tech companies try their level best to create some vivid gadgets.
With the Alienware tag, on the back and the color combination of black and white, and that red-backlit keyboard with that aesthetic and unique edges look. This first thing that comes of your mouth is just "WOW" when you see it.
A massive screen of size 15.6″ (Full HD 1080p 144Hz Anti-Glare IPS, 300-nits, 72% NTSC color gamut, Narrow-Border) has been designed for the users so they can make every single minute of their gaming experience unforgettable.
The LED on the backside of the casing is among the most eye-catching features of this device. The keypad is wonderfully fixed in the cashing, and there is no wobbling of the screen. 
So, is it Worth it?
There are mixed reviews of the users about this particular gadget. Some people think it to be worth having, while others do not consider it the best choice for the adventurous gaming experience. The reason behind the criticism probably is the cons of the machine mentioned above.
Moreover, there is a greater variety of some other gaming laptops in the market which provide better features. People believe it to be ridiculously expensive, though; this laptop is cheaper among other Alienware laptops. 
The laptop is still under a high competition in the market, and millions of gamers across the globe use it for their daily games. It is a great device that can meet the fundamental necessities of a professional player. If you have enough money and willing to buy a gaming gadget, then you definitely must give it a try. It can prove to be your dream gaming mac.
We have two more options for the people who cannot afford any Alienware laptop and want to buy a computer, in alternate to Alienware. There could be several alternates for the people to choose from, so we have mentioned 2 of them with their details. 
Aurora R6 – One of the Least Expensive Alienware Dekstop Computer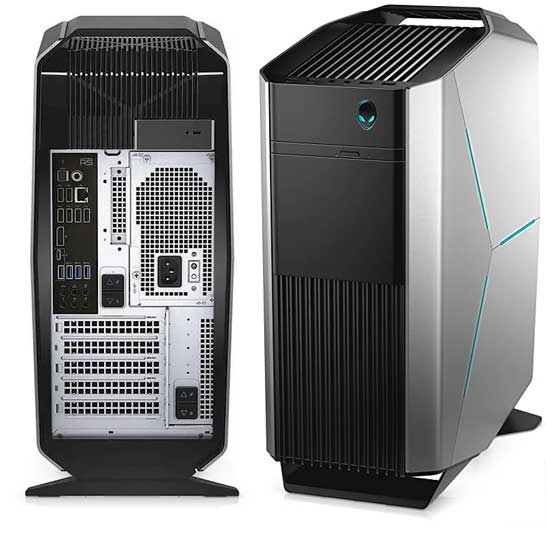 When it comes to Alienware, this is cheap. Trust me. It's one the few least expensive Alienware desktops that people can afford. Alienware 
This gaming beast comes with the end level specs. There are suitable models available in Aurora R6, and all of them are customizable. You may choose the specs of your choice and performance to add during customization.
This tower desktop has a very sleek and simple design which gives it quite a glamorous look. Talking about the specifications of this beast, it has Intel Core i7-7700K Quad-Core Processor with 8MB cache which can produce 4.50 GHz speed with Turbo Boost.
The spec sheet of this desktop is enough to provide you with the best gaming experience. Aurora R6 is a mid-range gaming desktop that Alienware offers, and it gives you everything which is needed to get the fastest gaming experience.
The design itself is simple, but the inside technology is enough to prove the power of this desktop. It is a complete package for every gamer and not only for gamers, but it is also absolutely helpful for everyone who needs to do tons of work on it. The details of this computer which are all you need to know, are given below. 
Performance
Alienware Aurora R6 is undoubtedly the best gaming desktop that is capable of running games even in 4K resolution. This massive machine is enough to give you 50-60 FPS at a 4k resolution. If you love to play games with V-Sync on, you still be able to get 60 FPS.
Aurora R6 runs games at even 120 FPS with full HD resolution. In short, this desktop is specially designed for gamers. The Processor is not only enough for gaming, but you also need a powerful graphics card for the best gaming experience. Aurora R6 has NVidia GTX 1080 Ti installed in it. This graphic card is powered with 11GB GDDR5X RAM. 
The Processor of this gaming PC is the primary support for running the most massive games.
The noise system of this machine is very controlled, which covers noise while playing games at higher settings.
The liquid cooling system is also good enough, as the temperature never goes higher abnormally. Alienware Aurora R6 is packed with powerful 16 GB Ram, which is perfect for smooth multitasking and best gaming adventure.
Coming towards the storage capacity of this beast, it has one and 2TB HDD 7200RPM; it is also packed with 256 GB M.2 PCIe SSD.
You can now better imagine the ultimate power of this gaming desktop.
Design
The design of Alienware Aurora R6 is unique and straightforward with classic silver and black color. This gaming desktop is small as it should be with the height of 472.52mm, and the width of 212mm. The design of Aurora R6 is also known as "Zero Fat Design".
The interior design and layout are substantial; you can also install some programs to upgrade your gaming desktop. The case of the desktop has four USB 3.0 ports at the front side and four more ports at the rare. It also has a USB-C port.
The example feature RGB LED lighting is also present, which makes it unusual and futuristic. Alienware Aurora R6 comes with a unique keyboard, and mouse as well. Overall the outer and inner design is made with perfection with even a significant opportunity to upgrade it.
So, is it Worth it?
Aurora R6 is a mid-range gaming desktop powered by Alienware, and it has a straightforward design yet with great specs and better functioning. It also comes with a keyboard and mouse, which is excellent for gamers. There are two choices for buyers.
Either you can buy this high-end specs' desktop, or you can buy according to your budget and then upgrade as required.
This gaming desktop is highly worth it. It provides a great experience to the user, as it is packed with the most powerful CPU and GPU.
You do not have to waste your time in building the PC because you can go with this Alienware product. You will never regret your decision even once at all. 
Cheap Alienware accessories for Alienware Fans.
There are cheaper Alienware things too guys. And they are pretty great.
How about the best Alienware Keyboard, Headset and Mouse? See our top picks below.
Alienware RGB aw510k keyboard
Recently the demand for new Alienware low profile RGB mechanical gaming keyboard aw510k has grown a lot.
Alienware introduced the most innovative and stylish way of playing video games. The manual is designed with programmable keys for macros and other vital assignments.
The Alienware command center lets you control the 16.8M color control with the help of fully customizable per-key alien FX RGB.
The improved ergonomics of the keyboard allows you to maintain your palm posture while handling combat in the game.
The manual also comes with a volume roller and an audio control that enables you to control the sound of your game and other media. 
The keyboard consists of many exciting features, such as the on-demand MX low profile red switches. This is combined with other features such as shorter travel and smaller actuation force, allows you to maintain control over your game.
Efficient triggering is also enabled, which will enable you to handle your game at every level.
The keyboard also gives a modern look as the keys are raised on the metal underneath, which also makes it easy to use.
You can also monitor your reaction time through a three-section layout, which has been optimized to provide better navigation.
You can also instantly connect to the device you are gaming on via the USB port, which is present inside the keyboard and is easily accessible.
This keyboard has a PC hardware platform and dimensions of 20 x 9 x 2 inches.
It is also very lightweight as it weighs only about 3 pounds, which makes it easier for you to handle it.
Alienware Gaming Headset AW510H
If you are a dedicated gamer, then you might already be familiar with Alienware. Specializing in computer hardware, Alienware has once more come up with an innovative and exciting way to make the gaming experience even better for its customers.
The 7.1 Gaming headset is the headset you are looking for if you want higher resolution and play with the class at the same time. 
The gaming headset helps you retain your focus entirely on your game without getting distracted by the surrounding noise.
Designed with leatherette, plush memory foam, and sports fabric earpads, this headset provides you with enhanced noise isolation combined with a cooling effect that gives you the comfort you desire while playing.
This comfortable experience is further improved by the ideal clamp force, that ensures the headset does not slip off while you are playing.
The sound resolution is enhanced by the 50mm 20Hz – 40 kHz drivers.
The product has a PC hardware platform and is not very heavy as it weighs 13.1 ounces. The headset has dimensions of 4.1 x 8.5 x 3.1 inches and comes in different colors, Lunar Light and Dark Side of the Moon.
The 7.1 virtual surrounds professional gaming headset can be connected to Nintendo Switch, Xbox, PS4 as well as mobile devices.
This connectivity is enabled when you combine a 3.5mm cable with a USB connection that can be inserted into the headset.
The current price for these headsets is okay for its price, but it is worth it.
As it raises the platform of audio resolution and also enables the gamer to hear the background sound. Alienware has multiple other computer hardware like keyboards, computers, etc. and the addition of AW510h to the family makes it complete. 
Alienware AW610M Gaming Mouse
Stay ahead of the game by getting your hand on new Alienware wired/wireless gaming mouse aw610m.
This mouse has been designed especially to make your gaming experience better, as improving this encounter with the gaming world is one of the missions of Alienware.
The company makes sure that you are comfortable while using this mouse, as it is designed to provide stability through Alienware's signature ergonomics. Ergonomics serves different usage styles as well as your hand size.
The custom improves the scroll wheel revolution made scroll wheel toggle that is adjustable and lets you switch between 12 and 24 steps. It enables you to take control over your game and makes sure that it scroll wheel does not slide too m much while playing.
Its edge-free design improves the overall precision of the game.
The mouse also has preloaded tension on the seven fully programmable mouse buttons that further enhances control.
This gaming mouse has many features, including the 1000 Hz polling rate that improved their overall performance and is present in both wireless and wired mouse.
AW 610 m also comes with customizable 16.8m Alien FX RGB lighting and an Alienware native 16000 DPI sensor.
The mouse has a PC hardware platform and dimensions of 9.6 x 5.8 xx 3.7 inches. It is also very lightweight with a weight of only 1.05 pounds that makes it easy to use and hence reduces any hindrance in playing the game.
This mouse also has a good battery life, which provides up to 350 hours of gameplay in a single charge. It uses the lithium-ion battery, and with 350 plus hours, you can play your favorite video games for days on end.
What about the most expensive Alienware Product?
With its exclusively dignified, bold, and gleaming appearance, this desktop proves to be an excellent choice for gamers.
It is a very slim and graceful desktop everyone would surely love.
Discussing its exclusive specifications, its Intel Core i7 9700k Processor does the mind-blowing job and provides the fastest gaming experience ever.
Even being slim, it is a more substantial PC, which weighs 17.5 kg. It is a complete powerhouse, which covers all the requirements any full-time user could have.
The reason for its expensive cost is functioning, which cannot be found in most of the gaming desktops, cheaper than Alienware.
This desktop is not so fancy from the outside, but its simplicity is enough to impress the audience with a brilliant design.
It has a wide range of features that serve users with different purposes. Though it is expensive, it is an excellent fit for those who can spend a massive sum on buying a stupendous gadget.
Given below are its salient details, provided for a quick overview of Aurora R9. 
Performance
Gaming is a not-so economic hobby at all. It requires some exceptional desktop to handle massive games, as well as keep functioning like a flash. Aurora R9 is an unapologetically right gaming computer that is able to run several 1440p games efficiently.
Coming to the ultra-graphics of this desktop, it has high-quality 4k at 90 fps and V-Sync off, plus 50 to 60 fps up to 4k resolution with V-Sync on and the 120 fps at full HD screen resolution.
This desktop is well-designed to provide users with a tremendously best gaming experience ever. 
The essential part of any desktop ever noted by the customers is its processor.
The big secret is going to be unfolded now, that how come this computer is able to run most massive games like no deal and still manages to be smooth and fast.
Aurora R9 has a liquid cooling system to maintain the temperature of the CPU, which never lets it rise above 55°C at any cost. Such a thing is quite unusual for gamers because a weak system often becomes annoying and breaks the tempo.
Going towards the system noise of Aurora R9, it reflects another significant aspect of this computer. The noise system settings, when shifted to balanced, provide a zero noise environment. 
Design
Alienware decided to bring some variation in their new desktop, which is why Aurora R9 got to be so legendary.
Talking about its design, it is not like a very fancy one with sharp edges and a highly expensive look. But the matte look makes it highly modern, as well as fully-fledged. The Satin finish and the Lunar light are neat and subtle equally.
This unique design indicates the extremely professional look given to this computer.
The minimal light on the front and the enlightened logo, curved edges, and its shiny exterior make everyone go Gaga over it.
This piece is the best instance of simplicity yet, shines brighter than the others. However, many people wonder if this design and its quality will last long because there is a little bit of doubt regarding this fact.
Worth it?
Aurora R9 is a boss desktop with a sophisticated look and even better functioning. The primary issue arises with the price of it's, which is too much. Now, there are two options for everyone. First, purchase it if you have no time to get a computer designed, and you also do not want to waste your time on this stuff.
If you can afford it, then you must go for it without having a second thought.
Second, if you think you are capable of creating the same desktop, then save your money and start designing it now.
Aurora R9 gaming desktop is well-designed and very purposeful. It is worth it and will provide great convenience to the users. The only thing which may upset the users is its design, which is believed to age very soon than the expected time.
Anyways, it is an excellent piece with a recommendation for the purchase.