Messing around with heaps and piles of paper is way too old- fashioned when you have top quality electric notepads available. These are one of the coolest gadgets to have. But looking for an electronic notepad that is affordable, handy, and has smart features all at the same time can be very difficult.
Markets are crowded with these gadgets. You will require to the point yet elaborated detailing of every electronic notepad before purchasing one.
And here are we to help you with our hour-long research on the best electronic notepads available.
We have compiled here a list of 5 best electronic notepads. Not only will this list save your time from scrolling a thousand gadgets available on the internet but will also reduce the confusion of selecting one out of many. But make sure you check out Rocketbook smart notebook review here first.
Our List of Best Electric Notepads:
In this list, we have shortlisted five best electric notepads to ease you with the selection process. Before getting into the product list, you need to know what exactly to look for in an electric notepad before buying it.
The most important thing to consider is that your notepad must be the right size for you. A wide variety is available when it comes to selecting the perfect size.
Be sure that your electronic partner has sufficient battery life.
Notepads must have anti-glare and non-radiative screens, only then can they be safe for your eyes.
MobiScribe E-Ink Tablet Bundle:
This beautiful gadget made it to our list of best electronic notepads because of its advanced anti-glare screen, 4096 degrees of pressure sensitivity, capacitive touch control menu, Variety of Creative Document Templates, and extra-long battery life.
Moreover, it has a fantastic contrast of text and background, which made it climb to the top of our list.
All these features have very advanced control in MobiScribe Tablets, unlike in other tablets.
Once you charge the battery to its full, it will be enough to last for the whole week.
How special, isn't it?
This feature will save you time and money as you won't need to recharge it again and again.
All these qualities make it more special than the rest of the available notepads.
With its anti-glare screen, it allows you to have a good view from every angle. This feature again adds up to the unique nature of this gadget.
Moreover, with 4096 degrees of pressure sensitivity, this WACOM screen also has a capacitive touch control menu which allows the stylus to have precise and accurate control over the Screen.
It also governs the placement of your palm over the screen and thus ensures more neatness and precision of the drawing, leaving no rough lines or unintended marks during the writing or Drawing.
It comes with a Mobiscribe box. This box has MobiScribe, Stylus, Cover, 3x Stylus Tips, tweezer, USB cable, and Quick Start Guide with Warranty.
Graphs, dots, lines, music, and creative document templates help the user to have more fun and innovation in whatever he is drawing or writing.
The E-ink display removes the need to adjust or refresh the screen after regular intervals. It has an automatic refreshing system.
This notepad is slightly smaller than the usual size of notebooks, but this feature can be a pro or a con for you depending on your personal preference.
It is typically a notepad and doesn't support handwriting to text. The cloud syncing is also not automated, and you will have to download a syncing app.
If you want something more substantial in size or are in search of a gadget that supports handwriting to text, then this may not be the ideal thing for you. You can check other notepads with your required features in our list.
BONBON LCD Writing Tablet: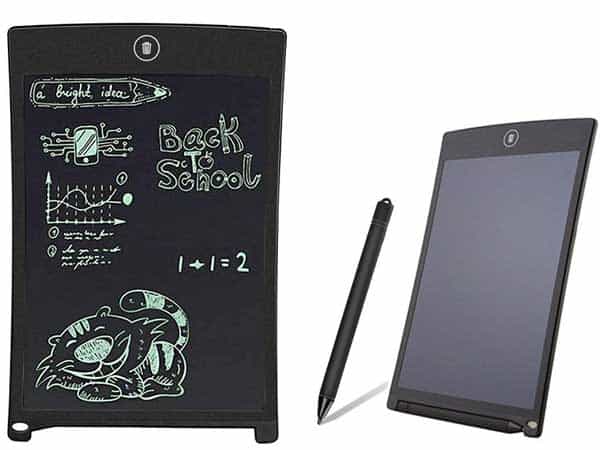 This gadget has an ideal screen size of 8.5 inches, with a non-radiative and anti-glare property. This tablet Offers maximum neatness with its easy to scribble and erase ability.
The line thickness depends on how hard you press the stylus. Thus it is relatively convenient to use as compared to the other notepads in our list.
This notepad has a non-radiative and anti-glare screen which ensures the maximum safety of your eye-sight. Writing/drawing on this tablet is just like writing/drawing on a paper. The thickness of the lines depends on how hard you push the stylus.
It is effortless to erase your work. Even with tens of thousands of erases, the battery will still run a long time.
You can ensure maximum neatness and precision when using this device as it offers you a quick and easy erase option, easy scribbling, and more precise result.
We recommend it for kids who love to draw; however, the contrast of the writing on the background troubles some users.
The brightness of the screen may be very low for some people, so if you face difficulty with low intensity, you may reconsider your choice.
This Bonbon notepad is like an endless sheet of paper. With its 8.5-inch writing board, you can scribble for a long time before needing more space. You can erase the activity with just a single click or connection.
You can get a full refund or a replacement in case you don't like the gadget or receive a damaged piece.
This gadget is a must-have for parents as they no longer need to worry about their kid creating a mess on the walls. Now kids can use this notepad to let their juices of creativity flow. We suggest it can be an ideal option to gift your kids.
White LCD Writing Tablets:
This tablet has a 10 inches screen which makes it unique from all others on our list. Moreover, it can save your notes even if the battery dies. Not many tabs are offering this feature. So in case if you are someone who worries about losing important notes, this gadget is ideally designed for you.
Perfect for school, work, and home as well as equally amazing for kids and adults, these White LCD writing tablets are best for people who work long hours.
This magnetic drawing board, with its 10 inches screen, works as an endless sheet of paper. It allows you to erase with just a single click. Moreover, it is estimated that it helps save at least One thousand pieces of paper a year.
You can encourage your child to draw, paint, and learn by gifting them this electric notepad. You must keep it as an integral part of your gift list. It is not only suitable for kids but is also valuable for adults as it helps in taking notes, language learning, and counting.
The writing pad case and LCD screen are both made from durable and high-quality plastic. This enables it for you to take this tablet with you to school, in car, restaurants, or where ever you may go.
It can save your notes even if your battery dies and only uses power when you erase something, hence, ensures a long-running battery.
It has a long-lasting battery, and it uses power only when you erase something.
Ksera LCD Writing Tablet:
It has a screen-lock that can save your text temporarily, moreover its built-in rechargeable battery and supporting micro-mini USB charger makes it stand out from all the rest in our list of Best Electronic Notepads.
Without any harmful radiations, easy usage, and best features, this product has amazed us.
You require no technicalities to use this notepad. It works just like a paper and pencil. Consider the screen as a long sheet of paper and draw whatever you want. It allows you to erase your drawing with just one click.
It has a 16 inches screen, which may appear convenient or inconvenient for the user depending on the personal preferences.
Kids and adults equally enjoy it because of its versatile features. It makes the best gift with the following activities.
Easy for kids to draw pictures, practice spellings, Draw and Doodle, Making a shopping list, Quick sketches, Communicating without having to speak or listen, thus making those comfortable who can't talk.
These and many more features of this tablet make it a must for you to keep it in your gift list.
You can save the sketch or drawing that you created, temporarily, by just locking the screen.
Screen locking and saving your work is a unique and exciting feature and is not found in most of the electronic notepads.
In case of any problem, you can contact the customer service for a replacement or a refund.
This gadget assures a 100% money-back guarantee.
The only concern you may have is that the contrast of the writing with the background may not seem significant to you. Moreover, the screen brightness can be a little low for some. But we have already introduced MobiScribe tablets for this issue.
This gadget frees you of the worry of paper wastage both economically and practically. It can be used as a notepad, LCD whiteboard, drawing pad, note board, paper notebook, office writing board, drawing pad, graphic pad, kids tablet, kids doodle board, etc.
It supports micro mini USB charging as well as has a built-in rechargeable battery.
Conclusion:
With no blue lights, no radiations, and the latest LCD flexible screens, these gadget are safe for your kid's eyes. LCD pressure-sensitive technology, perfect brightness, and thicker lines of the doodle board ensure the safety in the best way.
The fact that all these gadgets has been designed for the safety of your kid's eyesight is what makes them all the more special.
Most parents restrict their kids from using smart screens because they feel that it will harm their child's eye-sight.
The LCD writing tablet has this concern like most others that it does not light up automatically. It can, therefore, be hard to use this gadget in a dark or a low-lit room.
Writing Tablet has an average screen of 8 inches and a weight of less than 1 ounce,  just the perfect size for any electronic notepad. This is the best notepad to keep your child busy in creative activities without you having to worry about harmful radiation.
Moreover, perfect size, slim and trim body, and lightweight make it easy to carry along. You can take it with you to cars, airplanes, and restaurants, etc.
Without wasting a pen, colors, and papers, this notepad has a sensitive stylus, and an erase key which makes it easy to draw and create without any mess. It has a built-in battery that can be used for at least eight months.
So here we end our list of top 5 best electric notepads. A thorough read through this will help you get your hands on one that is perfect for you.
Just as mentioned earlier, it is essential to be clear about your personal preference in any gadget that you purchase.
Only with proper knowledge of what you need in an electric notepad can you invest your money in your ideal product.
So, now with detailed know-how of what to look for in an Electric Notepad and 5 best electric notepads shortlisted by us, you may say goodbye to the old idea of using piles of paper to draw and create.
Get your hands on the ideal notepad for you and update your journey of creativity with us.