Electric drums have taken the practicing to a whole new level. With volume control and portability (practice anytime, anywhere), one can not compete with regular drums or even electric drums kits. But choosing the right pad is another story.
Now looking at these drums you get a lot of variations in sounds, sensitivity, response, and even their ability to synchronize with other instruments and apps. The final choice of product will depend upon your drumming style and technique and how you want to play and sound at the end of the day.
But still, to make your buying process easier, we have brought together a list of the top 10 to pick from.
Based on your preferences you can choose from the Roland SPD SX or the Roland SPD 30 or the Yamaha DTX Multi Drum Pad. This does not mean that the RockJam RJ760MD Drum Kit, Alesis Sample Pad Pro, or the Alesis Strike Pad are any less. They provide ample competition to their counterparts. Other options that you have include the Yamaha DD65, KAT Percussion KTMP1, and the PylePro PTED01 electronic drum pad.
If you are a beginner, you must be looking for a set that you can practice on (for more hours) without making too much noise to wake up the entire neighborhood.
If you are a professional musician then you will look for enhanced control over the drum sounds, magnified performance, and reliable functioning.
Whether you are playing live or practicing consider the following.
Roland SPD-SX – Special Edition Percussion Sampling Pad
Quick features:
9 Pads – Assignable and playable
Internal Memory – 16 GB
Connectivity – USB Port and Mono Inputs
Rubber Pads
LED Illumination
3 Multi-effects processors
Attractive Colored Body
It is one of the most trusted and renowned brands in the drumming products and industry. Among the many other top quality products they offer musicians, is the SPD-SX special edition drum pad. One of the best products in the market it caters to a popular niche and can make your drumming experience amazing.
The product has nine rubber pads that can be used to play various percussion sounds. You can play them according to the strike or you can program them for loops and samples. They are good for both electronic sounds and acoustic feel.
The SPD-SX has a USB port as well as the ability to connect with mono inputs.
You can use it with 4 mono inputs and an audio interface for better sound quality and advanced music.
The electronic pads also come with built-in ability to add sounds and variations.
The special edition version has an internal memory of 16 GB which is quite sufficient for music lovers. It has the capacity to play 50 hours of mono inputs.
The red-colored drum illuminates in the dark with LED lights. It can be used with a sample and edition software available on the Roland website after registration.
The package includes a copy of Ableton Live Lite and Wave Manager Software free of cost.
Roland SPD 30 – Octapad Digital Percussion Pad
Quick features:
8 Velocity Sensitive Pads
Built-in 99 Kits
50 loop phrases recording
30 built-in effects
Advanced triggering technology
4 Dual Trigger inputs
USB Connectivity
Large-sized LCD Backlit Display
Pad Indication lights
Another good product from the music instrument manufacturer Roland, this is a slightly less costly electronic drum pad. Popularly named as a percussion pad, it can be used as a sample pad as well.
As the name Octapad suggests, it is an eight pad instrument. It can create tons of sounds that can cover various percussion aspects. The velocity-sensitive pads are made from a rubber material and are sized in a calculated proportion for easy and convenient hitting during practice and performances.
The software of the product is compatible with almost 99 different e-kits making it multifunctional and versatile. Any sound you think of can be found in these kits. However, the product does not allow you to load new customized sounds. So, you have to use the ones already present.
The product allows you to record phrases of up to 50 loops. This is an amazing number when you talk about drum pads.
It can easily be expanded into a small drum kit. All you need to do is use the 4 available trigger inputs and add the kick, the hi-hat, and snare controllers. Or you can also connect this with your acoustic drum kit and use it as a trigger controller.
Yamaha DTX – Multi-Media Digital Drum Pad
Quick features:
12 Highly dynamic Drum Pads
Built-in 1061 sounds of drums and percussion
216 keyboard sounds
Mute and Layer Function
Preset Loops and Sequencer enabled
Flash Memory of 64 MB for importing music
100 MB ROM
USB Port and 5 Trigger inputs
2 Pedal Inputs
Another very renowned brand name in the music industry, Yamaha has been producing electronic music instruments for many decades. Their products are famous for their superior quality and advanced technology.
The Yamaha DTX Multi is a 12 pad electronically powered drumming instrument. It is combined with 1061 percussion and drum sound effects. It can even be used to play 216 different types of keyboard sounds.
This drum pad is popular for its versatility and diversity. You can play it with drum sticks or you can use your fingers and hands to do the magic. The pads are very sensitive and dynamic. They respond very quickly and easily on either of the triggers.
This product is best suited for drummers looking for extending their tonal reach using an electronic device. They are also suitable for percussionists wanting to achieve the highest extend of tonal reach.
You can use this product as an electronic drum kit by adding more pads through the trigger inputs.
The product has a variety of inbuilt sounds, effects, and tones you can use. It also provides the capability of importing up to 500 customized sounds of your own to the device.
You can enhance its functionality by using it with the DTXM12 touch app available on iOS.
RockJam RJ760MD Drum Kit – Best electronic drum pad for home
Quick features:
9 Drum pads with a variety of sounds
Portable, about the size of a computer keyboard
5 mm headphones jack availability
Can be rolled up like a mat
Digital tempo
Realistic Sound.
Option to record.
USB MIDI connection (with PC or TV)
Package includes 2 pedals, power supply, drumsticks, and built-in speakers
It has nine pads and can be rolled up easily like a mat. The pads are touch-sensitive and can be played with sticks or hands.
It comes with a built-in speaker. The pre-loaded drum kits are convenient for the musicians. It provides the capability to record and playback your music.
It has USB and midi connectivity allowing you to connect with other gadgets and devices for the enhanced musical experience.
It comes with accessories including two pedals power supply and drum sticks.
Alesis Sample Pad Pro
Quick features:
Responsive Dual Zone Rubber Pads
8 Pads
Blue LED Illumination
200 built-in sounds
Can take 512 customized sounds
Compatible with SD card
USB Port, TRS inputs and Output, Aux input, Midi
Expandable with 2 additional drum pads, kick, and hi-hat.
Alesis has been manufacturing electronic percussion and drumming instruments for quite some time now. Their products are well known for their quality and good value of money. They provide tough competition to the market leaders by making affordable and cost-effective alternatives to their products.
The Sample Pad Pro is an amazing product that has almost 200 different percussions, cymbal, and drum sounds. These sounds are classified into ten kits. So, you can customize the kits with any combination of sounds you like. Loading of your own customized sounds is also made possible through SD card compatibility. On a 32 GB card, you can save up to 512 sounds.
The pad is easy and convenient in usage and playing mode. The pads are illuminated with lights on the edges. It makes them visible even in the very darkest of stage areas.
You can add a hi-hat and a kick to the sample pad through the trigger inputs and use it as a full-fledged drum kit.
Yamaha DD65 Electronic Drum Pad
Quick features:
8 Pads with touch sensitivity
Hand play mode
254 Assignable voices
Aux in, Midi in and out and headphone port
Stereo Speakers
2 assignable foot pedals
Reverb and Master EQ effects
Tempo control using tap start
100 built-in songs
50 pre-programmed kits
This is another good product from Yamaha. It is a less costly and more affordable model. We will be talking about the product's premium package which includes headphones, drumsticks, 2 foot pedals, power supply, and yes not to forget the drum unit.
This model has 254 voices already built-in in the product. You have the option of assigning the pads with any of these voices. The model is also pre-programmed with almost 50 different drum kits. These can also be customized as per your liking. There are also 100 built-in songs that amplify the experience of improvement and learning in the drumming skill.
The product has touch-sensitive pads to enhance your playing capability. You can also use hands for playing in the hand's percussion mode of the drum pad. Digital sound adjustments like master EQ, reverb effects, and tone tweaking are also available to the users.
Another feature that is present in this particular drum pad is the provision of bass port and stereo speakers in the package. These add ons are not provided in any other electronic drum pads in the market. They produce sound with good quality eliminating the need for external speakers and even headphones while jamming.
PylePro PTED01 – Electronic Tabletop Digital Drum Machine
Quick features:
Seven touch-sensitive pads
2 Digital control foot pedals
128 Gm voices and 215 percussion sounds
USB and Headphones port
Midi in and out
Lightweight and compact
LCD Display
Digital Audio Configuration panel
Kick and Hi-hat adding the capability
The manufacturer of this product Pyle Audio has given the music instruments industry some good quality models and products. Initially, they were involved in producing woofers only but now they have diversified their production.
The PTED 01 tabletop Digital Drum Machine has 7 touch-sensitive pads. It has almost 25 pre-programmed drum kits in the package and you can also save up to 5 customized options with it. The digital machine is loaded with 128 GM voices and 215 percussion sounds.
This is a very lightweight and compact electronic drum pad and you can also customize it as per your likings. Due to its portable nature, this model is most suitable for musicians doing concerts and touring around for live performances.
With a built-in speaker, the musical experience is further enhanced. You can either listen to your play on headphones or in the open aloud.
It provides the option of adding a hi-hat and a kick pedal for transforming it into a full-fledged drum kit.
Kat Percussion KTMP1 – Good electronic drum pad for beginners
Quick features:
4 velocity-sensitive pads
Can be played with sticks and hands
50 drum and percussion sounds loaded
Hi-hat and kick can be added
USB, Midi, and headphones out
Small-sized and lightweight
A good company that has been around since the past 3 decades, KAT has been producing percussion instruments for the musicians. They have some of the best electronic percussion sets in the market.
The KTMP 1 model comes with 4 pads. It has 50 percussions and drum sound built in the product. The compact size and lightweight of the instrument makes it easy to carry around. So, it is ideally suited for musicians that are on the run for performances and sessions in different places. It is mostly recommended for beginners.
The small size of the drum does not hamper its overall performance and functionality. It can be used as a full drum kit by adding kick pedals and hi hat through the available inputs.
The pads can be played with sticks as well as hands. The product provides options of panning, tuning and reverb effects for customizing the output music. You also have the option of assignment of these sounds to various pads.
Alesis Strike Multi Pad – The best electronic drum set for practice
Quick features:
9 velocity-sensitive RGB pads
Pads illuminated with different LED colors
LCD Display Screen
8000 pre-loaded sounds
Editing feature included
Supports foot pedals
Built in Looper
32GB of memory storage
This product allows you to combine acoustic drum results with electronic features. It creatively uses lights to assign the various pads. You have great control over your performance as the lights of every pad is different and helps your brain and eye contact associate with this lighting difference.
Similarly flashing of light or remaining solid may mean different playing options. Dimming and brightening of lights are also used as separate signals in the pad. So not only can you assign a different sound to the pads you can also represent them with lights.
The pad allows recording and editing features for the audios registered through the inputs. The editing feature is very sophisticated and comprehensive. The LCD screen complements the editing process by making it visually easier to edit.
Editing audio features include copy, normalize, reverse, pitch, and delete. Trimming and cutting of the starting and ending points are also possible with this program.
The pad is loaded with more than 8000 drum and percussion sounds. It has a memory of 32GB.
Paxcess Roll Up Pad – The electronic drum set for kids
Quick features:
7 drum pads
Roll up like a mat
2 foot pedals for hi-hat and bass drum options
Two built-in speakers
Headphone jack
USB and Midi connections
Chargeable battery board
The seven drum pads are usable as snare, crash, tom, hi-hat, and ride.
This is a great electronic drum pad kit that is designed for beginners and even kids. It is powered by a rechargeable battery of 2400 mAh, so you can play it anywhere even without a power source. It has an average functional time of 10 hours on one full charge.
It comes with a built-in speaker that reduces the need to carry an external speaker. For private listening, you can always opt for the headphones that can be connected using the headphone jack.
We have now discussed the top 10 electronic drum pad options you have available in the market. You can make your selection process even easier by going through the detailed guidelines and information about buying electronic drum pads in our next section.
Why Do You Need to Buy an Electronic Drum Pad?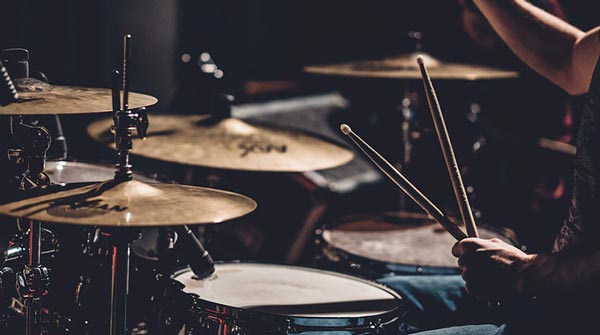 One of the key elements in music is drumming and percussions. You can hardly move them out of mainstream music. The invention and innovation of the electronic drum kits and pads in the industry changed the way people used to play music in the past.
Although every musician dreams of having the best instrument kit for himself, buying and maintaining a full drumming kit can be a little difficult. They are large in size, expensive in price, and less portable.
To overcome this difficulty, manufacturers offer electronic drum pads and sample pads. These are powerful instruments that come in the low price range and become a good alternative for the musicians.
Differences between a Drum Pad and a Drum Kit
The main differentiating feature between drum kits and drum pads is the size. The drum kits are larger and heavier than electronic drum pads which are compact and lightweight. Most drum pad options available in the market are shaped as a single panel which is only a few feet in size.
They can be easily placed on tabletops and some models can even be rolled up like a mat. Despite their small size, they function like normal drumming instruments with all necessary drumming configurations including toms, cymbal, and snares.
Advantages of an Electronic Drum Pad
The drumming pad centralizes all the components in one panel. It reduces and eliminates the need to stand or rack. External pedals, hi-hats, and kicks can be added as per your requirements through the provided input options in the panel. They are less costly and hence more affordable for a larger target market.
They are best suited for people with a low budget and less space. They can be sued by professionals as well as beginners and amateurs.
Portability Power
One of the most essential reasons for choosing an electronic drum pad over a kit is its portability. You can easily carry it from one place to another without much effort and hassle. Moving large acoustic drums or even electronic kits is not very practical. You cannot take them to a friend's party, or on a picnic or to a vacation or any other outdoor location for small playing sessions. This is where drum pads become more useful.
Due to their small size, carrying them in the back of your car is effortless. You do not need to dismantle them and spend long hours setting them up again. The electronic drum pads are ideally suited for small practice sessions, live performances, and jamming parties.
Perfect for Practice
With enhanced portability, most musicians and drummers prefer drumming pads for practice purposes. They can take them along anywhere they want and even take long trips with them without any extra effort. Even when you are away from your studio you can practice anywhere and anytime. So you do not waste valuable practice time.
The additional features provided in the electronic drum pads like tempo, recording and playback options enhance our learning experience. They help in bringing accuracy and smoothness in our play.
The Limitations
Apart from the advantages, there are also some limitations when it comes to electronic drum pads. The most commonly faced problem is the spacing of the drumming heads is different in the two instruments. In a real drum kit, the heads are spaced at some feet distances while in a pad they are inches away from each other. This hampers your playing experience when you switch between the two.
Another important limitation is the power and intensity of sound. Although most electronic pads are equally powered with high-end pads and have multiple pre-programmed kits and sound options, they will not fully match a drum kit output. Therefore they are not used in large scale live performances and big recording sessions.
Buyers Guide – Things to Consider while Buying the Best Electronic Drum Pad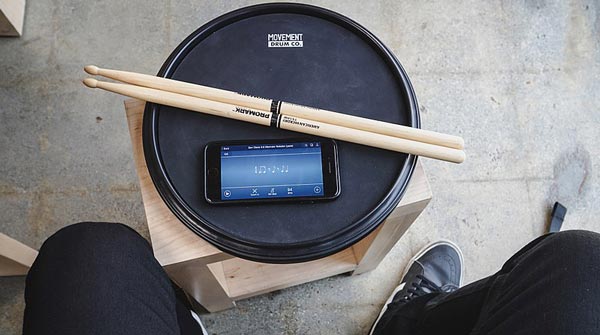 Like many other devices and gadgets you need to consider certain factors and features before you make the final selection of buying a drum pad. The important things to consider include the following:
The Electronic Drum Pad Head
The electronic drum pad head is one of the most important components of the product. It is a big determinant of its quality of sound and output. The head's quality depends on the resonance of the sound it produces. In some pads, this feature is regulated by the hitting force of the stick or hand. Some even allow stomping of the foot.
Another important factor that determines the sound quality of the electronic head is how thick it is. The more the thickness the better the sound.
The Number of Pads
The number of pads determines the variety and versatility you can add in your music and sounds. Some pads have a single pad, but that makes their function limited. Other models can have even up to a dozen pads.
For professional drumming experience, you need to have a greater number of pads to enhance the number of sounds and music you can produce. Adding creativity and newness in your music is also possible with variety.
Electronic drum pads with a single or lesser number of pads are suitable for beginners and learners.
The Type of Drum Pads
You should select an electronic drum pad that meets your needs and requirements. Most of the products in the market are specified for specific target groups. These may include beginners, amateurs, and professionals.
Products designed for beginners will be simpler with fewer features while those for professionals will be closer to real drum kits.
Portability Power
One of the factors that decide the type of pad you use is how you plan to use it. Some of the products are designed specifically to be used in different places. They are lightweight and small sized. They are suitable for musicians planning tours, concerts and small live session in different locations.
Heavy and large models are not recommended to be carried around. They are suitable for musicians who like to practice or record sessions in their studios or basements.
The size will also determine where will be the drum placed, on a table, or a specific rack.
Sound and Output
Sound and its quality are very important when selecting an electronic drum pad. While considering this feature, first decide which environment you will use it in.
They are suitable for closed places which may not require too loud output. They are also suitable for recording sessions.
For large outdoor places, you should choose a model that provides loud sound options.
The Size
The size of the electronic drum pad determines the functional space present between different pads. Having too little space can lead to confusion and misdirecting your strikes. So you must have a clear reach on each pad so that you do not end up ending the wrong percussions and sounds.
The very compact size of the drum pad means more complication and less accuracy.
The Storage Memory
Your drumming experience is enhanced when you can play and record your music. Playing back and listening to your sessions helps you critically assess your mistakes and where you need to improve. Some products allow you to use SD cards for transferring and importing sounds and music directly. The ability to store and transfer various types of effects and sounds to your sample pad is very important. So, it is essential to have a pad that offers sufficient storage capacity.
Price Range
Prices of various models vary according to their brand name and features. Depending on your budget you can choose from a wide variety of options.
For beginners, a less expensive model is always advisable. For professionals, you can spend more on high quality and a larger number of features.
Time to Beat your Drums!
Their ability to replicate the working and functionality of the acoustic drums has made them very popular in the music world. You can add lots of variety and versatility to your sounds and percussions while using the electronic drum pads. But with so many options of high end and beginner level products selecting the right one can be a little difficult. This is especially true if you are making the purchase for the first time and that too in a limited budget.
In this post, we have highlighted some of the best models and products of electronic drum pads available in the market. These products have earned their mark in the market through top-quality performance and ingenuity. They closely match the output of the acoustic drum sets in even large performances.
So, what are you waiting for? Select the best electronic drum pad from our list and let you're quality drumming experience begin.
Electronic drum pads are synonymously used with electronic drums or electric drums. All of these terms can be used for a single type of musical instrument. After their initial launch in the previous century, the electronic pads have evolved tremendously. They now sound much better and similar to an acoustic drum set.
The experience of playing on them has magnified through the daunting trigger technology that punches in as you hit the responsive mesh or rubber pads on the sturdy rack of the electronic drum set.
Their popularity has also magnified with this advancement and their ability to sync with smart apps and e-kits for practicing and recording music.
Although there are tons of products and models available in the market, your final choice will depend upon your own requirements.