Working out is quite a task when you are a mom to be. It would be best if you worked out because your life does not stop when you get pregnant, and neither should your workouts stop.
The first few months of being sick and exhausted make you feel you would never be able to put on your trainers and workout again. Well, guess again!
As the second semester of your pregnancy begins, things start getting normal. Well, not exactly, but they do to a certain extend.  You start to feel that the woman looking back at you in the mirror is not as tired out and pulled down as she was in the initial months.
It is time to bring back the glow in yourself. Time for the adrenaline rush to add to your pregnancy glow. Your energy levels are high, and you want to look your best with your baby bump.
This, by itself, is an excellent reason to hit the gym or get back to swimming. Maternity fitness is the key to improved mental and physical wellbeing.
To start your moderate-intensity workout sessions, we've come up with a tour to pick some of the most comfortable and good-looking activewear especially made for moms to be. Also make sure you keep a good maternity belt as well.
Motherhood Maternity women's Stretch Leggings
Motherhood has been around for years now, offering a range of maternity clothes. They have even ventured into activewear, and these leggings are an example of their perfect fit.  Made up of 87% Cotton and 13 % Spandex, these leggings are super comfortable for moms-to-be.
It has Motherhood's secret fit belly, a panel without a seam. It is stretchable, so it grows with your bump and stays with you throughout your pregnancy. Soon-to-be moms prefer over the belly style leggings, the easily expandable types with a comfortable waist.
Your activewear pregnancy partner. It is extremely comfortable, and you can lounge about in the house in it after your workout.
Motherhood Maternity French Terry Hooded Sweatshirt
When you are looking for jackets that will keep you warm during your workouts, choose those made with a stretch fabric, and a four-way stretch fabric would be better still.
This comfortable jacket is made from 60% Cotton and 0% Polyester.
A kangaroo pocket at the center front covers and keeps the baby bump warm and covered. Sweatshirts are not made just for your workouts; they are basically loungewear.
Before you realize it, you will be lounging around the whole day in this activewear sweatshirt. Pair it with comfy jeans, sweatpants, or leggings and stay relaxed and warm.
Prego Maternity Women's Sport swimsuit
Swimming is considered the best exercise for moms to be. It rejuvenates and exercises the muscles all over your body, easing your back's stiffness and pain.
Buying maternity swimwear is not easy, you will have to check out all that supportive fitness swimwear till you find something to settle well on your baby bump.
Prego sport swimsuit is an 80 %Nylon and 20% Lycra one-piece swimsuit.
It has a high enough neck to accommodate your growing body. The adjustable straps keep in place and are a good support feature under the breasts.
They are well supported by the soft sewn-in cups and a band underneath. The stylish paneling at the sides is an added beauty feature.
The baby and the mom are growing in size and girth, your swimwear should stretch and make space for the growing body.
Lululemon Enlite Bra
Lululemon has come up with a great high impact sports bra for pregnant women. This activewear bra will make your life easy, trust me! Your workout sessions will no longer be uncomfortable and jiggly.
Everything will stay in place if you know what I mean.
For women who continue with their high-intensity workouts even during pregnancy will swear by this activewear bra.
Other bras are thrown out as bra size increases, and breasts start getting sore and uncomfortable. You need this amazing Lululemon enlist bra, which comes in sizes A to E.
This bra gives maximum support and is especially good for running and high-intensity workouts, which does not distract you from your workouts.
It is made from a super breathable fabric to keep you cool (let us agree, pregnancy can be really sweaty)
Ingrid and Isabel Women's Maternity Active
This pair of maternity workout pants will eventually become your full-time loungewear, they are so comfortable.
The crossover panel will keep your back cool, so no amount of activity will leave you sweaty and sticky.
These maternity pants have a very special feature, a design which is cut to cover the belly.
You can pull up this panel to cover your belly or pull it down, both ways, it is very comfortable. This pull-on closure is something not seen in any other activewear for pregnancy. It is very chic and stylish and right for your high-intensity workouts.
Some moms to be, ask for elastic on the belly but later realize that even those slide off as the belly grows. This maternity activewear pants save you all the trouble and offer this unique panel.
Mumberry Activewear Maternity Leggings
The Mumberry activewear leggings are by far the best ones for you, its features are amazing. When it comes to belly support, you cannot find something stronger and comfier. It gently compresses and gives you an upward lift, thus taking the pressure off your back.
This back and belly support together is incredible, and you end up exercising with no ligament or back pain.
This belly support band actually takes the pressure off your back and also improves your posture. You can work out with ease as the fabric stretches to give you more freedom.
Mumberry takes care of your comfort while working out. The seams are smooth and do not chafe your skin, while the moisture-wicking fabric keeps you cool and dry.
And Yes! There is a back pocket as well to keep your phone or the keys. How convenient is that!
Feeling comfortable in your Mumberry activewear will boost your confidence and the idea of working out at the gym, becoming more welcoming.
Cake Racerback Maternity Bra
Whether you would like to admit or not, a sports bra is essential activewear. For moms to be, this becomes all the more important because you have no control over your body, and your size is increasing day by day.
This sports bra comes in sizes up to 40K.
Designed in Australia, this bra is right for pregnancy workouts as well as breastfeeding, so you get a great deal here, pregnancy, and postpartum.
This underwire sports bra is good for small-sized and large-sized women during all kinds of workouts, light as well as high intensity.
Keeps you snug and fit and prevents jiggling. The seamless cups keep your breasts in place without giving you an extra bulky feeling. Light and airy and so comfortable.
The wide shoulder straps keep you well supported, and it stays the same even after several washes. By reducing friction and wicking away the moisture, you need not have any fear of sagging at all. Splurge in this and workout with confidence.
You will keep loving this bra even after the baby is born.
Motherhood Maternity Active Yoga pants
Each mom to be, reacts differently to the changes in her body. Similarly, preferences in the comfort of the clothes are also different. For those women who find leggings uncomfortable and too close to the body, here is a pair of yoga pants from Motherhood, which promises to provide the comfort you are looking for.
The fabric used in the manufacture of this maternity activewear is breathable and moisture-wicking, with 95% Cotton and 5% Spandex, which keeps you comfortable whether you are working out or lounging.
They have the brand's exclusive belly stretch, which grows with your belly throughout your pregnancy.
These are straight boot cut pants that can be paired with a top and ready to go out.
It is a full-length yoga pant, and the seam is also soft and will not chafe your skin.
Comfortable and sexy, a very flattering combination for soon to be moms to stay fit and healthy.
My Belly mama Cotton Shorts
Can the word "delicious" be used for clothes? Well, for these shorts, definitely.
These shorts do not look like maternity shorts, they stretch with your belly, and you can even wear them after your baby.
With 95% Cotton and 5% Spandex, these shorts are soft, and they breathe so well, leaving you feeling light and dry during your workout.
They do not restrict you and comfortably stretch over your belly without causing any discomfort.
For those of you pregnant ladies who prefer form-fitting and curve-hugging shorts, these are the ones for you.
The super-short length will keep you cool because pregnancy makes you sweat all the time.
FAQs and Conclusion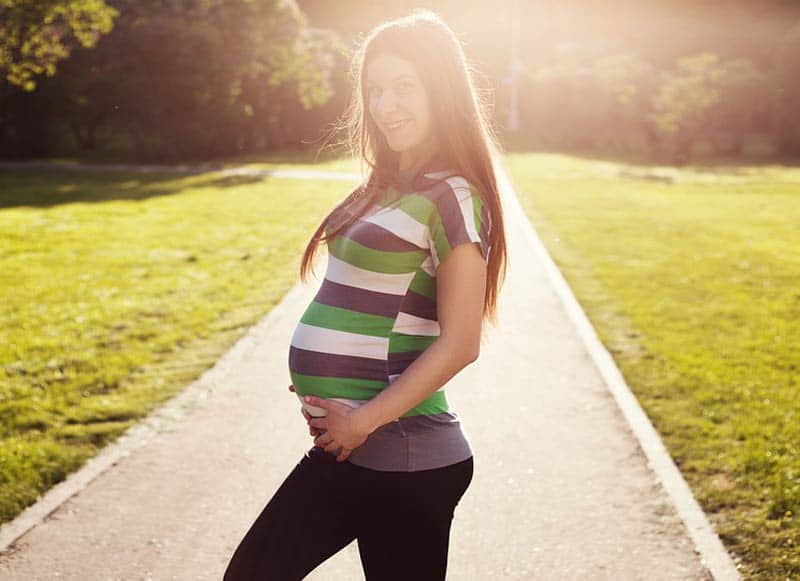 Why can't I buy a size bigger activewear during my pregnancy?
Oh Yes! You most certainly can, but it will not give you the support which activewear made, especially for pregnancy, does.  The sports bra will lift and hold your breasts without any discomfort. The specially designed jackets, tees, and leggings will support your baby bump and help maintain a good posture.
Besides, your body is going through so many changes. You must be comfortable as well as stylish. It makes you feel good, and you will realize the importance of a specially manufactured activewear for your pregnancy days.
Will I have to buy a bigger size as my baby bump gets bigger?
Pregnancy activewear is made with a special stretchable material that stretches and fits snugly as your baby bump grows. It is made to grow with your belly. The breathable stretch material will grow as your body grows.
It is recommended that you buy your pre-pregnancy size; it will stretch accordingly and regain its size when you regain yours. Many mommies still wear their pregnancy activewear even after the baby is born.
Where should I wear the waistband, above or below my belly?
The tight elastic waistband is greatly beneficial, and you will get to know the benefits when your body grows. Your joints loosen in preparation for the birth. The waistband is firm and hugs your hips, you need to wear it around your hips. It will support and lift the baby, releasing all the pressure from your hips.
How is a pregnancy activewear bra different from a normal one?
Pregnancy activewear bras are specially designed to hold and cup the breasts in place with soft, seamless cups. They are firm, and the straps are well fitted to hold and secure. The breathable fabric allows it to be chafe-free.
Are pregnancy activewear leggings good for lounging even after the baby?
The leggings will regain their shape after the baby and will become your favorite activewear to lounge in. They fit your curves well, and for those postpartum days, they are comfortable and like a second skin.
Conclusion
Pregnancy is a time where you want to feel and look good. Your self-esteem takes a nosedive, so you need to gather your wits and be active and workout.
You do not have to cough up a lot of money and stuff your closet with activewear clothes. Choose a few necessary articles but choose them wisely. Consider comfort as the priority, followed by a good style. You need to look good and feel good when you work out, whether at home or at the gym.
If your activewear is comfortable and stylish, pregnancy becomes a beautiful experience of loving the baby and loving yourself, accepting the changes with positivity.