Did you know that the first modern headphones were produced in the kitchen by Nathaniel Baldwin? And since then headphones have now become a common necessity. But with time they've gone expensive as well. Today a pair of some excellent quality headphones at least cost $200. And not everyone can afford such expensive products. People want a product that is affordable and works well.
So, if you're looking for some nice headphones that can meet your needs and wants at a cheap price then you've come to the right place as we'll guide you into buying the pair of headphones that are best suited to your preferences.
With that said,  let's move on to the features and specifications of 10 good headphones that you can purchase at an affordable price. BTW have you heard about the bone conduction headphones?
Make sure you also read on the closed vs open back headphones and their key differences.
List of 10 Good Headphones With Microphones on a Budget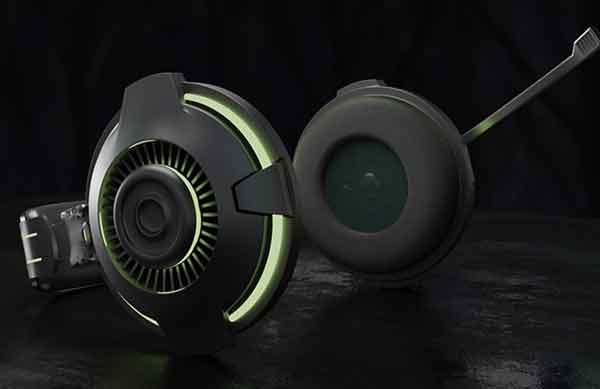 We did extensive research on our product recommendations and tried our level best to provide you with all the necessary information that you need to decide which pair of headphones is good for you.
Be it for work purposes like conference calls, zoom meetings, online customer care service, or for personal use like listening to music. I'm certain after reading this article you'll know what product is best suited to your preference.
Without further due, let me introduce the 10 good headphones that you can purchase at an affordable price.
Logitech H390:
The Logitech H390s  provide good value for the money and also get the job done. The pair of headphones come with many features at an affordable price that gives them an edge over other expensive headphones.
You'll barely feel discomfort using these as the headphones come with a padded headband and well-cushioned leather ear cups.
Moving on, the sound quality of Logitech H390 is really good and its design does a good job of blocking the background noise.
Now, let's talk about its microphone. So, the microphone Logitech H390 comes with has a tough material that confirms its durability.
Moreover, you can also, move the mic up and down which will enable you to adjust the mic to the right position and ensure good communication.
One thing I like the most about these headphones is that you can tuck the mic upwards if you're not using it and trust me the headphones that don't have mics that can be tucked up are so annoying. I mean it keeps hanging there forever and ruins your experience.
The other, thing that is cool about these headphones is the in-line controls which make it easy for you to mute and change the volume without disconnecting the calls.
The overall verdict about these headphones is that they're a great pair of cheap headphones offering a remarkable experience.
Pros:
Affordable
Lightweight
Clear Audio
Cons:
Build quality isn't satisfactory
Extremely long wire
Trouble connecting to the USB port
Mpow HC6: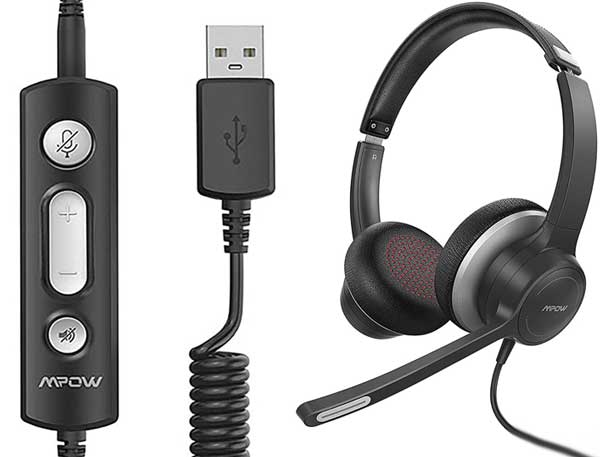 If you ask me why Mpow HC6s are placed on second? I will say because of their price that is a bit high from the Logitech H390s. However, the product does justice to its price.
The first, thing to be noticed about the Mpow HC6s is that they come with 90-degree rotating ear cups and an adjustable headband that can fit different ear sizes.
However, the size of headphones overall is a bit small that might cause a problem in fitting large head sizes.
I talked about these headphones being a bit pricier but it should be noted that the headphones give almost the same results as a pair of more expensive headphones such as the Jabra 40 headphones.
Moreover, if you are someone who works at a loud place and is looking for a pair of good headphones then Mpow HC6 could be a good match for your requirement as these headphones deliver appreciable noise cancellation without spending a lot of money.
People wanting to have a well designed and stylish pair of headphones can also pick this product as these headphones have a commendable sleek design.
The mute button of these headphones changes its color when the device is mute/unmute which provides a good visual indication.
The ear cups are also comfortable and the overall lightweight design helps you wear the headphone for several hours without hurting your ears.
Pros:
Good sound quality
Durable build quality
Comfortable ear cups and headband
Cons:
The mic is relatively small
Logitech H390 has better microphone quality than Mpow HC6
More chance of sweat build up on the ears
Mpow 071:
The Mpow 071s also belong to the Mpow family and is a great competitor to its sibling Mpow HC6. You can find certain features in Mpow 071 that aren't even present in the Mpow HC6.
As you know that one of the disadvantages of using Mpow HC6 was the sweat build-up due to its ear pad design.
However, Mpow 071s eliminate that problem with their breathable and relatively better-sized ear pads that don't cover the whole ear hence, limiting the sweat build up during long use.
Moreover, these headphones have an adjustable headband that makes it easy to fit different head sizes along with providing a better grip.
The headphones are a little cheap than the Mpow HC6 but come with all of its prominent features such as 90-degree rotation of the ear pads, 3.5mm jack, inline volume controls, and the noise cancellation feature.
Another, striking feature of this product is they've better sound quality than the HC6 however, the bass produced by the headphones is a lot.
Regardless, Mpow 071s have relatively low build quality which makes them less appealing in front of the Mpow HC6s.
Plus, the low built quality of the product questions the reliability and durability of the product.
Pros:
Extremely comfortable
Great control over the volume adjustment
Breathable soft ear pads
Cons:
Low build quality
Not durable enough
Static noise reported in the mic
New bee USB Headset:
If you want to go for any other company than Mpow and Logitech then you can pick the New bee USB headset.
These headphones come with a built-in noise reduction sound card so that the person using it has maximum noise cancellation along with inline controls for quick adjustment of volume as well as enabling you to mute and answer calls with ease.
The mic rotation is a bit different from its competitors Logitech and Mpow, as the mic of these headphones can rotate 360 degrees whereas, the Logitech and Mpow headphones can rotate to a maximum of 270 degrees.
When it comes to purchasing headphones most people want a product that is comfortable as they intend to wear it for several hours.
The New bee USB headset has a well-padded headband that can be adjusted as well.
Moreover, the ear cups are also well padded that ensure a comfortable experience for several hours.
However, make sure that you give your ears rest for some hours because wearing headphones for a long time can be tiring regardless of the comfort headphones can provide you.
The sound quality of the product proved to be remarkable after checking it by playing music and talking on calls. Hence, it won't be wrong to say that the product is offering more than enough in its price range.
Pros:
Excellent quality against the price
Remarkable build quality
Clear sound
Cons:
Issues found with the functionality of the microphone
Cyber Acoustics Stereo Headset AC-204:
The Cyber Stereo Headset AC-204 headphones have some nice appreciable features
However, the take on quality is debatable. Nevertheless, we can't ignore some nice features provided in this headset at a very cheap price.
People who use Logitech H390 and Mpow HC6 but want a more adjustable mic as these both have more rigid mics can opt for the AC-204s as these have a more flexible boom mic that can be used for more precise positioning.
So, if a flexible boom mic is what you're looking for then you can opt for the Ac-204.
But please keep in mind that the microphone quality won't be as good as the Logitech or Mpow products.
Moreover, one thing that is very praiseworthy in this product is the unidirectional mic feature. When used along with the flexible boom mic can possibly improve the communication between both the parties.
People with a specific directional preference for the mic may also benefit from this product as it has a 180-degree rotating mic that will make the mic accessible on both right and left sides.
AC-204s are overall a decent pair of headphones against its price.
They are easy to use, comfortable, and have some distinguishing features with a sleek compact design.
But one can't ignore the fact that at such a low price you can't receive high-quality sound and a durable build.
Pros:
Compact design
Lightweight
Flexible boom mic
Affordable
Cons:
Low sound quality
Not a durable product
Insignificant noise cancellation
Mpow Single-Sided Headset: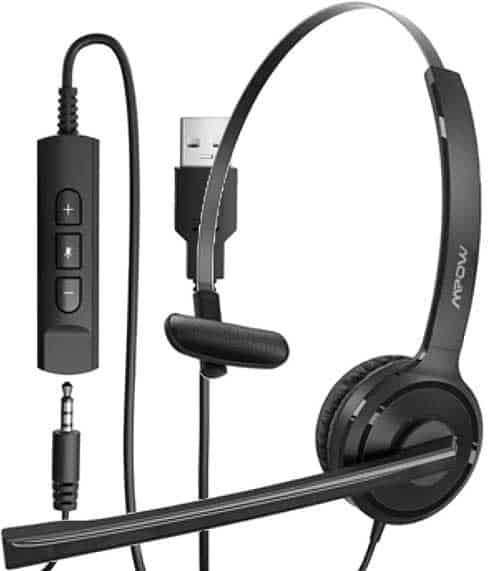 The Mpow single-sided headphone is particularly for people who are looking for a headphone that leaves one ear free. This may be because of the nature of their work or generally a preference.
The product has almost all signature Mpow features that are inline volume controls, 270-degree rotating mic, comfortable earpad, noise-reducing mic, and the 3.5mm jack
However, the price is the same as a pair of two-sided headphones which is a bit turn off for me.
But overall the product is impressive in terms of material quality, audio quality, and comfort.
However, the frequency range of this product is relatively low and the headset doesn't come with a padded headband that can be uncomfortable for some people.
Moreover, another disappointing thing was noticed about the functionality of the product. Which is the connectivity issue between the headphones and the computer.
Furthermore,  when trying to access the sidetone settings, the headset starts to re-add the device again and again. So, before buying, consider every aspect of purchasing this headphone.
Pros:
Sleek style
Amazing microphone
Comfortable and lightweight design makes it easy to wear for several hours
Cons:
Slightly overpriced for a one-sided headphone
Connectivity issue
Muffled sound
OneOdio A71D Computer Headset:
The OneOdio computer headphones are another dope pair of headphones. These headphones do not have much to criticize.
However, there's one thing that you might want to know about them. That they aren't lightweight and compact like the Logitech H390 or the other headphones mentioned above.
Now, if you are a person who wants a stylish glossy headphone with great specs then this might be the best option for you.
The specs related to this product include 90-degrees rotating well-cushioned ear cups along with a padded adjustable headband which will provide you the comfort and fit that you are looking for.
Moreover, other headphones that I have talked about in this article lack the feature that OneOdio A71D is equipped with. The headphones are equipped with a detachable mic.
What could be more amazing than a detachable mic? I mean let's be honest the movable mics that can be tucked up are good but they still look a little off like that.
So, I think the detachable mic feature is what separates it from others. Moving on, the sound and mic quality is pretty good, and is also a reliable product.
Thus, if you want a pair of headphones that can be used for several purposes such as calls, music, games, etc. Then, OneOdio A71D should be your pick.
Pros:
Effective noise cancellation
High-quality audio
Comes with USB charging
Cons:
Bass can be annoying sometimes
Product isn't aptX supported
Logitech H800:
The Logitech H800 is different from all of the above-mentioned headphones. Because these are wireless headphones and that is the best thing about them.
I mean in today's age no one wants to be tied up with wire all the time. Plus, getting a pair of wireless headphones at such a cheap price is unusual.
Nowadays, people prefer wireless headphones so that they can enjoy the ease of switching between multiple devices and that can happen if you go for these headphones.
The Logitech H800s can send wireless signals as far as 40ft/12m which is a decent distance range for indoor and outdoor use both.
Audio controlling becomes better with this product as you get on-ear audio controls that make it convenient to change volume and mute/answer calls.
The overall quality of the headphones is comparatively better than the Logitech H390.
Moreover, if you're looking for a pair of easy travel headphones at an affordable price then Logitech H800 will be a good match as it comes with a foldable design that makes it more portable.
Other features include laser tuned drivers, a built-in equalizer, and noise cancellation for more clear and improved audio.
However, the sound quality isn't actually as good as advertised that means that the sound quality isn't excellent but can be referred to as average.
Nonetheless, the product is appreciable on comfort grounds. The ear cups and headband are adequately padded which provides a comfortable experience to the users.
Pros:
Easy to use
Comes with a wireless Bluetooth USB
Compact
Convenient design
Cons:
Charging issue found
Lack of visual indicator for the mute button
Issues found with connectivity
Callez multipurpose headset:
These headphones are great for voice calls, zoom meetings, conference calls, etc. People get the product as advertised by the manufacturer which is a plus point for these headphones.
The headphones are lightweight and have a decent build quality which does justice to the price.
However, the leatherette used for the ear cups doesn't have an appealing look which could be an area of improvement.
Moreover, surprisingly at such a low price, the headphones offer great sound quality and the microphone seems to work nicely too. Basically, the pair serves the purpose that it is created for.
Moreover, it doesn't require any installation drivers, so you won't face any driver issues. All you've to do is plug in the attached USB cable and you're good to go.
Furthermore, the headphones come with inline controls to make it easy for the users to mute/unmute or adjust volume like other wired headphones mentioned above.
One thing that I noticed about this product that the manufacturer is offering a 2-year warranty to the customers. Which is unique from other manufacturers.  Hence, overall the product is a great purchase for the given price, and most importantly  you get what you're paying for.
Pros:
Clear sound
No need for battery or drivers to work
Great purchase for the price
Remarkable noise cancellation
Cons:
Earpiece too small that can cause discomfort
Unpadded headband hurts the head
iMicro Headphone (IMME282):
These headphones are among the cheapest headphones mentioned in this article. They can be considered the cheapest purchase on this list. However, the headphones are in conflict with its previous version IMME320 which is considered to be better than the new one.
The IMME320 had some better features than the IMME282. For example, the previous version had a flexible boom mic that was more effective in ensuring the better transfer of audio as it could be positioned near to the mouth.
However, the IMME828 has a rigid rotating mic that can't be adjusted. In this case, you can only hope that the mic is close enough to your mouth.
Nonetheless, this version isn't a bad purchase either. It has good sound quality with a good mic that gets the job done. However, the previous version's mic was better than the current version.
The style and look of the headset is quite incredible given its price. But the headband can be a little stiff for people with larger heads.
Plus, the headband isn't padded with any kind of soft material that can further cause discomfort when wearing it for a longer period.
Nevertheless, as the price is really low so purchasing this pair of headphones and testing it for yourself won't break the bank.
Therefore, it can prove to be a good purchase if you're going for your first headphones purchase for general use like calls, beginner gaming, zoom meetings at an affordable price.
Pros:
Decent sound quality
Good value for the price
Cons:
Uncomfortable
Doesn't have an adjustable mic
Conclusion:
The headphones mentioned in this article meet various wants and needs depending on the preference of the user.
I'm sure you were able to find the one best suited to your need at the desired price.
However, these headphones aren't the only products available in the market at affordable prices but I can certainly say that they are among the best products.
Lastly, if you have any questions related to the products or if you bought any of the products mentioned above and want to share the feedback then you can reach us in the comments section below.