Are you looking for a way to measure the temperature of objects without having to touch them? Who would have thought that you would be able to tell that an object is hot or cold from a distance? But science has made it possible. Not just whether an object is hot or cold, but the exact temperature of the object can be assessed using a simple device called the infrared thermometer or the IR thermometer.
Let us help you find the best infrared thermometer available in the market and make your life easier and convenient.
Thermometers are used in nearly everything these days! Aside from their obvious use in air-conditioning, heating, and refrigeration, thermometers have a plethora of uses in all kinds of industries and environments. According to our research, the ANKOVO Thermometer for Fever is Best Infrared Thermometer Medical Use. See below.
Today it is considered the fastest and easiest way to gauge temperatures. It also provides a number of other features that make this a good medical as well as a household device.
We have shortlisted 7 of the best IR thermometers for different categories in the industry. The Ankovo Infrared Thermometer is ideal for medical purposes while the iProven 489 is the best forehead thermometer for babies. For industrial use you can select the Fluke 62 Max and for the HVAC applications, you will not find a match of the Fluke 561. If you are looking for the best infrared thermometer for cooking and grilling then there could be no better choice than the Taylor Precision Products Dual Splash Proof Thermometer. Here we provide to you the details of the top 7 infrared thermometers in the market along with a detailed buying guide for your ease and convenience.
A Handy Gadget for Everyone
An infrared thermometer is best used to measure the temperature of the living bodies, food items like chicken roasts and meats, electrical circuits and devices and automotive equipment. In addition to this there is a wide variety of manufacturing and service industries where this gadget can be employed with effectiveness.
Which is the Best Infrared Thermometer to Buy?
If you are wondering which would be the best infrared laser thermometer to buy for yourself and your family, then worry no more! We will provide for you an elaborate discussion on which infrared thermometer is best in the market and what different uses it can be employed for.
So, whether you are looking for the best baby infrared thermometer or the best infrared thermometer for cooking or the best infrared thermometer for grilling, or the best medical infrared thermometer or for any other purpose in your life, we are here to guide you.
We have shortlisted the best non-contact infrared thermometers available in the market and highlighted their notable features to help you make your choice.
ANKOVO Thermometer – Our Pick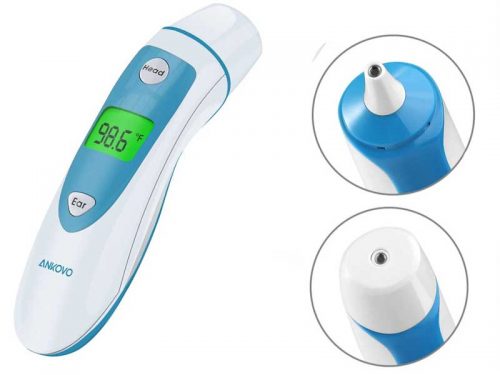 Most important and essential use of thermometers is in the field of health care and medicine. This amazing product by Ankovo is best suited for medical procedures and activities.
This IR thermometer can work in two ways. Its dual mode allows gauging temperature through foreheads as well as ears. It is recommended for adults and for children above the age of three months.
The gadget is super fast and can provide most reliable readings in just 8 seconds time. A very good feature of this device is that it allows saving previous readings as well. You can view up to twenty readings that have been saved in the device. This makes temperature monitoring more effective and efficient.
The gadget is equipped with a useful LCD flicker or Fever alarm system. If the body temperature of the person is greater than the normal range of 37.5 degrees Celsius, then this alarm will ring to notify the user. It is the best infrared thermometer health-related issues.
Key Features to Consider about this thermometer
8 seconds quick temperature gauge
Dual-mode operations for ear and forehead
Fever alarm system
Useful memory mode
Easy to use
Friendly Backlit Display screen
Conversion feature from Celsius to Fahrenheit
iProven DMT489
This is a popular gadget that is recommended by many pediatricians. It enables the parents and doctors to gauge the temperature readings from the baby's forehead or the ear.
Because of its non-contact feature, the forehead infrared mode is suitable for all ages including babies. The ear mode can be used for babies only but of six months and older.
For parents, it is a reliable gadget that provides accurate and fast results. It has been proven and tested for providing accurate results by many health care providers.
It comes with a backlit display that enables to make readings even in dark areas.
The thermometer mode can be easily switched between ear and forehead. It comes with light indicators which depicts no fever with green light and feverish temperatures with red light.
It also has the capacity to save readings of the previous 20 measurements.
Key Features to Consider about this thermometer
Baby Thermometer with Ease of Use
Reliable and accurate readings
Quick forehead readings 3 seconds
Dual Mode for enhanced convenience and functionality
Backlit display
Good and Bad Reading light indicators
Memory saves 20 readings
Switching option between Degree Celsius and Fahrenheit
Accuracy up to ±0.2˚C /±0.4˚F
Taylor Precision Products Thermometer
This is a specialized best infrared thermometer for cooking and culinary activities. What makes it more suitable for cooking process is its dual functionality.
The product is designed to measure temperature of food items from inside and outside both. You can simply insert the gauge inside the roast or meat and find out the internal temperature. Using the built infrared mode, you can gauge the external surface temperature as well. This dual measuring capability makes it the best infrared cooking thermometer.
The device is equipped with 3 colored LED light indicators for signaling for hot, cold and mid temperature foods.
Key Features to Consider about this thermometer
Temperature range -67 to 482 degrees Fahrenheit
Small margin of error +/-2 for 14 degrees Fahrenheit and +/-1% for 149 degrees Fahrenheit
Ability to measure internal and external food temperature
3 LED light indicators
Splash proof for ideal protection during cooking procedures
FLUKE 62 MAX IR – Best for Automotive and Industrial Use
Being one of the most accurate thermometer brands, the Fluke 62 Mini non-contact infrared thermometer is the perfect entry-level solution for professional users.
It is the most accurate laser thermometer in its class and is excellently suited for fast and reliable measurement of surface temperatures. This compact and portable meter can diagnose problems in heating or ventilation systems and monitor the temperature of electric motors and control panels without contact.
Thanks to the protective rubber coating, the 62 Mini can even withstand the demands of industrial applications.
With the handy nylon holster also included, the thermometer is always available for quick temperature measurements.
Key Features to Consider about this thermometer
Offset single-point laser beam aiming aid
Highest accuracy in its class: + 1% of reading
Hold the reading for 7 seconds
Double display for simultaneous display of the current temperature and the maximum value
Backlit display for use in poorly lit areas
Comfortable, ergonomic handle with protective, durable rubber coating
Matching carrying bag
Robust, award-winning design
Wide temperature range: -30 ° C to 500 ° C (-20 ° F to 932 ° F)
This is definitely the best digital infrared thermometer and is popularly used in measurement, industrial maintenance, electrical, safety, temperature, sensor technology, maintenance & repair, and thermal management.
FLUKE 561
For professionals looking for thermometers that work around ventilation equipment, heating ducts or air-conditioning machines or HVAC, then this is the best infrared thermometer for you.
The Fluke 561 hand held non contact thermometer is one of the essential components for your HVAC tool kit.
Coming from a highly reputable and reliable name in the IR thermometer industry, this model of theirs is undoubtedly the best suited for the job. The product package includes a K type thermocouple that helps double-checking the readings if you are doubtful.
Because of its handy properties, this thermometer is ideally suited for HVAC evaluations and monitoring. You do need to reach out to specific ventilation areas. Simply point towards the place and get an accurate thermometer reading in a few seconds.
The device comes with three measuring modes. Ranging from hi to low, these modes are best suited for shiny surfaces because they adjust the emissivity.
Key Features to Consider about this thermometer
Best thermometer for places out of normal reach
K type thermos couple included
Contact and infrared thermometer options
Comes with a handy Velcro pipe probe
Hard carrying case for safety
Temperature range of -40 to 550 Degree Celsius-
Single point laser for precision temperature reading
Three emissivity adjustment modes for shiny surfaces
Etekcity 1022D Dual Digital Laser Infrared Thermometer
From a purely optical point of view, the thermometer looks like a gun. So you can also regard it as the best infrared thermometer gun. Turn it on, it is ready to use within a few seconds. Two red laser points show us the area in which we can measure.
To make a successful measurement, press the button for about 1 second (also like a pistol). Immediately the measurement result is displayed on the infrared thermometer.
The use is so easy but even though it may be one of the most accurate laser thermometers or amongst the most accurate thermometer brands, it doesn't mean it's safe to shine it in your eyes.
Key Features to Consider about this thermometer
Measuring range: -50 to + 550 ° C, unit switchable to ° C and ° F, emission value of 0.95
Accuracy: ± 2% or ± 2 ° C; Response time: <0.5 seconds, Low battery indicator
Distance to the ratio Spot: 12: 1 guarantees the most accurate results, even at longer intervals
Switchable display illumination and laser pointer, data hold function, automatic switch-off (15 seconds)
Wide range of applications: hot water pipes, cooking surfaces, axle bearings, heating, air conditioning, food, etc.
Etekcity 1030D Laser Grip Thermometer
Etekcity is the most accurate laser thermometer brand in general and has a lot of good picks. Whether you are looking for best infrared cooking thermometer or the best infrared thermometer HVAC, Etekcity has some of the best choices to offer.
The Etekcity Infrared Thermometer Laser grip 1030D is equipped with a temperature filter function that allows detecting drastic temperature differences. However, this thermometer is not suitable for human or animal body temperatures.
Once you have selected a reference temperature, you can set the temperature meter to read differences in increments of 0.5 ° C / 3 ° C / 5.5 ° C. The screen will turn red or blue to let you know if the measured surface is hotter or colder than the reference temperature.
For best accuracy, the distance between the IR thermometer and the DUT should be approximately 14.17 inches (36 cm).
This temperature measuring device is not suitable for body temperature so yeah, let's not try that.
Key Features to Consider about this thermometer
Temperature range: -50 ° C to 550 ° C (-58 ° F to 1022 ° F)
Accuracy:? 100 ° C ± 2% or? 100 ° C ± 2 ° C
Response time:? 0.8 seconds
Distance to Point Size Ratio: 12: 1
Storage Temperature: -20 ° C to 50 ° C / -4 ° F to 122 ° F
Operating Temperature: 0 ° C to 50 ° C / 32 ° F to 122 ° F
Contents 1 x Etekcity Dual Laser Infrared Thermometer
1 x 9V DC Battery
1 x User Manual
What is an Infrared Thermometer all about?
In basic terms, the basic components of an IR thermometer, or Pyrometer, consist of an optical system, a detector, and a processing unit. The infrared energy emitted from the object to be measured is gathered by the optical system and then passed through to the sensor which transforms the infrared energy into electrical signals.
These signals are then changed in the processing unit into a heat measurement. Infrared thermometers are often referred to as 'non-contact' infrared thermometers and are also known by a range of other terms including, digital infrared thermometers, digital pyrometers, wireless digital thermometers, handheld infrared thermometers, laser or temperature guns, etc.
What are Infrared Non-contact Thermometers?
Pyrometers are the best non-contact infrared thermometers or temperature measuring devices that can be used to determine the surface temperature of objects. All objects and bodies emit heat radiation, which is called infrared radiation, from a temperature of 0 Kelvin (273.15 ° C – also, absolute zero).
Using a laser (infrared temperature sensor), it is converted into electrical energy in the so-called optics of the thermometer. The temperature measurement is evaluated using an integrated processor and displayed digitally on an LCD display. The products in this comparison are used especially for finding so-called cold bridges.
Here, the non-contact temperature measurement is particularly convenient because cold bridges are often on ceilings or in the subsoil.
Heat can escape through poorly insulated building materials such as steel or concrete, which leads to energy costs being increased. Especially if cold condensation settles on the cold outer walls of damp rooms such as the bathroom or in the bedroom, this can lead to mold growth.
With a laser temperature measuring device, it can be determined whether the problem can be found in the quality of construction or can simply be prevented by changing the room climate which is another reason for investing and finding the most accurate IR thermometers for you.
Also for controlling heating systems, infrared thermometers are often used. When the laser is aimed at a location, the prevailing surface temperature appears on the display. If you now aim the beam at a second position, the pyrometer will indicate any differences. New pyrometers change the display color as soon as a difference is measured – this makes reading the exact temperature unnecessary in most cases. The most accurate laser thermometers just make your job a whole lot easier and give you a chance to relax and know that everything is going to go well.
How Accurate Are Infrared Thermometers?

When measuring the temperature with a thermometer, an accurate and reliable result is fundamentally important. But how exactly do infrared thermometers measure and how good are the results?
What makes a thermometer the most accurate IR thermometer you can get your hands on? There are commercially available infrared thermometers for almost every application today. Compared to a contact thermometer, contactless temperature measurement tends to be more prone to measurement errors and inaccuracies.
Cheap infrared thermometers usually have a tolerance range of +/- 2 ° C to the measurement result. Better industry-standard devices with calibration function will provide a deviation below 1 ° C. If you attach great importance to particularly handy devices, you should take a closer look at Mini Infrared Thermometers. They weigh less than 50g, are smaller than 10cm, and fit in the trouser pocket.
However, in the medical field of fever and illness, one needs a more precise result. For the measurement of fever, there are today special infrared clinical thermometers, which can be used over the forehead or as ear thermometer and these are definitely some of the best and most accurate laser thermometers you'll find.
Above all, the direct measurement in the ear provides very precise results and is also used in hospital operations. Infrared thermometers are very versatile for the measurement of liquids, foods, or hot and dangerous substances.
If you want to improve your measurement results, then take a look at our contribution in the list of the most accurate laser thermometer brands to avoiding popular measurement errors and tips for accurate infrared temperature measurement.
Why Buy An IR Thermometer?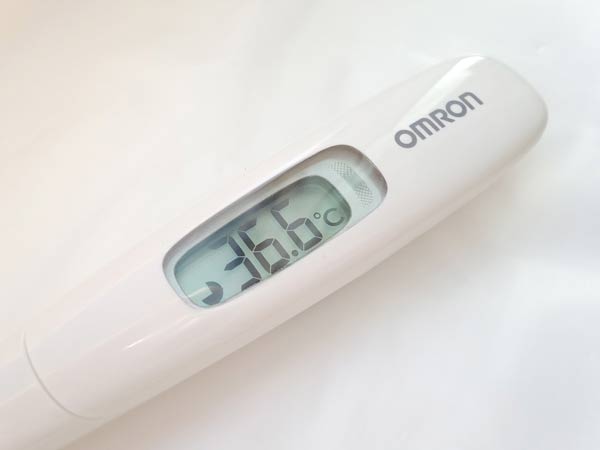 It allows gauging body temperature without having to touch a person with a contagious disease.
It is portable, lightweight, and handy.
It allows fast scanning of a large number of people.
Useful for crowded places like airports, bus and train stations, hospitals e.t.c.
Ideally suited for gauging the temperature of non-cooperative targets like babies, animals, children.
They are time saving and convenient.
They can measure temperature from long distances.
You can take a reading from the surface without having to touch it.
It allows you to stay away from very high and very low-temperature objects.
It provides accurate readings.
It is good for ensuring the food is cooked to the desired temperature level.
What to Look for When Buying Infrared Thermometers?

Infrared Thermometers are used in domestic, commercial, and industrial activities worldwide. We have provided for you a detailed description of the 7 best infrared thermometers in the industry. However, to make your decision-making process more accurate, we are here to present a buying guide for this purpose as well.
Buying Guide – Factors Underlying the Buying Decision
The Temperature Range – This is an important consideration when buying a thermometer. If you are looking for an IR thermometer for household or medical purposes, then a smaller temperature range will be sufficient. However, for industrial and commercial activities, you should definitely go for a thermometer with large temperature range.
The Brand Name – Like any other product or service, brand name plays an important part in your selection process. A renowned and trustworthy brand ensures product quality, reliability and above all accuracy. For the same reason, all seven products in our top infrared thermometer list carry strong and popular brand names.
The Accuracy of Results – Thermometer is a sensitive gadget. When finding the temperature of an object or person, accuracy is required. It is therefore important to check the accuracy of the selected product. For this purpose, you should go through the product specifications in detail and check its standards. You should also run through the best infrared thermometer reviews to get a better opinion.
The Emissivity – Most of the IR thermometer guns with the option of adjusting the emissivity of the infrared lasers. These are important in making adjustments with respect to the surface of the object that is being gauged. In some cases, the temperature of the target may be high enough to emit infrared rays itself. So, you should check this aspect of the thermometer before making your selection.
Display Screen – You must ensure that the product has a good visibly enhanced display screen. Reading the various temperatures accurately is only possible with a clear display screen.
So whether you are looking for the best infrared thermometer for cooking, medical use, for children, for industrial activities or simply monitoring your atmosphere, you must give a look into the above-mentioned factor carefully.
What are the Frequently Asked Questions (FAQs) About Infrared Thermometers?
Yes. The gadget is perfectly safe to use domestically and commercially. It measures infrared radiation but does not emit them. Some models of IR thermometers are equipped with laser beams. These may be harmful to the eyes if pointed directly into them.
Does an IR thermometer provide accurate results?
The answer to this question is dependent on the model and brand that you have selected. As mentioned earlier as well, most renowned manufacturers ensure the accuracy of their products.
Can IR thermometers be used for babies?
Yes these thermometers are specially designed to gauge temperatures of babies that are otherwise difficult to measure.
Can you calibrate an IR thermometer on your own?
Yes you can. Simply take a bowl and put crushed ice with water in it. This temperature should be around 0 degrees. Use this to check the accuracy of your thermometer.
Ready to Measure the Temperatures!
We have provided you with the list of the top ranking infrared digital thermometers in the industry. These are best-suited models for various requirements including cooking, healthcare, industrial purposes and domestic use. All you need to do is figure out your requirements and choose the best infrared thermometer from our list that matches your needs.