Thermometers are used in nearly everything these days! Aside from their obvious use in air-conditioning, heating, and refrigeration, thermometers have a plethora of uses in all kinds of industries and environments. Infrared thermometers, or IR thermometers, are the latest and best thermometers out there and there are quite a few of the most accurate laser thermometer brands to choose from.
In basic terms, the basic components of an IR thermometer, or Pyrometer, consist of an optical system, a detector, and a processing unit. The infrared energy emitted from the object to be measured is gathered by the optical system and then passed through to the sensor which transforms the infrared energy into electrical signals.
These signals are then changed in the processing unit into a heat measurement. Infrared thermometers are often referred to as 'non-contact' infrared thermometers and are also known by a range of other terms including, digital infrared thermometers, digital pyrometers, wireless digital thermometers, temperature guns, etc.
There are several that can be considered the most accurate IR thermometers but there's always the best. Before we get on to discussing the most accurate laser thermometers, here's a little bit more about them so you know how to decide the most accurate IR thermometer yourself.
Modern measuring instruments make life easier for us: this is how digital rain meters and weather stations help when planning your leisure time and landscaping as thermometers show us the temperatures and humidity of indoors that help you plan your day. In addition, there are infrared thermometers that can help us with the heat installation and insulation of buildings. A small red laser detects cold spots that hide on the outside walls or in heating pipes and increase our energy costs or lead to mold growth. But in other areas too, the infrared measuring devices can save a lot of time and effort: they can digitally display the temperature of food or rooms in seconds.
Whether you are an architect, do-it-yourself enthusiast or wine lover, finding the most accurate IR thermometer or also known as the most accurate laser thermometer is essential if you want to enjoy your time.
Below are the most accurate laser thermometer brands and the most accurate laser thermometers provided by them with all their specifications to help you choose the best.
1) FLUKE 62 MAX IR thermometer, -30 ° C to + 500 ° C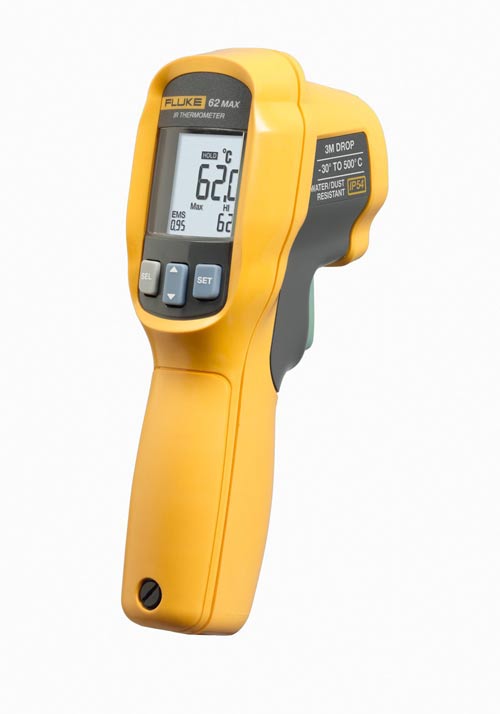 Being one of the most accurate thermometer brands, the Fluke 62 Mini non-contact infrared thermometer is the perfect entry-level solution for professional users.
It is the most accurate laser thermometer in its class and is excellently suited for fast and reliable measurement of surface temperatures. This compact and portable meter can diagnose problems in heating or ventilation systems and monitor the temperature of electric motors and control panels without contact. Thanks to the protective rubber coating, the 62 Mini can even withstand the demands of industrial applications.
With the handy nylon holster also included, the thermometer is always available for quick temperature measurements.
Offset single-point laser beam aiming aid
Highest accuracy in its class: + 1% of reading
Hold the reading for 7 seconds
Double display for simultaneous display of the current temperature and the maximum value
Backlit display for use in poorly lit areas
Comfortable, ergonomic handle with protective, durable rubber coating
Matching carrying bag
Robust, award-winning design
Wide temperature range: -30 ° C to 500 ° C (-20 ° F to 932 ° F)
This most accurate IR thermometer is popularly used in measurement, industrial maintenance, electrical, safety, temperature, sensor technology, maintenance & repair, and thermal management.
2) Etekcity Dual Digital Laser Infrared Thermometer
From a purely optical point of view, the thermometer looks like a pistol. Turn it on, it is ready to use within a few seconds. Two red laser points show us the area in which we can measure. To make a successful measurement, press the button for about 1 second (also like a pistol). Immediately the measurement result is displayed on the infrared thermometer.
The use is so easy but even though it may be one of the most accurate laser thermometers or amongst the most accurate thermometer brands, it doesn't mean it's safe to shine it in your eyes.
Measuring range: -50 to + 550 ° C, unit switchable to ° C and ° F, emission value of 0.95
Accuracy: ± 2% or ± 2 ° C; Response time: <0.5 seconds, Low battery indicator
Distance to the ratio Spot: 12: 1 guarantees the most accurate results, even at longer intervals
Switchable display illumination and laser pointer, data hold function, automatic switch-off (15 seconds)
Wide range of applications: hot water pipes, cooking surfaces, axle bearings, heating, air conditioning, food etc.
3) Etekcity Infrared Thermometer Laser 1030D
The Etekcity Infrared Thermometer Laser 1030D is equipped with a temperature filter function that allows detecting drastic temperature differences. Once you have selected a reference temperature, you can set the temperature meter to read differences in increments of 0.5 ° C / 3 ° C / 5.5 ° C. The screen will turn red or blue to let you know if the measured surface is hotter or colder than the reference temperature. Etekcity is the most accurate laser thermometer brand in general and has a lot of good picks.
For best accuracy, the distance between the IR thermometer and the DUT should be approximately 14.17 inches (36 cm).
This temperature measuring device is not suitable for body temperature so yeah, let's not try that.
Temperature range: -50 ° C to 550 ° C (-58 ° F to 1022 ° F)
Accuracy:? 100 ° C ± 2% or? 100 ° C ± 2 ° C
Response time:? 0.8 seconds
Distance to Point Size Ratio: 12: 1
Storage Temperature: -20 ° C to 50 ° C / -4 ° F to 122 ° F
Operating Temperature: 0 ° C to 50 ° C / 32 ° F to 122 ° F
Contents 1 x Etekcity Dual Laser Infrared Thermometer
1 x 9V DC Battery
1 x User Manual
4) Optris Infrared thermometer -50 ° C and 2,300 ° C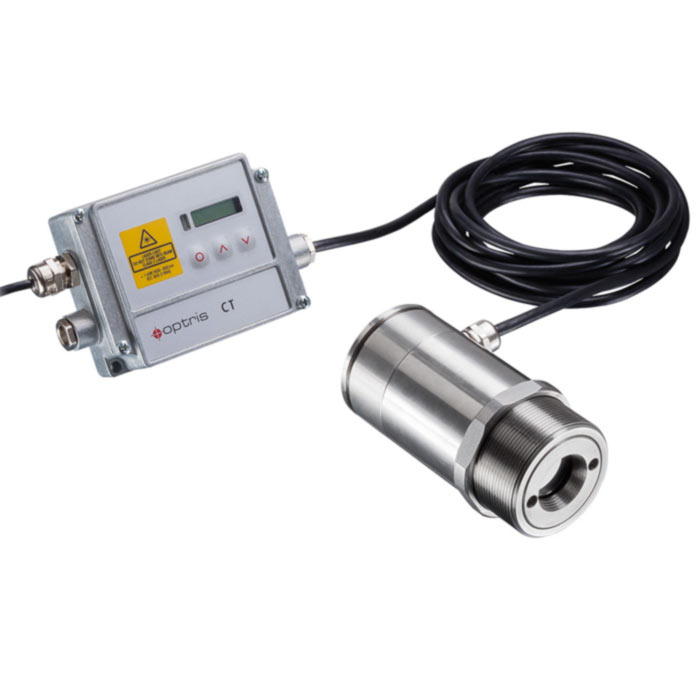 The infrared thermometers of this performance class are used primarily in areas of industry as well as research and development, where small measuring spot sizes are crucial for precise non-contact temperature measurement. But also in the OEM area, especially in mechanical and plant engineering, you benefit from the excellent performance and the usual high quality. That's generally where you'll see the most accurate IR thermometers being used.
Depending on the wavelength and the type of device, temperatures of between -50 ° C and 2,300 ° C can be measured with infrared thermometers of the high-performance series. In contrast to many stationary infrared thermometers with single lasers available up to now, which only mark the center and not the size of the measuring field, most devices of this product family have an innovative double laser sight a major reason for it being one of the top of the most accurate laser thermometers.
The two laser beams of the thermometer follow the infrared-optical measuring beam path and mark exactly the measuring field size at each distance. As a result, the accuracy in measuring the temperature is significantly increased and incorrect measurements are avoided.
The smallest measuring spot is marked at the crossing point of the two laser beams; For example, the optris CT laser 1M achieves 0.5 mm in 150 mm distance. A variety of different focusing allows flexible adaptation to the respective applications. Depending on the measuring device and type of detector, different measuring speeds (setting times) are available.
The fastest long wave measuring device is the optris CT laser LTF with 9 ms reaction time. In the short-wave range, even temperature changes can be precisely measured within 1 ms, for example with the infrared thermometer for metal optris CT laser 1M / 2M. And if that wasn't enough to convince you that the Optris is the most accurate IR thermometer, here's more. The thermometers of this product series have been developed for use in various industrial applications. For example, the optris CS laser 2M infrared thermometer is ideal for high-precision temperature measurements at high ambient temperatures, such as those in the processing of metals, metal oxides, and ceramics.
In contrast, the infrared thermometer optris CS laser G5HF with a measuring range between 200 ° C and 1450 ° C is particularly suitable for measurements on flat glass, container glass, car glass, and solar cells. But there are also special Optris high-performance thermometers for temperature measurements in laser applications, CO² flames or plastic materials.
What are infrared thermometers?
Pyrometers are non-contact temperature measuring devices that can be used to determine the surface temperature of objects. All objects and bodies emit heat radiation, which is called infrared radiation, from a temperature of 0 Kelvin (273.15 ° C – also, absolute zero).
Using a laser (infrared temperature sensor), it is converted into electrical energy in the so-called optics of the thermometer. The temperature measurement is evaluated using an integrated processor and displayed digitally on an LCD display. The products in this comparison are used especially for finding so-called cold bridges.
Here, the non-contact temperature measurement is particularly convenient because cold bridges are often on ceilings or in the subsoil.
Heat can escape through poorly insulated building materials such as steel or concrete, which leads to energy costs being increased. Especially if cold condensation settles on the cold outer walls of damp rooms such as the bathroom or in the bedroom, this can lead to mold growth.
With a laser temperature measuring device, it can be determined whether the problem can be found in the quality of construction or can simply be prevented by changing the room climate which is another reason for investing and finding the most accurate IR thermometers for you.
Also for controlling heating systems, infrared thermometers are often used. When the laser is aimed at a location, the prevailing surface temperature appears on the display. If you now aim the beam at a second position, the pyrometer will indicate any differences. New pyrometers change the display color as soon as a difference is measured – this makes reading the exact temperature unnecessary in most cases. The most accurate laser thermometers just make your job a whole lot easier and give you a chance to relax and know that everything is going to go well.
How accurate are infrared thermometers?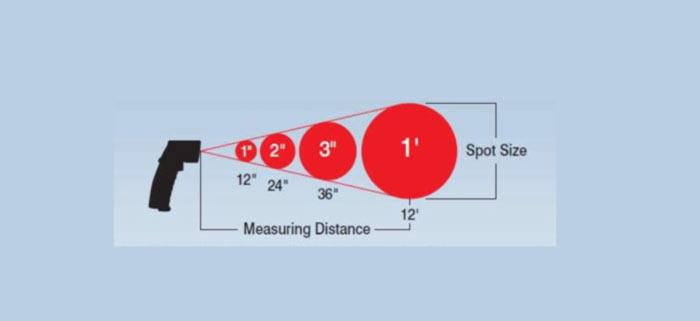 When measuring the temperature with a thermometer, an accurate and reliable result is fundamentally important. But how exactly do infrared thermometers measure and how good are the results?
What makes a thermometer the most accurate IR thermometer you can get your hands on? There are commercially available infrared thermometers for almost every application today. Compared to a contact thermometer, contactless temperature measurement tends to be more prone to measurement errors and inaccuracies.
Cheap infrared thermometers usually have a tolerance range of +/- 2 ° C to the measurement result. Better industry-standard devices with calibration function will provide a deviation below 1 ° C. If you attach great importance to particularly handy devices, you should take a closer look at Mini Infrared Thermometers. They weigh less than 50g, are smaller than 10cm and fit in the trouser pocket.
However, in the medical field of fever and illness, one needs a more precise result. For the measurement of fever, there are today special infrared clinical thermometers, which can be used over the forehead or as ear thermometer and these are definitely some of the best and most accurate laser thermometers you'll find.
Above all, the direct measurement in the ear provides very precise results and is also used in hospital operations. Infrared thermometers are very versatile for the measurement of liquids, foods or hot and dangerous substances.
If you want to improve your measurement results, then take a look at our contribution in the list of the most accurate laser thermometer brands to avoiding popular measurement errors and tips for accurate infrared temperature measurement.
Conclusion
For all the most accurate laser thermometer brands and thermometers mentioned here, the price is the best point. The non-contact temperature measuring device does not have to be explained for long. Turn it on and try it, everyone can handle it. Surely you cannot expect miracles in terms of accuracy, but the thermometer does what it should and it's better than any other out there. There are still a lot of advancements being made so tomorrow, the most accurate laser thermometer may be something totally different. But right now, these are it.