A chilled drink, on a hot summer day, is a picture-perfect scene to imagine. Investing in the best portable ice maker can literally make your summer days relaxing and enjoyable. It is important to keep your drinks cool and fresh. A home bar is incomplete without a good ice maker. The fresh ice that this equipment produces is unbeatable. Within a matter of some minutes, you get a tray full of ice cubes! What else would one ask for, especially in summers?
As summers are approaching, you need to make sure that you have plenty of ice available at home.
A home bar is not wonderfully functional without an ice maker.
Whether you have regular get-togethers at your place or not, having an ice maker can help you get a good supply of ice throughout the hot and humid days.
Freezers might work fine for a lot of people but hey guy, that is not the best way to make ice.
Also, the ice in freezers is not always fresh which means that it can easily affect the flavor of your drinks.
There is a lot to consider if you want a good ice maker. Each one of these is not worth your investment. So make sure that you have done your research well before you hit the market to buy one.
NewAir 50lb Portable Ice Maker
This has to be the best overall and hey, it is the most loved ice maker on Amazon too. NewAir portable ice maker is going to make your investment count. If you have a lot of families visiting you often, then buying this one is a great choice to make.
This might be a small one in appearance but it is as powerful as a beast. It can produce 50 pounds of ice every day. Get 12 pieces of ice within 13 minutes only! WOAH! Your friends just gave you a surprise? Well, no worries! This ice maker has you covered and will let you enjoy your beverages to the best within 13 minutes.
It has three different ice sizes to select from. Moreover, it comes with an 18-hour timer which means that you can set a schedule for making ice as well. Through the indicator lights, you get to know that the ice maker is demanding more water. It also indicates the ice scoop being full and ready for serving.
Users have loved it so far and state that this one doesn't demand a lot of maintenance either. The self-cleaning mode is a savior for sure. The outlook of this ice maker is pretty sleek; an example of perfect modern design.
Vremi Countertop Ice Maker:
Ice makers are usually invested in due to the amazing quality of ice they produce. The freshness of ice adds a different taste to your drink which is why a lot of people invest in ice makers. Vremi Countertop is another great choice to make as it produces a tray full of ice cubes, in merely 9 minutes.
This one is not a perfect pick for huge parties and get-togethers. But, it is definitely a wonderful investment for anyone who loves freshly produced ice during hot summer days. It will serve your family amazingly and is a perfect pick to make for your home bar.
Vremi countertop ice maker is lightweight and portable. Also, it comes in a very affordable price tag which makes it a good icemaker on a budget. It can hold up to 2.2 liters of water at a time. The best part about Vremi is that it is a very silent ice maker. Usually, these machines create a lot of noise while producing ice. However, with this one, there is nothing to worry about as it does its job quietly.
Pros:
Noise-free ice production
Ice maker on a budget
Energy efficient
Portable
Cons:
Water holding capacity is less
Less ice production for parties
IKICK Portable Ice Maker Machine:
IKICH ice maker is another portable and great choice to make for your home bars. It is compact but can produce ice within a matter of 6 minutes only. The machine has been built smartly and the sleek design is quite modern. It comes with a transparent window that allows you to peek inside the machine to check on the ice, without having to open it.
However, this one is not going to produce square ice cubes. You will be getting hollow shaped ice which is quite cool and different. What do you think? Let's ditch the boring square ice cubes with this one, shall we?
The best part about KICH ice maker is that it comes with a high-density polyurethane foam layering.
This layer helps in keeping the ice isolated and frozen for a good period of time. It also has two infrared sensors that let you know when the ice bucket is full. It also indicates the need for refilling the machine. Thus, it is extremely user friendly as well.
Lastly, it is a noise-free machine just like the Vremi Countertop.
Pros:
2-year warranty
Noise-free ice production
High-density polyurethane foam layering
User friendly
Cons:
FirstBuild Opal Countertop Nugget Ice Maker:
Looking for an exquisite ice maker? Well, look no further because this one is it!
This is a nugget ice maker! It means that you don't have to go out to get nugget ice anymore as you can make it at home within some minutes. No hopping down the streets to get that perfect chewable nugget ice anymore with this ice maker.
FirstBuild Opal weighs 44 pounds. Thus this is not a portable machine. If you are looking for something that can be moved around easily then you might not want to pick this one. However, it fits amazingly in your home bar as it isn't too huge.
If you are a tech geek, you will adore the fact that this machine can be connected to your smartphone through Bluetooth. This helps you monitor the ice maker through the app. Also, the translucent window lets you check up on the ice tray without having to open it again and again. If you have a small get together then this one is a fine pick. However, it won't be able to produce a lot of ice for large parties.
But getting nugget ice at home is certainly a catch!
Pros:
Smart technology ice maker
Sleek and modern design
Nugget ice at home
Cons:
A little costly
Makes a little noise while ice production
Frigidaire 26lb Portable Countertop Ice Maker:
Termed as the game-changer, this little buddy is capable of producing up to 26 pounds of ice every day. You also get to choose your ice cube size from small, medium to large.
Frigidaire produces just the right type of ice that doesn't melt away quickly. they are nice and thick and fresh; what else would you want for a perfectly chilled cocktail on a bristling sunny June afternoon? The best part about this compact and portable ice maker is that it is completely noise-free. It produces ice for you in silence. The interior bin of the machine is capable of holding up to 2 pounds of ice. It also comes with an ice shovel and a digital control panel too.
The window of the ice maker is transparent which lets you peek in without having to open it. It has been built of stainless steel which makes it look nothing less than a beauty; sleek and perfectly modern. It is going to look perfectly eye-pleasing on your home bar counter! No reason to not invest in this game-changer ice maker!
Pros:
Portable
Ice sizes available
Thick and large ice which doesn't melt away easily
Cons:
Takes a bit of space of the counter
You have to clean it on your own
Euhomy Commercial Ice Maker Machine:
If you are a party animal, then this is a great pick for you as it makes a large amount of ice, within a short period of time. This is a commercial scale ice maker and will serve your get-togethers and weekend parties amazingly.
You can get an ice full tray within 13 or 20 minutes. Each tray serves up to 45 ice cubes. The machine has been built from stainless steel which gives it a very shiny and modern outlook. It also tends to make the ice maker more durable. It is not going anywhere for years to come.
The LCD panel of Euhomy is quite a user friendly. You can easily handle the running mode, ice thickness settings, and power through the LCD. However, before you invest in this one you need to understand that this is a  commercial level ice maker. Thus, it comes with requirements.
You will need a water supply, drain and filter to run it. It is best if you prepare for it beforehand so that you can just fit everything in once the machine arrives.
Pros:
Great thick ice production
Wonderful built machine
User friendly
Cons:
EdgeStar IB120SS Built-In Ice Maker:
If you want to get an ice maker that produces good amounts of ice, to stay frozen for longer periods of time, then the EdgeStar is your best bet. This one is not that appealing to look at because it appears just like a small refrigerator. However, the style of this ice maker is what helps it in keeping the ice frozen for a good amount of time.
The ice maker offers you 12 pounds of ice per day. Also, it doesn't require any drain which makes it perfect for domestic use. Setting it up might be a little challenging but it is not too complicated. If you have some technical knowledge about machines then this won't be a huge deal for you.
But if you don't know anything then you might have to hire someone to do the installation for you.
Or you can always search up on the internet and you are good to go. What really sets it apart is its ability to act as a freezer and keep your ice going for long.
Pros:
Long-lasting ice
No drain needed
Works really well as a freezer
Cons:
Frequently Asked Questions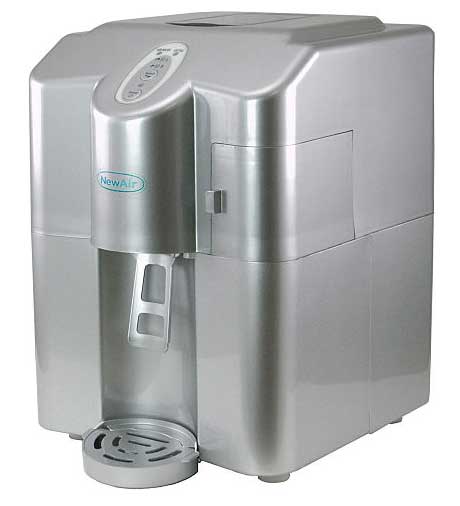 Now that we have summed up the top 8 best ice makers for home bars, we are going to address some basic queries that usually confuse new buyers.
What are Installation requirements?
Every ice maker comes with its own requirements. Some might require a water supply, drain and a filter too. While others won't. Portable ones usually don't have a lot of requirements to fulfill. But ice makers which serve you with large amounts of ice usually have proper installation demands. It is best to ask the manufacturer for the installation process before buying any!
Do I need a pump?
Undercounter ice makers do require pumps and most of them come with them. A pump is helpful if the drain is a bit far away from the machine.
What are the maintenance and cleaning requirements?
Yet again, every ice maker has its own cleaning requirements. Some come with self-cleaning systems. General outlines are as follows:
Unplug the machine and remove all ice.
Remove all the parts that you can but make sure that they are all detachable. Rinse each part and let them dry completely before you fit them in.
If you have a self-cleaning feature; you don't really have anything to worry about but make sure to clean it a bit deeper on your own, now and then.
Gone are the days when people relied on freezers to keep their ice cubes. We all know that they are unable to keep your ice fresh and tasty.
This is where an ice maker kicks in and helps you enjoy every sip of your beverage completely.
Depending on what you need and what amount of ice you would want per day, you can pick the ice maker that suits you.