People may experience hair thinning and baldness to an extent that they have to get hair treatments done. Hair transplant, low-level laser light (LLLT) hair loss treatment and laser caps are a few of the hair development treatment strategies which help people get their hair back.
Above all these, laser caps are the most affordable ones along with being pain free and safe.
However, it is important to do a bit of research before choosing the company for your good.
Here we have compared Kiierr 148 vs. 272 so you can have in depth details about these two and choose one according to your requirements.
Comparing these laser caps from Kiierr:
| | | |
| --- | --- | --- |
|   | KIIERR 148PRO | KIIERR272 PREMIER |
| DURATION OF THERAPY | Thirty minutes every other day, it takes 6 months for complete results. | Thirty minutes every other day, it also takes 6 months for complete results. |
| TREATMENTS | 19,000 treatment sessions | 19,000 treatment sessions |
| SIZES | Two sizes available, ordinary and XL. Fits head up to 23.5" in circumference. | Two sizes available, ordinary and XL. Fits head  up to 24" in circumference |
| WARRANTY |  2-year warranty and 7- month money back guarantee | 2-year warranty and 7-month money back guarantee |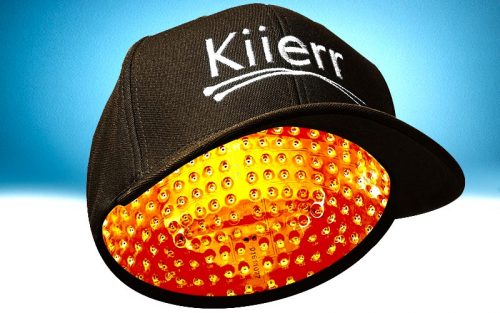 Kiierr 148 and 272 are two versions of Kiierr laser hair cap. Both of these are helmet shaped and are used to cure androgenic alopecia which is a form of hair loss in men and women. Both of these uses low level laser therapy (LLLT) technology to restore your hair. Both of these are FDA cleared making them safe to use. Moreover, both of these have same timeline and wavelength of 650nm.
Warranty Comparison
 Kiierr 148 and 272 comes with 2-year warranty and free shipping. In case of any issue with the cap, Kiierr sends you a brand new absolutely free. It also offers 3-years extended warranty making total of 5 years. Kiierr offers you discount if you buy their extended warranty at the time of purchase. Otherwise, you pay full price for extended warranty. Kiierr 148 and 272 have 7-month money back guarantee which means if you do not see any results in these 7 months then you can return it but you need to fill the warranty form at the time of purchase in case of return.
Return Approach
Kiierr 148 and 272 are two versions of one company so there is no difference in their warranty, guarantee or return approaches. Both of these offer a 14 day window to return the laser cap after receiving it. It means you can return the laser cap within these 14 days despite any reason.
Using these caps
Kiierr 148 and 272 are used in the same way so have same steps to follow. Before using Kiierr laser cap, there are few things you need to know for your safety.
•Only activate the cap once it's applied to your head.
•Keep it away from your eyes as it can damage your eyes.
•Always use the Kiierr laser cap with portable battery cap which comes with kiierr system.
STEP by STEP Usage Method
STEP 1: Unwrap all the components of your laser cap system and connect the charger to the power pack. Make sure to charge the power pack fully for better results.
STEP 2: Put the Kiierr laser hair cap into the ball cap which is given with the product or use any other standard cap of your own choice.
STEP 3: Once the power pack is completely charged, connect it with the USB and with the laser hair cap module which is inside the ball cap that you chose. Make sure to fully connect the USB port with the cap but never force it because you may have it upturned.
STEP 4: Now, wear the Kiierr laser hair cap module and turn on the power button. Once it is turned on, a blue battery indicator will appear which means laser hair cap module has started working. Since it is portable, so you don't need to sit still or follow any rule. You may go for a walk, watch television or do anything of your choice.
Step 5: You need to wear Kiierr laser hair cap for only 30 minutes three times a week. Since, this cap turns off on its own so you don't need to worry about turning it off. It will automatically be turned off. Till then, enjoy your pain free laser treatment.
Size Differences
There is no difference in sizes of Kiierr 148 and 272. Kiierr offers two different sizes, regular and XL. They can easily fit in and standard caps and fit most heads, up to 23.5" in circumference.
Differences in products
Kiierr 148 comes with USB wire, user manual, plain black ball cap making it easy to wear without anyone knowing,  USB portable power pack, stretch fit headband which adds extra comfort, power plug, wall charger and a laser helmet whereas Kiierr 272 comes with portable power pack, user manual, comfort headband, branded baseball cap and a laser cap. Kiierr 148 and 272 also offer other hair supplements to help get your hair back which include Biotin gummies, DHT blocking shampoo, laser cap carrying case and much more.
Price Differences
Since kiierr 272 has more laser lights and is used to treat massive hair fall, that is why it is expensive than kiierr 148. Kiierr148pro laser cap costs around $645 whereas Kiierr272premier laser cap costs around $875. If you want Kiierr148pro complete system which includes laser cap along with supplements bundle for maximum coverage then it can cost you around $695 whereas Kiierr272premier complete system costs around $955. If you are not completely bald and want an affordable laser cap then you should go for Kiierr 148.
Working of Both
Kiierr 148 and 272 work in the same way. The only major difference between these too is that Kiierr 272 has more laser lights than Kiierr 148.
STIULATES SKIN TISSUES:  Lasers effuse low therapy light to skin's tissue found on the scalp stimulating the blood flow. This circulation of blood reduces inflammation and provides nutrients and oxygen to hair follicles causing cells to regenerate in damaged areas.
ABSORPTION OF CELL AND PROTEIN SYNTHESIS: When light energy falls on the scalp, the damaged cells absorb all the light causing hair to grow back.        
REGENERATE HAIR FOLLICLE CELLS: The weakened and dead hair follicle cells are when absorbed by light, new hair follicle cells start to grow and finally the regeneration of hair follicle cells cause hair to come back to life.
So what's the major difference between these laser caps?
Kiierr148pro laser cap contains 148 laser diodes whereas Kiierr272premier laser cap contains 272  laser diodes As a result, Kiierr148 pro laser cap provides narrower coverage and is used for new or minor hair loss whereas Kiierr272premier laser cap having more laser diodes provide more coverage and is used for massive hair fall. Moreover, Kiierr272premier laser cap has faster treatment effects because of its stronger output. These are the reasons why Kiierr272premier laser cap is expensive than Kiierr148 pro laser cap.
Therapy Duration
Kiierr 148 and 272 are used for 30 minutes every other day. During first 3 months, this treatment stops the hair loss. Then the hair starts growing back after 3rd month and it again takes 3 more months to get thick and healthy hair back. Overall it takes total of 6 months for this laser cap to show perfect results.