If you are the parent of a kid who is starting his journey up the algebra and geometry ladder of science and mathematics, then you must understand the power-boosting capabilities of tech tools like the super graphing calculator. We are here to provide you some guidelines for buying the best graphing calculators for your child.
The graphing calculator is a wonderful invention of science that allows you and your kid to better understand the various concepts of mathematics.
Some of you might be overwhelmed with the technological superiority they have as compared with normal scientific calculators of the previous century, but once you start using it, I am sure you will find it difficult to work without it. So, let us start our journey towards finding the best graphing calculators in the current industry.
To make things easy and convenient for you, we have highlighted some of the best graphing calculators available in the market in 2020. Brief description of their features, display options, operational interfaces, storage capabilities, and battery longevity is provided for a good comparison.
So let us just back and go through them one by one.
Texas Instruments – TI Nspire CX CAS Graphing Calculator
This is a graphing calculator that falls in the advanced category and is more suitable for college levels. It is a very powerful device with some great features. It is supportive of a variety of teaching strategies and techniques. The product design is sleek and slim and its convenient size makes it easy to carry and move around. This is a great feature for students with heavy backpacks and lots of books carry along.
Basic Product Features
The basic features of this amazing graphing calculator brought to you by Texas Instruments include:
RAM of 100MB giving it lots of operational power
The Flash ROM is 64 MB which enhances its speed
The Gadget comes with an attractive colored display screen with an adequate size of 3.2 inches
The display feature is further improved by backlit screen and color-coded equations
For the Chemical Notation, there is the Chem Box
The product has a rechargeable battery. It comes with a wall adapter.
Storage and carrying is easy with a hard case that is easy to slide-on.
It is advised for use in SATs, AP, Praxis Exam and PSAT.
But with so many options available in the same price range, why should you go for TI Nspire? To find the answer let us have a detailed look at its distinguishing features:
CAS – Computer Algebra System CAS is a common feature in most of the graphing calculators. It stands for a computer algebra system. It makes your calculator capable of producing results in symbolic form. Suitable for middle school until your college, this calculator is a great add-on tool for your academic endeavors. It allows you to import various digital files and graphic images to its system helping in connecting them with real-life visual images.
The visual impressions help in understanding and analyzing the things in a better way. The user of the TI-Nspire has the option of defining various graphs and equations through multiple graphing techniques. Simultaneously you have the option of saving and analyzing them.
But why is this calculator better than any other? What makes it different and unique? The answer is that the TI-Nspire helps in the performance of various types of mathematic calculations including solving equations and computation. It is also very useful for plotting and exploring problems related to inequalities and functions. A feature that differentiates it from other similar devices is that it allows plotting of objects graphs with animate points. A user can also add sliders along his work to provide an explanation.
Geometric Compatibility – The TI-Nspire is a great graphing device that provides the user with a variety of features and options. Construction and exploration of geometric images and figures is another distinguishing feature that is only present in this model. Additionally, you also have the capability of creating animations and entering notes and comments for relevance.
Useful for Data and Statistical Studies – An amazing add on feature of the TI-Nspire is that it can have applications like Spreadsheet, List and even the Vernier DataQuest. These are very useful applications that are extra helpful for dealing with statistics and data.
Makes Comprehension Easy – The TI-Nspire is one of the best graphing calculators of the industry because it comes with a template of integrated mathematics that allows you to visualize the symbols, fractions, formulas, and figures as if you would on a writing board. A user can easily add various values in proper units and notations.
The Chem Box Feature – The product features of the TI-Nspire highlights the ChemBox. But why is it worth mentioning? What does it do? Why is it useful for the user? This is so because it allows entering a chemical formula without any extra effort.
User Friendly – The calculator is extremely easy to use and anyone with even the slightest of know-how can operate it conveniently. The product has an operational drop-down menu that allows simple navigation through various functions and options. It is similar to a computer which allows scrolling through various functions and files fast and simple. Creating and saving your work is also very easy.
Standardized for Various Tests – Do not worry about the standardization of the product with different test systems. It is acceptable in almost all major exams including the APs, SATs, and PSATs.
Why is it a good choice?
It is suitable for mathematics and scientific studies
To understand the mathematical and scientific concepts with speed you can use the multiple representation options
Dynamic-link development is possible
Comes with a number of integrated applications
Suitable for both students and teachers
It has a user-friendly operating interface similar to a computer
Allows import of images and pictures for provision of overlaid graphs
It is compatible and connectible with other TI devices and computers making files transfer easy
The calculator has sufficient inbuilt memory storage of 16MBs RAM and 20MBs ROM
It is powered with a long-lasting TI battery that can be recharged.
Texas Instruments – TI – 84 Plus
This is an advanced model of graphing calculators designed for students and teachers of higher grades and levels. It is useful for not only mathematics and science but also advanced engineering subjects.  Many experts consider this model an upgraded version of the TI-83 calculator. But it is twice as faster as its predecessor.
Basic Product Features
The basic features of this outstanding product among the best graphing calculators of 2020 include:
It has a great HD and colored display screen
The display is further enhanced through backlit
Powered with MathPrint
Light-weighted
It is available in a number of attractive colors
Integrated with various inbuilt applications and images
Works on rechargeable battery
Approved with many exam systems including IB tests, SAT, AP, PSAT, and ACT College Entry Exams.
Now let us look at the distinguishing features of this TI graphing calculator more closely.
MathPrint Technology Enabled – This is a unique and advanced technology that enables the entering of fractions and equations in their proper notations. This is quite convenient for the user as he or she is able to see these fractions and equations just like they would appear on the board or paper. Understanding and analyzing them become very comfortable. A better understanding of the problems and techniques definitely allows a student to get good results in examinations and tests.
Standardized with different test and exam systems – The TI-84 Plus approved for use in different types of tests and exams including IB tests, SAT, AP, PSAT, and ACT College Entry Exams.
Creates Real World Mathematics Relation – This device is good for not only finding different mathematical and scientific solutions but also for enhancing your understanding of the various concepts of these subjects. When a person has conceptual knowledge of the scientific and mathematical issues, he or she can easily relate it to various real-life problems and subsequently find their solutions more effectively. The device can import images for other computing devices and display them on the screen. Plotting these images can be done without any problem.
Integrated Application and Programs – One of the outstanding features of this graphing device is that it is loaded with built-in images and apps. Some useful applications include Vernier Easy Data, Polynomial Root Finder and Conic Graphing. It allows a user to visualize the equation simultaneously with its respective graph and plotted coordinates. The calculator also helps in solving statistical problems involving analytical procedures, graphic representation of data and regression analysis.
Attractive Visualization – It has been proven scientifically that colorful displays and screens are not only more attractive to the human mind but also provide a better comprehension of the image. Using different color schemes and codes, users are able to distinguishingly highlight different objects, coordinates, and equations. This is a good method to differentiate between different diagrams and plots on the same graph. The display is high resolution with a backlit screen that enhances its visibility and clarity for the viewer. Students can use the calculator for hours without actually straining their eyes.
Easy User Interface – Like many other similar devices, the TI-84 Plus also has a user-friendly interface that allows the user to easily navigate through various features and functions. Scrolling down the menu is convenient and even the "not so tech-savvy people" can easily learn to operate it.
Why is it a good choice?
So, why would we recommend this graphing calculator as a good buy for you? well because
It is lightweight and sleeker
It comes with an operating system compatible with other computers working on Microsoft Windows and MAC
The Preloaded apps and programs enhance their functions as a graphing calculator
The user interface is easy to use and operate
It is approved for usage by many examination systems
MathPrint functionality is a highlight of the device
It works with a long-lasting battery that can be recharged in no time
Great display screen and improved graphic visuals
Casio FX-CG 10 PRIZM Graphing Calculator
Casio is a renowned name in calculators and digital devices. The FX-CG 10 PRIZM is a great addition to its top of the line graphing calculators range. It comes with a number of amazing features and applications that make this one of the best graphing calculators of the year.
Basic Product Features
RAM of 62KB and 1.5MB Flash Memory
USB connectivity
Natural attractive display with full-colored display LCD
Menu and navigation system that is Icon Based
Spreadsheet application
Geometry Application
Conic Application
Powered by 4 AAA size Non-Rechargeable batteries that work for 140 hours
Let us have a closer look at its features.
Large Sized Keyboard – One of the distinguishing features of this model of graphing calculators is its big keyboard. The input of numbers and variables is an essential activity in calculators. With large keys and figures, the user can easily enter the correct data without making any errors. It is a simple calculator that is the best of new users.
Color Coding Ability – Plotting of multiple graphs is made possible through the color-coding mechanism. There are 65000 colors available for choice to the user. With a great LCD screen, the display of graphs and other equations and formulas is made much more attractive and conspicuous.
Icon Display system – In most teaching and learning setups, pointers and icons are used for easy access to information and navigation. A similar icon-based operating system is available in this model of the graphing calculator. It not only makes using easy but also helps teachers in giving information at a fast rate.
USB Connectivity – This feature allows the user to easily make a connection with other devices and computers thereby enabling the sharing of information and data. Graphs and data can be transferred to and from various devices to the calculator. You can display the working on various large screens and projection platforms. Printing your work also becomes possible through this feature.
In-Built or Internal Storage – The calculator has sufficient internal storage of 16MB. This is important for saving your work for future referencing and using information multiple times.
The number of Integrated Apps – eActivity is one of the preloaded options available in the Casio PRIZM. It helps in addition to notes and comments with various equations and graphs for enhancing understanding and referencing. Other useful applications that provide integrated results include Spreadsheet, Geometry, and Conic. These applications help enhance the functionality of the calculator by handling a variety of problems and concepts like geometry, trigonometry, algebra, statistics, and calculus. It is also useful in dealing with science issues related to Physics, Chemistry, Biology, Finance, and even business studies.
Why is it a Good Choice?
One of the simplest graphing calculators in the market and can be used by even freshmen.
It has a faster processing system
Large keyboard for error-free input
Large internal storage for saving data and formulas
Icon based interface
Multiple integrated preloaded applications for enhanced functionality
Multiple graph plotting capabilities
Enhanced connectivity with USB port
High-resolution display screen
Powered by Non-rechargeable batteries
One drawback of this model is that it is not registered with all the major exam systems.
HP Prime Graphing Calculator
This is a flat designed metallic handheld calculator brought to you by technology giant HP. Although it has limited features as compared with its counterparts, it still provides the best learning experience with its small feature package.
Basic Product Features
Touch Screen display
5 inches large display screen
HP Stream Start 410 compatible
CAS and Geometry enabled
User-friendly dedicated soft-touch buttons
Operating system compatible with Microsoft Windows, Android and Apple
STEM Ecosystem
To understand why this product falls in the list of the best graphing calculators of the industry, let us have a closer look at its highlighting features
User-friendly Interface – The product is really easy to work with. It allows you to input data and formulas through both touchscreens as well as a keypad. The touchscreen function is very prompt and quick to respond. It has added advantage as it allows you to move around the graphs very easily with just your finger movement. In other calculators, movement is difficult because of direction precision through buttons and tedious navigation process.
Integrated and Fully Loaded Apps – The HP Prime comes with two input modes on the keypad. These input modes include HP Typical RPN mode and the normal textbook mode. The former is exclusive for HP products and allows rounding off in figures and numbers. Even when doing probability matrices the calculator offers automatic rounding off. It also allows input and handling of trigonometric and hyperbolic functions and many other complex mathematics concepts.
CAS System – The HP prime also has the CAS functionality. It enables the user to enter symbolic inputs for various types of mathematical problems. You can choose from a number of different options from the CAS menu. These options include working with polynomials, number theory, algebra, analytical problems, graphs and much more.
Approved by IB and College Board – The HP Prime graphing calculator is registered for use by many testing systems including SAT, PSAT and AP exams. Additionally, it can also be used for appearing in IB Diploma exams.
Improved Learning Experience – The HP Streamstart 410 compatible provides users the capability of live streaming data on the calculator. This device can be connected with the HP Prime and help in capturing various forms of readings like that of motion, temperature, light and even sound. This function is highly advantageous when working on Physics, Biology, Chemistry and even some Mathematics concepts and problems. Other integrated applications like spreadsheets, dynamic geometry and advanced graphing make the HP Prime one of the best graphing calculators of 2020.
Ability to Create a STEM Ecosystem – The device allows the creation of a STEM Ecosystem. Students can use this calculator along with HP Connectivity Kit and HP Prime Wireless Kit to achieve this target. It can also be connected to other calculators for sharing data and projecting various works.
Why is it a good choice?
It has an attractive easy to carry design
Comes with a protection cover
It is approved by a number of exam systems and boards
It comes with a number of integrated apps
Compatible with a number of devices
Comes with a quick touch screen as well as keypad
Allows display of symbols, graphic tables, and numerals
It is supportive and compatible with wireless connectivity
This product may be a little advanced for new users and beginners.
Texas Instruments – TI-89 Titanium Graphing Calculator
This is one of the best options for graphing calculators for beginners at college. Although it may not be very attractive and does not come in a colored display, it has many other distinct features that make it one of the best graphing calculators in the world.
Basic product features
It has 16 inbuilt applications
CAS enabled
It has 3D graphing with rotation capability
EE*PRO functions along with NoteFolio and CellSheet enabled
Calculations are done with high precision
Proper notation of data
Analytical capabilities of handling real data
USB Connectivity
7MB Flash Memory
Now let us look at some of the important features in detail for a better analysis of the product.
A large number of Integrated Applications – The device has a wide range of integrated applications that help enhance its functionality and precision to understand and solve mathematics and science concepts. Some exclusive apps include CellSheet and NoteFolio. The EE Pro is especially useful for students studying engineering disciplines. These applications make it easy to solve differential equations and problems. You can also make their graphic representations or just work on them numerically. It works equally well with linear and non-linear equations.
Factoring and expanding of variable expressions and equations is made easy with the amazing CAS function. Other problems where CAS may be useful include finding derivatives and anti-derivatives, extraction of the solution in irrational forms, solving of quadratic equations and coming up with computer limits.
Expression Translation and Visualization – The TI-89 Titanium helps show expressions like a textbook. You can make XY lines, do scattered plotting, carry out numeric equation solving and do inverse matrix problems. Visualization of complicated expressions becomes simpler and understandable.
USB Connectivity – This product of Texas Instruments has USB connectivity through a cable. This enhances its ability to connect with other devices and transfer data and files for sharing purposes. It also has a flash memory of 2.7 MBs that is sufficient for storing valuable data and the addition of more applications for advanced usage.
Why is it a good choice?
The TI-89 Titanium is a great option for college students because
It comes with sixteen preloaded applications and programs
Brings equations into simpler readable textbook versions
Has USB connectivity and good internal storage
The user interface is icon-based
It includes a protective case
Although it is approved for AP, SAT, PSAT and Praxis exams its usage is not allowed in IB and ACT tests.
Frequently Asked Questions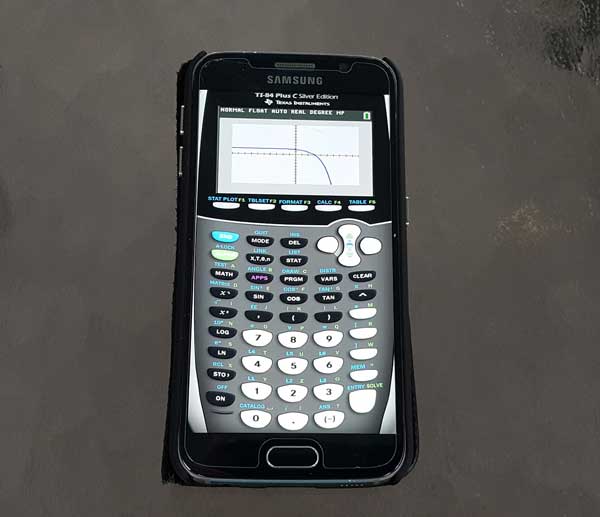 What is a Graphing Calculator?
For those who are still naïve to know about this device, a basic graphing calculator allows the user to plot graphs that can be displayed on the calculator screen. They have been developed to help students for better understanding various complex scientific and mathematical problems and finding their solutions easily.
By giving them a graphing calculator you help your kids in building skills that are important for better performance academically. This is especially crucial for their science and mathematics-related studies. It aides students by providing them a visual understanding of the problem, that might be otherwise be challenging for them.
Seeing the problems on the calculator screen, in the form of visual graphs, expressions, and formulas help them in exploring their conceptual thinking abilities and allow them to connect various concepts to understand it and find a solution.
Why do you need a Graphing Calculator?
If you are a parent who wants your kids to achieve more academically and intellectually, then investing in one of the best graphing calculators is a very wise decision for you. Generally, the price of buying a good quality graphing calculator is not more than that of a pair of sports shoes. It even costs less than a piece of basic music or an MP3 player. And the best part is this investment can be profitable for you from school to college to university. A graphing calculator can be programmed differently for different grades and levels depending upon your requirements and needs. It can also be very beneficial for academic teachers and instructors.
Can a graphing calculator be beneficial?
A graphing calculator can provide you with a number of benefits. It helps students in extending their learning processes outside the classroom as well. They can use it effectively for doing homework problems and assignments as well. It makes reviewing assignments easier and accurate and allows students to prepare for tests and quizzes on their own. Exploration of various scientific and mathematical concepts becomes possible for them to even independently.
They are not something NEW!!
Graphing calculators are not something new to the world. The first one was introduced in 1985 by well-known tech giant Casio. Ever since then, the device has seen a number of innovations and improvements.
Which are the Best Graphing Calculators Out There?
With so many different models and variations available in the market, you need to know which graphing calculator would be best for you and your child. Some of them are very highly advanced while others provide the basic functions only. Similarly, the price variations range widely according to product specifications and brand name.
It is therefore quite important for you to know the gadget before you can pick the best one out of them.
There you have it! A detailed journey through 5 best graphing calculators in the market these days. To find the right calculator you need to understand their features in detail and identify the model that provides the features you require. Although CAS is a major function that we need, some models and versions also come without CAS function.
The models that we have highlighted come with all the basic features that are necessary for meeting the basic requirements. They are suitable for teachers as well as students. Professionals like architects, engineers, banks, investors and other similar individuals can also benefit from these amazing models of graphing calculators.
Why do you need a Graphing calculator?
Anyone who is transitioning towards higher-level mathematics and science studies may require the assistance of a graphing calculator. Suitable for both high school and college-going students, it is a must-have for many subjects and disciplines including Mathematics, Science, Finance, Business, and Engineering.
Even people doing various types of jobs like engineering, architecture, chemists, businessmen, and many more such fields, can hugely benefit from using a good quality graphing calculator.
What are some top advantages of using a graphing calculator?
Fast-Paced Solutions – By enhancing the understanding of various mathematical and scientific concepts these devices improve our speed of finding solutions to various problems. It allows fast and speedy computations, creation and graphical representation of inputs and outputs.
Understanding Graphs – By enhancing the graphic comprehension capabilities of a student, the device helps students understand problems more realistically and find solutions in a real time practical scenario.
Aides in Various Exams – Different types of Graphing Calculators are approved for usage in different exams and testing systems. This device helps students solve problems with precision and accuracy and at a fast pace.
How to Choose the Best Graphing Calculator?
Utilizing the superior technology of devices like the graphing calculators can make your life and work easier and convenient. But choosing the right device for you can be an ordeal. With hundreds of options and variations, which product should be the best suited for you.
We want to make things easier for you by providing you a buyer's guide a graphing calculator. It will highlight the factors that you must consider before choosing the best graphing calculators in the market.
You need to assess the graphing capabilities of the calculator
Application compatibility
Easy modes of input for data precision and ease of use
Friendly user interface
Size of the device
Processor speed and capabilities
Price of the Calculator
Display screen size and resolution
Battery life
To End…
There, we have provided you with a list of the best graphing calculators available in the market today. You need to assess your own requirements and match the features of these devices with them to make the right purchase decision.