Buying the best electronic dartboard is a great idea for anyone who wants to have some fun time with their friends and family at their place.
This is especially suitable in this unprecedented time of the corona pandemic when you need to spend most of your time at home practicing social distancing.
Having a dartboard enables you to spend quality time with your family members at home and engage in an exciting and competitive game.
To save your precious time and energy, we have shortlisted the 6 top electronic dartboards available in the market.
Just run through the reviews below and you will be able to decide yourself which is the best electronic dartboard according to your needs and requirements.
Before scrolling further, make sure you also check out our gaming section for more.
Dartboards are Fun, Exciting and Competitive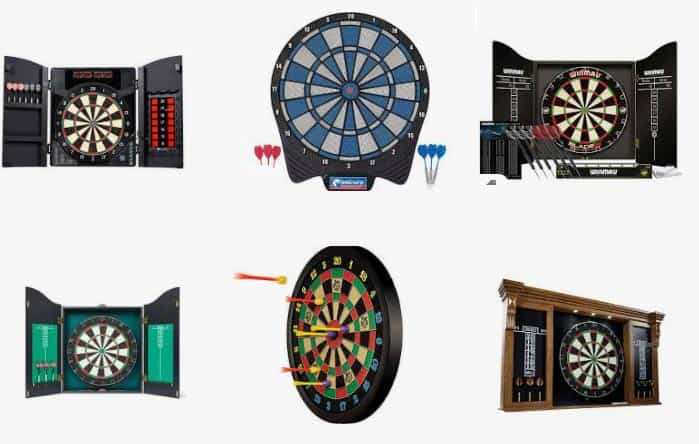 All of us must have played darts with our friends and family at least once.
It is a great way to have some fun while hanging out with your loved ones.
It creates a sense of competition among the players and requires a lot of skills and dedicated attention to win.
Questions You Need to Ask Yourself
Who will be playing this game?
Where will you hang the dartboard?
Will you hang the dartboard in a room or out in the open?
What amount are you willing to spend on it?
Why Should You Buy an Electronic Dartboard?
Let's look at the 6 Best Electronic Dartboards
There are a number of different electronic dart boards available in the market. Selecting the right one for yourself can be a very difficult and challenging task.
Each of the different models comes with its own versatile design and exclusive scoring features.
For the people who are buying this product for the first time, figuring out which one is better and more durable can be an ordeal. Not having the vaguest idea of what to look for in the product, you can end up making the wrong decision and repenting later.
To save you from such a situation, we have provided a break-up of the various features of the top slot electronic dartboard models so that you can have a fair idea of what is available and what you should look for in the product.
Viper 777 Electronic Soft Tip Dartboard
Well suited for someone who plans to host small darting parties at home, this is a high durability product with a variety of features.
Design and Size
The size of the target facing is around 15.5 inches.
The Viper 777 has an attractive LCD display screen that maintains automatic scorekeeping in a convenient and efficient manner. Dartboard is very thinly designed that prevents unnecessary bouncing of the darts and maintains accuracy.
Ring Catcher
The product comes with a catch ring to collect all the missed darts and save you the ordeal of finding them later on. It also acts as a protective screen for the surrounding walls and save them from dart marks.
Pre-Loaded Games and Variations
There is a separate place that acts as the soft dart holder. Like all other electronic dartboards, the Viper 777 has 43 preprogrammed games that can be played with 320 different options.
Two Language Option
One of the most amazing features of this model is its bilingual diversity. It offers playing features in two languages.
You can use English as well as Spanish playing preferences.
Why Is It a Good Choice?
It has a large target space
The clear LCD Display makes playing easy
Dart Catch ring is included in the same package
43 Pre Programmed Games offer a lot of variety
Can be used in two languages
Best Choice Products Electronic Dartboard Game
Brought to you by Best Choice, this is one of the most durable models of electronic dartboards in the market.
Number of Players
At one time, 8 players can easily use this board.
LCD Screen
It has automatic scoring capabilities that are displayed on an attractive LCD screen.
Pre-Loaded Games and Variations
The number of pre-programmed games in this model is 27 but they come with almost 216 options and variations.
Dual Power Source
The dartboard can be operated on an electric AC connection or on batteries as well.
The price of this product is very affordable and reasonable compared with other similar featured models in the market.
Why is it a Good Choice?
The product is suitable for 8 people at one time
It has 27 preprogrammed games with a variety of options
A dozen darts in two separate colors are included in the package
One unique feature of this product is the sleep mode. Once the product is not in play for 10 minutes it will automatically activate the sleep mode and hence save power and energy
It displays the score on an LCD display screen
It can work on both electricity and batteries
Fat Cat 727 Electronic Soft Tip Dartboard
This is one of the finest electronic dartboards in the market with a unique set of features and a great price.
Design and Size
It has a target face sized 13 inches which is quite reasonable for the game. The model does not provide a separate space for keeping the darts.
Catch Ring
A plastic bag is included in the package that may also act as a dart catcher or catch ring. It can also be used for surrounding wall protection.
Battery Operated
The model can only work on batteries of AA size and not on AC electricity.
Pre-Loaded Games and Variations
Suitable for soft-tipped darts the dartboard has 18 preprogrammed games that can be played with 96 variations.
For new beginners, the company provides comprehensive operators and game manual that enhances the understanding of the product as well as the game. There are also some free darts included in the package.
These features are hard to get in any other electronic dartboard of the same price range.
Why is it a Good Choice?
It has a good target face size of 13 inches
It comes with 6 darts free of the additional cost
There are 18 preprogrammed games for entertainment
A catch ring included in the product package
Arachnid Cricket Pro 650 Standing Electronic Dartboard
It is a long-lasting model that can stay with you for years if used properly. Manufactured from premium quality material it has a sensitive sensory target board.
Design and Size
The target face is sized at 15.5 inches and also includes a catch ring for collecting the missed darts and protecting the surrounding area from dart marks. Like all other electronic dartboards, it comes with an auto-scoring feature and an electronic LCD display screen.
There is a dedicated place for dart storage as well.
Handicap Feature
This model is known to have unmatched accurate and fast auto-scoring capabilities.
The handicap feature of the board allows players of different skill levels to play and compete fairly.
Player Number
The board allows 8 people to play on the game simultaneously.
Pre-Loaded Games and Variations
There are 24 pre-programmed dart games in the model that can be played with 132 options and variations.
Voice Call Outs
Another very unique feature of this electronic dartboard is that it calls out loud the player who has to throw the darts next.
This makes the darting experience more professional. It allows you to play along with the solo feature.
Why is it a Good Choice?
It has a large target face of 15.5 inches
It comes with a catch ring
It can be used by 4 pairs of players
It includes the unique handicap feature for multiple skill levels
Built-in games are 24 in number
Can also be used alone with the solo feature
Calls out players for turns
It is made from Nylon Tough segments that make it more durable
Very sensitive sensory system for accurate scorekeeping
Viper 800 Electronic Soft Tip Dartboard
This is a product that is suited for people that play larger games with more players.
Manufactured by a leading name in the darting industry, this is a good buy for professional as well as old-timers.
Design and Size
The Viper 800 has a large size target face of 15.5 inches. There is also a big catch ring included with the product for extra protection and convenience.
The LCD display screen allows players to visualize the scoring conveniently and you also have the option of selecting different color schemes for enhanced display.
Laser Beam Feature
A unique feature of this professional model is its laser beaming option that allows you to mark your throws much more accurately in a line.
Number of Players
The Viper 800 has the ability to accommodate 16 players in a game.
Pre-Loaded Games and Variations
It can house large tournaments with a maximum of 57 games and 307 variations.
Dual Power Source
The product functions on AC power and batteries both. It is a highly durable and long-lasting model that can be used for real-life tournaments and games.
Why is it a Good Choice?
It has an appropriate size of the target face
It can house 16 players or 8 teams at a time
It has 57 games that can be played with 307 variations
You can choose between red, black and silver display schemes
Laser Beam option allows better targeting
Can be used on batteries or on electric power.
Arachnid Cricket Pro 800 Electronic Dartboard
This is another professional level dartboard suited for tournaments and high skill players. It is ideal for both beginners as well as advance level players.
Averaging Out Feature
The product comes with a unique feature that averages out your darting activities. This makes monitoring and evaluating your throws for improvement easy and convenient. You can gauge your game more accurately.
Heckler Feature
The three-level Heckler feature is also very attractive.
It is a motivational feature that creates applause every time anyone makes a good throw of darts.
This feature is optional and can be turned on and off as per your own preference.
Number of Players
The board allows 8 players to play the game at one time.
Pre-Loaded Games and Variations
It can be used for mid level tournaments with 39 games and 179 options.
Sleep Mode Feature
There is a 4 section clear LCD screen that goes into sleep mode if the board is left idle for a while.
Why is it a Good Option?
It has a reasonable size in regulation with the rules
It allows 8 players to play 37 games
Saves energy with sleep mode
Provides dart averaging feature to allow constant monitoring of performance
Durable and good value for your money
Heckler Applause feature to add motivation and encouragement to players
There you have it. Some of the best electronic dartboards in the industry briefly described with their details and specifications.
What are the Different Types of Dartboards?
Most of us are aware of the traditional bristle dartboard that has been used for a very long time. However, if you will do a little research on the topic you will find that the market today has 5 different types of dartboards available.
Wow! You must be thinking. A simple old game with so many innovations and versions?
Well, you are right. With so much technology out there, you cannot simply have a basic dart and board game.
Technology has made it more fun, exciting, and electronic.
They provide many other features that a traditional dartboard cannot provide you.
Let us have a go through from the various types of dartboards available in the market.
Bristle Dartboards
The most famous and widely used board is called the bristle board.
It is made from sisal fibers that are firmly arranged in a metallic frame or ring.
This ring helps keep the edges together and can also be removed.
The fibers are soft enough to allow steel darts with sharp tips to penetrate easily.
The bristle dartboards require less maintenance and are very long-lasting.
The holes made from the steel darts gradually disappear with time without any extra efforts.  It is important to keep these boards away from sunlight, heat and moisture.
Electronic Dartboards
These are considered to be the second most popular type of dartboards in the market these days.
They can only be played with soft-tipped darts. They come with many features like scorekeeping and a variety of gaming options for players.
Electronic dartboards are very light weighted and made from premium quality plastic.
The over-all surface of the board contains tiny holes.
These holes enable the soft tip darts to stick to them.
The internal operating system of the board calculates the score that you have obtained once it receives a message from the sensor in that hole.
Generally, plastic-tipped darts are included with an electronic dartboard that you will buy.
But sometimes there can be exceptions.
To make the game more like the traditional one, some products also come with steel-tipped heavier darts. This has been possible through the advancement of technology and device innovation.
They are most suitable for beginners and kids of today.
Their versatile features keep the tech-savvy kids interested in the game without losing their attention.
These products are programmed for keeping track of the scores and have attractive screens to display the details.
The electronic dartboards have a number of built-in entertaining games that bring variety and break the monotony of the traditional dart game. It is, however, less durable than the bristle dartboard.
Coiled Paper Dartboards
The most low-cost dartboard in the market is the coiled paper one. It is good for small children and kids but would not last very long and crack.
Wooden Dartboards
Some dartboards that are made from basswood material can be used from either side. The cork dartboards are also very commonly used but these too are not suitable for very heavy and frequent playing.
They have been in use for a very long time. But as new improved versions of dartboards were introduced in the market, their popularity decreased. They were mostly phased out because of their high maintenance requirements.
Cork Dartboards
This is the fifth type of dartboard available in the market. Many people consider them similar or synonymous to bristle dartboards, but that is not correct. This type of board was more popular in the past. They became unwanted due to their lesser durability and wearing out properties.
Apart from this, there are also magnetic dartboards as well Velcro ones mostly used in households and by kids.
Which is the Best Dartboard in the Market?
Each of the 5 types of dartboards has its own pros and cons.
But the two of the most famous and widely used dartboards are definitely the bristle type and electronic one.
In our discussion, we will focus on the electronic dartboard and highlight some of its features and details.
It will not be wrong to say, that the electronic version of dartboards is considered to be fairly new.
Not popular with most of the old-timers, this device offers a variety of features and functions that can make your game much more fun and versatile.
Even electronic dartboards are available in several styles and designs.
Why is an Electronic Dartboard a Good Selection?
With so many different types of dartboards available in the market, you must be thinking that why should you buy an electronic one? Well, to justify your selection, let us have a look at some of the advantages of the electronic dartboard.
Playing on an electronic dartboard is much more exciting and fun. With automatic scoring capabilities, you do need to manage the scores of each player in a manual way. The scoreboard electronically displays each player's position and score.
With the automated scoring mechanism, the game becomes more accurate and precise. Decision making is done by the device itself.
When the scoreboard is maintained by the device itself, the speed of the game is increased. You do not have to stop and mark the score of each player manually. It allows continuous play without any unnecessary delays.
The electronic dartboards are very suitable for new players and beginners. However, they are equally good for professionals and old-timers. The electronic dartboards are programmed with a number of gaming levels catering to different skill sets appropriate for all types of players.
The price range of electronic dartboards tally with the traditional type of boards. Hence the price consideration is almost the same but you get more features.
Electronic dartboards provide enhanced entertainment and diversity with a variety of pre-programmed games like Cricket, Around the World, Fives and 301 and 501.
These are some of the comparative advantages that electronic dartboards provide over the traditional choices.
How Do You Select the Right Electronic Dartboard?
There are many things that you should look for in a dartboard. But before looking at the features and factors of the dartboards you need to ask yourself some questions.
Why are you buying this electronic dartboard? Do you want this gaming equipment for simple recreation or entertainment or you want to host some kind of tournaments or matches?
How many people are going to play on this dartboard? Is it for your family members or you want it for a pub or gaming arena?
Are you a beginner who wants to play this game for the first time or are you a professional expert? Is this your first dartboard or you plan on upgrading your old one?
Factors To Consider For Buying An Electronic Dartboard
Design and Structure
Every electronic dartboard comes with its own design and shape. Different boards have different styles, shapes, and sizes. In most cases, the size of the board is 18 inches in diameter. The target face is also an important feature that should have a large enough size to allow good throwing by the players.
Number of Players
Unlike the traditional dartboards, the electronic versions have a specified number of maximum players. Some models are designed and programmed for 4 players, some for 8 players while the largest player capacity is 16 players. You can select the model that suits your needs best.
Source of Power
Electronic dartboards cannot run on their own.
Like all other types of electronic devices, they need a power source.
Different models come with different specifications. Some models use electricity for their functioning while others use batteries.
There are some models that run on both batteries as well as electric supply.
While making your selection consider which option suits you more.
Battery operated dartboards are portable and convenient.
But they have the risk of batteries running out during the game.
On the other hand, electricity-based boards are less portable yet more reliable.
Sound Effects and Interactive Interface
One of the most unique features that differentiate the electronic dartboards from the traditional ones is the sound effects it can produce.
In many models, the devices call out the player for the next turn. In some other models, there are sounds of applause whenever a player strikes a good throw.
Some boards are programmed to say out the scores loudly after intervals and throws.
These sounds are very dramatic and make the gaming experience more exciting and close to real-life big tournaments.
They also keep the players motivated and encouraged to play rather than getting bored with monotony.
Automatic Score Keeping
This is the distinguishing feature between bristle and electronic dartboards.
Maintaining the manual scores of each player and their throws can be a boring, laborious, and time-consuming activity. It may also lead to confusion and misunderstandings in some situations.
To make life easier and the game faster, electronic dartboards maintain automated scoring.
Every time a player throws a dart, the score is automatically registered in the electronic panel. The extra effort and time are saved and players accept all the decisions of the board without any doubts.
Pre-Programmed Games
Most of the electronic dartboards in the market come with enhanced entertainment features.
This includes the presence of pre-programmed games and the variable options they can be played with.
The number of games included in each device varies from one model to another.
The most popular dart game programmed in almost dartboards is Cricket. Its variations may include cutthroat, scram, and standard versions.
Another popular pre-programmed game is Round the Clock. 01 games are also interesting and entertaining for most of the dart players.
It is important to note here that models with more games tend to be higher in price than those with lesser games.
Display Screen
Every electronic dartboard has a display screen that can be an LED or LCD. These screens show different details of the game including player names, their scores, number of throws, and other important things. An LED display screen is more advanced than the LCD version. It is also more attractive looking and allows the viewer to read various details with clarity.
Price
Electronic dartboards have higher prices than traditional ones.
Within the electronic dartboard range, prices vary according to the number and quality of features offered.
Prices may also differ according to manufacturer and design specs.
Anyone who is planning to buy a new electronic dartboard or upgrading his existing one should run through the above factors before selecting the best dartboard model for your requirements.
Maintenance of the Electronic Dartboard
Who would not want to spend his or her money on a durable and long-lasting product? We all want our devices to stay with us forever.
It is therefore very important to take care of our electronic dartboard. It requires various maintenance precautions that we need to take to prevent it from unnecessary damages and defects.
Always Keep Away from Water
Being an electronic device, an electronic dartboard should always be kept away from water and wet fluids.
Accidental water spills can lead to damage and malfunction. So, keep the device dry at all times. If you use it less often, then it is advisable to store it in a cupboard for safety.
Keep it Clean
With all the dart throws and games, the chances of your electronic dartboard getting dirty are fairly high. Dust and other dirt particles accumulated over time can also lead to malfunction of the electronic components of the device.
You should always clean the board with a mild detergent or surface cleaner.
Before cleaning, the board should be removed from the wall or hanger and the power should be switched off. If it works on batteries, you should remove them too.
Wipe off the dirt and stains with a cloth and mild cleaner. Avoid spraying the detergent or cleaner on the surface of the electronic dartboard.
One should also not use cleaners with high ammonia content or they would damage the body of the board.
Leave the board to dry on by itself for a few hours before turning it on again.
So which one are you gonna pick?
After going through all the best models of electronic dartboards available in the market and understanding their basic features and specifications, you must now be better educated about this product. You must also be thinking about the factors that underlay your final decision to buy.
So, why wait? With all this clarity and knowledge you are ready to start the fun and exciting game of darts with your new, advanced and best electronic dartboard in the market.