Hilly regions have a lot of terrain-filled and uneven paths that demand a high-powered two-wheeler to climb them. Things to consider here are gravity, friction, and weight at a given angle of the steepness of the hill.
To put things simply: An average scooter with a 350W motor would struggle to climb anything steeper than a 15-degree angle.
So your best bet would be to look for something with a good power to weight ratio. (The more the better).
Our Top Picks for hill climbing E Scooters:
Now the goal was to find an electric scooter having a power of above 400W and good power to weight ratio (weighing under pounds).
Besides that other factors like the build quality, tire traction, and ride comfort were also taken into account.
We believe GUNAI Electric Scooter (5600 W) would be able to climb any hill, no matter how steep.
Gunai is overkill.
So if you are looking for things at a lighter end, you may want to consider ECOXTREM Folding Electric Scooter (600W and 2000W engines – select one).
Similarly, Nanorobot and Glion are also worth considering.
(See both below)
GUNAI Electric Scooter
This scooter features a powerful 5600 W Dual Motor.
These 2 independent 2800 W motors would get you the climb you need without any hurdle.
The next thing we considered was the weight. This scooter weighs 88 pounds. Which is quite heavy. But taken the power to weight ratio into account, we understand that it's okay to weigh that much for dual 2800W motors.
So you get a P-W ratio of 32, which is the highest of all of the ones we reviewed. But you do have to pay a little more for this.
Talking about the build quality, you get 11 inches tires with nice-looking treadwear. They have overall good traction and rolling resistance.
Talking about the rest of the features. the saddle you see is detachable. Its able to fold within 4 seconds. Athough you can even climb staris with this thing, you may just want to take it folded up if you want to go to work with this bad boy.
Other than that you get good brakes, searchlights, a powerful suspension, dial display where you can adjust your speed and see battery consumed as well as how much you traveled.
Provides a maximum sped of around 50 miles per hour. But your travel range on the battery would depend on how fast you go.
A 60 V and a 32 Ah battery can last more than 70 miles. Given you ride at an average speed of 25 miles per hour.
The charging speed can be anywhere between 6 to 9 hours.
Overall, it's a good product. Definitely best for climbing hills or stairs or any other steepy rough terrains. Handling is fine too. But this thing is heavy, so it takes time to get used to.
Besides being a little bit heavy on the pocket, we didn't see anything else wrong with it.
ECOXTREM – A budget pick (comparatively)
Now here you get a motor of 1600W. And a weight of  75 pounds. So that gives you a P-W ratio of 21. (10 points less than Gunai). 
Also, before going further, you see that shiny wood in there on the pedal area? It is just a sticker. Wood makes it less water-resistant. Although this thing still doesn't go well with water anyway.
For the rest of the build, the tires are pretty great the tires (11 inches) are good for its build with fine treadwear and traction.
It has a max speed of 20 miles per hour (depending on weight, terrain, etc) with a removable lithium battery of 48V. Charge time on this thing is 5-6 hours. And can still sometimes take up to 8 hours.
Now you get a foldable scooter (measuring 116 x 60 x 33 cm), and it is easy to travel with, but it's not gonna be able to fit in most lifts if that's a problem.
Other than that you get LED brake lights, a horn, a speedometer, and an adjustable seat.
Overall this puppy will fulfill your climbing needs just fine. No matter how steep. The throttle grip is pretty good and you can put in all your acceleration at once. (A sort of a boost when it gets even slope-ier)
But considering its price. Well, this scooter doesn't seem so bad after all.
Glion 225 Dolly Foldable Electric Scooter
Reasonable Rate
Safe
Great for travelling
Power to weight ratio of 20. (Power:600W Weight:28lbs)
Designed with the life of a commuter in mind, Glion 225 Dolly Foldable Electric Scooter is a suitable one for climbing. While it is designed with a commuter in mind, we found it to be durable and sturdy which made it ideal for climbing.
Glion 225 is reasonably priced. When tested, we found that it has unique specifications that are the reason behind its popularity.
The Glion 225 Dolly resembles the design of luggage. That is because it was designed to make commuting and travelling simpler for a 21st Century citizen.
While folding and carrying any other e-scooter around can be hectic, we noticed that the luggage feel took away that problem in this Glion 225.
which can obviously help with the ride up-hill.
It has a two-wheel dolly and a pull-out handle that make it easy to carry around.
While it has a slower speed compared to others, with its maximum speed being 15mph, it has safety features that make up for it.
It has never-flat airless rubber tires and rear anti-lock features that ensure safety especially in hilly regions which makes it indispensable for climbing.
When tested, we noted that it has a range of 15 miles which make its ride last for up to 3 hours after a single charge.
It has a 250W brushless motor with a stated 600W peak, which allows the speed to only increase up to 13-15mph.
Nevertheless, the good horsepower and safety features it comes with make it an excellent choice for climbing.
The build of Glion 225 Dolly is the reason we have put it on this list. Its strong aircraft aluminium built makes up for the other features absent in this scooter.
The rear fender stomping break serves as a safety feature by giving riders a short stopping distance. It also has a twist grip electric handbrake.
A safety bell is located on the left handlebar as well, which we found to be very useful since getting lost on excursions is always a possibility.
While there is no speedometer like the one for Nanrobot D5+, it does come with a battery level display to notify you when you should be getting home.
Overall this is a simple, reliable and clean e-scooter.
The Glion 225 Dolly Electric Scooter has a lithium-ion 36V 7.8Ah battery which takes 3.5 hours to charge and allows a range of 15 miles. The battery remaining is visible on the battery display.
To sum it up, while Glion 225 might be a slow scooter with limited range, it is reasonable for its aluminium built, safety and portability features that make it stand out as a wise choice.
Nanrobot D5+ series:
High Speed
Assurance of Safety and Comfort
Twin power of up to 2000W
Power to weight ratio of  27 (74lb, 2000W)
Unlike other Nanrobot models, D5+ is created to look neat while providing the same comfort as all the other demands.
It has a top speed of 40mph and two brushless gear motors 1000V each, which means you get a total power of 2000V.
The extra power is useful for long climbing excursions or for having to carry excessive weight.
There are 4 riding modes supported in D5+; including turbo, eco, single or dual power. Each of them can be selected to tailor your riding experience as per your situation.
While Nanrobot products are expensive, they make sure their clients not only get value for their money but get more than what they have paid for.
It is equipped with an LCD screen displaying your speed. When tested, it was recorded to take 10 hours to charge but we also found that it provides a range of 40 to 50 miles, which makes it favourable for climbing excursions.
The sturdy Nanrobot D5+ has a strong matte black aluminium alloy built. While it has 10 inch wide wheels, it has a pretty sleek, clean and neat overall layout.
Nanrobot D5+ comes with a detachable seat that can be used as and when required.
It weighs more than 30KG and it can carry a load of over 150KG. It is also equipped with shock absorbers to ensure your safety and a smooth ride, making sure you do not face any problems during your climb.
Battery plays a very important role in the functioning of an e-scooter. A good battery life speaks volumes about the quality of an item.
Nanrobot D5+ electric scooter uses a powerful lithium-ion 52V 26Ah battery which gives it a range of more than 40 miles.
Fieabor Electric Scooter
Dual motor
Affordable
Power to weight ratio of 13. (5600 W Power and whopping 441 pounds)
The Chinese-manufactured Scooter is one of the newest additions to the market. With a good speed and affordable price – it has gained popularity in certain parts of East Asia.
It has a top speed of 32mph when one of its two motors is in use along with the turbo. The speed can reach up to 40mph with dual motors and turbo in use.
It has average acceleration but unlike other electric scooters on the market, it does not delay once the throttle is pressed. However, its tiny wheels can make it a wobbly and unsteady ride if you choose to drive at a fast pace.
It has a high-strength build and a lower weight compared to a majority of electric scooters in the market. With a weight of 81 lbs, it can be easily carried by those who want to use it daily.
It claims to carry up to 250 kgs and has off-road vacuum tires which are useful for those who plan to do off-roading often. However, this can also be a negative point since such tires do not perform well in rainy conditions.
It can perform well while riding on the steep terrain of up to 60°, this is a good thing for those who plan on using it on hills and for camping.
The electric scooter uses Samsung 60V 27Ah batteries. They take 7 hours to charge completely and have a range of 90-110km depending upon the weight of the scooter and terrain.
Overall, Fieabor QO6 is a well-manufactured electric scooter.
However, we did experience issues with its battery components and their connectivity. So it is best to handle all of its components carefully and learn their proper use.
Uberscoot 1600W 48V
High Speed
Sturdy
Excellent design
Power to weight ratio of 13. (Power 1600W and weight of 117 lbs)
Uberscoot 1600W 48V is one of the heaviest, most popular electric scooters available in the market. While it has a price tag a bit on the expensive side, it also has features that give you your money's worth.
This heavy bike, with a power of 1600W 48V, is capable of producing a higher torque. The high torque production makes the Uberscoot ideal for camping, mountain trails, and uphill terrains. With its regular Sealed Lead Acid (SLA) battery, it has a speed of 25-32mph.
It also has a turbo button, which can be used to instantly increase the speed. If you want to increase your speed further, you can replace the existing battery with a lithium battery to make the scooter go up to 45mph.
Its speed is also subject to the weight its carrying and the steepness of the terrain is being ridden on.
The turbo button also comes with a safety feature for children that doesn't allow it to work when a kid is the one driving scooter. So if you have children who want to ride the bike, you are on the safe side!
The lithium battery also increases the bike's existing range which around 12 miles and doubles the amount of time its battery can last. The 12-mile range makes it ideal for long-distance commuters.
The 117 Lbs bike with a great design and a robust look is made of a heavy steel structure. It is capable of carrying a weight of 265 lbs which makes this ideal for people of all sizes. One disadvantage of its heavyweight is that it can be difficult for daily commuters to carry it on public transportations.
Nevertheless, it is also easily foldable which makes it convenient for use for those who don't carry it around often.
Unlike many other electric scooters, this one is driven by a chain motor instead of a hub motor. The chain is of fine, durable quality and makes the scooter perform well.
It has brakes as well as lights on its front and rear end, making it a safe ride at night.
Some people have reported issues while maintaining the bike and a few have recounted that the bike broke down after a few months of use. It is therefore important to check the bike's condition with your seller,  use it carefully and keep a toolkit around to fix any such problems.
It also comes with a hill-climbing kit of its own, free of charge which is a benefit for those who frequently climb hills riding the bike.
While it can easily go off-road and perform well, it is important to keep in mind that you need to release the throttle before jumping off to prevent any injuries.
Its seat is a bit unsteady and wobbly. But that is an issue that can be taken care of by using a different, detachable seat that is bought separately.
Uberscoot has four 12V/12AH (48 volt-system) Sealed Lead Acid (SLA) batteries. It completely charges in 8-12 hours and has a range of 12 miles. As mentioned above, if this is a problem for you, you can consider replacing it with a lithium battery.
Other E scooters (consider for cheaper and efficient, and less climb-able)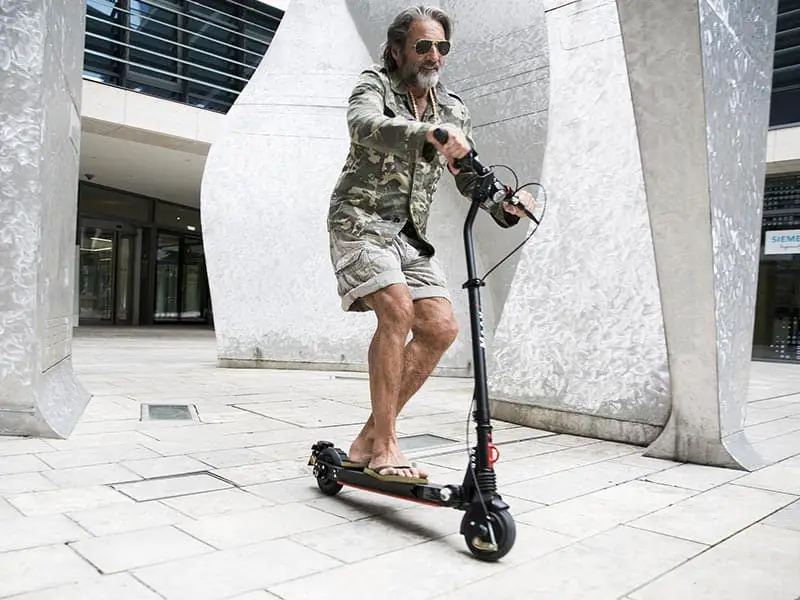 Xiaomi Mi
Amazing safety features.
Cool look and well built.
Reliable Company.
Extra-features like getting stats on your phone.
Power to weight ratio of (Weight: 27lbs, Power: 250W)
If you're looking for something that's a little cooler and more portable then you can consider this.
With its 250-Watt brushless motor, climbing hills would be okay, but it's not really built for that.  But yes its good if we talk about efficiency and speed.
So you get 15.5 miles per hour which is more than enough. (Maybe get a speed thing going when climbing huh?)
It's made from Aluminum which makes it light and easy to handle. And due to its Aluminum body, it weighs only 26Ibs which makes it easy to handle and makes it's power to weight ratio better.
Lightweight means better handling. So keep this factor in mind as well.
Also talking about speed. this Scooter folds up in just 3 Seconds, That's fast for an electric scooter!
Talking about battery, you can get 17 to 19 miles on a single charge.
You also get an app with it.
Overall, we'd say it's cool. But if you are strictly looking for hill climbing ones (and you have more budget and can handle heavy weight scooters) don't consider this.
The Razor E300 Electric Scooter
View on Amazon
The throttle has only 2 options, on or off, so you don't get variable speeds.
The design isn't very nice looking and refilling tires is hard.
Lacks good safety features.
Power to weight ratio of 5.8. (Weight: 43 lbs, Power: 250W)
But it is still a great buy as it excels in a few features.
It is relatively cheaper than the Mi Scooter, and is more comfortable in riding on rough terrain due to its large fat tires.
Talking about the speed. it tops out on around 24 KPH.
It also has a good amount of torque (with a motor of 24 volts) and is chain-driven.
Talking about the built. It comes with metal and a fork design which makes it reasonably strong and durable. Has 3 different colors to suit your liking. And has a hand throttle and a handbrake.
It has 10-inch tires at the front and back. (More than enough for its motor). But smaller tires would have done better on this thing.
Talking about its battery, you can use it for 40 continuous minutes per charge which is quite sufficient.
Even though the battery life is good enough for many, the battery technology used here is cheap. The Razor E300 uses a lead-acid battery which is usually cheap as it is heavier.
But overall its still considerable if price is really an issue.                                                                                                                                                    
Our Verdict:
When buying the e scooters strictly for climbing, make sure you look into these:
Weight
Power
Power to weight ratio
Handling
Based on these factors we picked GUNAI Electric Scooter to be the most suitable for your needs.