All a girl wants to hear on her big day is the reassurance that she will always be surrounded by her friends and family, and have their unfailing love and support. Phrases as simple and meaningful as "I will always love you", or "I promise to be there for you no matter what", can relieve her of her stress and anxiety of the future. But as her best friend, you need to say a lot more.
A best friend's wedding day isn't just one of the most important days of her life, but also yours. And you can make her day a whole lot better by picking the right words to say to her. These expressions are guaranteed to not only bring her and those around you to tears but also make her day a whole lot memorable.
So let's get in to it…
Words to Say to Your Best Friend on her Wedding Day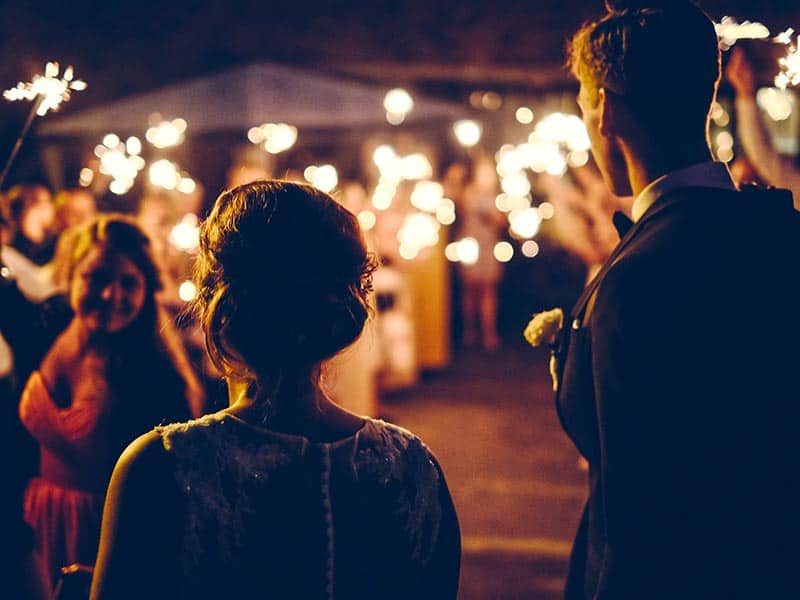 As her best friend and maid of honor, you are entrusted with the difficult task of writing a heartfelt and meaningful speech for her wedding. You need to summarize the entire wedding experience and the beautiful path of your friendship in a few words in front of hundreds of guests.
Which, by all means, is a nut tough to crack.
The phrases below are perfect for anyone curating a wedding speech for her best friend or finding comforting words to say to a nervous bride:
1. You may be his wife now, but you will always be my favorite person.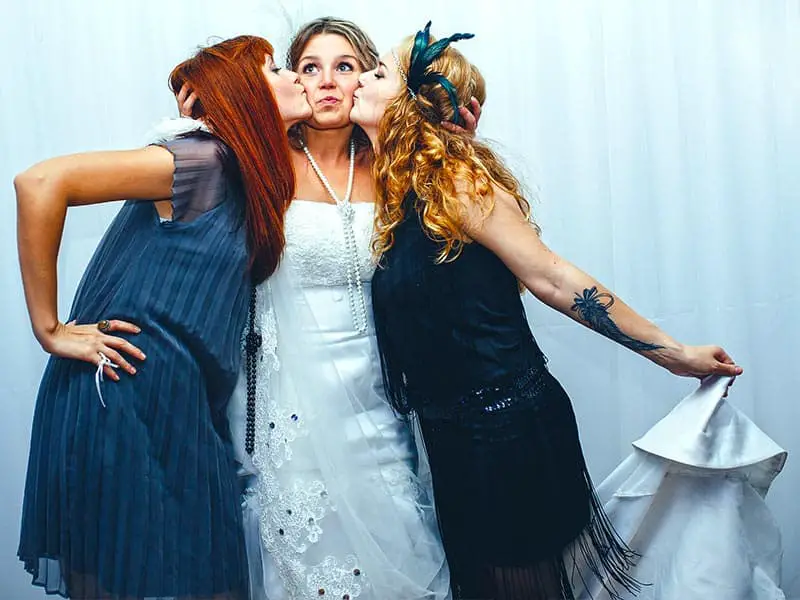 Watching your best friend get married is indeed a touching experience.
As she gets wedded off, it is important to let her know that no matter the circumstances, she will always be your go-to person.
And that the same rules apply to her.
2. I know it in my heart that he will love you his entire life, without an exception. This is why I approved of him in the first place.
As the bride's best friend, chances are you know her husband pretty well.
Letting her know that you believe he is the right one for her and will always keep her happy plays an important role in calming her nerves as she gets ready for a new chapter of her life.
3. The love you both have for each other never fails to amaze me and increases my faith in the concept of love, every single day.
It is important to let the newly-wedded couple know how much you respect and appreciate their relationship as it has filled your best friend's life with affection, happiness, and all that she has ever dreamed of.
4. I will be eternally grateful for the fact that you now have someone in your life who loves you even more than I do.
Letting her know that you are perfectly happy knowing you won't be the top priority in her life anymore.
Because she will be busy building a meaningful life with the love of her life will speak volumes about the selfless love and affection you hold for your best friend.
5. No matter what obstacles life throws your way, I know you are strong and resilient enough to get through it all without flinching.
The words to say to your best friend on her wedding day have to reflect the support you will always provide her with.
It should also provide her with the reassurance that she is strong and wise enough to handle the responsibility that comes with marriage.
6. I am so proud of you for putting your wedding function together beautifully.
Every bride deserves to be appreciated for all her efforts and sacrifices on her wedding day.
After all, organizing a wedding ceremony is not an easy task.
Days and nights made one just in the attempt of picking out the perfect venue, cards, and flower arrangement.
As her best friend, it is your responsibility to applaud her for all those times she pulled all-nighters with you to pick the perfect food menu and the energy she spent arguing with the event planner to pick the right flowers.
7. I need you to know that I am only one call away at all times.
It is important to affirm to your best friend that no matter what, you will be available for her at all times.
From any exciting announcements to devastating moments, she needs to know that you are planning on sharing it all with her even if you are both time zones apart.
The fact that best friends manage to stay connected despite their busy schedules and missed phone calls, is what sets them apart from their other social relationships.
8. He better not think of hurting you. Because if he does, he is knee-deep in trouble.
Your best friend's wedding day speech is incomplete without a few lighthearted threats in the form of jokes.
Letting your best friend's husband know that he won't be spared under any circumstances if he were to hurt her, is an important way of showing your love to your best friend.
9. I hope this marriage allows you to have a beautiful family of your own, as you have always wanted.
Having kids and watching them grow is the ultimate dream of many girls.
It is something they have looked forward to their entire lives and marriage is a gateway to this goal.
Reminding a bride of the wonderful things this new bond brings makes your speech a lot more meaningful.
10. I promise to be the best aunt to your kids and I vow to spoil them until they are fully grown adults.
While this wedding wish might sound a bit far-fetched, it is great to say a few lighthearted words to your best friend on her wedding day.
Watching your best friend become a wife and ultimately, a mother is indeed an emotional experience and worth mentioning in the wedding speech.
Plus, it further affirms the fact that you are willing to stay on her side throughout time.
11. I hope this union introduces you to in-laws that love you even more than your own family does.
Getting married and adjusting to living with another person is nerve-wracking enough.
Having to adapt yourself to different customs, traditions, and new people makes it even harder.
A simple wish for your best friend can make the transition easier for her when she knows she will always be surrounded by people who want the best for her.
12. I am filled to the core with gratitude to see that you have finally found the love of your life after all the hardships and struggles you have faced.
It is no secret that at one point or another, life gets tough for everyone.
But it is the hardships that make you appreciate the blissful moments.
Watching your best friend get happily married to the man she loves is proof that there is more to life than pain and difficulties.
13. It has been a tough ride handling your wedding mood swings, and this day makes it worth it.
As a maid of honour, you are assigned tasks beyond measure and taking good care of your best friend as she prepares for her big day is the most important one, no matter how tiring it gets.
Whether it's listening to her vent about everything that is not going according to her plan or picking up her flowers last minute, all responsibilities take a backseat in life when your best friend is getting married.
Letting her know that you will forever cherish the moments that led to this day, is guaranteed to bring her to tears.
14. You have brought me more happiness in this world than anyone else.
While this phrase might sound dramatic and a bit of a stretch, in most cases, it is not.
A best friend is someone you are the closest to, and amid the turmoil and difficulties of this world, she offers safety.
Reflecting the appreciation you have for her in the words you're saying to your best friend on her wedding day, can mean everything.
15. Marriage is an uphill journey, do not give up on it.
What's a wedding speech without sage advice?
On their big day, it is important to let the couple know that marriages come with difficulties.
And while they might feel like giving up on this beautiful bond at times, they should always remember this day so they do not lose sight of the love they hold for each other.
16. Watching the two people I cherish the most get married, makes this day even more special for me.
There is a good chance that the man your best friend chooses to marry is going to become a good friend of yours too.
The wedding toast is a great time to let the couple know how much you appreciate the fact that the two people who make your life a lot better are getting married to each other.
17. I always knew you would look divine on your wedding day, but you have exceeded my expectations and set the standard for brides way too high.
Every girl wishes to look beyond beautiful on her wedding day.
A best friend must make the bride feel confident and make her believe that she looks stunning.
18. I don't understand which one out of you both is luckier because you two are the kindest individuals I have ever met. And the world could use more people like you.
A wedding toast is a perfect time to let the couple know how much you respect them as individuals and how lucky you are to have two such people in your life.
Words to Say to Your Best Friend on her Wedding Day through Text Message or Card
While there is nothing more important than being with your best friend on her wedding day and helping her prep for the big day, for many reasons, some people might not be able to attend.
Different cities, countries, personal problems, or the exemplary example of the global pandemic that we're in. All of these and more could be the various reasons why you aren't able to make it to the wedding.
In such cases, it is best to send a heartfelt text message, letter, or a wedding card.
This will reassure your best friend that despite missing this milestone, she will always remain a priority in your life.
Mentioned below is a list of phrases and words to say to your best friend on her wedding day through a message, letter, or card.
A card is also an attractive addition to the wedding gift for the couple. Couple that with a few wedding gifts, and you'll be good to go.
So feel free to convey the relevant ones of these wishes to your best friend through a card, even if you are attending the wedding!
Congratulations to the best new couple in town!
Two beautiful souls such as yours are beyond lucky to have found each other.
I wish nothing but the best for you and hope this marriage brings you both eternal happiness and immeasurable success.
I sincerely hope that you two never stop falling in love with each other.
I hope you both continue trusting and believing in each other unfailingly.
I hope this marriage leads to a beautiful, big family in the next 10 years!
I am extremely proud of all the obstacles you have overcome to make this wedding happen perfectly.
I hope you both spend your entire lives being spontaneous and adventurous, doing things you both love.
It devastates me to be missing this day. But I promise to always be a part of your future milestones.
I hope you both live a happy life and be kind and forgiving towards each other, as kindness and forgiveness are keys to a successful marriage.
Summing Up:
Weddings are stressful, yet one of the most important milestones of one's life.
Watching your best friend get married is an emotional experience.
It can make you feel anxious for her life ahead as you hope and wish for the best for her future.
Using the above-mentioned heartfelt wishes and words for your best friend on her wedding day are guaranteed to brighten up her day even more and ensure that she remembers your participation in her wedding for the rest of her life with a grateful heart.