It was not so long ago when cassettes and CDs were used to listen to music in cars, but since the turn of the century, these technologies have started to go extinct slowly.
We have a lot of options available now to play music from, like connecting our smartphone with Bluetooth, using a 3.5mm auxiliary audio cable with your cell phone or mp3 player, and inserting an SD-card or USB flash drives in our car's multimedia player. 
But for the ones who still want to rock an old CD with their favorite music and memories, we have compiled a list of the top 5 best portable CD players best for your car use.
You would not even need them to get fixed in your car like a generic car multimedia player, and you can take them anywhere you want and listen to whatever you feel like, wherever you feel like.
Of course, if you have your collection of CDs at hand too. 
GPX PC301B Portable CD player
View on Amazon
This personal compact disc player made it to the top of our list for its amazing features and ease of use, it comes with 0.4 LCD display, anti-skip protection and a set of stereo earbuds.
This device has 60-second anti-skip protection which keeps the audio from stopping or skipping while the disc could not be read due to movement.
It comes with a set of stereo earbuds
It runs on two AA-size batteries. It can also be run with the help of an AC-DC power adapter or a 12v car power adapter (does not come with the product)
The LCD also displays a low battery indicator so you can keep track of the charge left in your CD player
You can also program the tracks to run in the order of your liking by pressing the "Program Button" to set the number of the selected track as the first programmed track.
With the help of the mode button, you can control how you want your CD to be played back. You can choose to replay a single track, the entire CD, or just play the intros of all the tracks.
It has a rotary volume control instead of buttons so you can adjust the volume exactly how you want it to be.
However…Sometimes the track may stutter at the very beginning or at the end.  We found that the stuttering can be fixed while plugging it into a power outlet.
You may also feel like the sound quality is compromised as static may be heard coming from this player occasionally.
You will have to keep it sufficiently charged at all times since the player often simply shuts off upon detecting low battery and for its amazing features, unfortunately, it does not have Bluetooth connectivity
Jinhoo DVP-501 portable CD player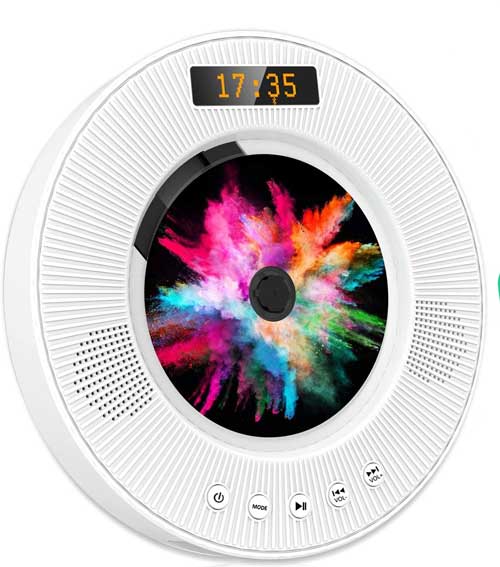 This is an exceptional product because it has a built-in 1100mAh lithium-ion battery so you don't need to worry about replacing batteries every now and then. The battery will let you listen to your favorite tracks for up to 10 hours when fully charged. This CD player also comes with stereo earbuds.
A 3.5mm aux cable is included in the package which lets you connect this CD player to your car or portable speakers as well.
It also comes with anti-skip protection which lets you listen to your music without any interruptions due to physical impact (the use of this CD player during strenuous exercise or jogging is not recommended as a severe bump may impact its operation).
This player is compatible with most CD formats like CD, CD-R, CD-RW, and mp3 disc.
It also has multiple equalizer modes for different genres like jazz, pop, rock, etc.
The playback option lets you listen to a track on repeat, the whole CD, shuffle play, and intros of all the tracks.
Included in the package is also a USB charging cable. (the charging adapter can be bought separately).
Unlike the others, it comes with a hold-switch, which keeps all of the rest of the buttons from working. When you set the setting of the player according to your liking, you can turn on the hold-switch to prevent any accidental button presses which will alter your settings.
It also comes with an auto turn-off feature in case you fall asleep while listening to your music. The CD-player will automatically turn off after playing the last track on the CD.
Upon elongated use, we found that the battery does not work exactly as advertised and allows for playback of up to 4-5 hours when fully charged. Also, the battery takes 2 hours to fully charge.
It does not have backlit buttons which makes it hard to use in the dark and also does not have Bluetooth connectivity. 
HOTT CD711-BT
View on Amazon
This CD player is a bit advanced as compared to its previous versions and unlike the first two, it also comes with a Bluetooth feature. Details of the features of this product are given below.
This product features Bluetooth version 5.0 as it comes with the Bluetooth CSR8670 SoC (system on chip) which allows for highly compelling user experience and superior audio performance.
The anti-skip and anti-shock feature supports 45 seconds of anti-skip protection for CDs and 120 seconds for mp3 CDs and allows you to listen to music without any skipping or interruptions.
It is compatible with CD, CD-R, CD-RW, and mp3 CDs.
The package includes a set of stereo earbuds and a 3.5mm aux cable as well.
It also comes with a free testing CD.
This product also features a key-lock which will prevent any accidental button presses to interrupt your music.
 It is safe for fetal education purposes and does not have any harmful radiation that will cause harm to the baby.
The Bluetooth feature is designed to work with Bluetooth speakers or headsets only. They will not connect to your smartphone, vehicle, or other Bluetooth devices.
We found that it does not consistently remember the track position. Stopping the track and waiting for the player to turn off will allow the CD player to remember the last position, whereas if it is stopped and turned off immediately, it will fail to resume from where the track was last stopped.
Coby CD-191-BLK
View on Amazon
 This lightweight CD player is the best choice to carry along when traveling. This portable CD player is compatible with original CDs.
The compact and lightweight nature of this CD player makes it very easy to carry and fits in your backpack while taking up a minimum amount of space
The 60-second anti-skip protection lets you listen to your favorite tracks without any interruptions and provides quick recovery from any horizontal or vertical shock.
It comes with a set of stereo earbuds.
This product also has the automatic turn-off feature which will automatically turn off the CD player when the last track ends. You will never have to worry about falling asleep and letting the batteries drain.
This product runs with 2 AA-size batteries.
However, It may start playing on high volume every time you turn it on. This CD player fails to remain at the set volume and will play at high volume whenever turned on.
The anti-skip feature may sometimes not function properly and the audio may stutter. You may also find that the battery door can be flimsy
All in all, this one is a good pick.
View on Amazon
Naviskauto is owned by Shenzhen Suokesi ltd. and specializes in CD/DVD player products. You can avail the 30-day money-back guarantee during which you can return your undamaged Naviskauto product for ANY reason.
This product has a long battery life as it comes with a 1400mAh lithium-ion battery and will provide music playback of up to 12 hours.
It comes with a USB charging cable.
This product features an LED display which is also visible in the dark.
It supports 100 seconds anti-skip protection for CDs and 180 seconds for mp3 CDs.
It supports multiple audio formats, including mp3 and WMA.
It comes with a 5 feet aux cable to let you connect to other audio devices and the buttons of this CD player are backlit which makes it very easy to use in the dark as well.
The player has multiple equalizer modes for different genres and multiple playback modes which allow you to listen to a track on repeat, the whole CD, or just intros of each track on the CD.
It also has the last memory function which can be turned on by pressing and holding the program button. When you switch off the CD player and turn it back on, the track will auto-resume.
However, this player too does not have a Bluetooth connectivity option
Sometimes the CD may rattle inside the CD player although this issue can be avoided if the CD player is turned sideways, it is nevertheless a nuisance. 
The buttons seem to be flimsy and easily damaged if manhandled
Commonly Asked Questions…
How do I connect my portable CD player to my car?
You can connect the portable CD player to your car with a 3.5mm Auxiliary Cable by simply inserting one end of the cable in the CD player and the other into your car's stereo system.
How does a CD player work and what is the anti-skip function?
There is a miniature laser beam inside a CD player which scans the CD from the center to the outer edges while the motor inside the player rotates the CD. T
he motor which makes the CD spin slows down when the laser beam is scanning the center of the CD and spins faster when the outer edges are being scanned.
Sometimes a horizontal or vertical jerk may affect the scanning process during which the audio may skip or stutter. 
Electronic skip protection is a feature in some CD players that buffers the audio content and feeds it to the RAM (Random Access Memory) of the player. In the case that the CD is not readable due to any reason, the buffered content from the RAM of the CD player is played.
How do I copy my favorite music onto a blank CD?
For this, you need an optical drive that is able to write onto a CD. You can then copy music files onto a blank CD using Windows Media Player.
Insert a blank CD into your CD drive.

Open Windows Media Player and navigate to the "Burn" section.

Select the blank CD and drop your music files in the drag and drop section

Click on "Start Burn"
At the end of the process, your CD will eject automatically with the music files copied onto it.
Will CDs become obsolete?
CDs are already replaced by SD-cards and USB flash drives, or you can just play music from your phone using an aux cable.
In the near future, CD players would be a rare thing.
But don't worry, using SD-cards and USB drives is easier than using a CD. Additionally, they carry less space as well.
Summing Up
CDs and CD players are slowly becoming a forgotten technology as we have a variety of better options to choose from now.
Nevertheless, it still brings back memories to cherish and makes for a wonderful gift as well. We hope this guide helped you decide the best CD player to get for yourself or your friend.