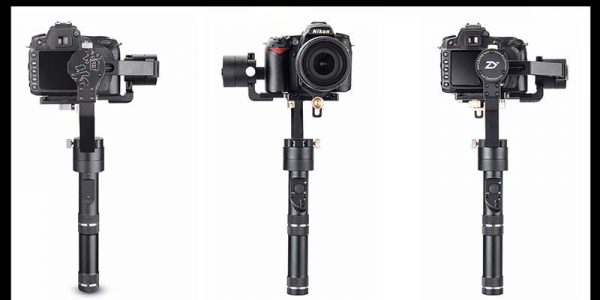 Last month we looked at some of the best cheap gimbals for GoPro. Which helped us find the best gimbal for DSLR camera also. We researched some of the best DSLR gimbal stabilizers out there. And we conclude that the best gimbal for a mirrorless camera has to be the:
CRANE V2 because of its great efficiency, stability, and durability.




Capture your favorite and memorable moments with Crane V2 gimbal wherever you want.
Why it is best?
The Crane V2 Gimbal is an advanced version of other Crane gimbals. It turns out to be the best gimbal for a mirrorless camera in the market while comparing others. It captures the smooth and best quality video footage, no matter whatever you shoot. We compared it with other brand products like the DJI Ronin-M/MX (which has created a lot of hype) but we still think that the Crane V2 is the best gimbal for DSLR. As it gives the best value for your money.
Noiseless, Smooth and Steady Videos
Crane V2 3-Axis has the ability to capture the best quality video. It will always capture the smooth video footage without any noise. DJI Ronin-M/MX has the same feature, but the price is higher than Crane V2.
360 Degree Creativities
Another feature that makes this gimbal superior among all is its unlimited, continuous rotation along the pan axis and non-stop circular rotation along the tilt and roll axes. We can capture the best quality moments with its 360-degree rotation. Other products like the DJI Ronin-M/MX provides the same environment but the price is again much higher.
Customize Your Crane Over App
Crane can be controlled wirelessly with its Android or IOS App. It has a built-in Bluetooth feature that makes easy to connect it with our phone so we can control this mirrorless gimbal wirelessly with its App.
Your Thumb is in Control
Switching into different modes is very easy in Crane V2 with its advanced feature. It has a step less joystick that makes switching between different modes, adjusting angles, and controlling shutter and focus easily just by using your fingertips on power-button. Other gimbals have thumb screws and they are quite difficult in getting used too.
Get Ready in Just 1 Minute
The installation of this gimbal and the camera adjusting is so easy. The thumb screw for the camera is in the bottom of the plate and it includes a lens support which tightens when the camera is placed on the plate. DJI Ronin-M/MX also has the adjusting system in it but it takes more time than Crane V2.
Operational Modes
It has four operational modes: Locked, Pan-Follow, Tilt Follow and Inverted which can be used to capture the moments we strive for. Just with the help of a thumb, we can adjust the modes according to what we want to capture.
Carrying Case
Although its nothing to brag about still, it comes with a carrying case which other gimbals lack. and it's protective case really impressed us as it was so much easier to carry.
Zhiyun Crane Plus (Our Second Choice)
Crane Plus is the 2nd best gimbal for DSLR.Another great gimbal to capture high-quality video footage with its advanced features. It so easy to balance and is very lightweight. It is the best gimbal for medium-sized cameras.
Why it's not the best on our list?
Price is slightly higher than our best gimbal for DSLR.
Has a less battery life. Crane V2 has two batteries and it can provide run time up to 12 hours long whereas Crane plus has only one battery and its run-time is up to only 6 hours.
Crane plus couldn't beat crane v2 in stability.
Why it's still Awesome?
It provides the feature of motion memory setup that allows us to set up advanced camera movements for future. We can save those camera moments in advance. Other products like FeiyuTech A2000 has more price than crane plus but it doesn't have this feature.
Another reason for it being the 2nd best gimbal for DSLR is that it has a POV mode which provides additional Focus up to 45 degrees which other gimbals don't. In simple words, when we move right or left, the camera moves with us and captures us with high quality and smooth shots. FeiyuTech A2000 is the one the most best selling gimbal but still, it doesn't have this feature.
Has an Intelligent Object Tracking which allows us to track an object via phone App control. We can draw a box on an object we want to track on phone screen and crane plus will track the object easily. And we don't even have to use our hands for it.
It has NightLapse which allows us to capture Moving nighttime traffic, beautiful Night Landscape, Star trails and all of the amazing night scenes with motion and stability. No other gimbal that we have seen has this stunning feature in it.
Crane Plus has two camera control cables. It can control two cameras Sony and Panasonic but the mechanism for both is little different.
Crane V2 – Best Gimbal For DSLR Period!
Why do we like it?
Crane V2 is the best gimbal for a mirrorless camera. Along with its 4 modes, it can capture a video footage of at least up to 12 hours. It is the best for capturing actions shots. When we unboxed it, we found a great carrying case, which other gimbals don't have (You have to buy them separately).
What's in the box?
Gimbal stabilizer
Battery Compartment
Battery Charger
26500 Li-ion Batteries
Micro USB Cable
Lens Support
Thumb Screw for Monitoring Camera
User Manual
Pros. & Cons.
PROS:
Smooth and Steady Noiseless Videos
Stability
Get ready in a minute
Balancing camera without any tool
Provides 12 hours Shooting
Can be controlled over an app
360-degree Creativities
Operational Modes
CONS:
Does not provide Night Lapse
Can only be used with mirrorless cameras
The Crane Plus (Our 2nd Choice)
This crane can capture shots for both mirrorless camera and DSLR and it can handle weight capacity up to 2.5 kgs.
Why do we like it?
Crane Plus is the best DSLR gimbal stabilizer has this amazing feature of additional camera movement by providing up to 45 degrees wider and continuous motion on the roll axis. We personally loved its Night Lapse & object tracking feature.  These features allow you to capture some high-quality night-time videos and one can track the object via phone app control.
What's inside the box?
Zhiyun Crane Plus
Battery Compartment
Battery Charger
3600mAh Battery
Micro USB Cable
Lens Mounting Clamp
Mounting Screw
TRM03 Tripod
Grip Tape
ZW-CITA-002 Cable for Panasonic
ZW-CITA-003 Cable for Sony
Hard Case
User Manual
EACH SHOT Cleaning Cloth
Pros. & Cons.
PROS:
Intelligent Object Tracking
Portable
Night Lapse feature to capture high-quality night scenes
Full Set of accessories
Synchronous Operations
Motion Memory
POV Mode
CONS:
Only 6 hours Runtime
Installations are difficult
Balancing is difficult
Conclusion
These 2 gimbals are the best ones in the market. Period.
The Crane V2 is 100 dollars cheaper and also quite lighter in weight than the Plus.
But the Crane Plus has the Night Lapse and Object Tracking feature in it.
Also, the Crane V2 has double the battery life than the plus.
So if you want these features of Night Lapse and Object tracking for extra 100 bucks then the Crane Plus is what you want. Otherwise we still think that the V2 is the winner here!
Although there are many other products as well in the market in which you may be interested as well. But after so much research and testing, we will recommend you the above mentioned top 3 products.