Leggings have the power to make or break your workout. A well-fitted pair of leggings can get you all charged up for your exercise; it gives you that boost and support. You need a comfortable, breathable, moisture absorbent, and long-lasting pair of leggings for your workouts, and finding the perfect one can be daunting.
To make it simpler, here is our list of the best workout leggings that keep fashion and utility in check. Whether it is low impact yoga, a high-intensity workout, or a comfortable alternative for pants that make you look attractive, you can find them all below!
Lululemon Wunder Under Super High-Rise Tights
A list that doesn't feature Lululemon at the top cannot exactly be called a fashion or workout leggings list. Lululemon Athletica is an athletic apparel retailer domiciled in Delaware and headquartered in Vancouver.
Lululemon is all about the community.
Meditation and yoga classes, run groups, and other organized activities are cornerstones of the Lululemon experience. They lay great emphasis on living your best life, on setting goals and achieving them, so why not go for an activewear brand that works toward sustainability?
The manufacturing with "full-on luxtreme" fabric gives Lululemon leggings a super smooth touch. Offering high-coverage, the activewear leggings go all the way past your navel.  You can pair them with a trendy crop-top or a sports bra, they stay in place throughout the workout, and the band does not move an inch.
Clearing the entire lab and durability tests, the leggings made it out as flattering and opaque. The minimal seams make for comfortable wear along the performance fabric used.
Super soft and comfortable, these activewear leggings dry fast because they use several different fabrics, including compression and moisture-wicking designs. So you do not feel sweaty and uncomfortable while working out.
The customer feedback on these is very favoring; users admire the comfortable feel suiting their daily wear. Lululemon leggings come in many lengths, colors, and prints, so there is something for everyone!
Girlfriend Collective High-Rise
Like the environmentalist that they are, Girlfriend Collective has come up with a remarkable pair of high-rise pants made with recycled water bottles.
These slim-fitting pants feature a hidden front pocket and elastic at the waist. Perfect for all sizes and gives you a tight fit without being too uncomfortable.
The Hi-Rise Full-Length Pant is supportive and made from a breathable fabric with a four-way stretch. They are also super cozy and have a soft, almost shiny texture to them.
Since the fabric is a tightly woven synthetic material, they tend to hold heat very well. The textured compression smoothens over curves and feels like a firm hug.
They are great for brisker activities, less so for super-sweaty ones. These have a super-high rise, too, making them ideal for when you want to wear a crop top but not show a ton of skin.
From the sourcing of bottles to the dyeing of fabrics, sustainability is only one of the many compelling reasons why this should find a way to your closet. Girlfriend Collective focuses on humane manufacturing, meticulous design, and sustainable materials.
Carhartt Force Stretch Leggings
These are sweat-wicking, odor-fighting leggings made to last.
They are a bit thicker than your average leggings, reinforced at the knees for strength. They also feature pockets that are resistant to abrasions. These Carhartt leggings offer the best of both worlds. One reviewer wrote that they are "Magic Pants!" that was perfect for a day of hiking and horseback riding.
The idea for making these leggings came after visiting a woman working at a pig farm. She was seen carrying heavy pigs and also jumping over concrete walls. For this challenging work, what she needed was a mix of flex and durability.
They are also moisture-wicking to help you manage sweat, and there are flat seams to avoid friction and irritation from repetitive movements.
These magic leggings are tough and comfortable. They look super cool and come in a variety of colors and sizes.
This activewear legging paired with boots, a stylish Tee, and you are good to go out on a coffee date. Since they are odor resistant, your partner would never know how you sweated out the day.
CW-X Stabilyx Compression Capri
Stabilyx Compression Capris is designed for support and comfort. These leggings are immensely popular and are praised by real users, especially those with knee issues.
These capris help increase blood flow, reduce muscle fatigue, and prevent strain during or after the workout.
These leggings are a bit harder to get than your regular leggings but look around a bit, and you will find them. You need to make sure you keep a few things in mind when you buy them.
These leggings need to be correctly aligned to perform the functions they are supposed to, like reduce muscle fatigue and prevent strain. The support panels will help you and make it easy for you to find the right fit.
They are made with a wicking material to prevent overheating. These capris give support to your muscles while working out by preventing strain on them. The leggings band together muscles and ligaments to stabilize knee joints and provides optimum targeted joint support to the hip, pelvis, and knees.
People with knee problems claim to have felt a reduction in muscle pain and fatigue.
IUGA High Waist Yoga Pants with Pockets
Developed by yogis for yogis, IGUA is a lifestyle brand that offers style, comfort, and performance. For all your fitness endeavors and everyday athleisure, these leggings are perfect. Between fashion and function, these are affordable and accessible.
It aims to please both the fashion enthusiasts and the ultimate fitness enthusiasts.
These leggings come with a functional pocket or also known as "Squat Proof," meaning that they will not split or become sheer when you squat or do the splits, saves you from embarrassment.  They are as comfortable working out as they are when at home, lounging.
A Wide High-Rise Waistband with Tummy Control and a Hidden Pocket, these yoga leggings are perfect for active women.
A super soft and four-way-stretch material gives you both compression and support. These four ways stretch fabric allows you the freedom to squat, kneel, bend, and lift easily with no restrictions. They also have a Hidden Waistband Inner Pocket to keep your keys, cell phones, or any essentials.
Another remarkably exciting feature of these leggings is a Gusset Crotch, made to maximize free movement. The Interlock Seams minimize rubbing and chafing, making these leggings for women the perfect yoga pants.
Under Armor Women's Cold Gear Authentic Pants
Under Armour delivers innovative sportswear, empowering athletes everywhere. It used to be known primarily for its moisture-wicking t-shirts. In the 21 years since the company's establishment by founder and CEO Kevin Plank's grandmother's basement, the company has expanded its product line extensively to include hats, pants, shoes, gloves, bags, and the like.
Under Armour became popular in high school and college football as a breathable insulator to keep players warm. The fabric also prevented wear spots from shoulder pads and hip and leg pads. It was the first place I saw it extensively used.
They have now come up with fleece pants for women, one of its kind and suitable for cold climates.
These winter leggings are made of 89% Polyester and 11% Elastane.
It is made of Ultra-soft, brushback, knit fabric to maximize comfort & breathability while maintaining warmth. It is a breathable material, which means that the fleece lining inside will not make you wet with sweat.  This material wicks sweat and dry amazingly fast. Besides, the anti-odor technology used in the manufacture of this cloth prevents the growth of order-causing microbes.
A four-way stretch construction makes this material move better in every direction. They are lightweight and wicking enough for you to work out in them without becoming a living puddle of sweat, but warm enough to brave ever-dipping temperatures outside.
J. Crew 7/8 High Rise Leggings
J.Crew's leopard print legging has finally caught up with fashion and utility.
These live-in leggings now come in a fun leopard print as sh0wn, and you would agree that a leopard print is as versatile as black or navy.
They have a high-rise double waistband, which assists in lifting you and holding you in. A secret pocket at the back is just a small, exciting place to store your cash, keys, or even a bit of gum.
Crew leggings are suitable for all heights and are rather flattering as they hit right above the ankles. Comfortable with the right amount of stretch, these leggings will make you feel just so ready for your workout.
Being stylish and classy, you can team them up with a black top or a sweater, and it is no longer just workout wear. You are ready to go out with friends.
They do not have a center seam, so you can't get the dreaded legging camel toe, and the leggings' compression and stretch will make sure you feel as great as you look. These wild print leggings are comfortable with the right amount of stretch.
FAQs and Conclusion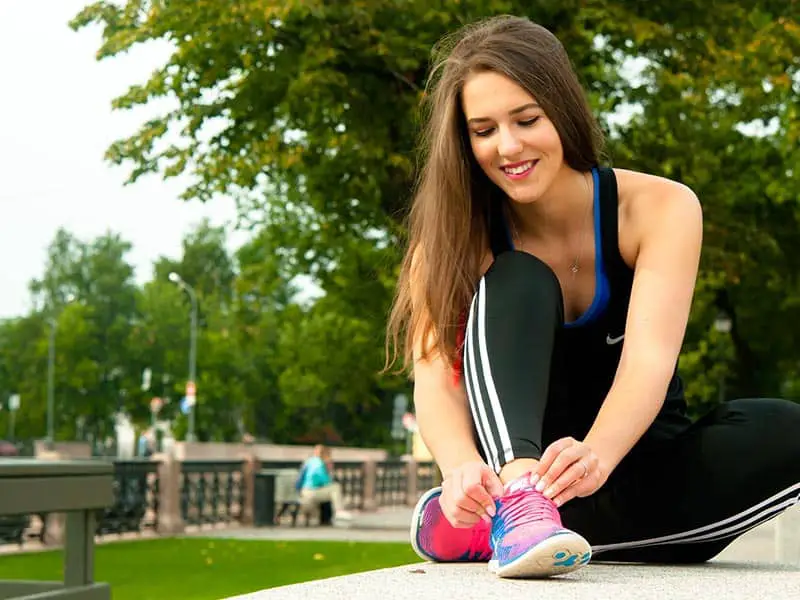 Are Gymshark leggings good?
Gymshark leggings are good and do not fall. They are great for working out and keeping their shapes.
Much of its success is due to a significant social media presence, including exposure via celebrity trainers. The marketing is effective.
What is the difference between workout tights and leggings?
Tights cover the entire body from the waist to the toe and usually fit so tightly.
Leggings are not as skin-snug as running tights.
Is it ok to wear yoga pants in public?
Yoga pants are now just as accepted in public as jeans are. You can wear them out in public to the gym, to the store, etc.
Anything you can do in jeans, you can do in yoga pants. … A good quality yoga pants that are thick enough to not be seen through and be embarrassed.
Are leggings still in style in 2020?
Like never before!! And so many things contribute to this, work from home being one of the most important things, which has changed the way office work goes.
2020 has made leggings, a trendy work attire, comfortable and sustainable.
What should you not wear with leggings?
Do not pair leggings with tight tops and those that are higher than mid-thigh. Wear a classy top, do not go for animal or flashy prints.
Summing up
Leggings have become a more regular part of your wardrobe rotation than ever before. While there are plenty of pairs out there, very few are suited for exercise. You will not have trouble finding a good pair of leggings for lounging around the house, but for exercise, that is a whole different game.
Finding leggings that fulfill all your stipulations and are still nice looking and affordable is not such an easy task. Hopefully, the brands mentioned above make choosing leggings easy for you.